Varying images may be conjured in your mind when considering a romantic Romeo and Juliet setting. Perhaps your view is bright and Baz Luhrmann like? Or, splashes of a fabulous stage version you've seen somewhere around the world – a ballet?
While I do love all that is this most famous of stories (especially Leo and Claire circa 1996), I hope you're with me in picturing Verona as the true setting of Romeo and Juliet.
Over the years Verona, Italy kept popping into our sphere. We finally scheduled a trip due to so many friends mentioning the place!
Verona is an easy city to walk around. It's ideal for a long weekend away, or a longer trip of three or four days.
We incorporated Verona into our train trip itinerary, where we started in Milan and finished in Venice.
There's plenty of things to do in Verona. It's not an overwhelming amount of choice though, which we liked.
First of all, there's Juliet's balcony Verona, an important part of the Romeo and Juliet narrative here. It's pretty touristy, but a sentimental must-do in Verona.
For a list of the best things to do in Verona, read on…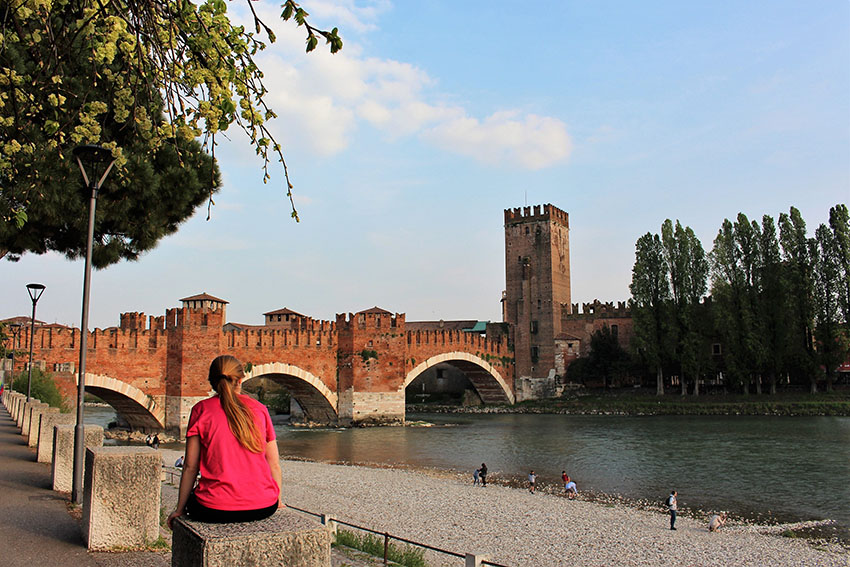 Romeo and Juliet setting
If you're a fan of William Shakespeare as I am, you'll be interested in this spot as the original Romeo and Juliet setting.
You may want to book additional time in the area to explore other Shakespearean links because did you know Shakespeare set a third of his plays in Italy?
His most famous works are set in Verona, plus nearby Padua, Venice and Rome. It's not known whether Shakespeare had the chance to visit Italy in his life, but he certainly dreamt of it as a location.
Interesting resources on 'Shakespeare's Italy' include: 
an Italy destinations feature published by Traveller Magazine;
Research published by the British Library in London. This link explores "how Italian geography, literature, culture and politics influenced the plots and atmosphere of many of Shakespeare's plays".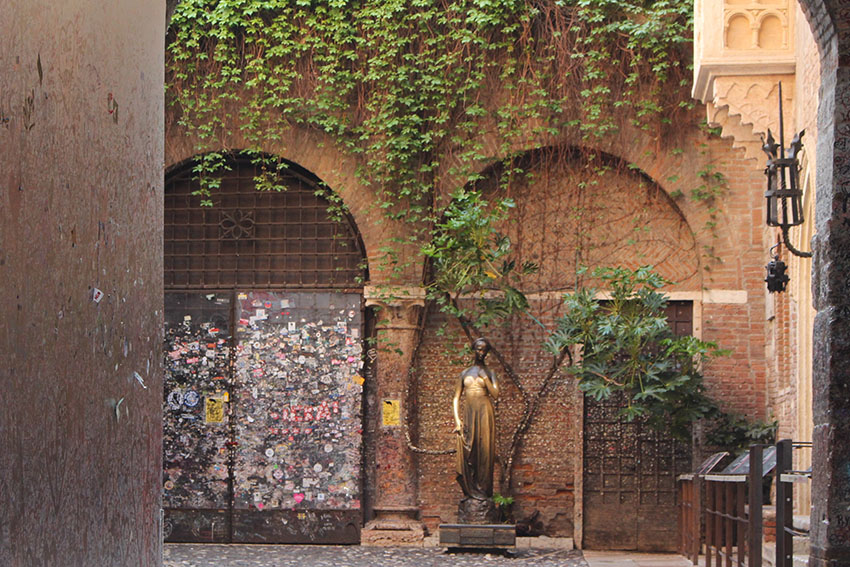 Juliet's balcony Verona
Verona is described as one of the most romantic cities in Italy, for the reason that it brings to life the setting for Romeo and Juliet. It is beautiful, and doesn't disappoint.
Every day, crowds make their way through a narrow archway in the old town, that leads into a small courtyard of a 14th Century residence said to be Juliet's house.
It was made world-famous in the 2010 film Letters to Juliet.
'Secretaries of Juliet' reply to letters from all over the world from this very space and advise on matters of the heart in a wide variety of languages.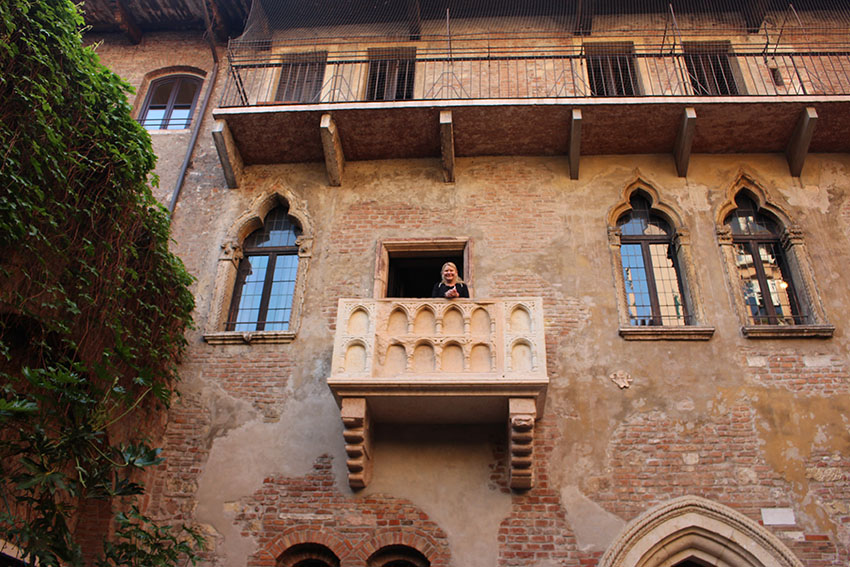 Another nice thing to do if you don't hit a huge line of people, is pay the small entry fee to get into the house. It's fun because you to can go up to Juliet's balcony Verona and get a photo taken. Head inside the old house, explore, walk out onto the balcony and recite a line from the play.
Or not.
Also remember to take  marker (pen). You can add your love note to the millions already scrawled along the walls outside the house.
In need of a little luck? Legend has it that if you touch the right breast of Juliet's statue underneath Juliet's balcony in Verona, you'll find your true love. Every little bit helps, right?!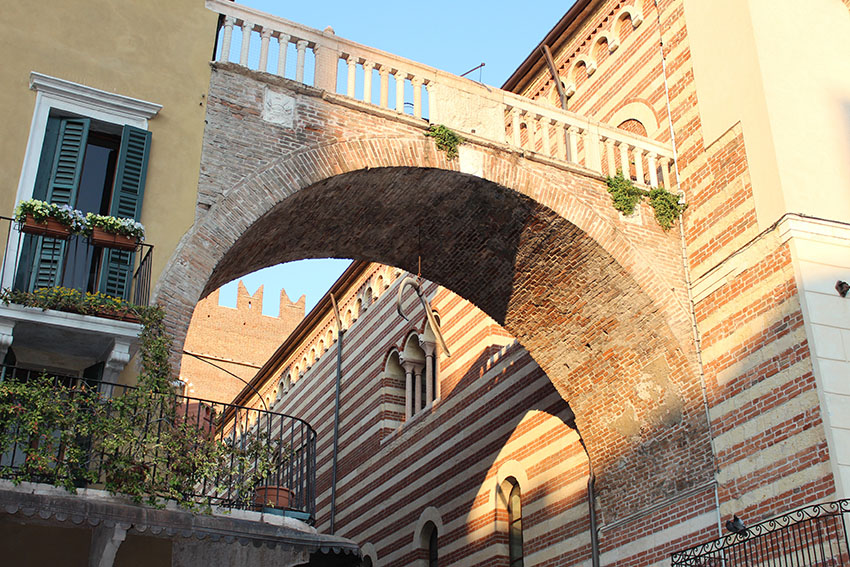 Things to do in Verona, Italy
Verona itself is a delight.
"A city built on hills arranged like banks of theatre seats." (BBC Travel)
From its romantic Adige River that runs through the middle of town, linked by pretty bridges to the beautifully maintained 'old town'. It's straight out of a Shakespearean romance.
Juliet's balcony Verona is just one of the things to see here. Another of Verona's unavoidable wonders is the sublime old town market square, Piazza delle Erbe.
The medieval walls have been beautifully taken care of, and as a result showcase some of the city's finest architecture and ancient frescoes. They set the scene for a market and dining spot that – while mostly geared towards tourists – has been a meeting spot for people for centuries. That's pretty special, we think.
Within the square you'll find the Venetian lion, which has gazed upon visitors since 1405. It was put there to remind residents that Venice was in charge (at that point, anyway).
Look up and around – everywhere
Always look up in old cities. Here, you'll eventually spot a famous whale's rib that's been hanging from an iron chain since at least the 1700s. Legend goes that the whale rib will not fall until a person who has never told a lie walks underneath it.
It'll probably stay there for a while then. The rib has not fallen, despite Popes and kings testing it.
A little less whimsical is the fact that the rib was likely a souvenir brought home to Verona from the orient by spice traders.
The best things to do in Verona include walking around and exploring along the riverbank, cross bridges, browse in old churches and generally be curious.
We'd advise getting out of the main part of the old town for a better deal on food and coffee. Walk across one of the bridges and see what's on the other side.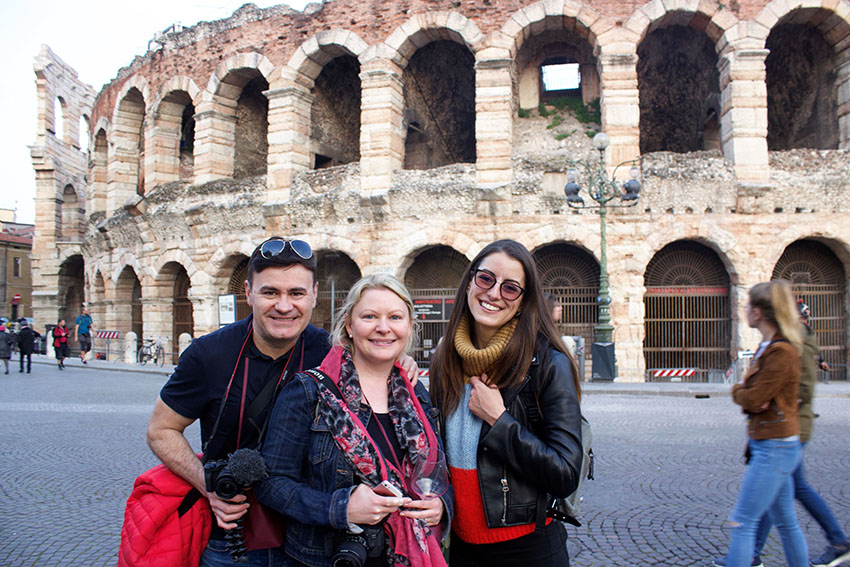 More great things to see in Verona:
Castel St Pietro, positioned on the hill above Verona. You can walk up for a look. It's a  mysterious fort that boasts cypress tree-lined avenue and offers a spectacular view across the city.
Piazza dei Signori, a quiet, beautiful old square boasting lovely medieval arches and architecture.
Toree dei Lamberti. Construction begun on this tower in 1171. You'll spot it from the Piazza delle Erbe. In the Middle Ages, such towers would have helped to organise life, because the bell would ring to signal a fire, summon war councils and let people know it was time to finish work.
Shopping in the Centro Storico, full of fabulous fashion and gorgeous Italian things to splurge on.
Basilica di San Zeno Maggiore, 'containing' the crypt where Romeo and Juliet got married. It's a typical example of Romanesque architecture with 12th Century bronze doors and a 'wheel of fortune' rose window.
Juliet's tomb, housed in a 13th-century Franciscan convent. This is where Juliet died in the play. People pay tribute here to Juliet and Shakespeare. Even Charles Dickens visited.
Castelvecchio, is the most important military construction of the Scaliger dynasty that ruled Verona in the Middle Ages.
Unmissable is the Verona Arena, a 1st Century open-air Roman amphitheatre that's still fully operational. Locals and visitors can enjoy opera and concerts in the unique space.
Not only is it one of the best preserved ancient structures in the world, it's touted as being one of the ten most beautiful places in the world that you could see a live show! The stone structures here have seen everything from gladiator games and jousting competitions to Adele and Elton John in concert.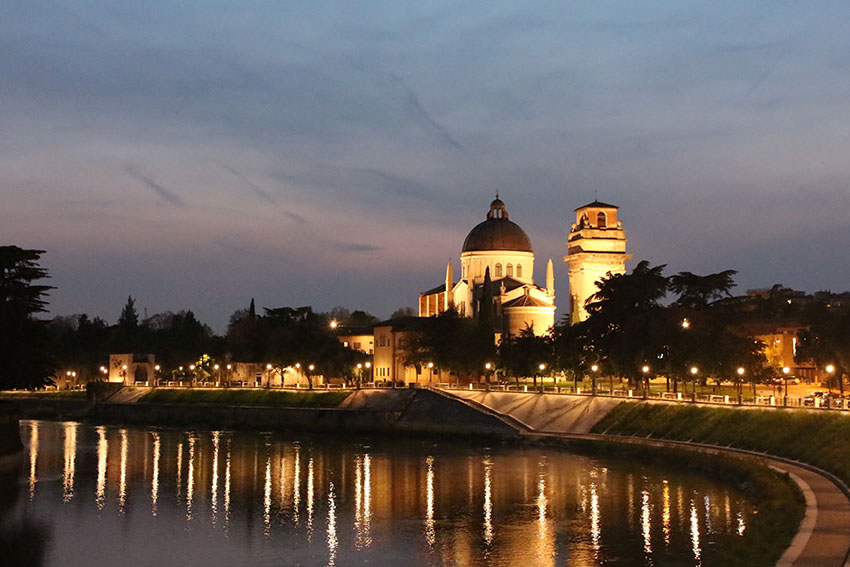 Verona things to see and do: travel tip
Finally, we'd suggest you book a local experience to get the best out of the place. In Venice and Verona we purchased a walking tour with food experience. Our Verona option was an evening wander with Wonderful Verona.
Across three hours our host, Jessica, introduced us to Verona's popular and secret sights, while pouring healthy glasses of local wines in choice locations. We're all pictured above. It was very hard to leave Verona, thanks to this lovely localised experience and our stylish 'dream loft' Airbnb.
Got questions or a tip to add? Let us know in the comments below
In this series – a week across Italy by train:
– Milan to Lake Como, via Varenna and Bellagio 
– Verona, Italy travel guide [you're reading it]
– Milan to Venice – how to take the train
– How to find your perfect wine tasting in Italy experiences
– Why you should find a food tour in Italy
– Venice, Italy travel guide – things to know before you go
– 'Italy by Rail', a special travel feature in the June 2019 issue of Get it Magazine, Australia