We've dropped into the little town, Radda, about fifteen minutes drive from our Tuscany apartments courtesy To Tuscany, it's a perfect April day and I think this has to be the best time to visit Tuscany! It's just so special.
I'm sitting in the corner of Radda's old village square at a bar called Palazzo Leopoldo.
Cooper's suggestion that I find a shady spot was a good one. The midday sun floods across faded yellow walls and sunflower pots, proving April in Tuscany sparkles with its own touch of timeless elegance. It IS the best time to visit Tuscany.
A pleasant soundtrack of Goo Goo Dolls and Mary J Blige has turned into a string of ballads by Ed Sheeran – a fellow fan must be running this joint!
April – the best time to visit Tuscany
The light in Tuscany is as they say: golden, warm and soothing.
The sunsets across our To Tuscany apartments are spectacular and saturate with pretty light the rolling hills, olive groves and vineyards (which at present are stripped, a new season on the way).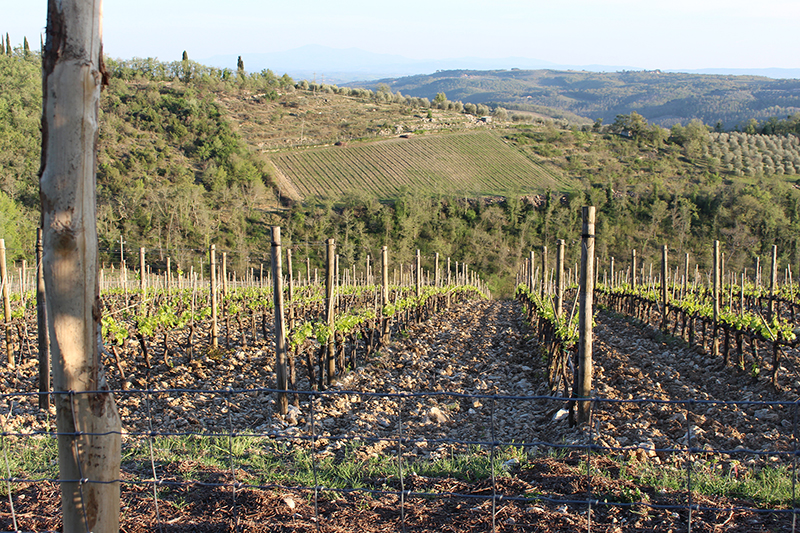 It's really warm in the middle of the day and a nice change from chilly England (that said, we've had nice days in London recently, we'd recommend exploring Kensington on a sunny day, or heading to a sky bar if you're in town).
Where I sit and write now – first draft on paper – I'm positioned by an old Roman fountain.
I spotted a young artist perched by a flower pot sketching the fountain just the other day and thought how charming the scene was; now I'm here and feeling all creative too.
I don't really mind if no one reads this – the space, the channel, the craft, it's for me.
I guess right now though I'm bordering on an Under the Tuscan Sun cliché, but that's ok too.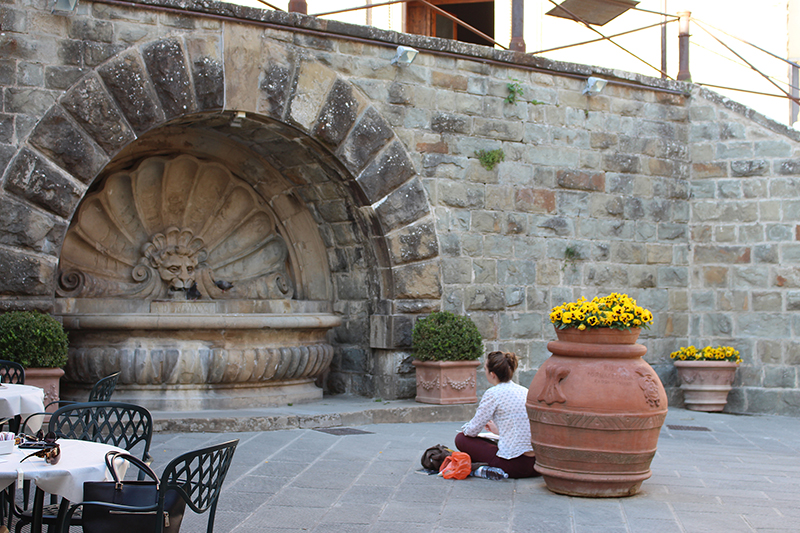 Three notepad pages down already, and they're still playing Ed Sheeran. Lucky streak for me!
Last time I wrote like this was in my treasured travel diary from my first life-changing adventure back in 2000 which was to the USA and Canada.
I remember sitting inside McDonalds as freezing snow fell upon Times Square outside. First snow I'd ever seen.
A melodic Backstreet Boys tune played on the radio there (also good by me, at the time), and it was my first experience as a traveller being alone but not feeling lonely.
It's a bit like that here too (although Cooper's not far – he's wandered off towards the scenic viewpoints on the outskirts of this pretty place to record a little something for YouTube).
Drops in temperature happen here too – overnight from around 4pm; but it's light until 8pm.
To Tuscany apartments
Our villa is in Montebuoni, which is a 'resort' in the Tuscan hills, about 15 minutes' drive from the nearest town of Radda in Chianti, and next door to an impressive winery, Castello di Ama.
We were staying here with To Tuscany in a cosy villa named La Stalla.
Montebuoni is set amidst hilly vineyards and includes pool, tennis courts and a number of beautifully restored villas, some of the original buildings date back to the 1500s.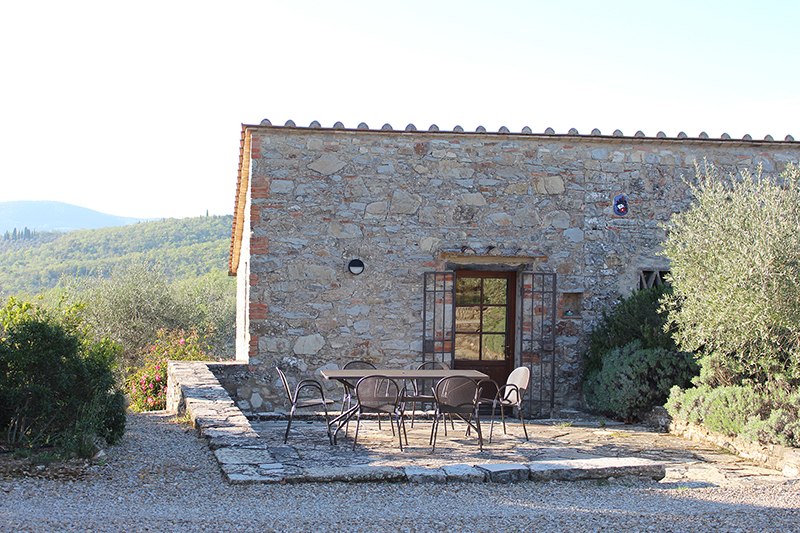 We discovered that during medieval times, this whole area that had been popular for wine and olive producers, was mostly abandoned due to ongoing wars between neighbouring cities Florence and Siena.
It was unsafe to live here until the 1800s when things calmed again and people returned to the area, only to gradually regenerate it to its former glory.
Now the fields that stretch as far as the eye can see offer a patchwork of organised plantations that make the land look particularly charming and well kept.
I can actually see why many Italians were drawn to develop businesses in far north Queensland during post-war migration periods because the climate and land in that part of Australia feels quite similar to the Tuscan region. Tuscany's landscape is larger though, but I felt some similarities and I remember quite well the Italian influence of my childhood in places like Cairns, Atherton and Mareeba (Australia); and the wine regions are a little similar to Australia's climate, like in the Hunter Valley.
Iconic Italian Cypress trees point skyward and line the property around where we are staying; grassy spaces with wildflower patches are everywhere around us and we're spoilt for choice when it comes to scenic picnic spots.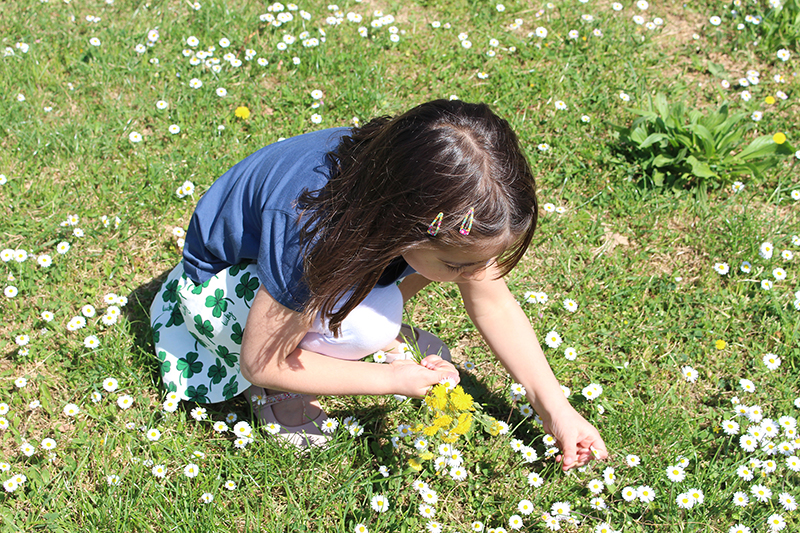 La Stalla's most important feature for me was the peace and quiet.
The large, homely property sleeps four or five, and when we arrived on Monday I actually fell asleep on a bed in a little patch of sunshine that was streaming in through the window.
A bird sang sweetly outside, the wind gently swept across the trees and I couldn't resist dozing in the warmth and stillness of it all.
No east London sirens, no deadlines, and happily no Wi-Fi.
I think we don't realise the impact of city life until we remove ourselves from it.
I find the city's energy and opportunities intoxicating but here I've remembered the pleasure of slowing down, just being and indulging in imagination; well, that and a bit of red wine (Chianti, of course) and cheese.
And when I say 'a bit', I quite possibly mean a lot.
You do need a car in these parts (automatic, and with a GPS or reliable phone data package for Google Maps is highly recommended).
There are many villages that would be difficult if not impossible to reach otherwise. You can visit wineries of all shapes and sizes, most family-owned and operated.
Gorgeous Siena is about 45 minutes' drive away, and yesterday we parked there and took a train to Florence (find the car parking facility at Siena's train station for about €2.50 for the day, which is vastly cheaper than anywhere else, and for trains visit trainline.eu).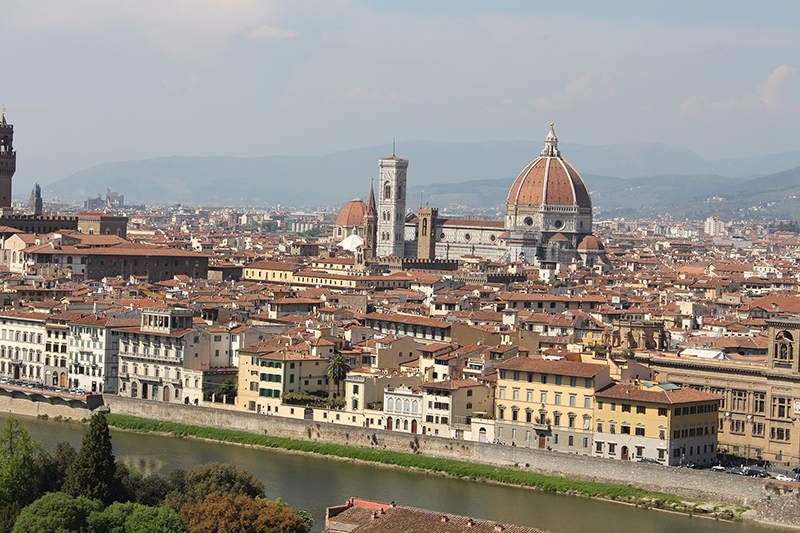 Florence is beautiful.
If it weren't for all the tourists it would be perfect.
It's a small, romantic city in which you can walk around – everywhere takes about twenty minutes.
Florence is where the Renaissance began, breaking the shackles of the Dark Ages and shedding light once again on creativity, learning, passion, pleasure and the arts.
The city was famously managed by the Medici family in the 15th Century, and their mark along with that of the artists, musicians and papal folk that influenced during this time is still bright and bold.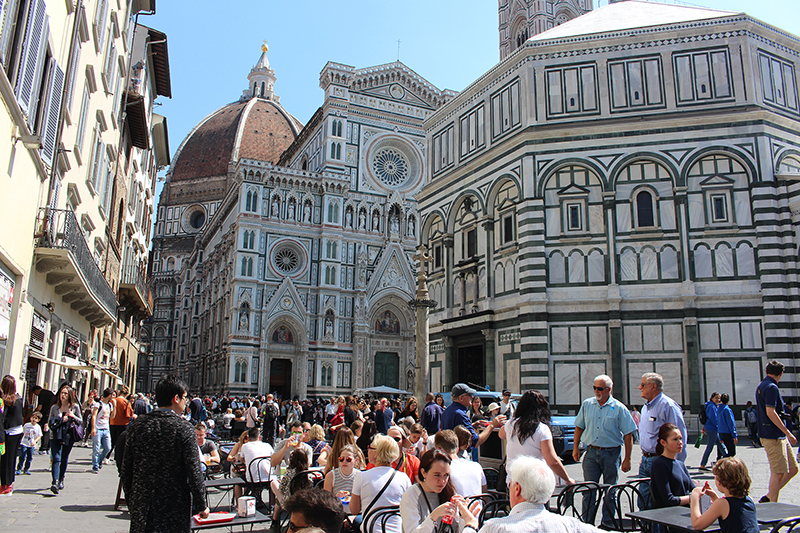 Find a view – whether up the steep hill to absorb all that Piazzale Michelangelo has to offer, or from a cool rooftop bar position; breathe in the past and present indulgences of Florence.
There's tours of all sorts here, and we'd strongly advise researching ahead of time to avoid the queues which can quickly become tiresome.
As for me today, I've recovered from the hustle and bustle of that big Italian draw-card and am happily hanging about within Radda's romantic walled city with pen in hand, coffee at the ready.
It really is beautiful in these parts and while I don't understand the language (yet) I find it soothing to listen to its rhythm in the voices of those around me or on the radio.
If you're planning a trip to the region, I highly recommend To Tuscany's apartments offering, and think that April is the perfect temperature and best time to come.
Signing off … I've got a date with Cooper at a winery.
Ciao for now.
Want more Italy? Read about the north here