We want to help you get your Venice facts in order. Is it magnificent and marvellous or hot and crowded? There's facts you need to know about Venice before you go, which may make or break your visit. I was totally converted on my second trip. It's why I want to highlight important travel Venice facts that will help you make the most of your experience.
Venice was our last stop on a self-guided train trip across Italy for one week, beginning in Milan. Our highlights included a day trip to Lake Como; rail to Verona and then to Venice. Click the links to read more about those destinations, and read on for more facts about Venice.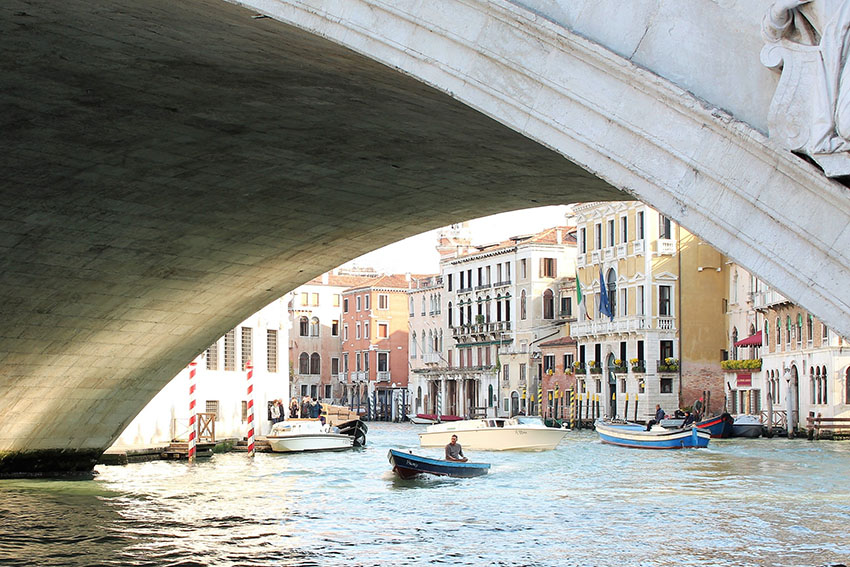 Travel Venice facts
5 facts for starters, about the city…
Venice is built on over 1 million wooden stakes.
There are 118 islands that make up Venice, linked by over 400 bridges (about 70 being private) over more than 170 canals.
In 1608, the Council of Ten approved wearing masks only during the Carnevale in February. Breaking this law meant enduring punishments that ranged from two years in prison to public beating and binding to the 'pillar of shame'.
Sadly, Venice is sinking at the rate of 1 to 2mm per year.
The population of Venice has decreased from 120,000 to 60,000 in the last 50 years. Apparently Venice could be a ghost town by 2030 with only tourists visiting by day. A sad thought for Venetians, who perceive this level of tourism to be totally unsustainable. So, for us as the travellers, be grateful for the time in the city – seems a lot of sacrifice has taken place for us to enjoy it all.
The weather can be wet or hot, timing is important
If you can be flexible in your travel planning, the top travel Venice fact to work with is that the best times to go are April, May, June, September, and October.
Summer in Venice can be scorching. The first time we visited back in August 2011, we were tired from being on a non-stop tour and drained by the heat. April was near close to perfect though. Venice can also be very wet and flood. The flooding gets to the point where visitors need to buy Wellies (rubber boots). Even waiters in fancy restaurants need to, to get by serving customers seated outdoors.
There's a helpful piece on all of this here, by Rick Steves.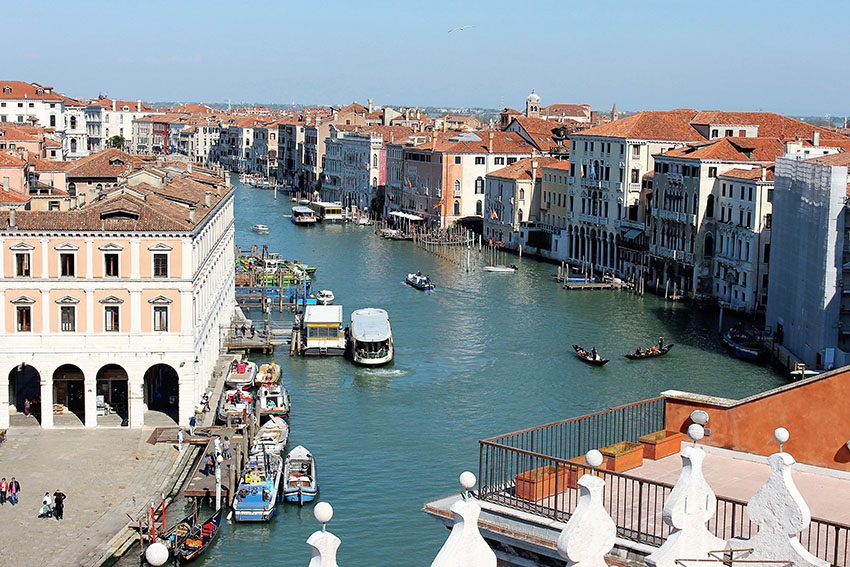 Undeniable Venice fact: it gets VERY crowded
It doesn't really matter what time of year you go, Venice is a magnet for people. Main attractions like the Rialto Bridge, St. Mark's Square and along the Grand Canal are swarming with people – travellers, tour groups, cruise ship stop-over passengers – throughout the day.
During the famous Carnevale in February, the streets get so crowded that distances which would usually take ten minutes to walk might take up to an hour to reach. Our Airbnb experience walking tour guide, Roberto, told us that the city actually constructs lanes, so it's one way walking to a certain destination, and one way back.
Top tip:
Find a good deal on Airbnb and stay centrally. We were just a couple of minutes walk from the Rialto Bridge. This meant we could get up and go exploring first thing in the morning. Not only was the light lovely, but we weren't battling crowds to get from A to B.
Additionally, if you want to visit the museums, go early in the morning or late in the afternoon to beat the queues.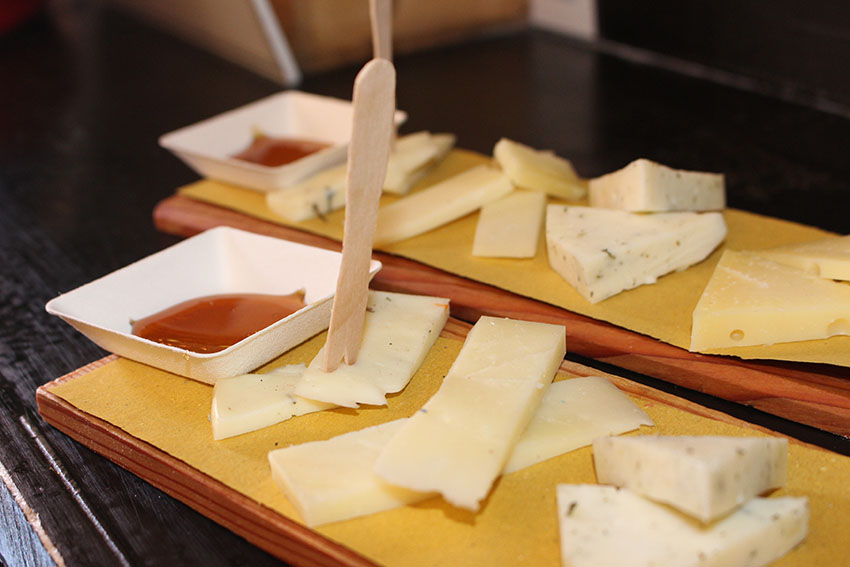 Fab Venice fact – some great experiences are FREE
One of the best travel Venice facts that our Airbnb hosts shared with us was to do with the unmissable free view available from the top of Fondaco dei Tedeschi.
This historical building is situated on the Grand Canal, very close to the Rialto Bridge. It's seen many uses including being used as a trading post for German merchants, a post office during Mussolini's time, and a customs house under Napoleon.
Today it's a luxury shopping mall, but at the top you can experience breathtaking rooftop views. It's absolutely worthwhile, and it's free, but you need to book your spot.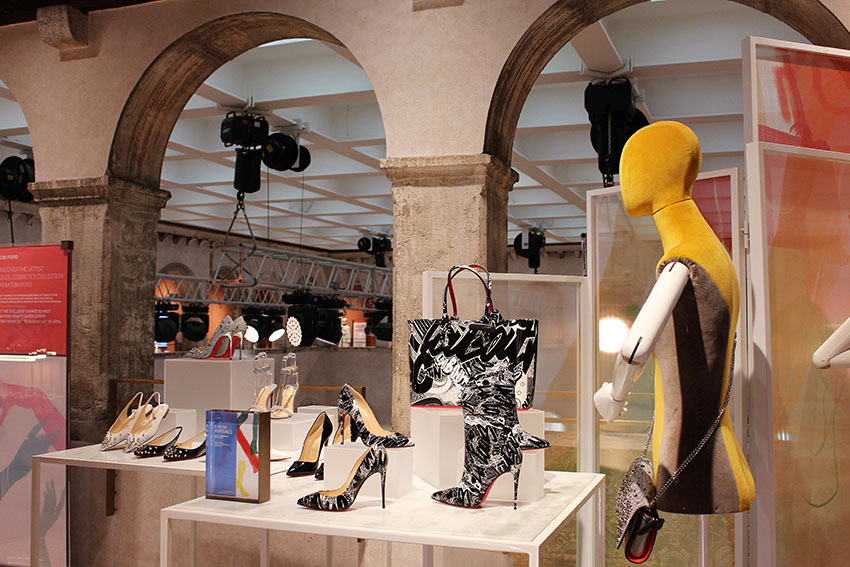 Venice facts: Gondola rides need-to-know
A gondola ride ranks highly on most travel bucket-lists, but it can turn out to be very expensive. Know before you go:
– A gondola ride costs around $90
– Typically lasts about 40 minutes
– Your Gondolier knows what they're doing; they all have to pass extensive training to represent the industry in Venice
– Gondolas hold six people so you can share the ride and split the cost
– Sunset or night rides are spectacular, but you'll pay more for that experience
– Avoid booking through an agency or hotel, you're likely to pay extra fees
– Talk to the Gondolier about any requests you have for places to see, and consider skipping the crowded Grand Canal
– Wear sunscreen and a hat during the day.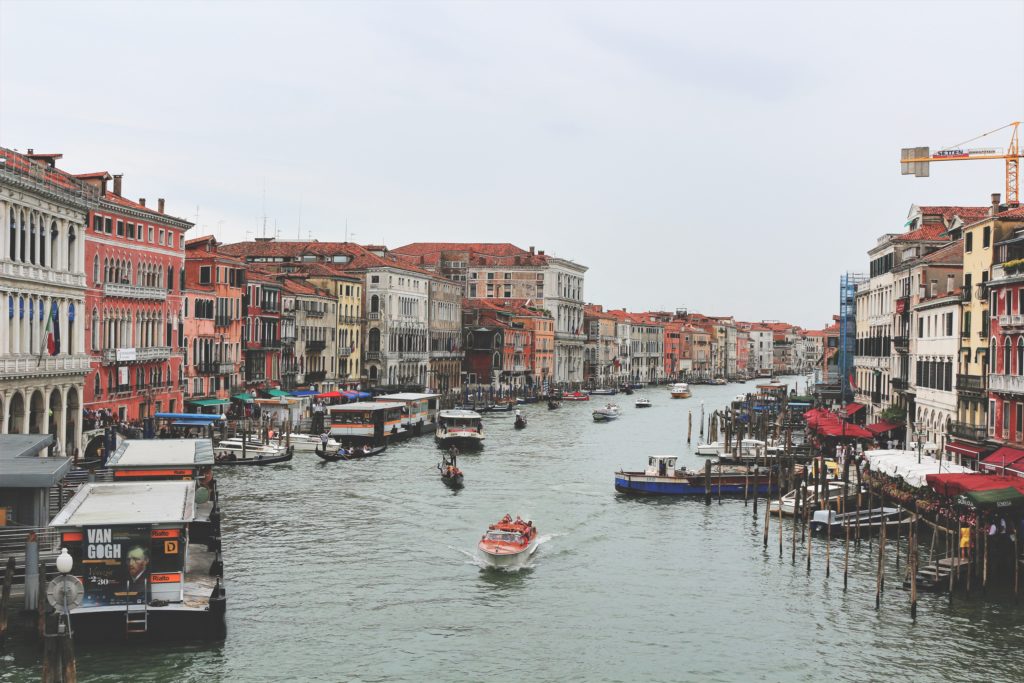 Local water bus options offer cost-effective travel adventures
If a gondola ride is not within budget, try taking the #1 vaporetto down the Grand Canal instead. It's like the local ferry and for just over €7!

To and from Santa Lucia train station, or the airport:
If you're coming into Venice from Santa Lucia train station or the Marco Polo airport, be careful of people coming up to you offering to take you to the water taxi that goes into town. These are quite often private services that cost much more than the public ferries.
Look for route number 2 that does the journey between Santa Lucia railway station and St Mark's Square, making only five stops including Rialto Bridge, where we got off to meet our Airbnb host.
The Alilaguna ferry will take you to and from Marco Polo airport. We got on near the Rialto Bridge and it cost about €15 one way, and the ride was just over an hour.

You will get lost
The streets of Venice are a maze, and you will get lost. But that's absolutely fine. Don't worry, just give yourself time to get places if you happen to have an appointment or need to meet a walking tour.
Google Maps led us into quite a few walls, so don't rely on it. It's helpful for finding general direction though, and recommendations on where to find a beer or food.
If the prospect of wandering the streets like a pro (and out of tourists' way) is appealing, we'd highly recommend you engage a guide for a couple of hours. Roberto from Airbnb Experiences was excellent! His Walk, Eat and Drink in Venice tour took us through charming back streets we'd never have found, and showed us there's much life away from St Mark's Square. Contact him directly for details or to arrange a bespoke trip if you like.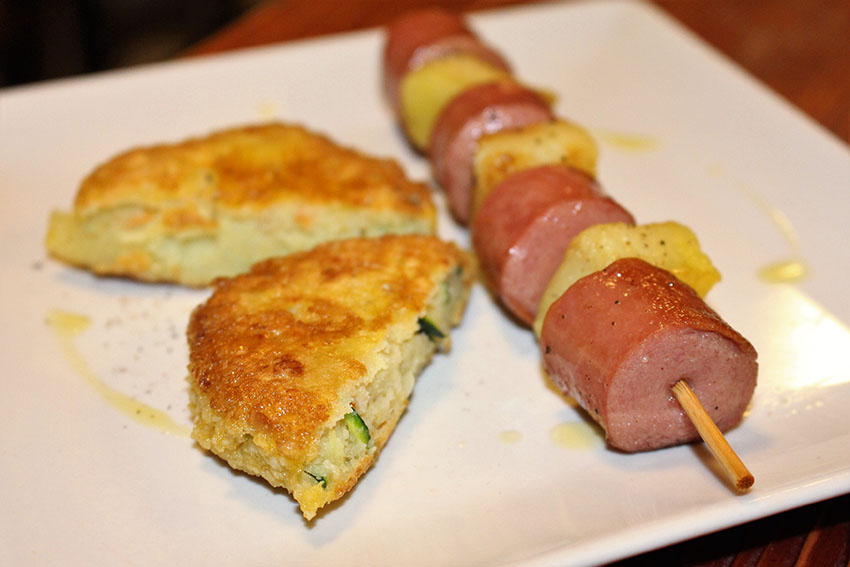 Authentic dining options may be hard to spot
When in Venice you want to find yourself a local Bacari. This is a bar that serves wine and typical Venetian snacks. These snacks are referred to as cichetti, which generally means savoury snacks or small side dishes. We learnt more about this on our walking tour, referenced above.
A trip to Italy means eating gelato, especially if the weather is warm. But there's plenty of inauthentic expensive tourist options you should avoid. It's always good to support the genuine producers.

Basic rules of authentic gelato are:
Look for the gelato being stored in metal tubs, preferably with lids; plastic tubs are a no-no.
Quality gelato will not have vibrant colours because the aim is to make it with a high proportion of natural ingredients and very little (if any) added colouring.
If the 'gelato' is piled up high for display and doesn't melt it means it's high in vegetable fats and emulsifiers – it's not the real deal.
Seasonal fruit flavours are a good sign, anything wild resembling Baskin & Robbins is probably not gelato, but something else, like ice-cream.
Not always, but for the most part, the real gelato is sold away from tourist hot-spots. We found a lovely authentic one in Verona that fits all the criteria here, and it was cheap, unlike rip-off options we've seen in Florence and Venice.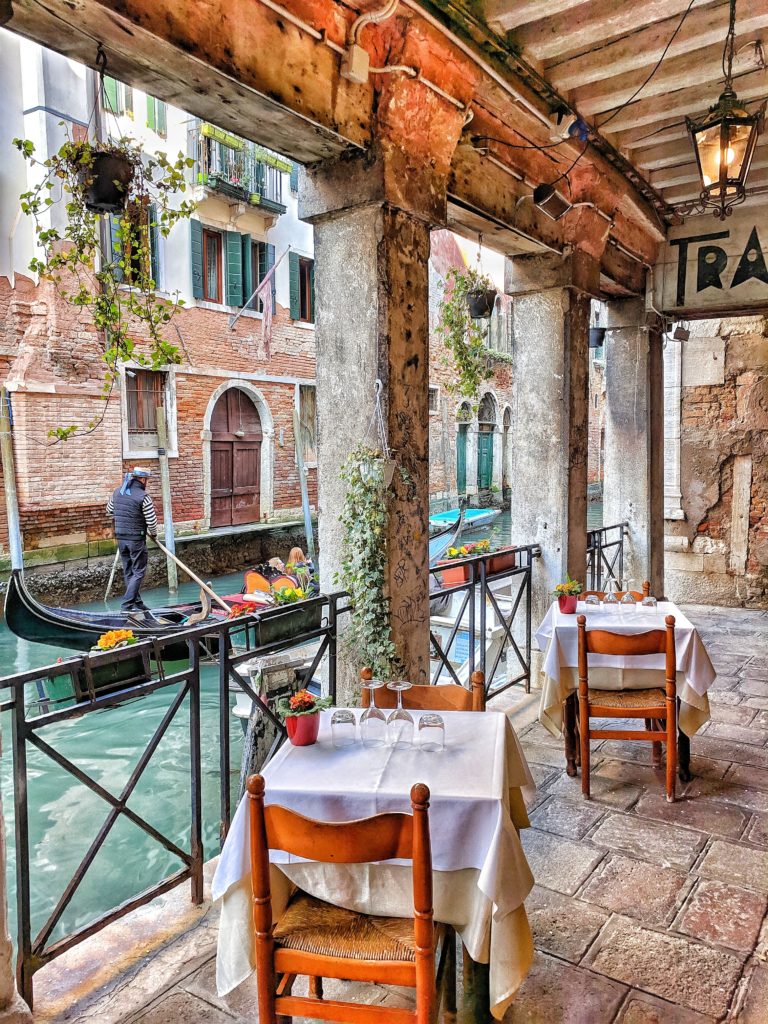 There's much more to see
We've not had the chance to day-trip from Venice yet, but we plan to, which is why I'm linking ideas in here.
Let me know in the comments what else you'd recommend.
Castle of Monselice – one for fans of the series A Discovery of Witches. Other Italian and Welsh filming locations outlined here.
– The islands, including Murano and Burano, are apparently incredible. Have a read here for a summary on each, and why you should visit.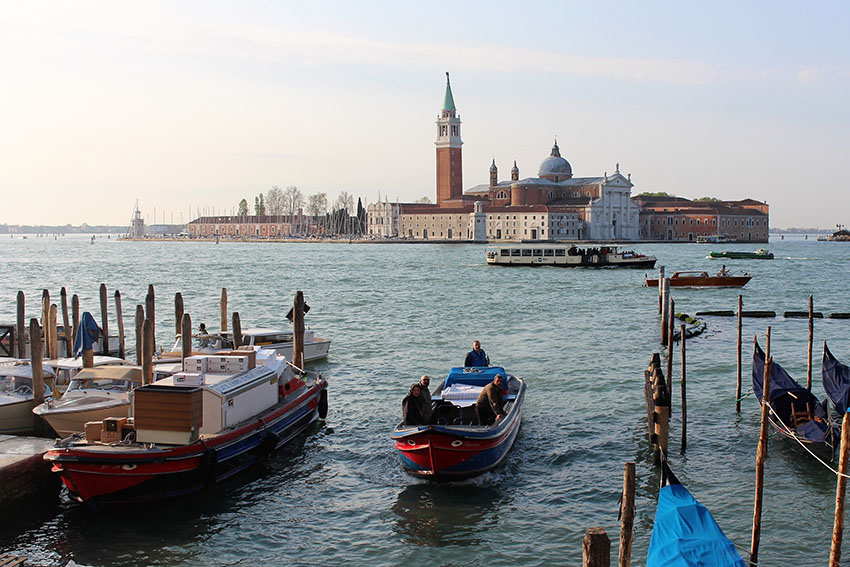 Travel in Venice: safety, packing and payment advice
Our final tips
Cash or card?
There's a lot of markets and smaller vendors who require cash payments so do have some on you. Most places take cards though.
Safety
We felt safe, but always use common sense in crowded places. Thieves operate in these areas in all big cities. Pay attention to your surroundings, don't carry things in your pockets, and don't lose focus because you're distracted by your phone! We'd suggest ignoring people who try to sell you things on the street too.
Packing
Pack light. The streets are old, you'll walk a lot and the ferries are crowded. The last thing you'll want is to be hauling a huge suitcase along! Shed your stuff, you won't need half of it anyway.
Got questions or tips? Please do let us know in the comments below…
In this series – a week across Italy by train:
– Milan to Lake Como, via Varenna and Bellagio
– Milan to Venice – how to take the train
– How to find your perfect wine tasting in Italy experiences
– Why you should find a food tour in Italy
– Venice, Italy travel guide – things to know before you go [you're reading it]
– 'Italy by Rail', a special travel feature in the June 2019 issue of Get it Magazine, Australia