I was looking forward to today's visit to Stratford upon Avon. I haven't seen all of England's towns (wish I had) but I think I can safely say this is definitely one of the prettiest of them all. Obviously this medieval market town is particularly famous for one writer – William Shakespeare.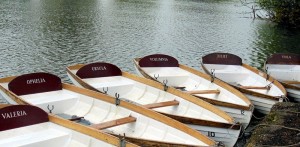 I'll admit, I'm a fan. He's influenced so much of our language and his stories continue to stand the test of time. I'm intrigued by the entire period he represents and so visiting Stratford upon Avon has always been part of my own 'bucket list' of places to see.
Today it's my birthday – I'm an Anzac Day baby. Happy Birthday to me! It was a special day in Stratford upon Avon too, as April 25 marks the anniversary of Shakespeare's funeral.
His birth home, Anne Hathaway's cottage, Holy Trinity Church (where he's buried) and various other monuments around the town showcased tributes and flowers to mark the occasion. Interestingly, William Shakespeare was born on April 23 – and he also died on April 23 (evidently in different years)! Weird – the thought did cross my mind today – is it sad, ironic or completely extraordinary that you're born and die on the same day? Perhaps it just means you're extra extra special, which he definitely was (and is).
Everyone in our group enjoyed Stratford upon Avon – apparently the second most visited place in England outside of London. It's a delightful and interesting town where even if you're 'not into Shakespeare', it's impossible to not feel a little whimsical and romantic exploring the old streets and homes – all well maintained by diligent workers and fans of the Bard.
As part of the day's adventures we visited Anne Hathaway's enchanting cottage (pictured above). Steeped in history – if only the walls could talk.
Anne was William's wife, and her family lived in this home for generations – up until 1911 in fact. Historical items in the home include beds (Anne's parents' bed as well as a bed that is thought to have been Anne and William's 'marriage bed'), kitchen and garden items.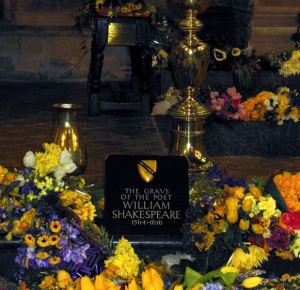 The guide at the cottage, Alison, was SO knowledgeable and the visit was worthwhile for all her interesting facts and stories alone.
One thing I found incredibly entertaining was that she told us how in Tudor times, among much other baking, bread emerged from the oven burnt on the bottom (remember, no trays then); children under 11-years-old got the bottom bit first (they were 'lowly', like servants), next cut (or the 'cut(s) above') were distributed to the older children and so on; then the 'upper crust(s)' were given to the man of the house or distinguished guests. Hence class system connotations derived from a 'simple' process with a family loaf of bread – this, like so many other phrases coined from this period are still used to this day.
Today we also passed through quaint, intriguing little villages like Mickleton – home of the Three Ways House – a pub that lays claim to the popular 'pudding club' – renowned the country over! We also explored the exquisite villages of Broadway and Snowshill and stopped by a worthwhile lookout point (where on a clear day you can see all the way to Wales), Dover Hill – named after a guy called Robert Dover who actually came up with the concept of the Cotswold Olympick Games which this year celebrates its 400th milestone and highlights important cultural sports like… shin kicking – see a video here!
This is the second tour I've been lucky enough to be a part of, and once again I'm struck by how lovely it is to get to know different people from various parts of the world whom I might otherwise never have crossed paths with. Over breakfast, lunch, on the bus and while sipping on an afternoon coffee – each conversation with co-adventurers – solo travellers, couples, friends, mother-daughter teams and siblings – reveals something new: a positive attitude, life challenge overcome, surprising secret skill, a helpful piece of advice… It's really possible to make lovely friends and be inspired on trips like this, because the bond of exploration and new experience is shared by all. We're lucky to have amazing organised journeys on offer to us now – I'm a huge advocate of these tours because as I've said before – it ends up being about the travel and the (new) friends.
VIEW THE PHOTOS HERE / and HERE.
WHERE: Stratford upon Avon, the Cotswolds.
HOW: Back Roads Touring UK and Escape Travel Australia.
DINED AT: Eight Bells Inn.
STAYED: Noel Arms Hotel, Chipping Campden