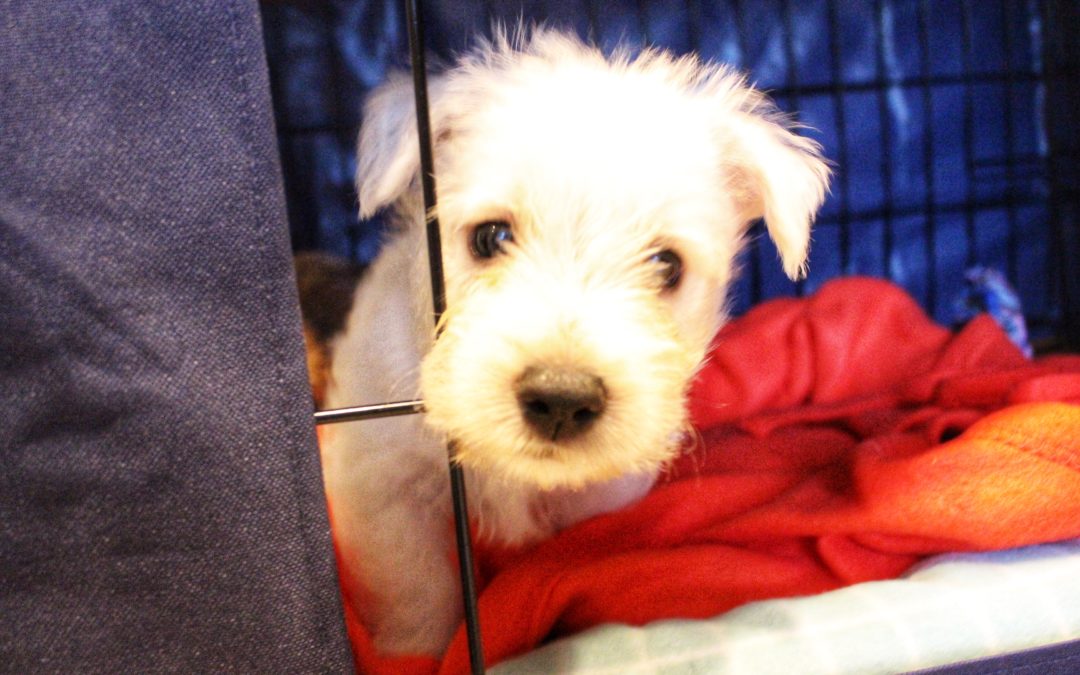 Ten months ago, my Mum, Cooper and I found ourselves in a sleepy suburb outside of Brisbane, surrounded by a squeaking pack of tiny Westie puppies. It was a far cry from where we expected to be in December 2020. I for one fully intended to be at a nice crisp German Christmas market, sipping on mulled wine and impulse buying sparkly decorations that I had nowhere to display.
But, surrounded by these white creatures that more so resembled tiny polar bears than Westie puppies with their eyes barely open wasn't entirely bad either.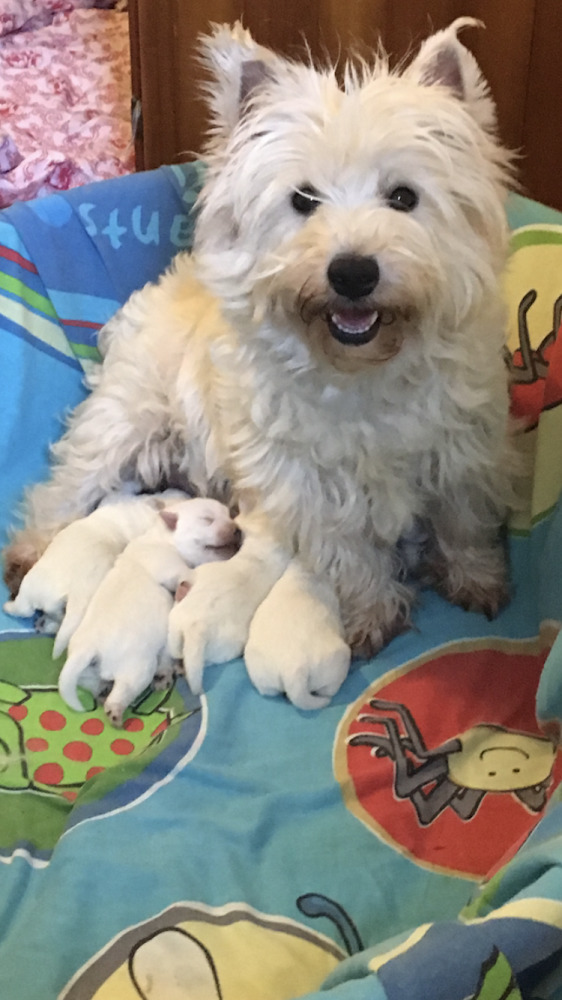 For the love of dog
One look at all of our past content here and on YouTube, and you'll spot a mile off that Cooper and I are "dog people". Not part time or casual dog people. Oh no. We are those all-in-totally-obsessed-heart-eyed weirdos who quite literally would follow a wagging tail along the road, through a shopping mall, down a commuter platform and onto a train if it meant we could have just one pat.
If that sounds insane to you, maybe you better go find another post to read
As long as Cooper and I have known each other, we have loved dogs. In fact, I recall the first time I thought Cooper (my co-worker at the time) was "sweet" was when he stooped down to kiss one of our mutual friends' dogs on the head when he met it.
"That's so sweet," I thought…and looked at him kinda differently after that.
Jumping forward a few years, we had two blue cattle dogs in our lives. One, Stephanie, my beloved childhood pet who moved with me to a small rural town in NSW where Cooper ended up befriending her and giving her a roaring good time in her twilight years.
View this post on Instagram
And the second, Harry (pictured above), another bluey who was quite simply the best dog you could ever, ever know. He loved us and we loved him with all of our hearts. Everyone loved Harry – he was a popular family member with all relations and friends. He had his own identity and personality. When you imagine the "man's (or woman) best friend" analogy of a dog and their human living their best life, together, Harry is the dog in that picture.
That rainbow bridge, I tell you, it's a wonderful place with all our four-legged mates chasing their tails and their tennis balls, just waiting for us on the other side.

But of course, there's that time in between. And ours was spent living abroad and travelling. We were always dog spotting and stalking puppies in the park – well, everywhere really (pubs, trains, cafes, courtyards, the workplace…). The time was never right for us to get a dog when we lived in London. We did however, sign up to be Trusted Housesitters specifically to get our dog fix and give love to fur babies in the absence of their own humans who wanted to get away on a holiday somewhere.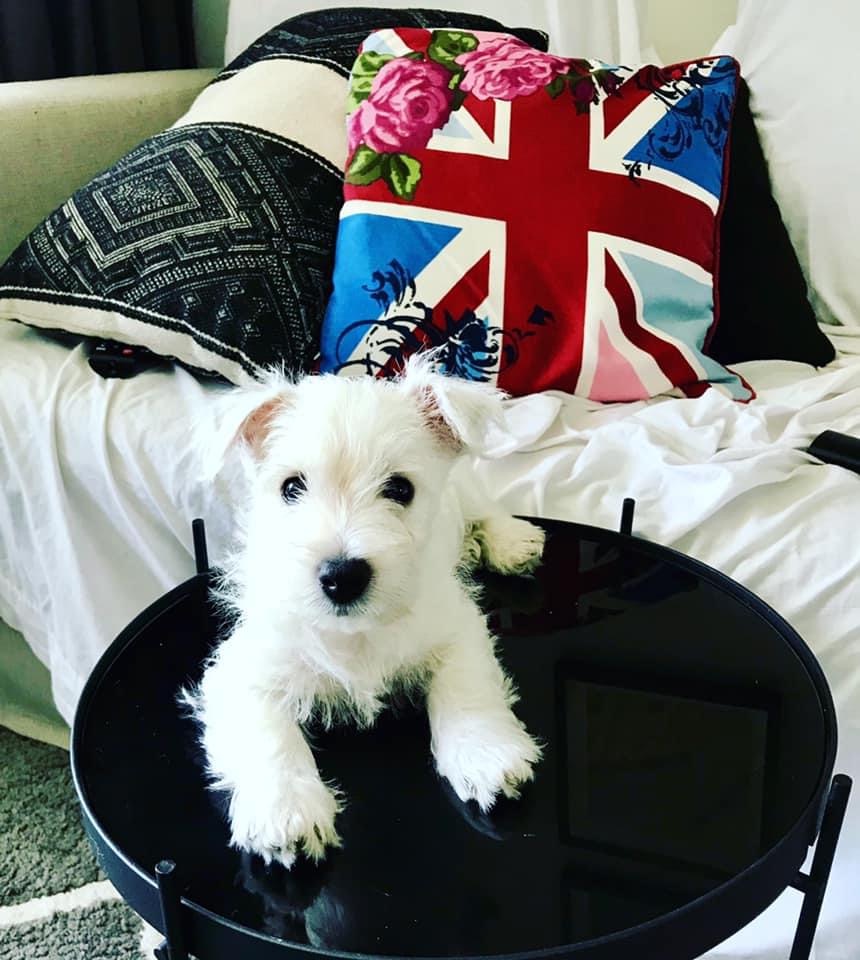 Which brings me back to being surrounded by Westie puppies…
Since we had to leave London for now, and with so much loss experienced over the past year, we decided that it was time to bring in new puppy joy. (Well, when I say 'we', I mean I kept shoving the newborn picture of our future Westie pup in Cooper's face until he said 'yes' :).
We couldn't get a bluey again based on our apartment living requirements, so we set about searching for a breed that we feel is quite similar in personality: the West Highland Terrier. Maybe it was sentimental – Westies had been the first breed we pet sat for in London; or maybe it was always meant to be, but we decided to give raising a Westie a go.
That day surrounded by Westie puppies, we made our choice: not the loudest pup, and not the quietest – the one in the middle who did seem content enough with us gently picking him up and having a chat with him about his future.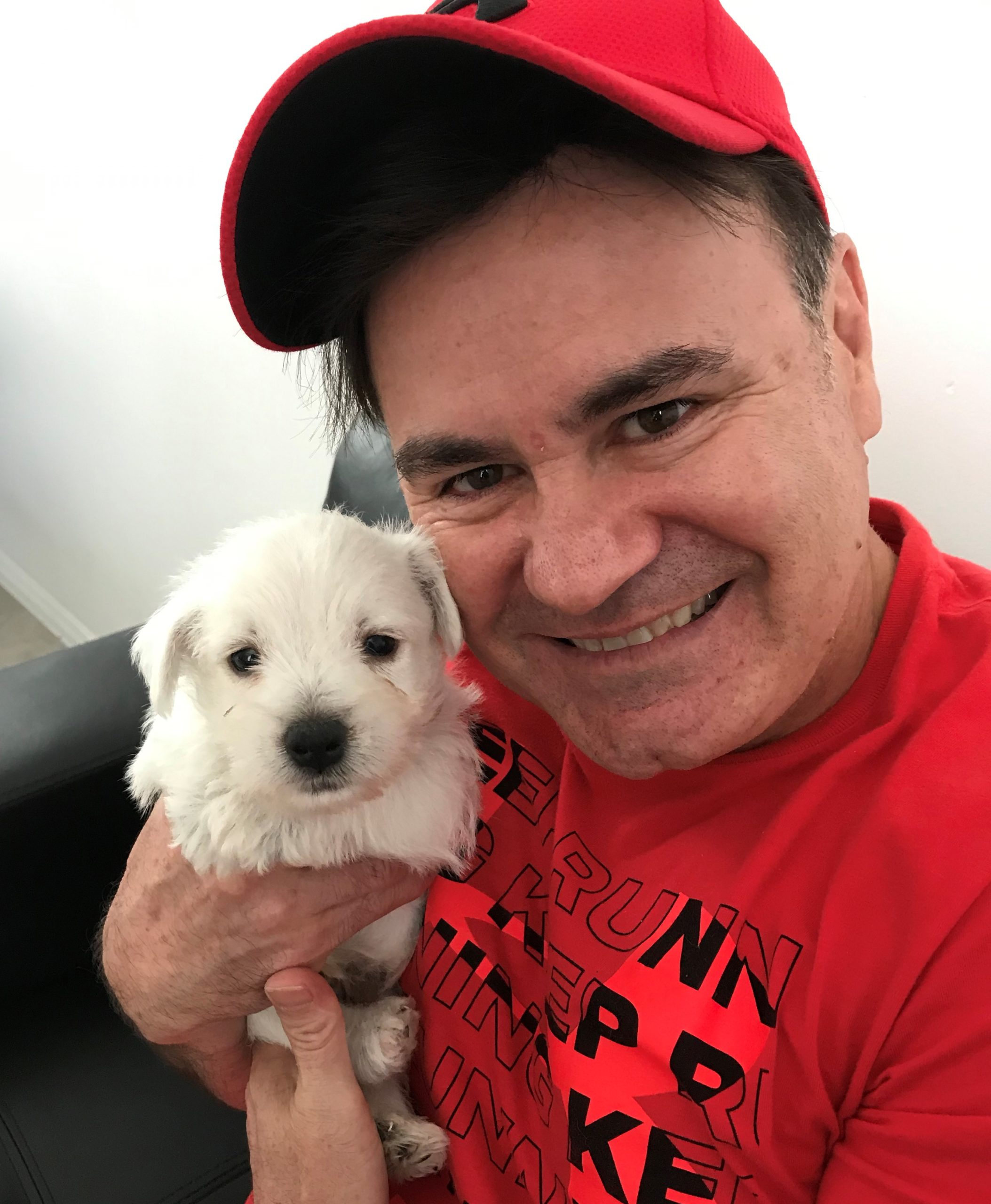 What did we learn about Westie puppies?
Well let me tell you, Westies, they're not the same as cattle dogs In fact, we'd clocked early on – at about 9 weeks old – that our little Westie puppy, London (named after our beloved adopted home in England) had no intention of listening to anything other than what pleased him. Our vet even said to us, "yeah, he'll never be obedient like the cattle dog".
'Westitude', we later discovered on a Facebook Group full of Westie owners – is an actual thing. Defiant, belligerent, obstinate.
But oh my God, he's just the cutest little defiant, belligerent, obstinate thing we could ever know!
Also, we are kind of in love with him, which is evident by the fact he has nine places comfortably laid out to sleep at home (in a one bedroom flat!). We also bought a doggie cam so we could check on him and make sure he was ok and not fretting when he was a little pup. Additionally, London  has the luxury of attending doggy daycare during the week to keep him happy and social.
Best things we did to help our West Highland Terrier puppy as he grew up
If you're considering the journey, go for it. These are the funniest little dogs you'll ever meet! Actually hilarious! But here are my top tips based on our own experience:
Crate training was a new concept for us, but it's the BEST thing we did. Even though London isn't bound to his crate anymore, he still makes his way inside for his own peace, solace, warmth and rest.
The first eight weeks might be tough: they're babies and need the same care human babies do. They also wake VERY early and need to know you're there to help them with potty or nurturing.
Give your puppy the time he/she deserves. I think it's easy to forget they're still so young and really do need proper care. They love interaction and play, so spend time with them.
Ensure plenty of toys and stimulation are available for your puppy, especially if you're going to be out.
But with that said, please please do not get a puppy (of any breed) without thinking through how he/she will spend their days. If you're going to be out a lot in the future, will you provide daycare or walkers – what's the plan?
Best treats we discovered are chilled carrots (he LOVES these) which are especially great when your puppy is teething; and peanut butter on a Lickimat (available on Amazon and at pet stores).
Our doggie webcam was so inexpensive on Amazon and well worth it so we could monitor in his early days how he was coping when we were at work.I spotted there was a two hour window in the afternoon when he started to panic and suffer from separation anxiety, so arranged for friends to drop in and play with him during that time while he was very young.
Get proper breed-related advice on how to feed and care for your pup: Westies tend towards sensitive stomachs and allergies, so do your research to ensure you are prepared and can prevent these things if possible.
Educate yourself: there's a WEALTH of wonderful training information on YouTube. If you're getting a puppy, spend time teaching yourself how to care for him or her. They deserve it, and your future self will thank you! Two of our fave trainers' channels for this are Zak George and Michele Lennon.
Learn to go with your intuition. If a cry is more than a cry or you sense there's a difference between anxiety and tantrum (and there is), take action on it accordingly.
Westie puppies are very social, so after vaccinations, ensure you're getting your pup out and about to play with other dogs. Puppy preschool is a good option, as is doggie daycare in the long run. Dog parks are in every city, and you can find breed-specific or location-specific pooch meet-up groups on Facebook.
The world will revolve around your Westie puppy, because he/she demands it to be so :)
A future world with our Westie
As London grows, he is gradually shedding some of the puppy Westitude. He wants to hang out with us more and do dog things … like we remember dogs do. He's brought so much fun and laughter though, and reminds us yet again of the value of dogs: they are pure joy.
He is certainly part of our pack now. Or perhaps, it's us who are in his.
We can't wait to see what the future holds: adventures with London in London, perhaps?
Read our popular post about pet care while you're away, and house sitting as a way of travel or to take care of your own fur baby.
Do you have a question about raising a Westie puppy, or have a story to share? We'd love to hear from you! Let us know in the comments below.