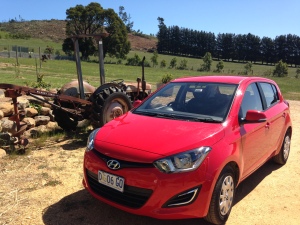 Melbourne residents looking to take a break from the city or visitors to Victoria looking to see a little bit more than just the Melbourne CBD are re-discovering the 'world away' feeling of a driving holiday to Daylesford.
And the best part; No car? No problem! While DriveAway Holidays Australia has already become synonymous with motorhome hire around the globe, travellers can also grab a great deal on car hire for mini getaways to some of Victoria's most scenic and relaxing destinations.
Packing a weekend bag, my partner and I decided to venture outside the city for a mini mid-week break!
Visitors flying into Melbourne Tullamarine can easily collect a hire car from DriveAway's airport location or in the Melbourne CBD (which is what we did.) We were pleasantly surprised to find the process smooth and the car in great shape (freshly washed and ready to hit the road.)
Located about 100km from Melbourne's CBD, Daylesford has become known for being a  'spa town' offering plenty of options to relax and unwind with some great options for mineral baths, massage treatments, fresh local produce and a whole lot of pampering. What might seem like a quick 2 day trip is certain to feel like an extended break.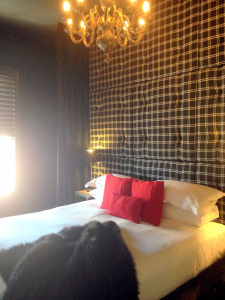 We checked into Frangos and Frangos, a boutique property located in the middle of the town of Daylesford. Offering just 12 rooms, each themed differently, and offering a sophisticated glamour and luxury amenities that make it popular with couples.  The onsite restaurant Jimmy's Bar and Dining Room offers contemporary Australian fare with a bit of a twist.
The regional area, known for its quality local wine and produce is highlighted on the Jimmy's menu in beautiful surroundings. So if you're a wine enthusiast (and who isn't?) you're certain to find something that will please your palate.
With both a bar area and a semi-formal dining area, Jimmy's is ideal for a variety of special events, casual dining options or events, and a romantic dinner.
While in town, wander around the local area and enjoy the variety of cafes and boutique shops including a wide assortment of unique gifts, antiques, and handmade items. Make sure to take a little time out to drive just a short distance to one of many local wineries as well.
We took our chances on finding a winery along the drive and stumbled upon Passing Clouds. Greeted by the official winery dog, we did a quick tasting, discovering a remarkable chardonnay before heading back into town.
As the area is known as a wellness destination, you'll find plenty of options for looking after yourself with a bit of indulgence and we made sure to experience a treatment at Daylesford Day Spa. Located in the centre of town, it's a short stroll from our accommodation. With six treatment rooms and a host of treatments available ranging from facials to massages to aromatherapy and everything in between. We tried out one of the spas signature treatments, an aromatic candle massage. By selecting the candle that suits your preference, it's melted into warm oil that's used to treat your skin with soybean and essential oils and leave your skin not only moisturised but feeling incredibly soft.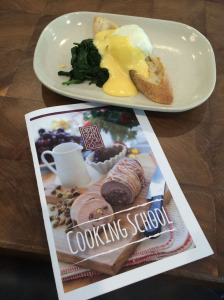 Day two we took our DriveAway car on another adventure into nearby Kyneton where, similar to Daylesford, you'll find a variety of quirky shops and antiques as well as the Piper St Food Co. Here you'll find a tasty little cafe and shop offering a variety of housemade and local treats from nearby producers as well as a cooking school.
Located on the main strip of Kyneton, these courses cover everything from basic cooking classes like creating the perfect picnic to pasta making to full day charcuterie classes- even a master-class on breaking down a full pig just like the butcher!
Class sizes are small so you're certain to be able to see what's happening and answer questions.
My session was the Cooking Basics: Eggs course which, in just two hours, had me preparing mayonnaise from scratch, learn how to create the perfect poached egg any time, make a hollandaise sauce and so much more.
Our two days felt like four and we drove back to Melbourne and returned our little car feeling like we'd had an interstate holiday.
While two days certainly wasn't enough time to experience all there was to see and do, you can plan your own getaway using the Daylesford app offering plenty of ideas and inspiration regarding things to see and do in both Daylesford and nearby Hepburn Springs.
Alternatively, you'll find more information on experiencing the best of Daylesford and Hepburn Springs area by checking out dmrtourism.com.au for plenty of tips and ideas.
About the author
Gwen O'Toole is an accomplished writer focussing on travel, events management and food and wine. She also published a fiction novel while spending the past eight years as a magazine editor and travelling the globe before launching The Ideas Library, a creative services and event management company. She is regularly featured in a variety of travel and leisure publications and blogs.