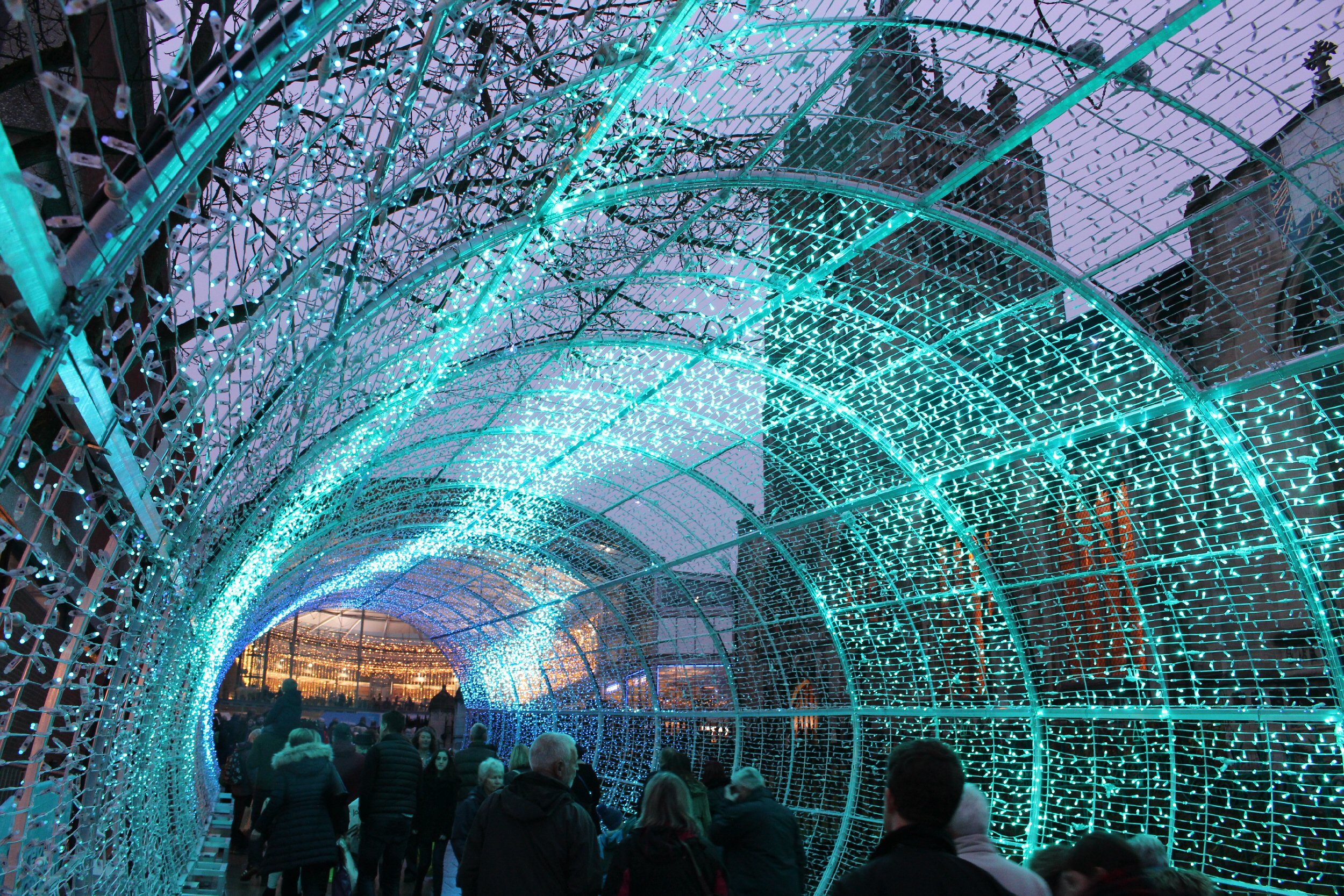 We're Australian and while we sometimes miss the sun and prawns at this time of the year, there's a certain magic to Christmas in England.
We found extra sparkle in a special light tunnel – the Norwich Tunnel of Light, an easy day trip from London.
*Update: the Norwich Tunnel of Light is back in 2018 – make your way there to have a look, and let us know in the comments below what you think of it.
Christmas in England and a magical light tunnel
This unique Tunnel of Light Norwich installation is a one-of-a-kind in Europe and intended to simulate the Northern Lights (or aurora borealis).
The trip from Liverpool Street is about two hours to Norwich, and it's well worth it for a few reasons:
The city has a really nice vibe and boasts clean streets, pretty views, a cathedral and cool pubs (important here in England!).
There are lovely markets in the city, undercover so it doesn't matter if it's raining. At the markets you'll find sweet hand-made goods and delicious fresh food to get stuck into after a hard day's worth of shopping. At Christmastime there are festive markets open too.
We discovered a fab little shop called Cupcakes & Bubbles – yep, champagne and sweet treats. Amazing.
Plenty of cute dogs in the area too, and it was lovely to see a group of people in the town centre raising awareness for Action for Greyhounds, an organisation that campaigns for these lovely dogs who can sometimes be mistreated when their owners are finished racing them.
If you visit Norwich, don't miss a lovely waterside dining and entertainment precinct (just around the corner from the train station), Riverside Norwich.
Then of course there is their very special light tunnel, the Norwich Tunnel of Light, right in the city centre.
Light tunnel: magic in Norwich
For more on the area and the Tunnel of Light, take a look at the city's official tourism site, Visit Norwich. We bought train tickets in advance on Trainline which meant for two of us it cost around £35 return trip on Greater Anglia trains.
There's plenty of amazing festive experiences on offer at this time of year. You can travel within the UK, or might we suggest further afield to Amsterdam or Paris?
Let us know in the comment what your favourite thing to do in the holiday season is.