Determined to dip our toes in the ocean just once before 'summer' in the UK is over, we followed advice from friends about serene days out in Kent.
We boarded a train from London headed to Broadstairs and Botany Bay, ready to explore the gorgeous Kent English seaside.
Discover our itinerary and have a look around for yourselves…
Days out in Kent – take the train to Broadstairs
🌞
I'd read a magazine article somewhere about the UK's prettiest beaches, and Broadstairs was in the list as being 'most Instagrammable' (in other words, great for photos).
I figured the destination would be right up our alley.
Plus, at just an hour and a half from London's St Pancras, this quaint beach-side haven in Kent is easily accessible for us.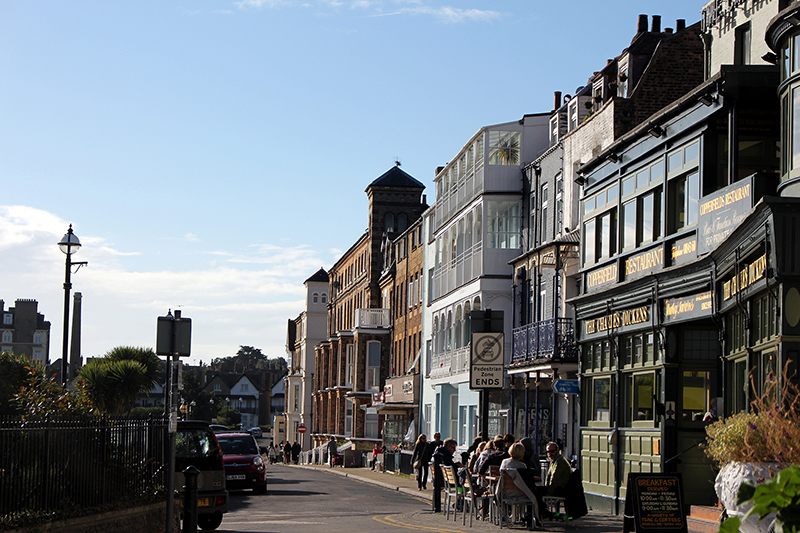 Broadstairs – beachside beauty for a day out in Kent
Broadstairs is a favourite among families for a summer's day at the beach.
Indeed it was reportedly author Charles Dickens' most loved holiday spot in England!
While we were blessed with sunny weather, I wouldn't exactly say it was warm on Saturday.
Many dogs and children ran carefree along the beach and there were brave windsurfers and boaties heading out into the great, cold blue.
If jumping in for a swim, isn't your thing (we concur), there's plenty more to do on a day trip to Kent in and around Broadstairs.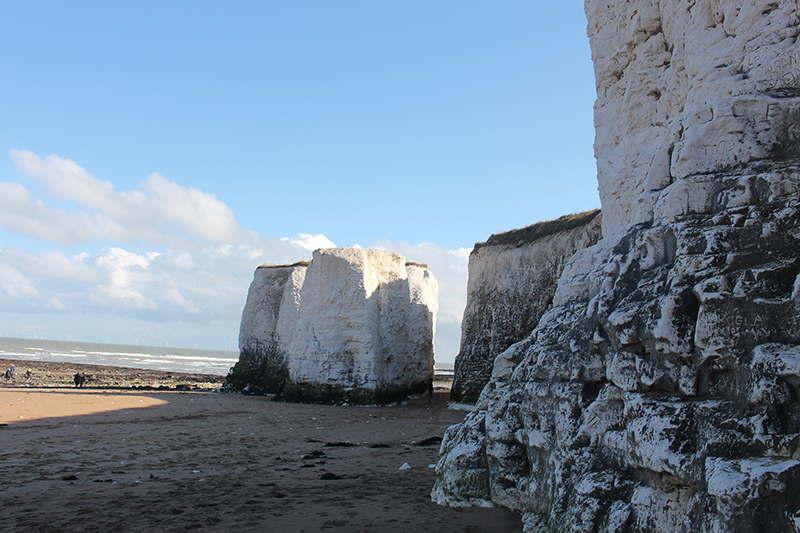 A day out in Kent, top ideas include:
– the Dickens House Museum
– The Old Curiosity Shop
– Broadstairs' historical pier and boathouse
– Bleak House (built in 1801 and later Dickens' holiday home)
– Admiralty Cottage (1815).
Broadstairs in Kent offers the curious visitor stories and history around every corner, and helpfully, a self-guided walk has been devised.
You can download a map of the Broadstairs Town Trail, or find out more at the visitor information stand at the entrance to the beach.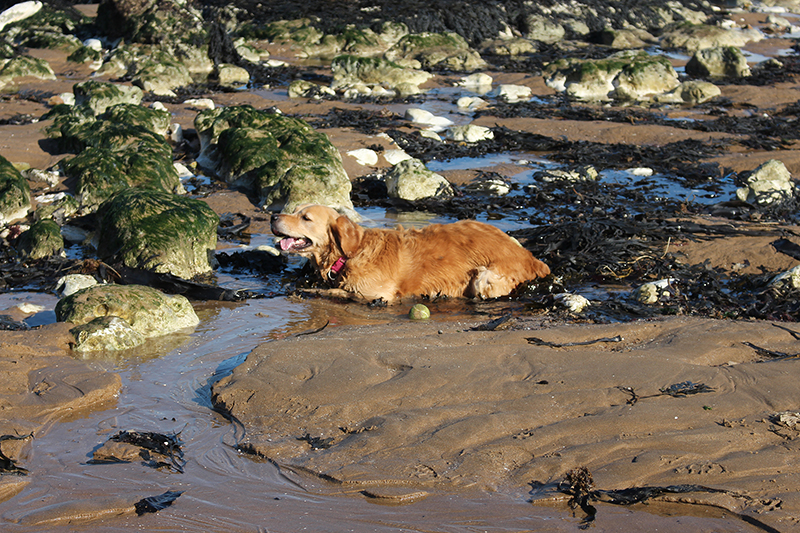 We had embarked on our days out in Kent adventure for the scenery in particular – Cooper armed with his vlogging equipment and me with my beloved Canon EOS camera.
A day trip to Kent – around the area
Broadstairs is part of the Thanet District in Kent, which includes two other major settlements, Margate and Ramsgate, that are both served by trains coming in and out of London.
It's possible to walk or hike along the coast (being mindful of tide times), to enjoy the seven bays of Broadstairs.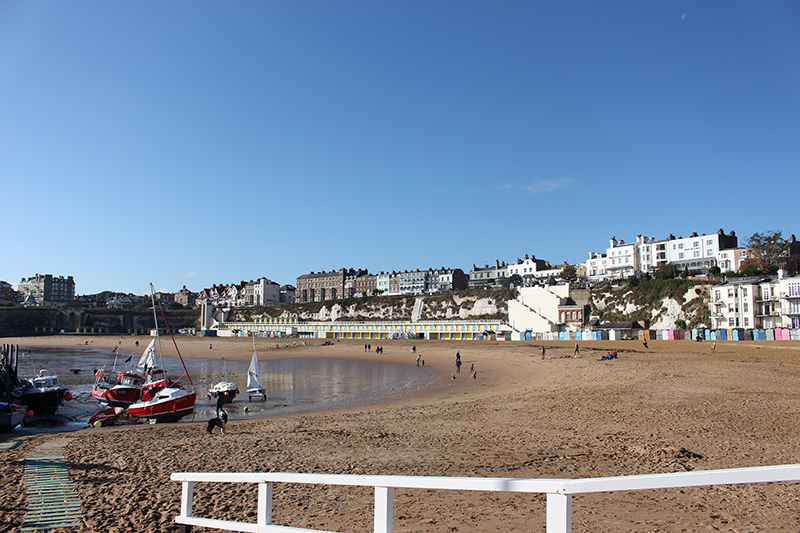 If you take a look at a map, you'll see that from the beach at Broadstairs you can wander left and you'll come across Stone Bay, Joss Gap, Kingsgate Bay and Botany Bay before eventually coming into Margate.
To the right, you'll discover Viking Bay, Louisa Bay and Dumpton Gap.
Actually, further along the coast in this direction you would come to Dover, which means directly across the water is France!
The Viking Coastal Path is a route you can walk along in either direction.
There are plenty of signposts showing where you are and also explaining the history of the bays, including smuggling, wartime and shipwreck stories.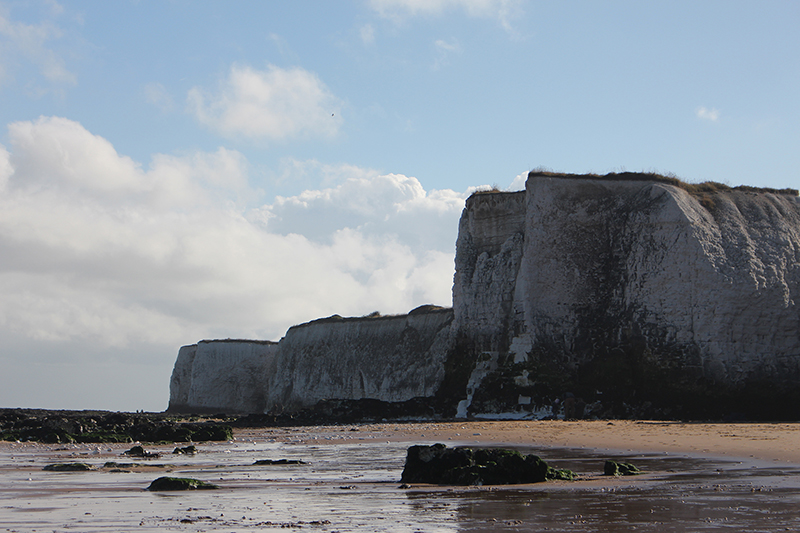 Botany Bay, UK
We were destined for Botany Bay this particular weekend.
It took our fancy because it's of the same name as somewhere very significant in our Australia's own history; plus the spectacular chalky cliffs were something we wanted to view for ourselves.
Next time we visit, we will head to Ramsgate because the visitor information guide said there are really nice bars and facilities along the waterfront… my interest is piqued.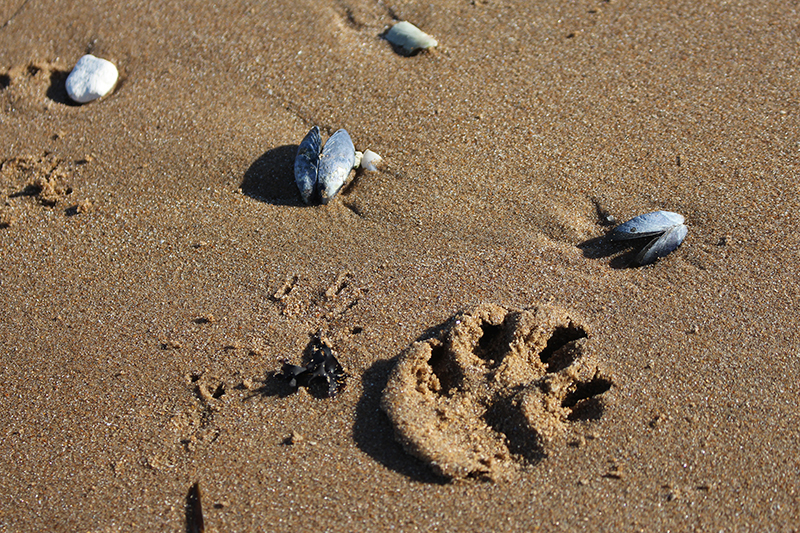 The scenery here is very 'white cliffs of Dover' style; dramatic and quintessentially English.
The beaches are real, so you can get sand between your toes, happy dogs can run, bark and play; and the air is crisp and fresh. Just what we all need to clear the mind and free the spirit.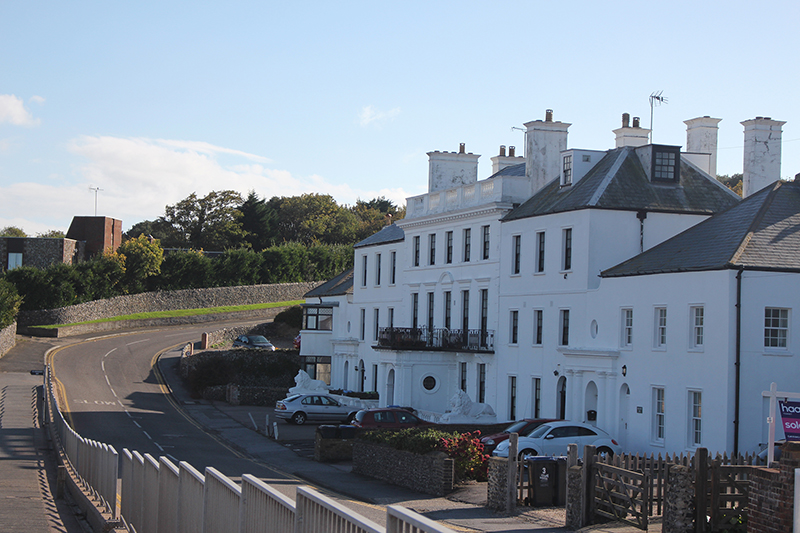 Because we only had a few hours scheduled for our day trip to Kent, we didn't end up walking from Broadstairs to Botany Bay.
Under normal circumstances this would take an hour, but we didn't have the time to spare so jumped in a cab.

We want to give a shout-out to Broadstairs Taxis because the drivers who helped us were really friendly and informative.
Also, they sent a text to our phone to let us know how far away they were – all round good service. And, between one destination to another it was only £5.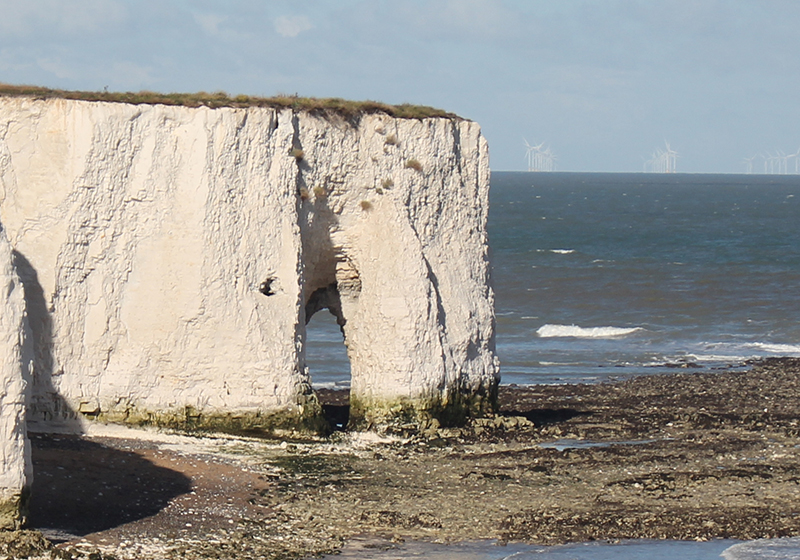 Picture perfect days out in Kent
Botany Bay and neighbouring Kingsgate offer picturesque views on beautiful days out in Kent, like the one above.
I spotted a wedding shoot taking place on a cliff-top and a music video being shot beneath; a lone wind-surfer enjoying time on the waves and the beaches were pretty and rugged, winding around the coast.
We were rugged up but the visit here was a chance to satisfy a creative longing to video and photograph this country we've come to love so much.
Of course, it came time to eat, and we had our sights set on the Botany Bay Hotel, which offers pub-like dining in fine surrounds opposite the ocean at Botany Bay.
The place is really dog friendly (yay!) and quite well priced.
If you're there as we were for lunch, you can't book, but evening you can reserve a table.
You can stay in the hotel too, which is perfectly positioned for anyone who wants to spend more time playing, hiking, writing, photographing or simply being mindful by the sea.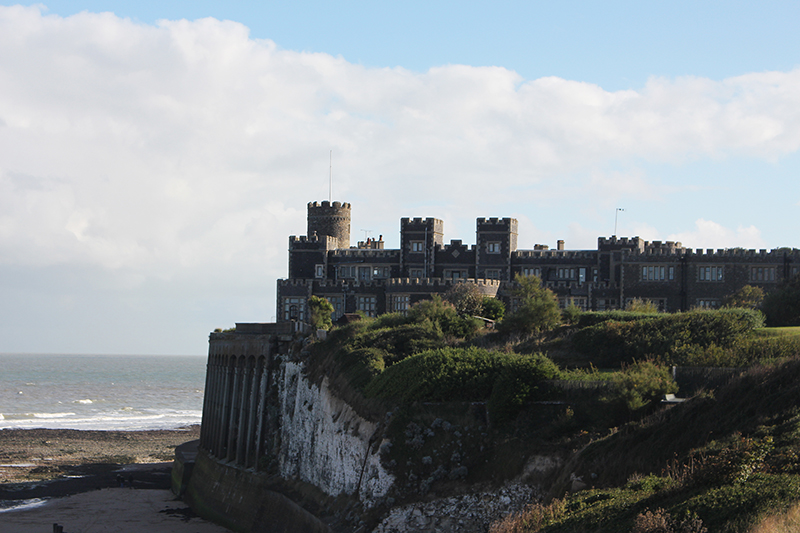 After a big meal (and maybe a beer), you can walk off any indulgence by heading around the Viking Trail just ten minutes to Kingsgate Bay.
You'll pass a golf range and spot the extremely grand Kingsgate Castle on the cliff overlooking the ocean (pictured above).
It's now filled with apartments inside but looks really cool from the outside, and views include the sea doorway and white cliffs as pictured above.
If you're thirsty after this coastal expedition (wandering along the top of the cliffs or walking down to the sea front below), you can pop into Captain Digby Tavern, another cliff-top pub.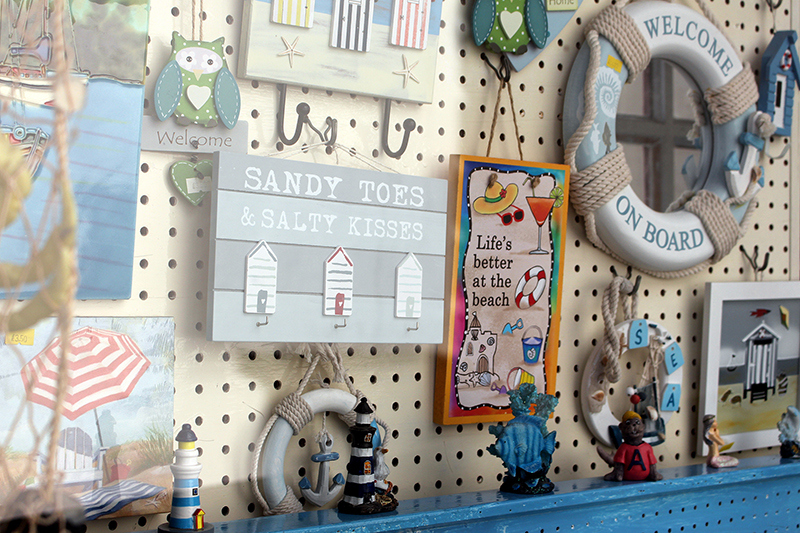 Out and about on a day trip in Kent
Life certainly is better at the beach, and our day trip to Kent included breathing in the fresh ocean air, patting plenty of puppies, enjoying a pub lunch with a view and feasting on the scenery this coastline offers.
We can't wait to get back this way, and would highly recommend the easy trip if you want to experience the English seaside.
A gorgeous alternative (also in Kent) is Whitstable, or head for the bigger fun of Brighton.
Trip details
Time: about an hour and a half by train to and from King's Cross in London; we would suggest four to six hours here for a decent day trip.
Cost: our day trip cost around £55 for two return train tickets, £10 in cab fares as we were short on time, but we wanted to take a look along the coast, and £10 each for a nice lunch.
Train booking: we booked our tickets through trainline.com.
Cab: Broadstairs Taxis, phone 01843869999. 
Tourist information: try Visit Thanet or Visit Kent.