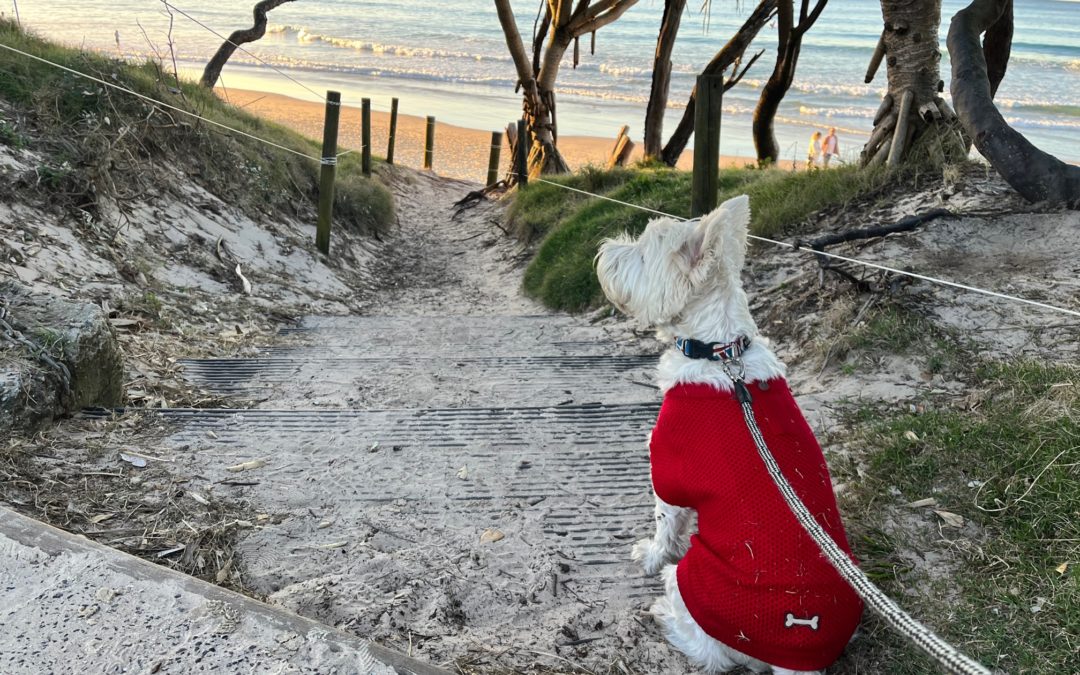 Unfortunately, Australia still isn't as pet friendly as it could be when it comes to travel, but we were told how dog-friendly Byron Bay is and decided to investigate :)
In our post-COVID exploration, we had been searching for options in South East Queensland. But, it soon became obvious that dog-friendly travel isn't that easy to come by within driving distance of Brisbane. And, if it's there, it can be expensive or quite restrictive.
Northern NSW became an option when I stumbled across the info on Byron Bay Hotel and Apartments. Now, they're not sponsoring this post, but deserve a shout-out! For a low fuss flat fee of $80, we can take London with us on an adventure. And, this dog-friendly accommodation is located right in the heart of Byron Bay.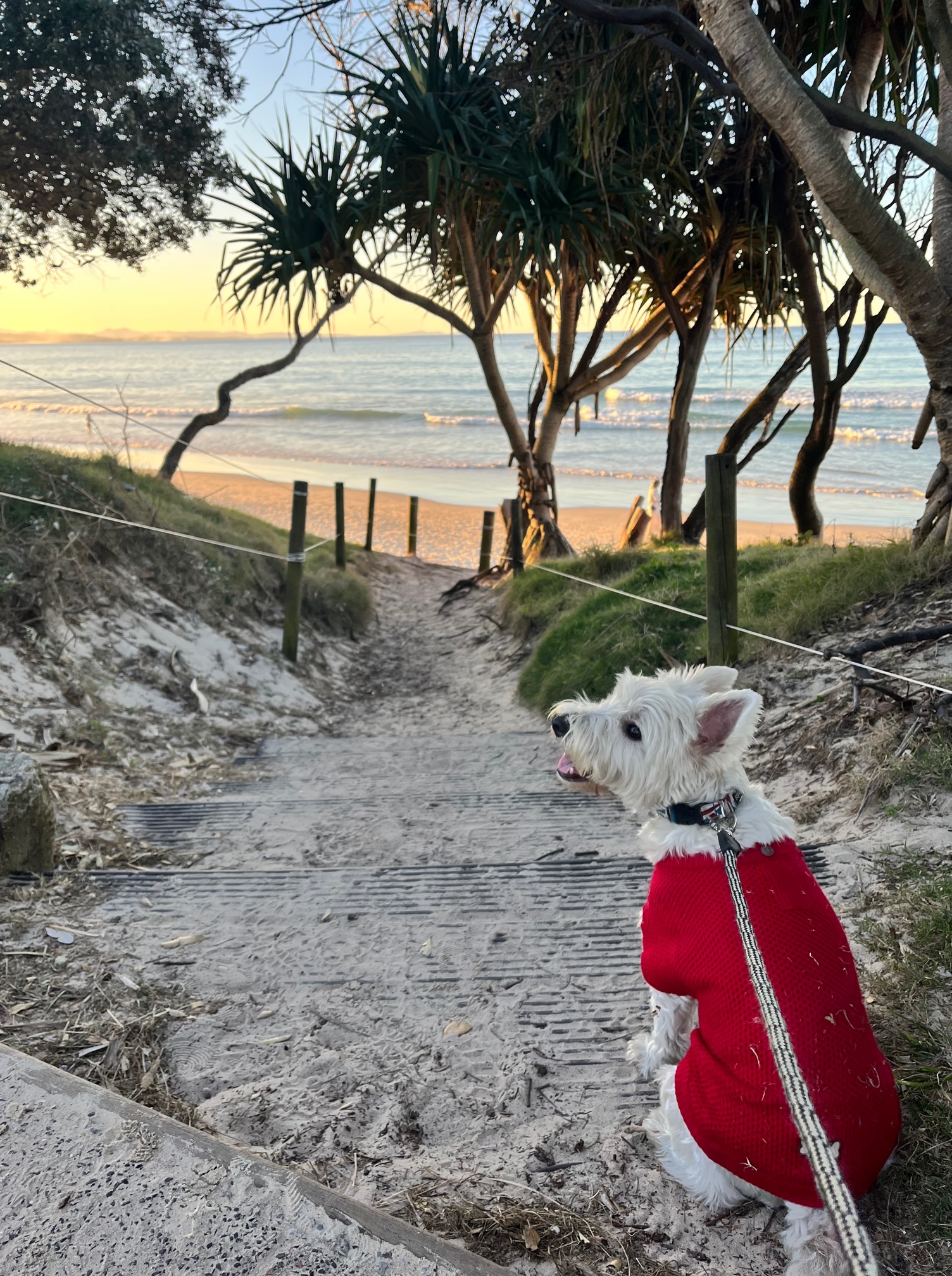 Dog friendly Byron: best of
You'll spot that London our Westie is wearing a jumper. That's because our pet friendly excursion to Byron Bay (the first time!) came about as winter hit in Australia.
But the experience made up for the chilly weather. This was London's first trip to the beach in his little life of 15 months. Take a look at the video of our dog friendly Byron Bay adventure and you'll see how much he LOVED IT ❤️ This made us so happy too
Our top picks for dog friendly Byron Bay are as follows:
Byron Bay dog beaches
Belongil Beach dog friendly beach is literally right there in Byron Bay. As anyone for directions, just keep an eye out for high tide coming in.
Suffolk Park, about ten minutes' drive from the heart of Byron Bay, boasts a beautiful beach too. This spot is also dog friendly and is brimming with cool locals to chat to (the two and four legged variety).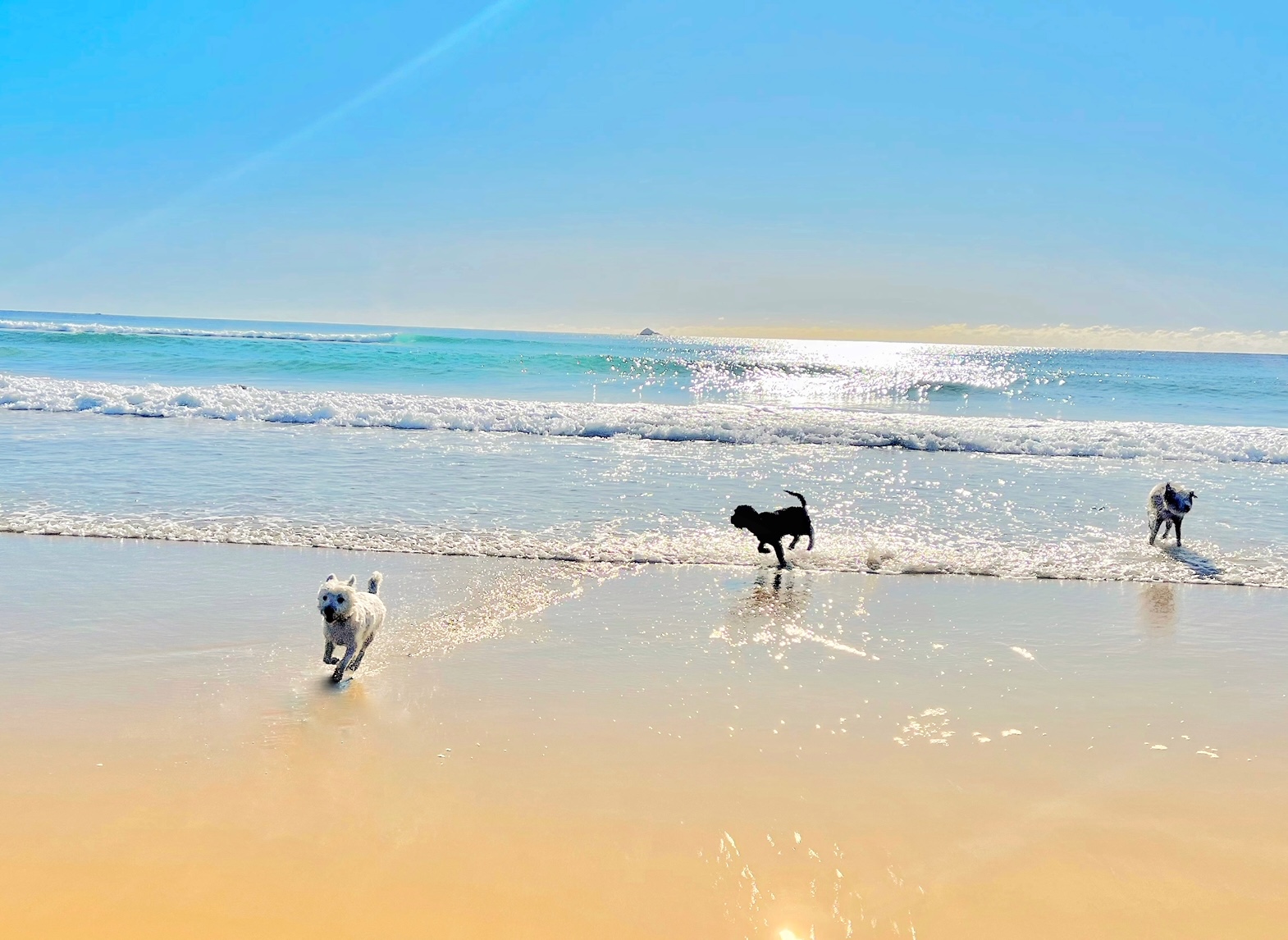 Pet friendly cafes and restaurants in Byron Bay
Outside of seeing the pure joy in London when he discovered 'the beach', we also had real fun at some of Byron's best pet friendly hangouts.
Notably, Byron Bay does Mexican really well. We LOVE Miss Margarita in Byron – it's right near the beach and boasts a happy hour between 5-6pm every day. Also, the food is excellent! This place gets busy so you should time your visit, especially if bringing your pooch.
At Miss Margarita they went out of their way to make sure London was happy and cared for with a bowl of water and a spot to sit. But, you need to grab a table out the front, so don't land right in the middle of happy hour or peak dinner time.
Don Pedros, just a street up from the beach, also served great food and London was welcome in the area out the front.
Both places served up an awesome margarita, by the way
For brekky, we enjoyed Bayleaf. It's lovely on a lazy sunny weekend morning, but gets very busy! London was more than welcome in the front section, but we were lucky to get a table, so be mindful after 8am.
Also, we liked Byron Fresh, right in the heart of Byron. They let us take London inside on a cold day – you can see him below hanging out on his mat, in his jacket, with a rug. Spoilt, much? :)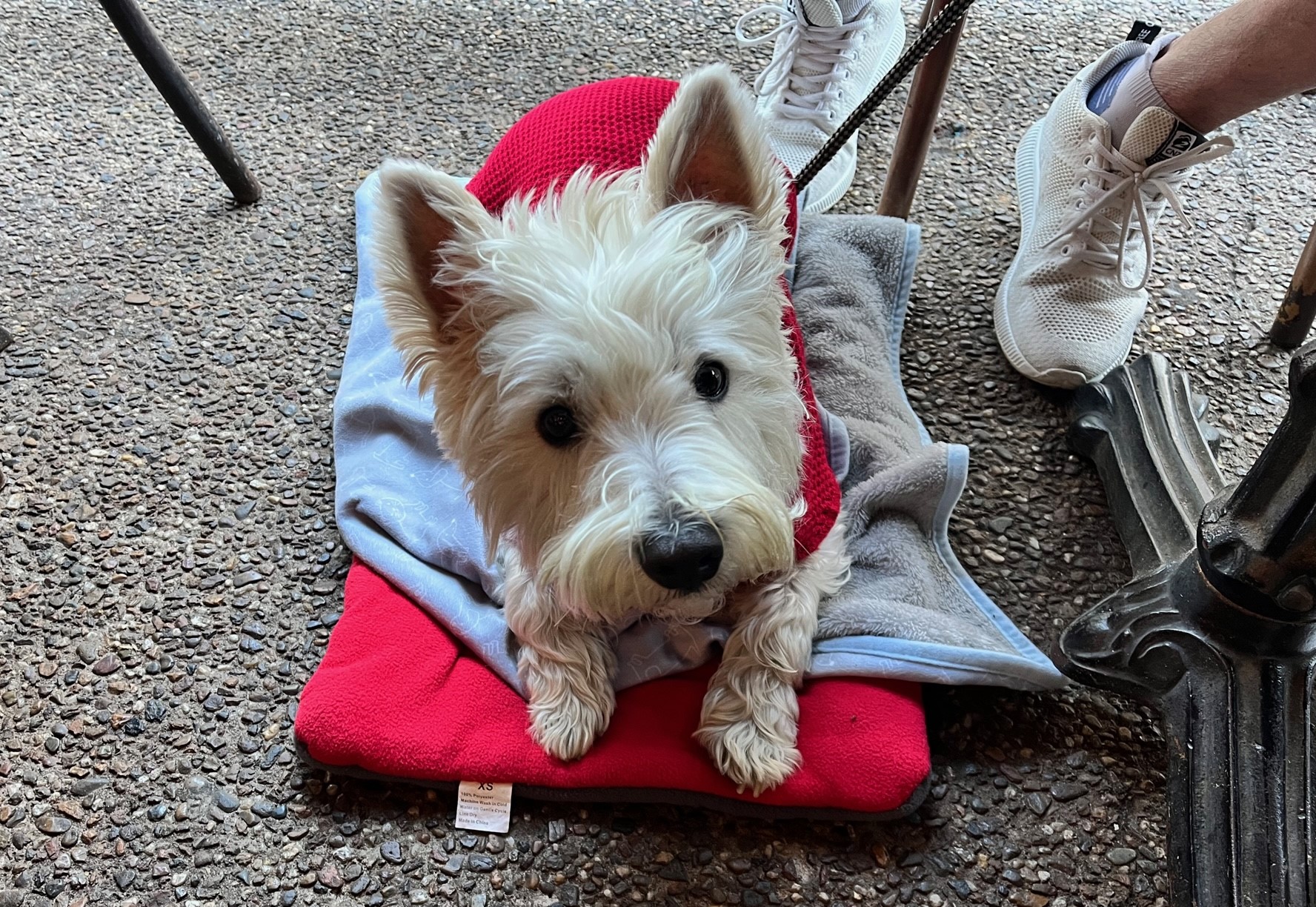 Another lovely spot we discovered that has plenty of dog friendly places to perch in Byron Bay, is Treehouse on Belongil. If you are to enter Belongil dog friendly beach from the centre of Byron Bay side, Treehouse is situated about 10 to 15 minutes walk along the beach. Walk up off the beach and you'll find it. The lovely venue serves up some nice food and coffees, and it's a very chilled out vibe. We loved it.
Other dog friendly experiences in Byron Bay
There's quite a bit of Northern New South Wales (NSW) that is well known for being dog friendly. Love that! You can search for options on Airbnb and Booking.com. Surrounding towns include Ballina and Lennox Head. There's also the Tweed Coast nearer to the Queensland border.

As you enter Byron Bay, a worthwhile experience is to visit the Stone & Wood Brewery. We do enjoy a pint of this one, especially in summer, so it's nice to visit its origin. The brewery has a huge outdoor area at its entryway. You can order tasting trays and snacks. And, your pooch is entirely welcome to hang out with you in the sun.
There's a few places we didn't make it to, including The Farm which is a popular spot for parents of human and fur babies! Our little mate, Schnitzel (who we met at TBEX Czech Republic, would you believe?!), shares more in this blog.

Another couple of blogs I found helpful in my own research were: Holidaying with Dogs In Byron Bay, and Byron Bay's Best Dog Friendly Activities. 
If you're travelling with your pet, we do have some additional advice here: 11 Hacks to Travelling With Your Dog.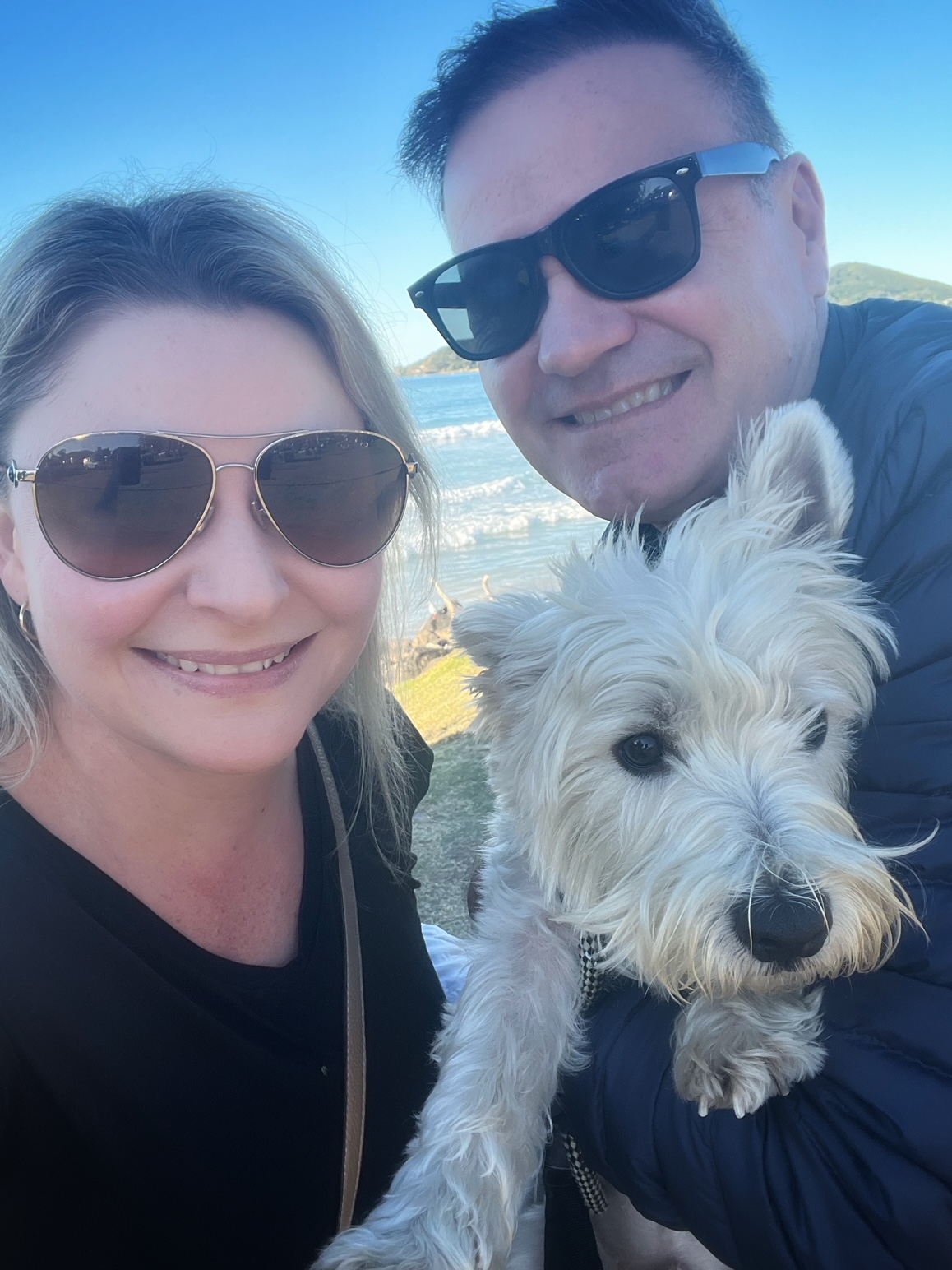 Can't take your pet?
As proud fur parents, we obviously advocate for taking your pup with you whenever you can. But if you can't, you might find this advice useful. 
Additionally, we have a host of excellent info on house and pet sitting as an option, here on YouTube. If you're interested in this, maybe you'd also like to join our Facebook Group that's all about house and pet sitting + travel as a way of life ❤️