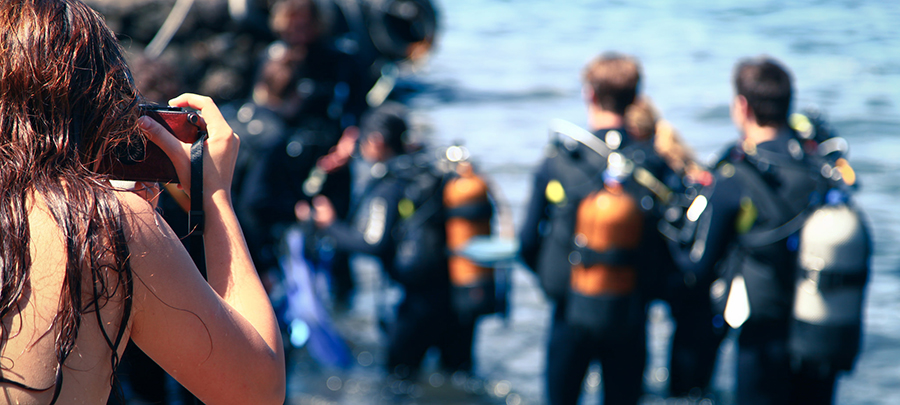 We were so excited to head to Santorini, Greece, in May 2017, to discover its beaches and scuba diving Santorini for ourselves. It was our second attempt at the trip, after being delayed from going the previous year (although we did embark on another seaside adventure in the UK instead).
When Alice Ross pitched this piece on beaches and scuba diving in Santorini, of course we said yes! Read her guide before your trip…
~
Recreational scuba diving was restricted in Greece for a long time. The government did it to prevent antiquities smugglers – diving was allowed to only some people who were given special authorisation by the authorities determined to protect the country's marine life and remains of archaeological importance.
Fortunately, in 2004, authorities lifted the restrictions and anyone who wants to scuba dive just about anywhere in the country is allowed to do it for recreation.
Since then, Greece has quickly become one of the most visited scuba diving sites in the world. With more than 4,000 islands and 12,000 miles of coastline, the Greek seas offer an ideal place for scuba diving.
Guide to beaches and scuba diving Santorini
One of the best places to do scuba diving is in Santorini. The marine life that you can find the coast of Santorini is arguably well-known. The island's waters, formed by a volcanic eruption that took place in the 16th century, are rich with mineral, supporting a solid range of coral and creatures.
These great volcanic eruptions have formed wonderful underwater backdrop giving scuba divers ceaseless options for wall dives and unending stops all over the volcanic islets and the caldera.
Aside from the beautiful underwater world Santorini offers, the water visibility all over the island is good! The water temperature is approximately 22°C, so make sure to wear some nice wetsuit.
Diving in the vicinity of the caldera is also possible; however, the southern side of the island is the one that offers a variety of delightful caves which you are able to explore with the help of a master diver who is familiar with the site.
If you are interested in visiting Santorini for diving, this list of four beaches where you can scuba dive is worth checking out.
Perissa Beach
…Is a very famous beach resort that should be top of your list.
It's an organised, developed beach with a plenty of comfortable beach chairs, umbrellas, as well as other amenities, such as lifeguards, playground, and of course a shower. It's worth mentioning that it was awarded Blue Flag award for being organised and clean.
When you reach the end of the beach is where you will find the diving spot. There are also two diving centres you can check out on this beach. Aside from that, however, you are able to pick from different water sports like windsurfing jet skiing, kayaking, and parasailing. Lastly, a wonderful water park with pools offers and water slides that cater to anyone of any age.
Perivolos Beach
…is a long, black sand beach with beautiful deep blue waters which is connected to and Agios Georgios Beach and Perissa Beach.
It's another well-organised beach with sunbeds, lifeguards, umbrellas, taverns, restaurants, cafes, supermarkets, bars, showers, a playground, and public toilets.
There are many beach bars playing club the latest music, DJ guest during the weekend, volleyball tournaments, and exciting events on special occasion. But of course, this is also a nice place to go if you are looking for some underwater (or even over the surface) adventures!
Agios Georgios
Located less than one kilometre from Perivolos Beach, Agios is a big, sandy organised beach.
It's more peaceful than its neighbouring beaches, and the water is shallower.
Some small taverns offer delicious lunch. Umbrellas and sun beds can be rented if you want to relax at the beach, and there are a lot of opportunities for water sports like scuba diving.
Divers can explore the beauty of Santorini's marine life under the supervision of master divers who prioritise safety. The locations for dives might be very local in the bay and all over the neighbouring headland cliffs or a little further afield, depending on water visibility and conditions.
Ammoudi Bay Beach
This beach is accessible by walking or riding ride down the 214 steps from the castle of Oia.
Amoudi Bay is well-known for its traditional Greek inns with fresh seafood and the astounding romantic sunsets. Once Santorini's commercial port, Amoudi Bay has now become a tourist spot. There might not be sunbathing comforts at this beach unlike the other ones mentioned above, but the diving scene here is impeccable. Diving here is something you wouldn't definitely find anywhere else in the world.
Santorini isn't only about sunsets, beautiful landscapes, and majestic geometric houses in the villages.
If you take your time to explore deeper, you will have the chance to experience an amazing adventure in Santorini. If you have not experienced diving before but you're interested, you don't have anything to be worried about as most dive shops in Santorini offer a non-certified scuba diving course where you'll have to engage in a brief scuba diving introductory lesson before diving down to a depth of maximum 6 to 7 feet.
You may also be interested in our Santorini travel guide, and our Athens city feature. 
Featured image by THINK Global School