I arrived yesterday and am quickly discovering how much I'd love to spend more time in Athens Greece. It's my first time here and already I wish I had longer, although am planning to return soon.
Santorini, anyone? 😎
Athens beckoned as the city is hosting TBEX Europe – the "Future of Travel Media" travel blogging conference, which I also attended in Dublin last year.
We enjoyed glorious sunshine yesterday – a marvellous setting for spending time in Athens Greece.
Even though I was weary from an extremely early start and a few minor airline dilemmas, I was determined to get out and explore because the next few days – aside from being busy – unfortunately threaten rain. Am hoping iPhone weather will be wrong as it often is.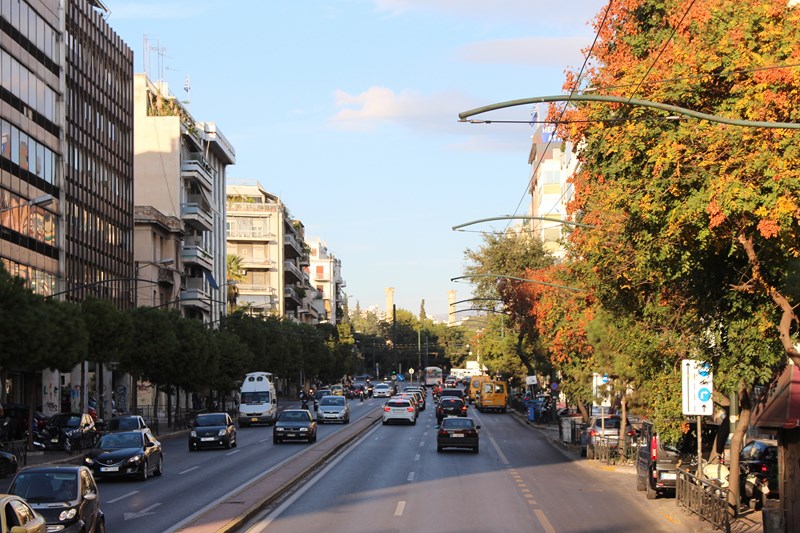 After finding my accommodation, I ventured outside to take a look around, using a combination of walking, navigating the local metro and finally (as I grew confused and tired) taking advantage of the old faithful, Big Red Hop on Hop off coach, that was circling the city.
As unadventurous as it sounds, Cooper and I do enjoy participating in this kind of tour because if you're short on time and energy, it's an easy way to get your bearings in a city and to identify where you'd like to go back to for a better look later.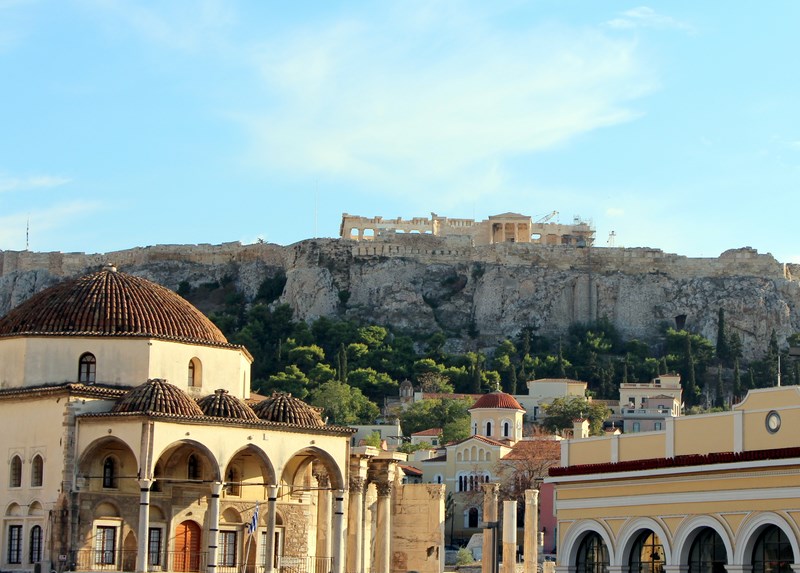 What I love so far is that Athens feels like a city brimming with character.
There are gorgeous squares and green spaces, a chic coffee and dining culture, and cool European types all over the place.
Obviously it is steeped in history. Athens is one of the oldest cities in the world, after all.
There's nothing like the thrill of seeing extraordinary sites like the Acropolis and Parthenon outside of the pages of a book.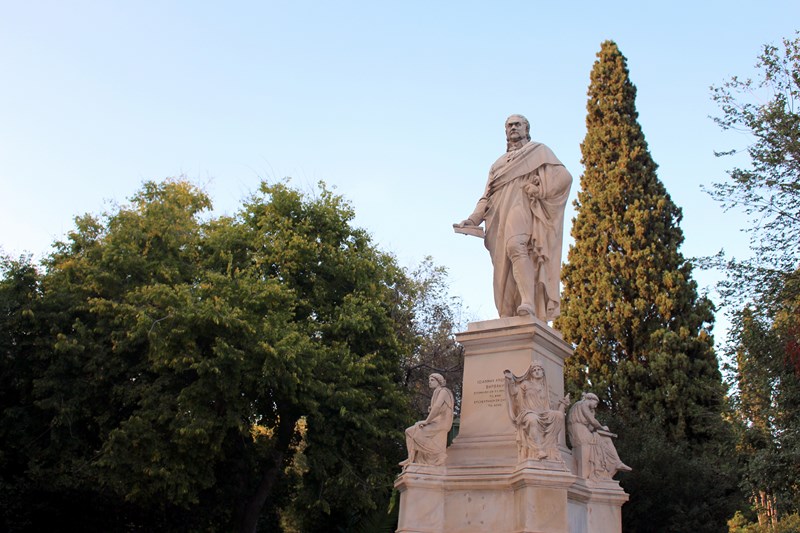 You can watch or read about the famous things to do and see in Athens in all manner of travel guides and documentaries.
I found this five minute city-guide video by David Hoffmann helpful).
For the moment, I'd like to share my personal impressions on Athens travel:
Spend time in Athens Greece: wanderlust top 7 travel
the not-so-obvious things to love about the city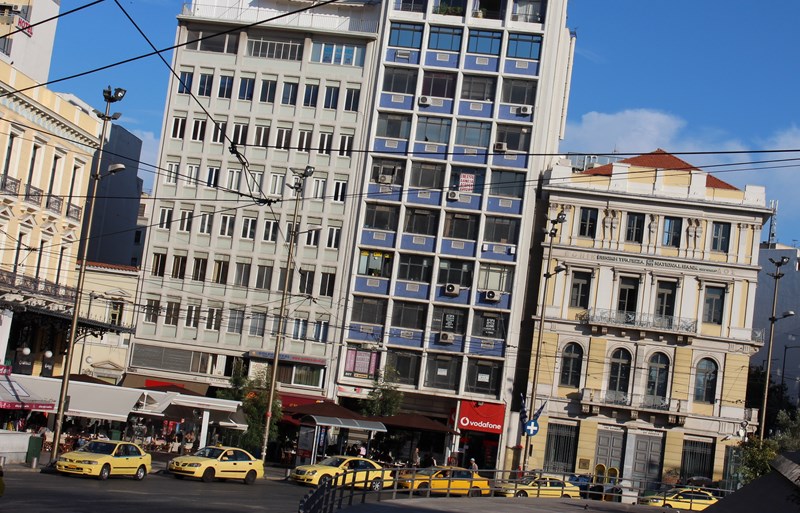 1. It's noisy and busy, sure, but I've found Athenians to be polite
Apparently pedestrians do not rule here, however, cab drivers consistently stopped to let me cross roads which I thought was polite.
At one stage though, I did wave courteously to thank the driver and I think he thought I was hailing a ride – oopsy!
When I was on the sight-seeing bus too, many people in cars or on bikes waved at passengers on board, and to me it came across as if they wanted us to know we should feel welcome.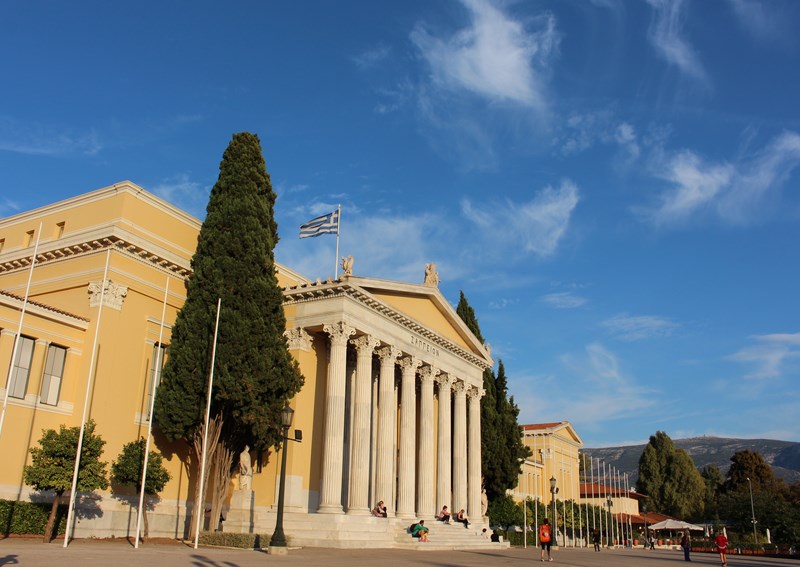 2. Enjoying espresso slowly
I'm not sure what it is about Europe, but I ditch the usual lattes here and head straight for the mini hit of caffeine.
Unlike in Australia or the UK where you're always on the go, here it is just "right" to be.
It's almost instinctive to stop, sip slowly and watch the fascinating world go by.
I've spotted numerous squares where people appear to congregate over coffee for a chat – all surrounded by interesting buildings, nice sculptures and landscaping.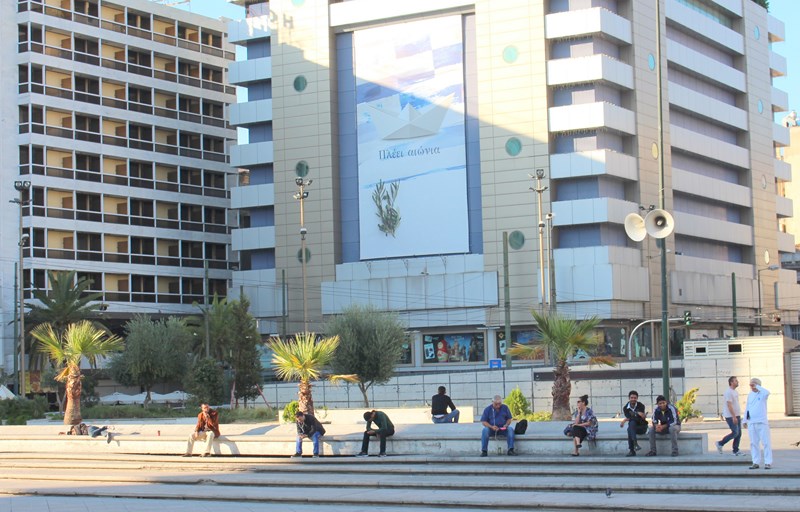 On the coffee note too, I read this morning that frappés (coffee, milk, sugar and water) are the thing here. It's now on my agenda for this afternoon's adventures… when in Rome! er, I mean, Athens.
Also, if you're indulging in a more traditional hot coffee, you do not need to drink the bottom part of the it.
Often Greek coffee is made the traditional way, boiled on hot sand – you need to "let the dust settle… and only drink the liquid part" [City Guide].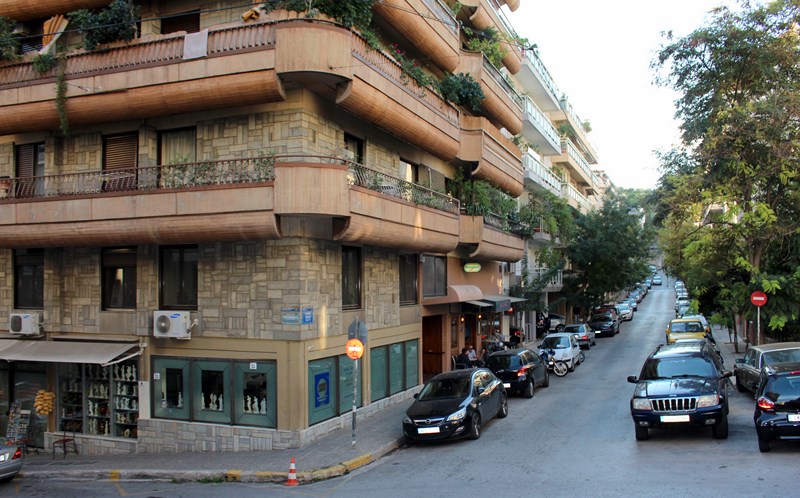 3. Character
Certainly, the hilly streets are haphazard in design, there are cracks that might trip you up, and everything is pretty much written in Greek, but that all adds to the character of the place.
I find the streets and alleys intriguing (as long as I'm not getting lost), and I also felt somehow drawn to many of the colourful gratified walls, interestingly designed and sometimes slightly shabby (I mean this affectionately) doors and archways, as well as the residential roof gardens.
The city is full of life. Understandably Athens is a place that comes across as "well lived in", but I feel the magic in that sentiment as I meander around town.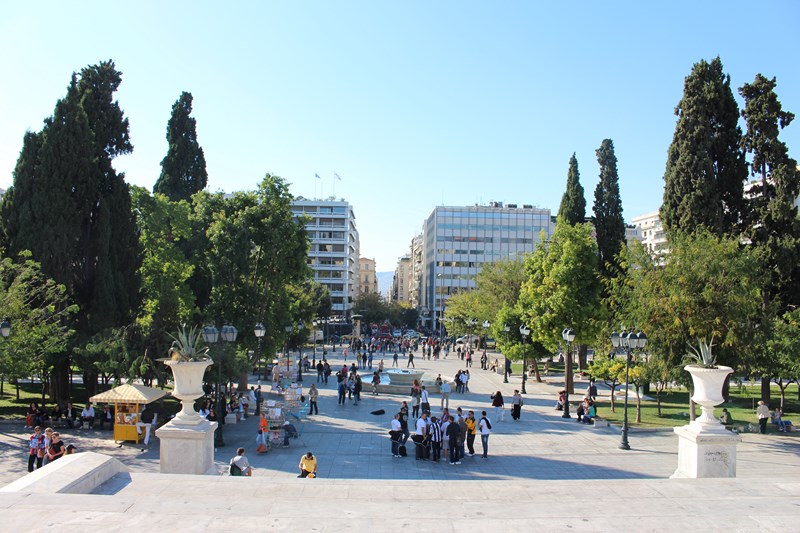 4. The opportunity to communicate beyond words
On the topic of getting lost, yes, my innate instinct is always to go the wrong way, but I can surely be forgiven for being a little confused during my first moments in a foreign city where the language is not my own.
I made it as far as the nearest metro station to my hotel, and from there needed help. The "two minute walk from the metro station" is pretty much accurate – but which way?
As it turns out, it may be left or right out of the station, then left or right down a street longer than I'd anticipated and right onto another main and busy road. With zero access to Google Maps, it was down to old fashioned communication to get me to my final destination.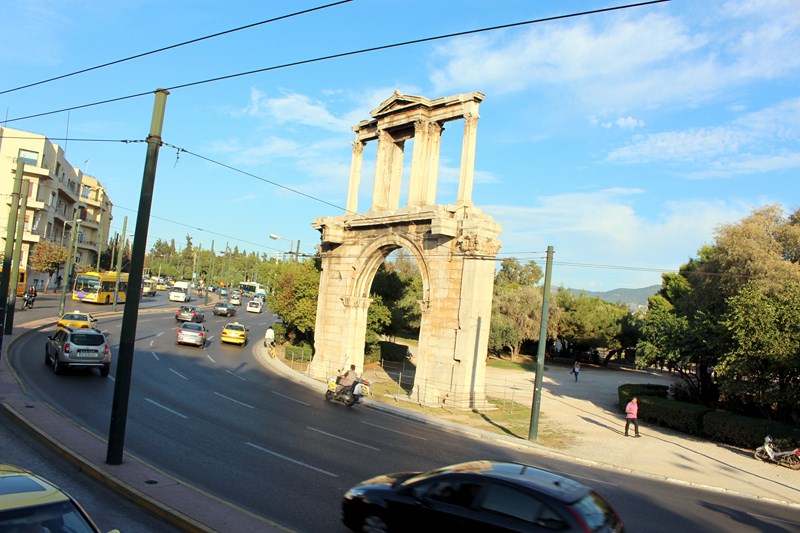 I found the spot after about twenty five minutes and querying five people along the way.
My discovery was (and continues to be) that the locals here are not "over-sharers" of information, but this could be due to the language barrier, so keep asking questions until you understand (or find someone else to help).
For example, when I asked for assistance at the airport regarding which train to take, I was pointed in the direction of the entry to the train station. "Yes I see that, but which train, which platform?" I had to prompt. And when I arrived at my destination, the instruction towards my hotel was, "outside". Yep, figured that out!
When I got outside however, it was the local store owners who helped me so kindly, albeit in Greek, but that made the positive end-result all the sweeter. One older gentleman managing a florist wasn't 100 per cent on the address I showed him, so he rounded up his neighbours for clarification, and then explained to me using hand gestures how to navigate the lane-ways in order to find my accommodation. As did a couple of other people I encountered along my quest de la hotel.
During the morning, prior to arriving in Greece, I came into contact with some extraordinarily rude, grumpy and bitter-with-the-world people (either that, or they were totally not "morning people"); the locals here changed my day simply by proving to be friendly and helpful, despite a language barrier.
5. It's an easy place to practice 'travel mindfulness'
I noticed yesterday that I was taking everything in without much thought – 'travel mindfulness', if you will.
It was all an 'experience'; the sights, smells, quirks and charms all became part of one blissful travel adventure.
If there's one lesson I try to pass on, it's "don't judge". It comes with practice, confidence and time, and a willingness to embrace the "unfamiliar", but I hear so many tourists of all ages complaining about this and that around the world ("too noisy", "too expensive", "too crowded", "too untidy"), and I wonder, seriously, if "it's better at home", stay there!
There's beauty in all things and I'm surprised by how much I enjoyed my first encounter with Athens despite being tired and apprehensive I'd get lost.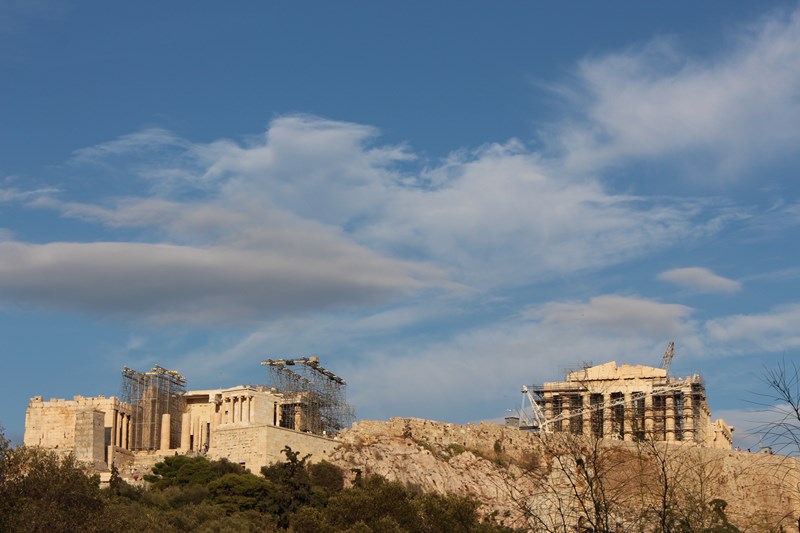 That said, if you can't appreciate a place like this – 7000 years old, the birthplace of Western civilisation and aptly named after the Greek Goddess of Wisdom, then that's certainly a shame.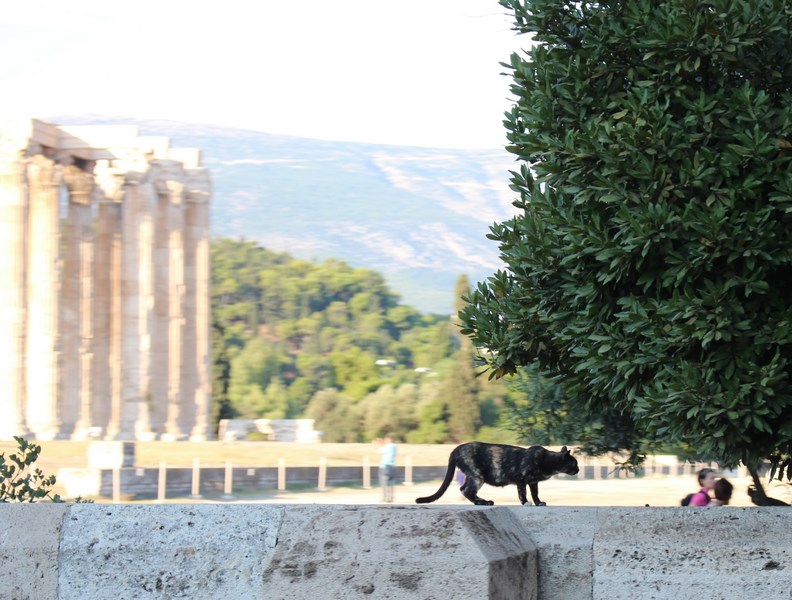 6. I discovered a reason I should move here
During the summer it's customary to enjoy a siesta for a couple of hours, 3pm to 5pm; eating large lunches is encouraged as is staying up late and having a good time.
If only more people in the world had this attitude, happiness might spread further, I reckon.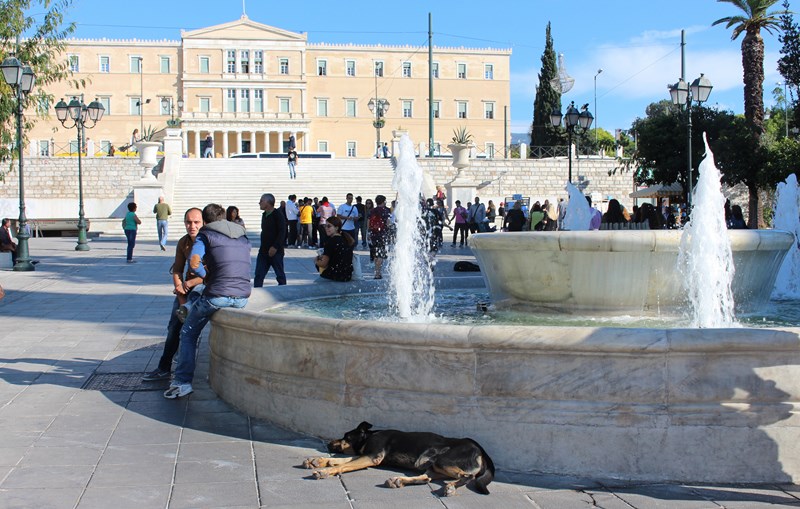 7. Celebrity-endorsed style
Cheese and wine are also important aspects of the culture (yes, please!) and it would be easy to simply hang out here and try all the renowned restaurants, sky bars, beach side cafes, and then dance it off in a popular club.
Alas I don't have time, but I will let you know that I found out Ethan Hawke, Meryl Streep, Oliver Stone, Hugh Jackman, Pierce Brosnan, Bruce Willis and Moby, among others, have all spent time enjoying a venue called Island, a cosmopolitan seafront haunt that I feel I might have to make a cameo in at some stage too.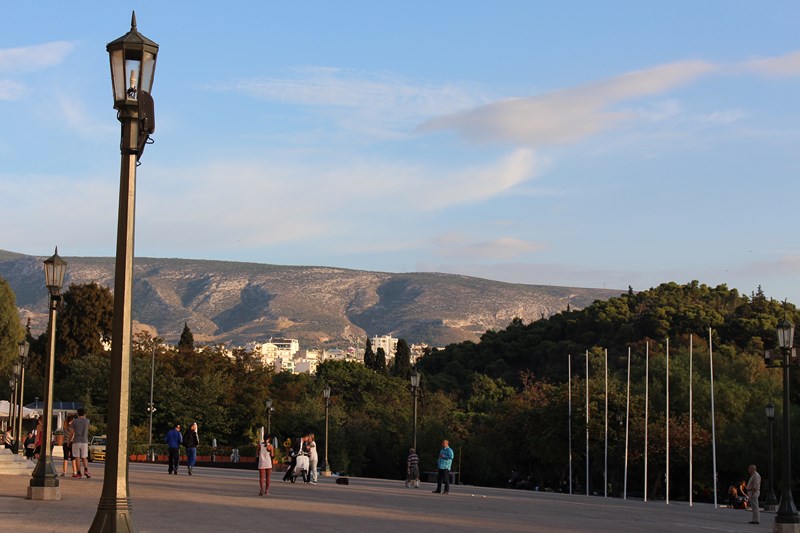 That's it for now – I aim to visit more of the city and of course get up close and personal with ancient bits and pieces, plus fit in some shopping (hopefully Cooper doesn't read this far…).
If you have an Athens travel tip, please drop me a line in the comments below.