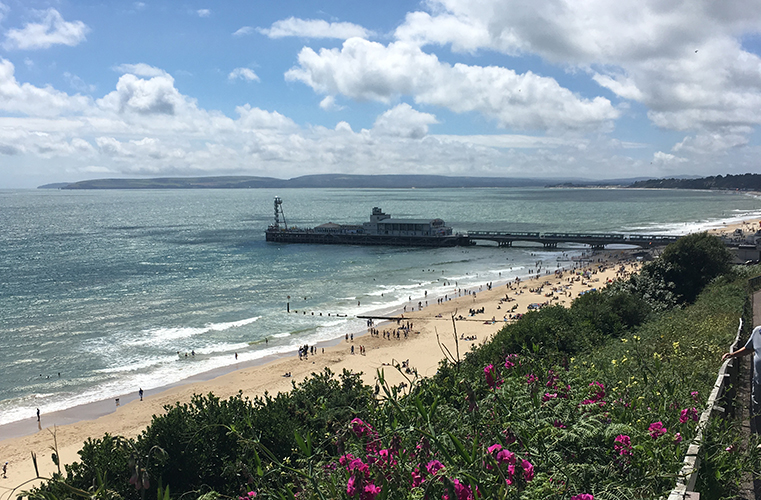 We recently had the opportunity to visit the lovely seaside city of Bournemouth for the weekend.
Actually, we'd intended to visit here for a long time. We have super lovely and creative friends from the Gold Coast who lived and worked here for a few years and loved it (shout out to Lou and Iain from P's in a Pod); and as Aussies, we are always on the lookout for a 'real' beach.
As far as seaside cities here go, I'd describe Bournemouth as being a contemporary destination, conveniently located just two hours' train ride from London; the beach is actually beautiful, there's a pier, and plenty of bars, restaurants, serene hotels and accommodation to keep you happy for a sunny weekend escape.
We appreciated how the city has been designed – there's a central mall with shopping – at the top of that is a spot called 'the triangle' that boasts some nice bars and eateries like Smokin' Aces and Koh Thai. A wonderful park and landscaped garden area (including mini golf) leads explorers through the town towards the beach and Bournemouth Wheel. Either way along the beach you can wander the promenade and discover ice-cream, coffee, cocktails and markets. Truly charming.
Recommended
Cheap treats
The Moon in the Square (Wetherspoons chain pub with rooftop terrace)
Coffee
South Coast Roast (just off the top of the mall)
Eat
Koh Thai – for delicious food and a nice atmosphere including music
Drink
Smokin' Aces – for 2-4-1 cocktails 5pm to 8pm and check-in on Facebook for a free shot!
Stay
Hallmark Hotel East Cliff (request a sea view room)
Do you have tips on where to dine, shop, play and stay in Bournemouth? Let us know in the comments.