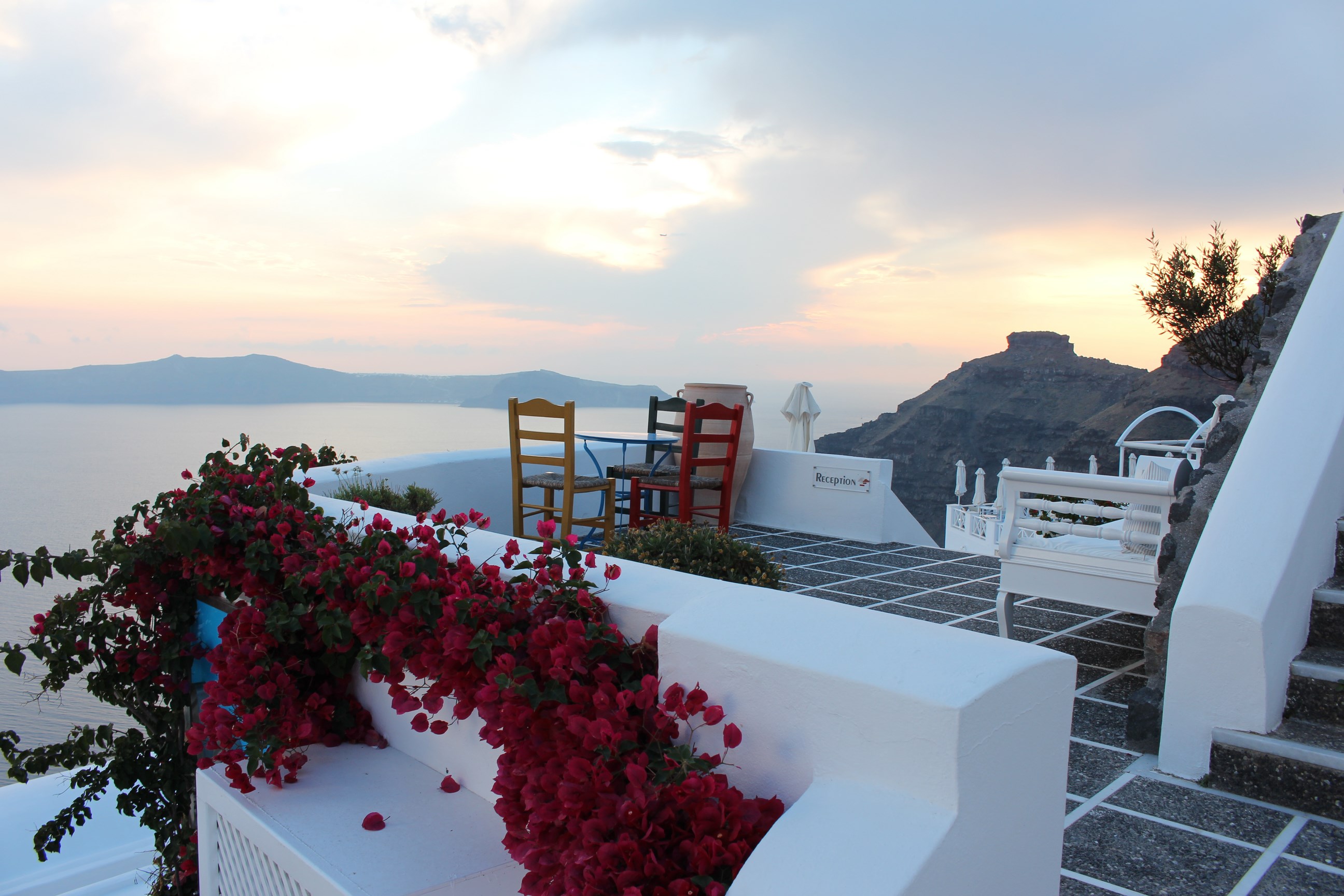 Get lost in paradise on a Santorini Greece vacation!
Keep an eye on here for more Santorini Greece vacation stories, on the way soon (plus plenty of other summer Euro inspiration).
Santorini Greece vacation
In the meantime, here's a sneak peek of what we saw…
Summer love in Santorini
A Santorini Greece vacation is something most people want to tick off their travel bucket-list in a lifetime. We stayed in an amazing place called Manos Small World, overlooking the spectacular bay, volcanic structures and plenty of cruise ships coming in and out of the port.
This lovely spot was set on Caldera cliff and just a ten minute walk from plenty of shops and restaurants. The walk into town is along the cliff with extraordinary views at any time of day. There's also a few cool bars along the way that serve delicious cocktails, perfect for sunset.
You may also be interested in our beach and scuba diving guide to Santorini
The area was very central and easy to get on a day tour coach (as we did) that explores the island. I'd recommend it for your Santorini Greece vacation, as it's an easy way to see the whole island, its pockets, beach bars and views. Just Google 'Santorini coach day trips' for options.
An obligatory trip to Oia, Santorini, for the sunset was in order too.  Oia is a town brimming with whitewashed houses that are carved into rugged clifftops. It overlooks a vast caldera filled with water, and is a famous sunset spot. Oia gets very very busy coming into the sunset hours, so if you are there for the spectacle, you'll want to find a spot earlier in the afternoon and wait there.
Santorini is almost too beautiful, and is full of Grecian charm, like Athens is. I think we definitely have a thing for islands, because this trip is up there with some of our favourites like Ibiza or Mallorca. Santorini Greece is absolutely worth a visit and adding to your Greece vacation list.
A note on animal rights
I rarely preach on this blog, but PLEASE do respect animal rights on your trip. Consider how you can support the many stray dogs that are here, as well as promote a better attitude towards looking after dogs.
To be honest, I saw some things here that did not impress me in this respect.
Additionally, rethink donkey rides – this is unnecessary and goes against animal rights as far as many are concerned. They are not there for amusement, or at least, shouldn't be. Enjoy your Santorini Greece vacation responsibly.
Travel responsibly. We do not support riding animals for fun, here, Thailand or anywhere else for that matter.
Let us know your thoughts or questions on any of this – drop us a line in the comments.