Overseas pet travel isn't as easy as we'd like it to be, particularly when you're flying a route like Australia to England. But, we're about to head off on another adventure to the UK, and we will take our little Westie, London, with us.
To find out about the visas we secured to live and work in the UK, you can read more here.
How simple is planning overseas pet travel?
I think the best way to describe the planning is that it is a process.
It's all possible, but there's a number of considerations to take into account. This means ideally you would give yourself six months or more to plan. Between the time we discovered we had the opportunity to move back to the UK and the time we needed to fly, we actually didn't have six months. Together with our trusted vet and a pet carrier, we have made it work though.
If you are planning to relocate to another country, maybe our process and information can help you.
5 steps to move a dog overseas
1. Talk to a trusted vet
The first port of call for us when planning to relocate London dog overseas with us was to speak to our vet. Our lovely vet Kirsty from Toowong Family vet in Brisbane, has known London since he was a wee puppy. She's an excellent vet, so we booked a consult with her, primarily to speak about:
– the travel process and London's general health for such a journey
– gauging and managing his anxiety in a new situation such as long distance flying.
Kirsty checked London over and we chatted about his age and health. We determined that he is ok to fly.
The big one for us though is the lengthy flight(s) itself. In the past, sometimes dogs were sedated so they would sleep. It's been deemed that that this is not safe, so sedation is not an option. Kirsty talked us through a program for managing London's anxiety, which began a few weeks ago and will continue into when he is settling into his new home in the Northern Hemisphere.
Talk to your vet about options that may suit your beloved fur baby.
2. Choose an accredited pet carrier
We researched several major international pet carriers operating in Australia and sought quotes from each. After having a conversation with each and comparing quotes, we ended up making a decision based on the itinerary available to London.
While it is possible to fly London from Brisbane to London, the routes recommended by some carriers meant that he would not leave his crate for around 24 hours. We chose Petraveller based on reviews and because they suggested a route that – while longer in terms of the amount of time we are separated – it seemed fairer on him to have more breaks.
Choosing a pet carrier is a BIG decision. It's very expensive no matter how you look at it, and we know London's life and wellbeing is being placed in their hands. There's a lot of trust and faith involved. We will keep you posted on the outcome. At time of posting, London is set to begin his journey in a week's time.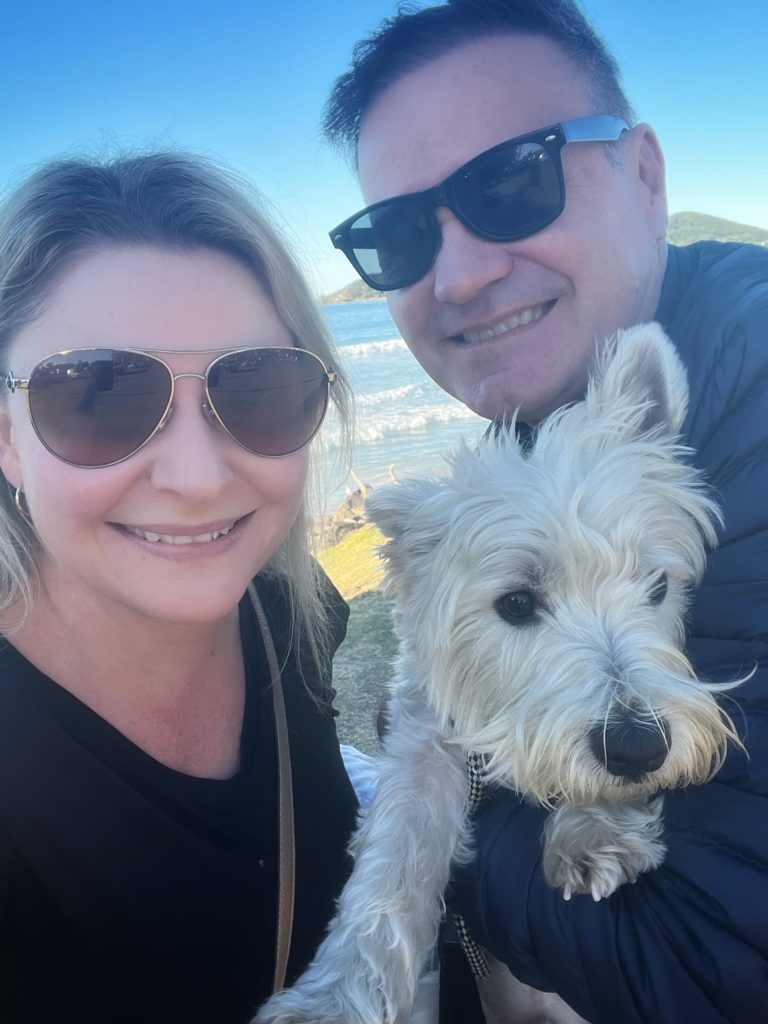 3. Consult with your chosen pet carrier to find out about the process involved in taking your dog overseas
The next most important conversation we had after the one with our vet, was the one with our chosen pet carrier. Over the duration of one or two chats, a few things were explained to us:
time frames and action items for us
costs
the importance of securing a rabies vaccination immediately for London dog – in Australia, the rabies vaccine is often in short supply and only some vets administer it, so get your pet sorted straight away if you intend to fly in the coming year
application for a Transfer of Residency to the UK so we could avoid import fees for London
preparing London for travel before, during and after the journey
the airline application process which meant we had to choose a date range for London to travel – the application is lodged around the 15th of each month and your pet's travel itinerary is only confirmed in the last week of each month
considerations around where London would stay should we need to fly out first, or where he would go if he arrived in the UK first.
Watch the video for full details and our experience with these action points.
London was eventually allocated a flight itinerary that will see him fly out of Melbourne on a Monday evening. He will arrive in Dubai and stay at a pet hotel to recover a little, then will fly into Gatwick airport in England, arriving the same day as us (a Thursday morning). Unfortunately, due to the flight going out on Monday, he will be flown to Melbourne on the Friday and will stay in a pet hotel before having his final vet checks and then leaving the country.
Yes, it is very stressful.
4. Book a rabies vaccination
It's important to note that if you're flying your pet internationally from Australia, they will need a rabies vaccine. There is absolutely no way they can fly without it.
In Australia, the vaccine is known to often be in short supply. At the time we started looking for it, none was available. We waited anxiously for a few weeks, and after putting our name on the list at multiple vets in the whole of south-east Queensland, we eventually got a call from Kalinga Park Vet who sorted us out.
You'll be given a certificate by the vet who administers this. Keep it safe as you'll need to share it several times during the process with your pet carrier.
5. Crate train your dog for overseas travel
A crate will be sent to you by your pet carrier. The size will depend on dimensions you provide and guidance is given about how to measure for this.
Give your pooch as much time crate training for travel as possible.
London never had a worry in his crate – he loved it and we crate trained him as a puppy. BUT he's never had the door closed and didn't like it. Some excellent advice on a process was shared with us from our vet. Similar advice is present on the internet.
Make the crate fun: put treats, toys and food in and around it. Gradually introduce your pet to his/her crate.
Ensure the crate is comfortable for sleeping. London has a favourite bed that we put inside – he takes himself into the crate to sleep at night. We did reward this at the beginning with treats.
Start to get him/her used to travel. We put his crate in the car and went for drives of varying length. At first London didn't like the change, but he got used to it and now sits calmly in his crate.
As time goes by, see if you can find a 'noisier' vehicle like a van or 4WD to put the crate in, so your pup gets used to louder sounds.
And if possible, put your pet into their crate and get someone else to go for a drive with them. When you show up on the other side, he/she will associate the experience with you eventually showing up to meet them.
The nerves are real
I'm not going to lie – we're nervous about this.
The leg between Australia and Dubai is 14 hours. Then London stays in a new country in the middle of the world overnight. Following is 9 hours to Gatwick in his crate. He then remains in his create as he is processed through customs which could be a few hours. Petraveller's partner over in the UK will let him out for a walk and toilet break before he then is transported to where we are staying.
Our vet told us that he won't love it, but that he will be ok.
We will report back: I'm sure there'll be tears on all fronts. But it will be worth it in the end ❤️
Podcast: Play in new window | Download