In my opinion, TBEX never fails to deliver, and this year I thought the calibre of speakers was particularly high, sharing the best travel blog ideas and content tips of the year.
I have an Evernote-file overflowing with travel blog ideas, tips and tricks, and as part of my post-event review process, I've summarised the best take-aways below. I hope you find it helpful.
The best of travel blog ideas and content tips – take note:
Ian Cleary on influence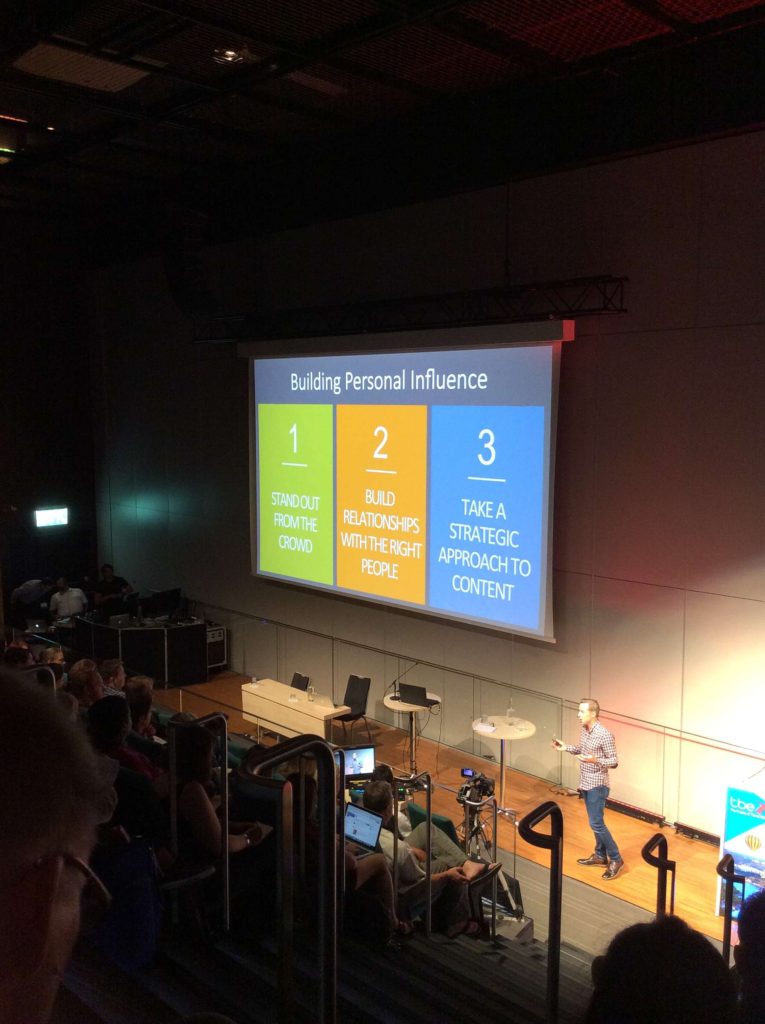 I've followed Ian's work for a few years now (actually, had a nice chat with him back in 2012 at TBEX Dublin).
His content (via Razor Social) is super helpful and he's renowned for sharing the best social tools of the trade and really great content.
In his keynote which opened TBEX Europe 2016, he told us that if there's one thing to focus on (among the plethora of things we know we 'should' be doing), it is to build your influence online.
By this, he means for content creators to really think about the niche we're working within, identify other influencers in that niche and interact with them on social media, blogs and even at conferences.
Follow them around (in a non-creepy way) and network.
Another tip he shared was to really make sure your 'about' page and subsequent pitches on 'you' include 'evidence' on your work in the form of things like testimonials, statistics, case studies or your 'brand's reputation'.
Matt Kepnes (aka Nomadic Matt) on improving e-marketing newsletters
Matt insists we should always be testing – test travel blog ideas as well as your headlines, content, copy ideas, promotional strategies. Whatever you can measure.
And he should know, as a super successful travel blogger and online entrepreneur.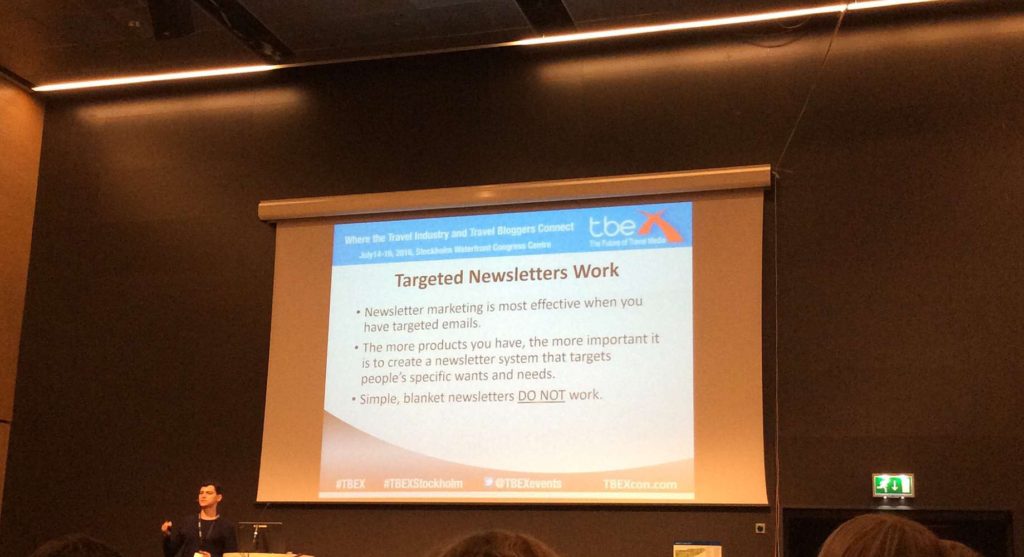 No matter what type of newsletter distribution app or software you're using (e.g. MailChimp, AWeber, ConvertKit, ActiveCampaign etc.) see if you can discover ways within their offerings to better optimise and target your audience.
Use 'if-then' statements to segment data, so that if for example, a reader clicks on a certain type of content you distribute (such as a review on a book about social media), they can be shifted to a user-group you might want to work with separately (for example, down the track if you release a book or e-book on similar subject matter, this group could potentially be more interested than others on your mailing list).
This is all particularly helpful as your offerings, content, products and services expand, and means you are likely to have more interested groups of readers to target different things to.
On subject lines, he reminded us these are very important and pretty much determine whether an email will be opened or not.
Try to make your subject lines personal in nature, offer help; keep it short but not too specific.
An example: 'How to travel for free' worked well for Matt; on the same content, 'The ultimate guide to travel hacking' did not.
On a side-note about the blogging world as a whole, he also mentioned that we shouldn't be so tied up creating content that we forget to read and educate ourselves too.
The more we read: travel, business, marketing, history, personal development, and so on, the better we'll become at everything! Makes sense, right?
He suggested:
Influence: The Psychology of Persuasion by Robert Cialdini
The Power of Persuasion by Robert V. Levine
The Checklist Manifesto: How to Get Things Right by Atul Gawande
The 7 Habits of Highly Effective People: Powerful Lessons in Personal Change by Stephen R. Covey
Ask by Ryan Levesque
Spud Hilton on storytelling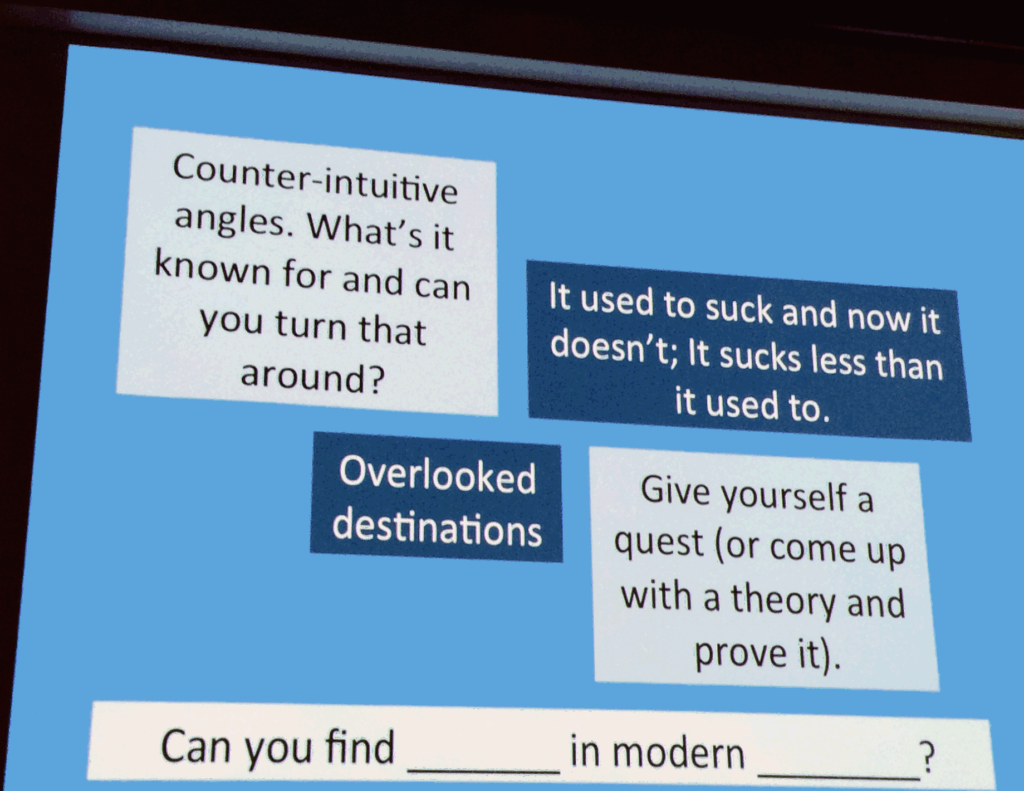 In this inspiring address, one of the few truly experienced newspaper travel editors working in the world today, shared some brilliant tips on how to craft compelling content.
Spud Hilton reminded us that in order to enhance even our best ideas for a travel blog, we need to:
Write to a point – who is the audience and what message do you want them to take away? Work this out

before

 drafting your copy or visual content.
Defy expectations – find things people aren't doing somewhere or that wouldn't be expected of a particular place. Be different. It's also nice to share what's great about a destination that others either overlook or perceive is a bit rubbish. We think a great example is Hastings in the UK – a place we had a lot of interest in because no-one in England cared about it but we sung the destination's praises and shared why it is a cool place to go.
Move past 'tourist vs traveller', because everyone is a traveller, really. They just fall between being a discoverer (e.g. climbing a mountain, seeking a monk and spiritual enlightenment) and a leisure traveller, that is, taking a break and unapologetically sipping on cocktails by the beach.
And it's important to report, not repeat content – find the story, don't rehash what's already been shared. He reminded us to look which way the pack is going, then head in the opposite direction, because that's where the unique story will be.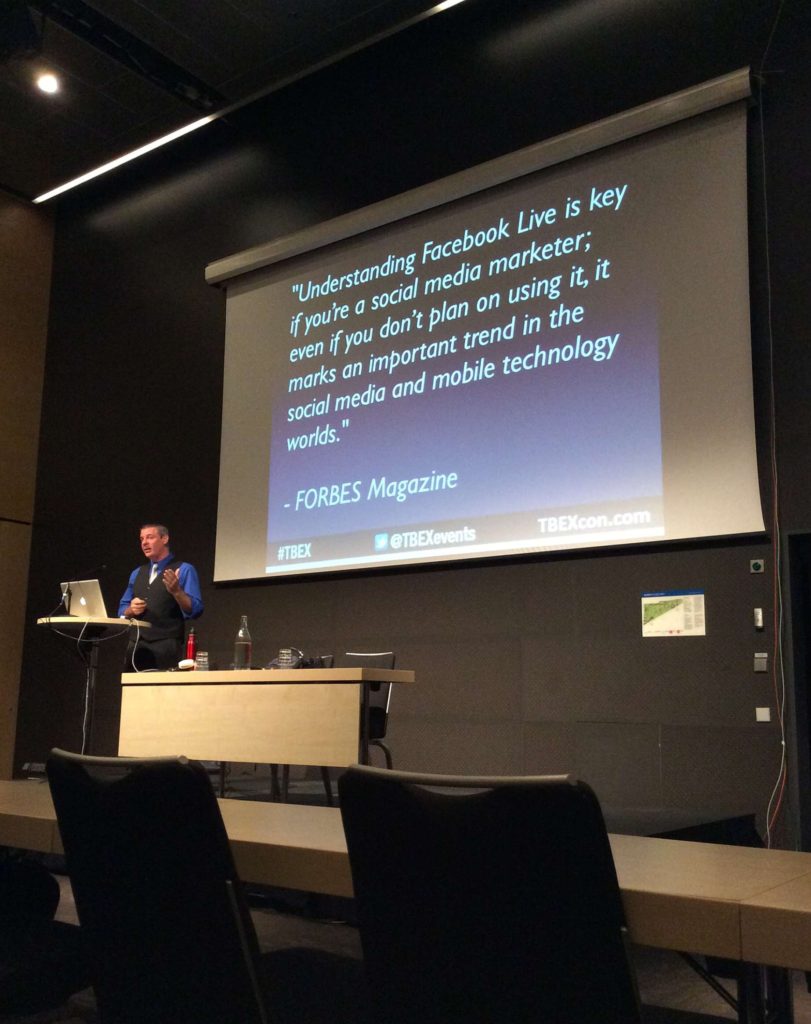 Shawn Smith on using blab and Facebook Live (live-casting)
Shawn (The Mobile Pro) presented a really interesting workshop about his thoughts on live-casting services, with particular references to Blab and Facebook Live.
He maintains (and we keep hearing this) that this method of conversing with an audience will continue to grow, and inevitably boom. I really see the benefits of live-casting, although my only reservations are availability of Wifi and data when travelling. Personal mobile Wifi seems to be more accessible now though, which would alleviate these worries.
He shared a case study about how he managed to raise funds for much-needed stoves in a remote part of the world, because he had the chance to use this technology to show people first-hand how much of a difference their donation would really make.
Using live-casting technology you can:
Re-purpose content from your blog, but remember to talk about it, don't just re-read it. Live-casting is about conversation, it's not a presentation.
Chat about three to seven key points.
Talk to people by name – if they are commenting, chat back to them.
Be authentic and vulnerable – be yourself.
Invite calls to action (e.g. sign up to a mailing list).
Don't be afraid to ask for comments and shares of your feed. Often people do not know to do this but will happily oblige.
If you plan a live-cast in advance, don't forget to set up event invites (you could do this via Facebook) to remind friends to come online for a chat!
Why not have a go at it this week, but be mindful that Shawn advised you should try to broadcast for at least 15 minutes to gather an audience and have a 'chat' live across the world about your chosen topic. I suspect this is true, because I experimented with Periscope and Facebook Live (for the first time) while we were exploring the Vasa Museum in Stockholm and noticed the audience uptake was rather low within the five minutes I was playing around on both streams. Longer and I might have had the chance to have a proper conversation.
Shane Dallas on using Google+ to reach millions
My final workshop summery is from a very engaging Aussie traveller's session. Shane Dallas (aka the Travel Camel) hosts The Road Less Travelled, one of the world's biggest Twitter travel chats.
He spoke about how Google+ is far from 'dead' and that we should all be keeping an eye on its 'collections' feature, and carefully curating our own meaningful collections while nurturing conversations about the subject matter within our chosen niche.
Google is seeking to gather the world's most creative inluencers, and this is the channel they'll use.
On social media, he insists more of us need to more mindful of what value our content is bringing to the party, how it makes us different (stand out) and its purpose.
He says we need to strive to be better at the three Cs:
strong Content
strong Conversation
strong Community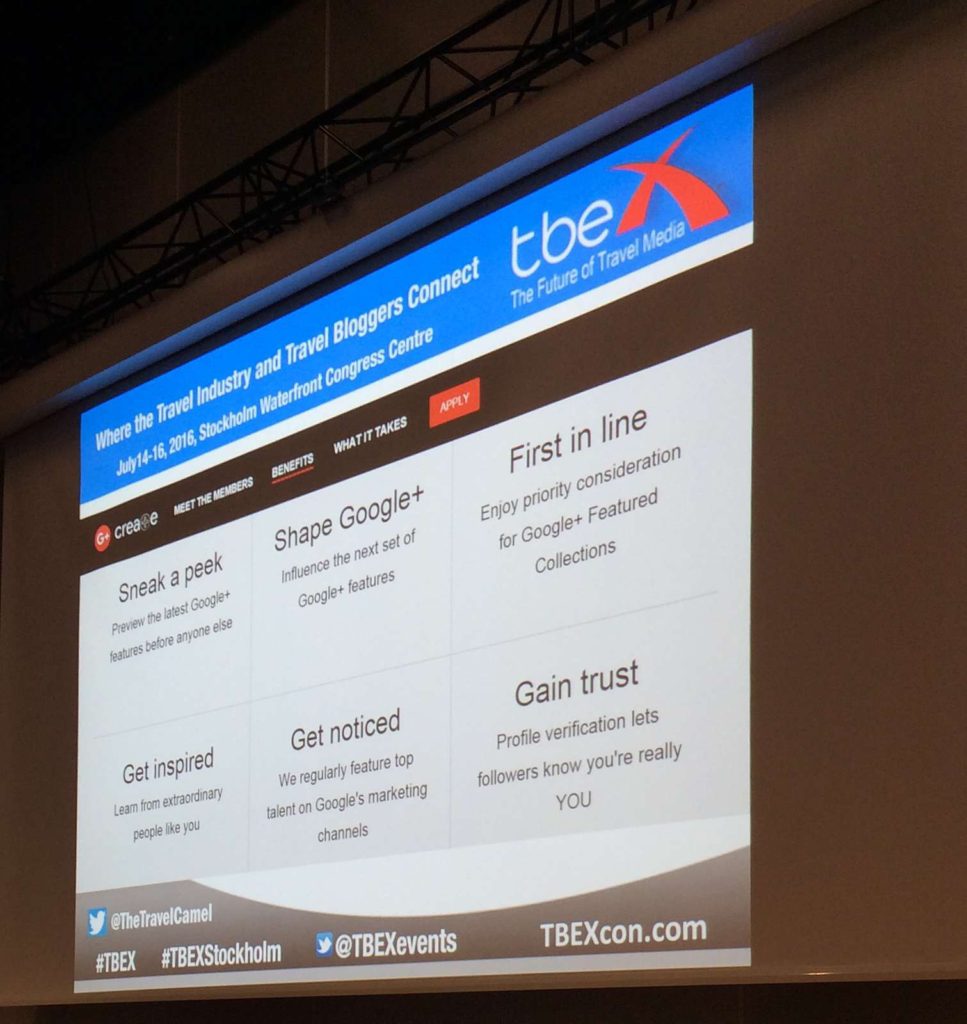 Interestingly, Shane discussed using Google+ and the featured collections function in almost a micro-blogging capacity, rather than as a vehicle for driving traffic back to a website.
I can definitely see his point, particularly being that it is a truly different user-set that make the best of this social media platform.
He mentioned that Twitter, Instagram and Google+ are the social vehicles used by those who want to 'network and learn' (rather than those where you will mostly hang out with friends). I totally agree with this and have enjoyed these three services in this way.
I have also always found Google+ to offer a more beautiful interface for images, videos and interesting conversation, so I was glad to be reassured that it is embedding its place firmly in the world of micro-blogging, creative content and social media.
Do you have tips or questions? Let us know in the comments below.
What else did we do in Stockholm? Discover our travel itinerary and advice here
TBEX travel blogger conference: the latest for you
Read all the updates and adventures from TBEX in the Czech Republic and watch the video. Hope to see you at the next event!