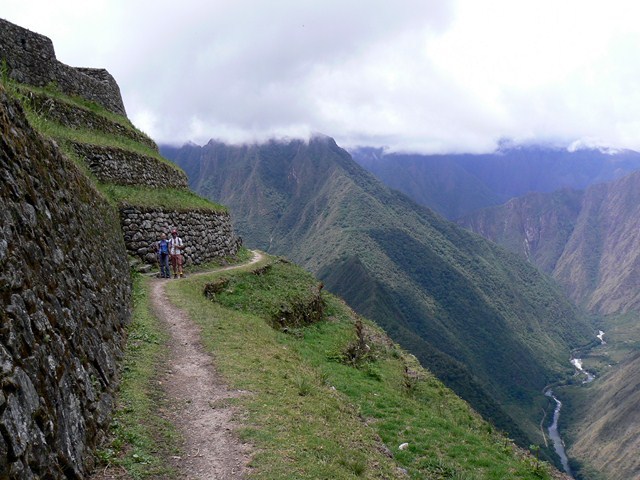 Another day, another guest interview, and tonight I'm excited to offer some insights into one that is definitely on my own 'to do' list, PERU. Simply *amazing*.
Name: Kim Shields
Occupation: Teacher
Age: 33
Destination: Peru
What's so cool about this place? Peru is filled with amazing scenery, people and wildlife. Every town and city has an interesting history to tell. My husband and I travelled with Intrepid on the Highlights of Peru trip. It took us from the city of Lima to Pisco, the Nazca, Araquipa, Colca Canyon, Lake Titicaca, Cuzco, Picchu, Aguas Calientes and the Amazon Jungle.
Why did you decide to go? Peru seemed to offer everything we wanted in a trip. I love the outdoors, love wildlife and love seeing places that are so different from what we have here in Australia. It had the right mix.
Favourite part/experiences of your trip? The trek to Maccha Pichu was the major highlight. Parts of it were hard but I love something that is physically challenging and the reward at the end was worth it. The Amazon Basin was also amazing to see. There is such a vast array of wildlife and magnificent trees that are centuries old. Lake Titicaca was also special. When you see what people can build out of reeds from the lake it blows your mind. With Intrepid we were able to have a homestay with one of the local rural families that reside at Lake Titicaca. They are extremely hard workers and life remains simple and uncomplicated for them. We were treated to a village dance in which we were to dress in the local costumes and also a fantastic game of soccer against the local villagers.
How did you get around? After flying into Lima via Santiago the majority of movement was by bus. Some were big buses and some were small. You can expect that not all buses will be in the best of condition. We had an overnight trip on one where the toilet door wasn't staying shut and the foulest of smells wafted through the back of the bus. We took a very short flight (filled with many air pockets) from Cusco to Aguas Calientes and then back to Lima after returning from the Amazon Jungle. We travelled by boat down the Amazon River to our destination. This was a great way to see the wildlife and surrounds.
What would you recommend other people do? We went sand-boarding in Huacachina, outside Araquipa, and it was fantastic. You arrive at a road-side restaurant with little sand in view. They then whisk you up and over the nearby hill in a sand buggy and it opens up onto this amazing expanse of rolling sand hills. The buggy weaves up and down the sides at great speeds giving all on board a thrilling ride. The board riding is fantastic. I recommend forgetting the trying to stand part (unless you're a pro) and lying down on the board head first. This was lots of fun. There is also a flashy looking Italian restaurant just off the square in Cuzco that offered a nice break from the local cuisine.
Any accommodation you would recommend? We had no problems at all with any of the accommodation that we stayed in. It was all prearranged by Intrepid and whilst not luxury you know that you will have somewhere to stay that meets the standards of the company and most that travel with them.
Anything you didn't like about this travel destination? The bus trips are long between the destinations but there is little chance of avoiding this if you want to see all that Peru has to offer. There were parts of the west coast that I would not bother with seeing if I had the trip over again.
An insider's tip based on your travel experience to this destination? We were lucky but I have heard many stories of people getting gastro on the trek to Macchu Picchu. Be careful with what you consume and hit the chemist for all the electrolytes and gastro stop before you go. You may be unlucky enough to get altitude sickness, especially if you fly straight into the high country. There are apparently some medications you can take but the locals will also advise coca tea which seems to work.
What's your number one travel tip? Always research the country you are going to. While the world is a wonderful place to explore you need to know where to go and where not to, and how to fit in when you get there.
And your next (ideal) travel destination? I am looking forward to a ski holiday, Canada or Europe.