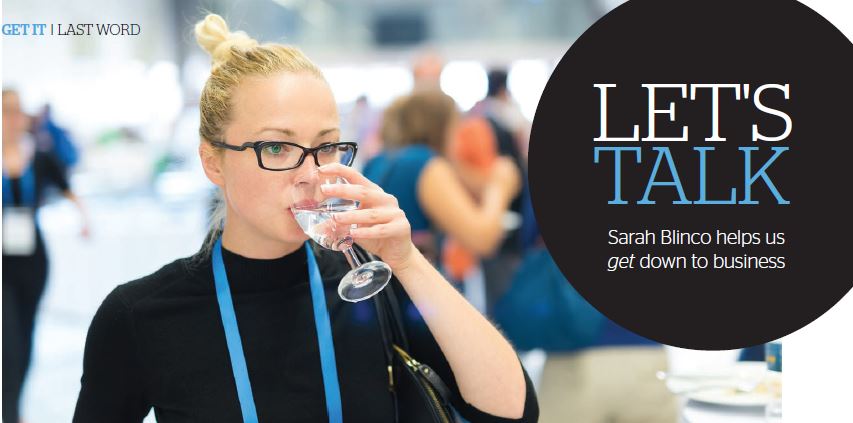 In today's competitive world, business networking is vital for success and is a critical component for achieving success in any industry. Whether you are an entrepreneur, a small business owner, or a corporate professional, building and maintaining a strong network of contacts can open up new opportunities, provide valuable insights, and help you stay ahead of the curve. With the right connections, you can access resources, gain referrals, and establish mutually beneficial relationships that can propel your career or business to new heights. Simply put, business networking is no longer just a nice-to-have, but a must-have for anyone who wants to thrive in their field.
I've shed insight on how to introduce yourself professionally and make the most out of your time at conferences and business events to get your career where you'd like it to be.

The importance of professional development – how to introduce yourself professionally: the conference
The packed conference room was buzzing with excited energy. The popularity of the break-out session I'd just witnessed had obviously been underestimated. People were sitting and standing in every free space.
I, like all the attendees, had been impressed by the generosity of the speakers who hadn't held back on sharing wisdom about their business success strategies.
Dazzled, I simply had to meet them!
I lined up with other inspired folk at the end of the session to say hello. When it was my turn to swiftly meet-and-greet, I spoke but a few words, handed over a business card and scurried off.
Significant networking fail. NOT a lesson in how to introduce yourself professionally or beneficially at an event.
Networking doesn't have to be scary. Be prepared
We're coming into our final quarter of the year. With so much on the horizon including conferences, events and a host of opportunities proving the importance of professional development, there's a good chance you might find yourself in a situation like this. I'm here to urge you to make it work for you (better than I made it work for me).
There's no doubt that networking fast-tracks the opening of career and business doors. This happens through:
– the gaining of new tips to improve your work
– learning that accelerates growth
– finding customers or a new job
– making friends or discovering people who become future business partners, mentors and collaborators.
Yet, many of us cringe at the very thought of networking.
When we finally get ourselves in front of the crowd, we're often ill-prepared, shy and take the wrong approach.
I soak up conferences (I especially love TBEX for travel content creators)! I love the learning and the inspiring presenters. I have always known the networking component is seriously valuable, but for many years I've made the errors referenced above.
When running my own business, I had to get stuck into the networking game, faking it 'til I made it, so to speak.
For every person I met, I had a chance to discover how I might add value to what they were working on, and critically, much of that led to paid business.

How to make the most of a conference or event and introduce yourself professionally
It's easy to slip into shy/tired/straight-up complacency though. This is where you hang out with the same people, get caught scrolling emails on your phone, feel stuck for conversation, or march right on in there with your business card.
Shamefully, I've done it all.
But, here's my intention for us from now on:
be open to opportunity.
Make it your mission to connect with new people at each event you go to. Get to know them on a personal level.
Rather than only talking business, see if you can discover what hobbies, work, people, heroes, background or interests you have in common.
Critically, listen.
Ask questions, be interested, helpful, and listen some more.
If you have a few conversation-starters up your sleeve, that inevitably improves confidence when you approach someone new in a room.
Try things like 'what brings you here today', or 'what are you working on that you're most excited about right now'?
Another element I've always struggled with is getting my story right. You know, the '30 second elevator pitch' thing!
I have always found it hard to articulate. Probably because I never crafted nor practised it – which is the final important bit of advice I wish to impart.
Instead of stating your job title when you meet new people, try sharing who you serve, what problem you solve, how you solve it and what results you've achieved.
For example: 'I serve business owners by helping them produce high quality, creative digital content and this year already I've helped more than 45 brands reach their audience and engagement goals within six months of working with me'.
Over to you…
What emphasis do you put on the importance of professional development?
Make the best of what's ahead this year, raise your profile and develop connections (offline, initiated via email, and online) that take you closer to your goals.
There's no time like the present!
Keep in mind too, it's only human to feel shy, reserved, or unsure of what to say.
Be honest about it – you can be certain others know the feeling well!
How do you see it? Share in the comments below.