Why bother updating your social media profile on LinkedIn, Facebook, Google+ or anywhere else you're active online? Because you can build awareness around your own skills, passions and expertise in readiness for any positive career change you are seeking!
Here's five ways you can make your social media profile work for you now.
What is a social media profile?
Your social media profile is the paragraph (or page) that you compose 'about you'. You'll spot all sorts of profiles around the web, ranging from some that say nothing at all about the person who owns them, all the way through to nicely crafted profiles that share the right mix of fun and professional elements about a person.
While it's important (in my view) to make the most of the space you have on any of the platforms you might favour, including Facebook, Twitter, Instagram, Google+ and LinkedIn, for anyone wanting to more effectively manage a professional online presence this year and next, LinkedIn is the one to polish, so it's the social media profile I'll allude to most in this piece.
LinkedIn is a particularly important tool for anyone who is:
– building a business
– building a personal brand or profile
– looking for a new job opportunity (now or possibly in the future)
Used effectively, you can be discovered by employers, recruiters and potential clients on LinkedIn based on your interests, experience and skills. It's also really useful for growing your networks and influence. I've had success in both aforementioned areas through keeping my profile looking good.
As with anything in life, you only get out of it what you put in.
For this reason, it's worth setting aside thirty minutes to craft your profile on LinkedIn, as well as any other key places on the web where you spend time developing or sharing content.
Five ways to make your social media profile work for you
Upload a profile photo
Not everyone loves having a photo of themselves on display, but in a professional setting it is helpful to give others an idea about who they are liaising with on the phone or via email.
Don't you prefer it when you can put a face to a name?
A professional head/shoulders shot isn't that hard to arrange these days, and this type of photo is preferable for use anywhere you are promoting yourself as an expert in your field.
While selfies, snaps taken at family barbeques or at the pub with friends are fun, consider how you want to be represented visually in a work context. It's probably not in a blurry photo or with a glass of bubbles in your hand!
Pro tip: If you do not have access to a professional head shot for business purposes, ask someone you know who takes nice photos to snap several options of you against a clean background (e.g. white), and ensure you pay attention to the finer details like tidy hair, neat clothes and apply powder to your face if you tend to be shiny in pictures.
'You' in 140 characters
The 'about me' space in many of your social profiles including on Instagram and Twitter offers a chance to write a snapshot summary in around 140 characters that can showcase what you stand for.
I liken this to the 30 second elevator pitch concept; if this was all anyone was to read about you, be sure that it captures relevant details about your personality, professional intentions and experience.
Check your contact information
Make it easy for people to do business with you.
Always check your email address, phone number (if relevant) and social media links are up to date – it would be terrible to miss an email about your dream job or client because of a typo, incorrect link or broken alert forwarding set-up.
Details matter
The 'details' involved in the various sections across LinkedIn or even the additional extras you can add to your Google+ or Facebook profiles may take you a little longer to complete, but it's the most important part.
Here you have the chance to share exactly what you do as part of your job, the knowledge you have that may help others, what you've previously achieved and what your core skills are, so don't be shy!
Pro tip: Just as you should for any online copy (think SEO (search optimisation)), think about the key terms those looking for your skills and services might use if they were searching for you.
Be careful not to use phrases that are too clever (will others actually search for that if they need someone with your expertise?); but by the same token, if you have experience in a niche area like speaking a foreign language or coding, be sure that it's mentioned so it appears in the search.
Have fun
Finally, don't be afraid to mention a quirky or fun fact that might mean you find something in common with an industry counterpart.
For me, being a 'dog person'  has meant I can have a joke and conversation about our furry friends with others I've met (online or in person) who feel the same … then we get on with business.
In any situation where we are networking, finding common ground is always really helpful. I'm sure you'll agree that it's often not the work-related aspects of our lives that help us forge fast bonds with people we work with but rather, it's about those commonalities around passions, hobbies and life experiences.
Time to take action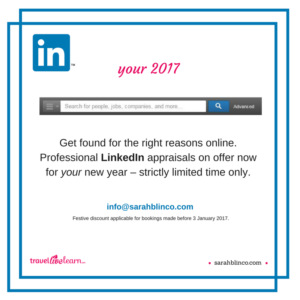 Over to you…
But if you need assistance with your professional social media presence and profile coming into 2017 I'm resurrecting strictly limited social media consulting and copy editing services over the holidays and at discounted rates (it's Christmas, after all!) for anything booked before 3 January 2017.
Email me for more information and to let me know what you need help with.