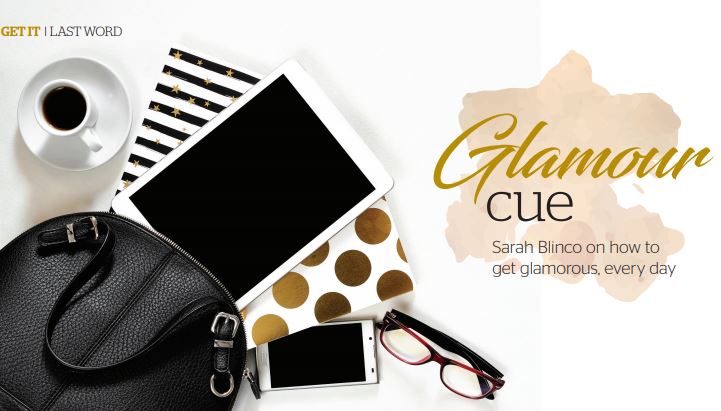 A little learning on not saving your best for special occasions – find your glamour cue each and every day 👑
Not saving your best for special occasions: the story
Once upon a time I lived in tiny and expensive flat in a huge city overseas.
Competition for a roof over your head continues to be high in many places, and out of naïve fear I'd accepted the first unaffordable rental a real estate agent sold me on.
This apartment block housed a young, international set, mostly fortunate students who curiously didn't work but had way more fun-funds than I did.
The experience wasn't the homeliest I've had, and my pay packet stretched only as far as rent and a bit of food.
Trash, treasure and a splash of glamour
That's why the communal corridor near the 'bin room' was such a treat.
You see, every time this transient crowd shifted in and out of the building, they'd leave unwanted goods in that space. Furniture, towels, blankets, cushions, kitchenware, shoes, lamps, kettles, storage boxes, trinkets and clothes would appear every few weeks. All in good condition, nearly-new! The little hallway offered a treasure trove of goodies that saved me loads of money.
One special day I was on my way to work when I spotted a fresh pile of pretty things left for the picking. Sure I needed to catch the train, like, ten minutes prior, however, I was captivated.
Unceremoniously dumped amongst a pile of women's accessories, was a stylish black leather Kate Spade tote bag!
A Google search later indicated it would retail for more than (AU)$700. My bag's former owner (someone with more money than sense) had abandoned it still full of her old gum wrappers, crumpled tissues, used cosmetics, and it was stained on the inside with what looked like leaked nail varnish. With a loving clean, it was nearly good as new.
Not saving your best for special occasions: living a glamorous life now
From that moment on, my Kate Spade tote and I were inseparable. I'd never owned an expensive bag before. I'm a fairly low-maintenance kinda girl, however carrying it around made me feel glamorous. It was just a bag that I'd retrieved from the trash, but it did add sparkle to my days.
Indeed, the word 'glamour' is derived from Scots (the old English language as spoken in Scotland), when in the early 1700s, the Scottish altered the English word 'grammar' to create 'glamer' or 'glamour', meaning 'a magic spell'.
What is glamour?
Glamour. A little bit of magic, a feeling that things are in the flow and all eyes are on a sassy version of you. Enchanting, don't you think?
More reasons to not be saving your best for special occasions, like weddings, formals, awards shows or a jaunt through Vienna.
Glamour can be accessed every day. My Kate Spade handbag made me realise that the spell is in the detail, if that detail is special to me. I still don't seek designer gear, but I make sure that I implement touches of glamour in my life that serve as a cue to walk tall and approach my to-do list with grace and ease.
Glamour cue: be your happiest today
Your daily dose of glamour might mean ensuring your nails are manicured, wearing a fabulous hair accessory, getting fit and healthy, or brightening up your home with fresh flowers. Maybe the glamorous life to you, means the removal of excess, making space for calm, simplicity and the got-it-together confident you.
When the tragic news of designer Kate Spade's death popped up as a notification on my phone in June, I recalled how the creation that bore her logo had brought me joy. That bag was my icon of glamour, the reminder to smile warmly, flick my hair a little, and to radiate the bright energy I intend to share with the world. Little had I known, I did not need a big budget or to be in attendance at a fancy event in order to 'be' glamorous.
In a reflection on the meaning of glamour, Financial Times journalist Susie Boyt says that, "your best self is not about pampering, but working on that song-in-your-heart mood". How charming, and true. Find your glamour cues this month, and access daily, because a reality we can all agree on, is that life's too short to save our best things for 'special occasions'.
Read the latest issue of Get it Magazine, getit-magazine.com.au