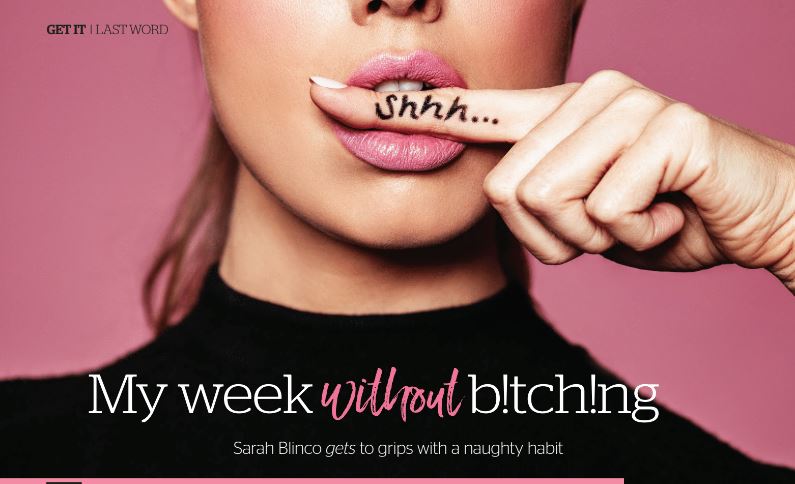 Late last year I picked up on something I might need to address, a behaviour that didn't impress me; I wondered what it would take to do everything without complaining or gossiping? My life would surely be less complicated. I'll admit, it proved harder than I thought, but my diary on my week without bitching unravelled as follows.
How to do everything without complaining or b!tching: let's do this!
It happened during lunch a few weeks ago – I was catching up with a group of friends, and typically, not too far into the time we were together, I noticed us all descend into negative chit chat. I could hear the words spilling out of my own mouth and knew I should rein it in, but I was on a roll.
I bid farewell to my mates and headed off to finish work for the afternoon, but something didn't sit right following the interaction. It dawned on me that with some groups of people, I had fallen into negative patterns. We all need to let off steam now and again, and let's face it, sometimes we face situations that provoke even the most patient among us. Still, I felt a bad habit brewing, enabled and worsened by certain people and conditions, but also creeping into home life, WhatsApp chats and coffee dates with colleagues. Chronic complainers – we all know them, and that is not who I want to be.
Breaking a b!itch of a habit
They say 21 days is what it takes to form a new habit. I decided to compromise and swore off b!tch!ng for one working week.
I declared my intention to my partner Cooper, and at 9am the next day to Lisa, the first work-pal I saw.
'No negative talk for a week!' I shared. She smiled sweetly and encouraged me to pursue it. 'Excellent!'. Within half an hour we were discussing how irritating Riverdale is and how we're shocked it scores so many television award nominations. b!tch b!tch b!tch.
Oops. (sorry Riverdale fans… but honestly!)
Onwards, it's never too late to start fresh. I made it to 3pm determined to stay sensible during a meeting I was set to have with a project group I'm part of. All good, until one of the team made a dramatic entrance announcing he had gossip. I love gossip! And I failed on day one.
Four days to go, and in my diary was a meeting with a fabulous friend of mine, Tina. We often collaborate, and the reality of our 'one hour' slots is 45 minutes gossip, 15 minutes work (we are very efficient).
There was giggling, joking and b!tch!ng. As we entered our 35th minute, I told her that I was trying to drop my negative habit and feeling better about myself, I talked us up towards positive perspectives.
Wednesday: mid-point hump day, tough. Instead of engaging with my known triggers, I intentionally surrounded myself with optimistic affirmations and kept an eye on @thedogist Instagram Stories to maintain high spirits. If you're not familiar with The Dogist, go on – thank me later.
Chronic complaining can be broken by mindful action
By Thursday I found I was catching myself in the act, but still making excuses for my bad behaviour. Two of my favourite people tried to explain that there is a difference between 'b!tch!ing' and 'updating', particularly if one of them has been away and missed out on 'news'. I'm not sure it works like that, but we were being mindful of our words and actions, and that's progress.
As the sun rose on FriYay, I wondered if I should test the rubber-band-on-wrist strategy, to be snapped as a reminder if I caught myself mid-naughty habit; but I granted myself a reprieve. I realised the experiment had been successful – pain free, even – because while I completely failed on the no-gossip, no-b!tch!ng front, I was now fully aware of the behaviour I am changing for the better.
This is good, because I much prefer the girl who contributes knowledge, kindness and wisdom to conversations. If not those things, good cheer, at least. I can't say that you won't find me moaning about certain television shows (don't get me started on Love Island), but nobody's perfect.
Have you caught yourself in the act – what are your tips on not being the compulsive complainer in your social circles? Let me know in the comments.
First published in the November 2018 issue of Get it Magazine, getit-magazine.com.au