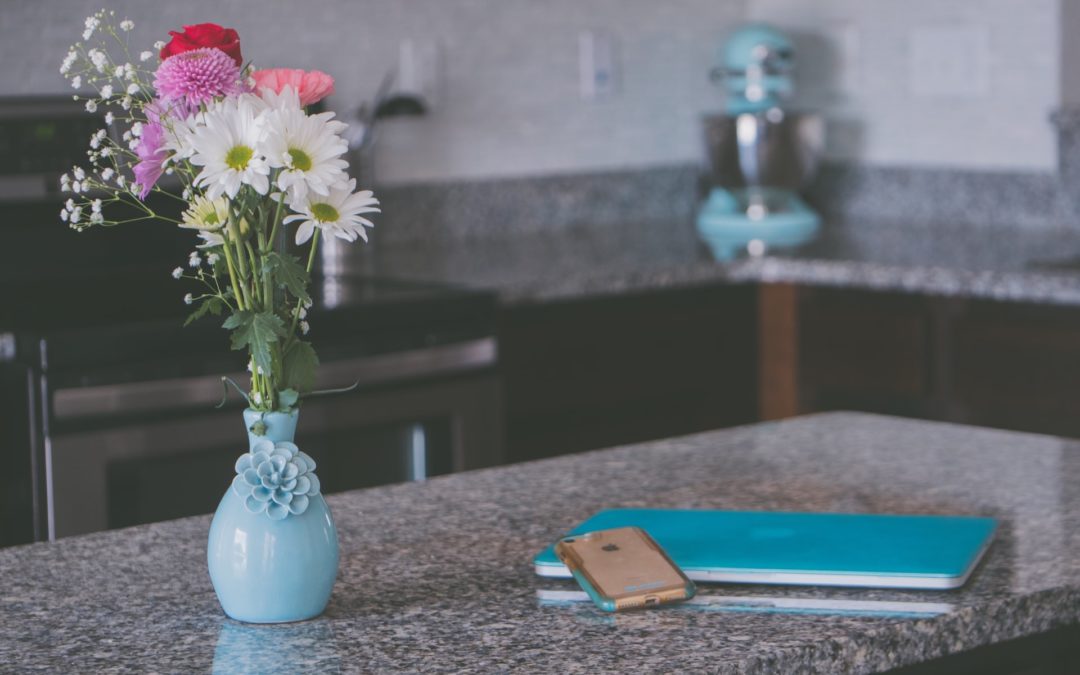 With just two days to move in before we needed to start working, we had no choice but to furnish a flat FAST in England! We landed in the UK to live for a third time recently. But, with one difference – we had a pet in tow. Unfortunately, in our experience we didn't find that securing a place to live with a dog was as straightforward as we'd hoped.
But, eventually we scored the right place at the right time. It came unfurnished, and it's the first time we've ever chosen to furnish from scratch!
Furnishing a flat fast in England
Since we had the opportunity to design our own space, we put together a checklist of key pieces we needed:
A double desk or two minimalist desks for working from home
Office chairs that prevent RSI and back problems
Some sort of compact dining table and chairs
Sofa, TV, coffee table and TV unit (could be inexpensive and compact)
Bed and [comfortable!] mattress
Microwave, kettle, toaster (as these were not already included in the kitchen)
We do not have transport so needed to rely on some conveniences of England in terms of furnishing a flat fast.
These included:
Walkable options e.g. cheap stores like Poundland or Primark
Next day delivery services – will share our favourites below
Vintage / second hand / outlet stores we can reach on foot, as well as Facebook Marketplace if we could access on foot.
Our UK flat walkthrough: the reveal!
Find out how we furnished our flat fast in 48 hours without transport: 
Our top 7 resources for furnishing a flat quickly and on a budget
A few of the places we mentioned in the video included:
Argos – next day delivery available at a timeslot you choose
Amazon – next day delivery available but sometimes difficult to track
B&M – nice quality homewares at a great price
Primark – seems to have a renewed focus on 'home' since we last lived in the UK; nice items that are cheap
Poundland – an awesome resource for gathering all the usual cleaning and household products that we usually take for granted because things like detergent are usually 'just there'!
Vintage or charity stores e.g. British Heart Foundation, Cancer Research UK, Oxfam, Marie Curie shops
Furniture outlets
How to rent in England: tips for first-timers
We've rented five properties in eight years (across three different stints) in England. Some of these were private rentals found on Gumtree. Others were via real estate agencies. I wouldn't say the task of finding a flat ever gets easier. However, if you're a foreigner (expat) and you haven't got a lot of [recent] history in the destination, you may face an administrative nightmare.
My recommendation is that you prepare. Have as much of the following information to hand as possible. This will mean you can jump on applications quickly and successfully:
A UK phone number/SIM
Have a temporary address handy, as you're usually asked where you're staying 'now'
Proof of who you are (e.g. passport, drivers licence, bank statements)
Your UK National Insurance Number if you have it already
Reference information (either pre-prepared written references and/or details of recent rental property agents who can attest to you being a good tenant)
Evidence of employment, particularly recent payslips and/or a contract or something official validating your income will mean far less hassle trying to secure a rental agreement
Alternatively, details of a guarantor may also be accepted
A UK bank account* – particularly so you can have funds ready to transfer as your deposit and first few weeks' rent. Waiting for funds to transfer internationally is possible, but will take extra days which may mean you are held up on your plans to sign a contract or move in.
The Government has published some guidance here that may help you as a renter.
InterNations has also posted useful content for expats here. And we love this super helpful post by the Introverted Expat.
*A note on UK bank accounts:
If you are new to the country, this can be a sticky point. Many banks will ask for an address to set up a bank account, but you almost need a bank account to secure a residential address! HSBC is known to support expats in England, although it's my understanding that they charge a hefty fee for the privilege. Barclays let us set up an account initially when we first arrived, but I believe Santander is ok too.
The best way to seek help is to jump on an expat page on Facebook (e.g. 'Aussies in London') and ask for recent experience and advice. It's a resource we wish we had have had when we first arrived in 2010!
A final note on renting a flat: furnished or unfurnished
If you're turning up to the UK to live and work but you don't have a job yet, or a pet, I'd advise not rushing into the rental process. Book an Airbnb to stay in for a few weeks, or a non-committal flat share. Find your feet, get a job, discover an area or two you love; get your bank account sorted and then seek an official residence.
We LOVE the UK but you need to find "your place" otherwise your experience might be less than happy which would be a huge shame. You're far better off if you can live within an easy commute of where you work, and designing your life to optimise your experience abroad.
If you can give yourself some space and time to do that, definitely take advantage of it. We've learnt the hard way, and this is what I'd do differently if we had our time over again. Also don't buy into the scaremongering around not being able to find a place to live. You will be ok. Plan ahead, ask questions and keep your cool. You've got this :)
Do you have additional advice to add, or a question? Let us know in the comments below.