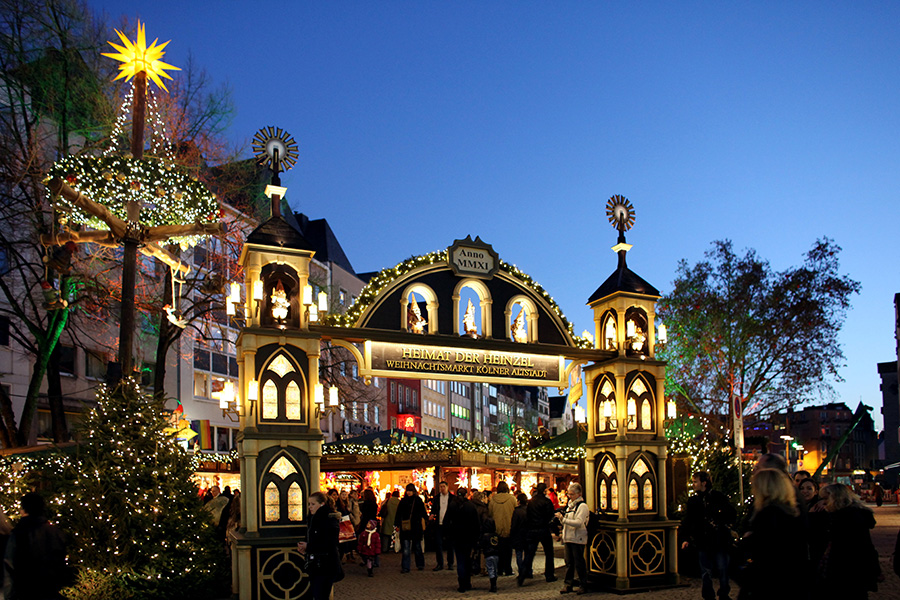 Germany is famed the world over for putting on the best festive markets, and we're excited to share with you our Christmas markets Cologne guide.
They're some of the world's best that attract millions to the city each year between 25 November and 23 December.
Christmas markets Cologne
Cologne is known as one of the best European Christmas destinations. There are seven significant German Christmas markets in Cologne and highlights of each, as well as best time of day to visit, are listed below.
This charming German city is of course, famous for its Christmas markets (as other neighbouring German cities are). It's perfect for a winter Christmas city break!
Before we get into the detail of why we've come in December, a quick snapshot about this town…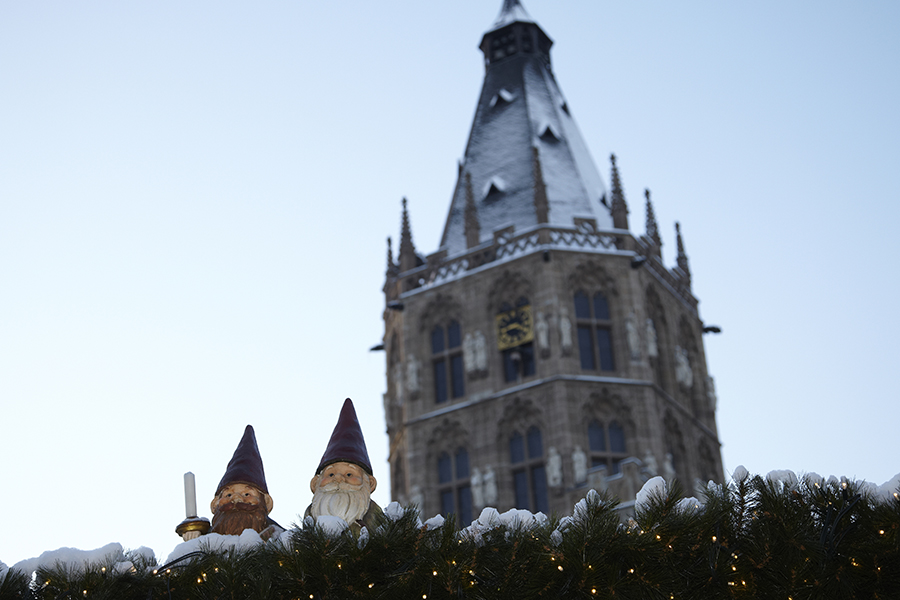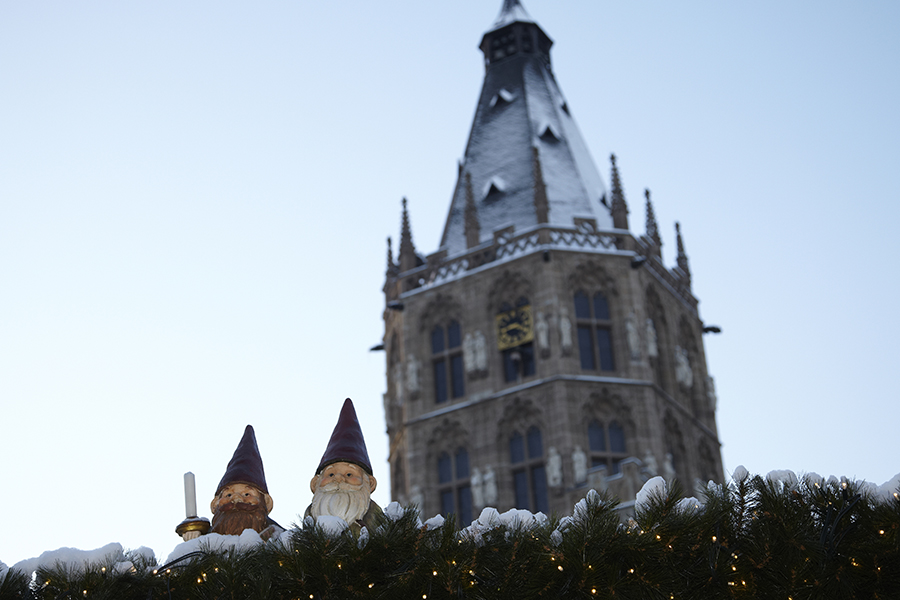 About Cologne
One of the reasons we chose to visit Cologne for a spot of Christmas market shopping is that its positioned on the Rhine river.
We've only been to this area once, when travelling around Europe on our awesome Expat Explore tour – and I remember it is spectacular!
Cologne is known as a cultural hub of north west Germany, popular for its food, art and traditional Kölsch beer. The city is filled with quirky bars, cool shopping and plenty of culture.
Much of the city was actually destroyed during the first world war, and the locals have had to rebuild it, together with a multicultural mix of neighbours from around Europe.
Cologne famously accepted many migrants during recent years' refugee crisis', and its people are known to be exceptionally friendly, open and welcoming.
Also famous and on at this time of year, is the Cologne Carnival, known as Fastelovend. I love that this annual celebration of street parties and costumes officially launches each year at 11am on November 11, and it runs until Christian Lent.
Apparently it's normal during this period for people in costume to run up and give you a peck on the cheek. If you get kissed, don't panic, consider it lucky and enjoy the moment.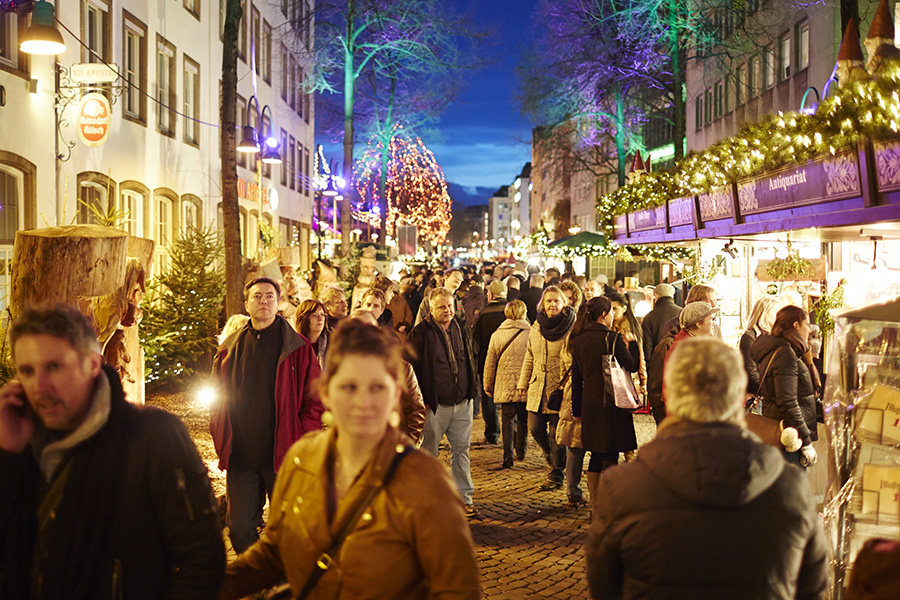 Need to know: the 7 Christmas markets of Cologne
Cathedral Market: the big one
– This is the biggest  German Christmas market in the city, known for its spectacular location in the square in front of Dom Cathedral. It's probably the first one you'll come across if you arrive by train, as the main station is on the doorstep to the Cathedral.
– Come back for a visit at night, for the sprinkling of pretty festive lights throughout the gift-filled wooden pavilions.
– There's a lot of delicious food here, including local foods like German Bratwurst and Flammlachs (grilled salmon).
– The Cathedral Market is the spot for entertainment which you'll often catch on the stage by the tall Christmas tree.
– In case of rain, there's a canopy under the Roman-German Museum where you can find shelter, people-watch and enjoy a mug of traditional gluhwein/gluehwein (hot spiced wine) – I liked mine with a splash of Amaretto!
– Cologne's tourism information centre is very close to here too, well-signed, opposite the Dom, if you want some tips or help with getting around town.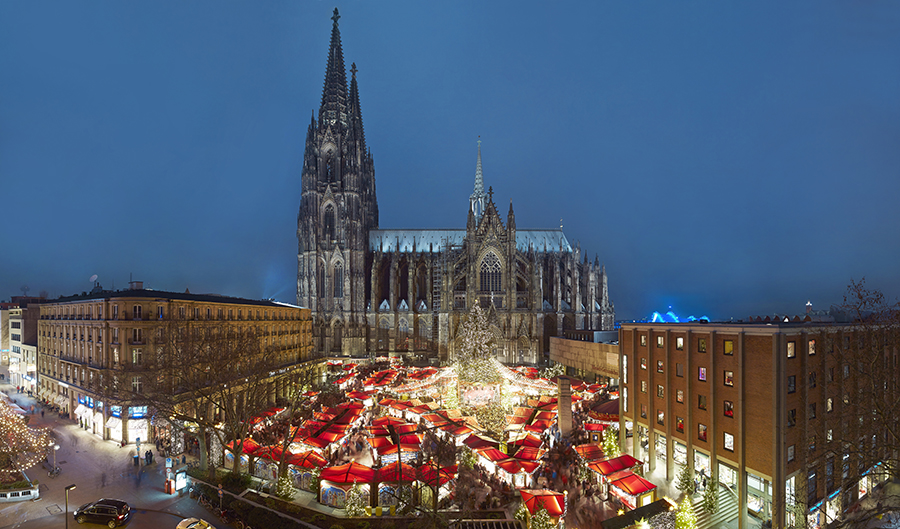 Old Market or Alter Markt: the traditional one
– Literally next door to the Cathedral market is this gorgeous set-up. For a traditional Christmas market experience that's particularly great for a daytime visit,  make time for the large Old Market.
– This Cologne Christmas market is located in front of the Old Town Hall, and there are indoor areas if it's raining.
– The open market area is on Heumarkt and features a large ice rink at the centre of it that has ice shows too!
– The Old Market boasts cool themed alleys e.g sweets alley, toy alley.
– There's a fabulous vantage point here on  the balcony at the themed house that overlooks the ice rink, but it's busy so be prepared to nudge your way through to get some nice photos.
– Want to try local fare? Special drinks to look for include Calvados liqueur with cream; and Feuerzangenbowle which is Gluhwein and rum set on fire and served in a mug called a Feuerzangentasse which has forks attached to it with a sugar cone that can be soaked in rum and the whole thing is set on fire.
Harbour market (Chocolate Museum): the modern one
– A short walk along the river from the Cathedral and Alter Markt, this spot is a must-visit. How could anyone resist a German Christmas market on the banks of the river Rhine in front of a Chocolate Museum? (which is perfect for shelter if it's wet).
– While this is one of the smallest in the city, it's possibly set in the most picturesque spot. Go in the daytime, and head here early, it is one of the first to open each day during the German Christmas market season.
– Perfect for lovely arts and crafts, and there's a cool hat vendor too.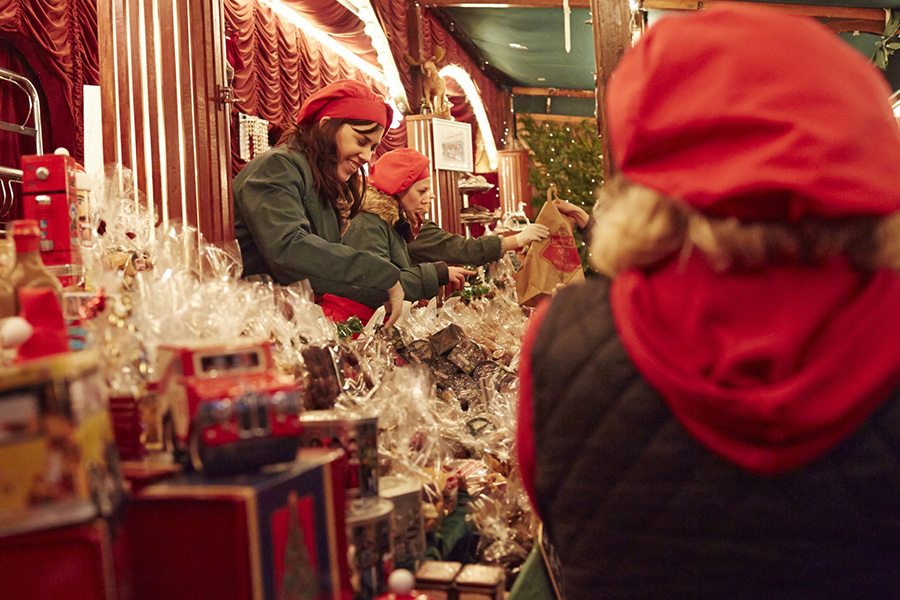 Angel's Market (Neumarkt): the glamorous one
– This pretty German Christmas market is the oldest in the city, and sits on Neumarkt Square, amongst some of Cologne's great shopping streets. It is by far my favourite!
– It's another lovely Cologne Christmas market to visit at night because of its lights, trees and romantic atmosphere. The Angel Market is about 15 minutes walk from the Cathedral (Dom).
– In case of rain, seek the chic bar at the west end of the market, but you'll want to be early because it gets full.
– Cologne's Angel market is good for Christmas decorations, unique chocolates, artisan stalls, lights, arts and crafts.
Village of St Nicholas (Rudolfplatz): the magical one
– A village-style Christmas market that is set by the medieval Hahnentorburg on Rudolfplatz.
– This is the area where people go out at night; you'll find a cool crowd, and atmosphere.
– For more festive spirit, look around the corner as this is next to Christmas Avenue Market.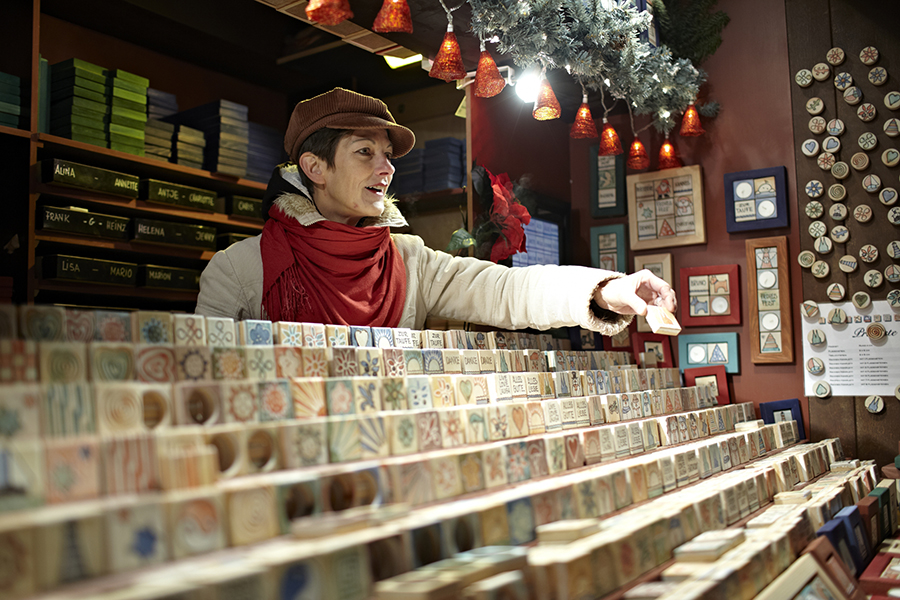 Stadtgarten: the local one
– A bit further out from the centre of the Cologne Christmas market action, but worthwhile; in the middle of the Belgian Quarter of Cologne – a gorgeous part of the city.
–This German Christmas market in Cologne is known for its  lovely village feel, and more locals than tourists surrounding you.
– Perfect for  unique and cute gifts; also a great food selection especially desserts and savoury delights.
Gay and Lesbian market: the cool one
– Cologne is one of the most LGTB friendly cities in Europe and its got a Christmas market to match!
– Don't miss this one for a fun, bright, younger crowd, a diverse range of food and drinks and the quirkiest gifts.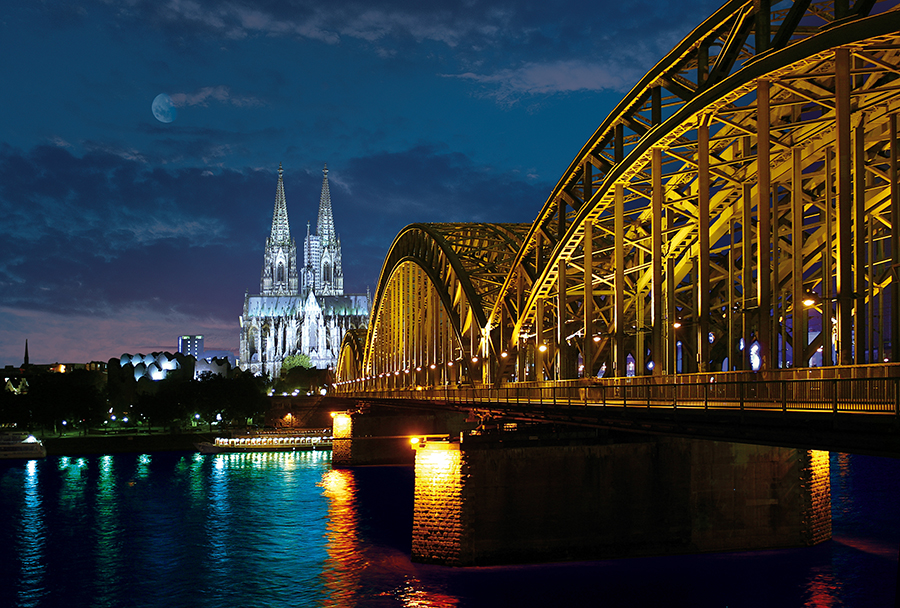 Cologne Christmas markets top tips
1. Each market offers its own unique and collectable Gluhwein mugs. You pay a deposit on your first drink which means you can keep this mug. If you don't want to keep it, simply return to the bar at the same market for your deposit back.
2. You can walk between most of the markets, or catch the bus or special Christmas Market Express train. Visit Koeln also offers a Koeln card to get around the city. Visit the tourism centre for more details on this when you're in the city.
3. An extremely comprehensive resource on the Cologne markets can be found at fromrealpeople.com – locals in Cologne who share helpful information about the markets, the food and treats to be found and importantly, transport. We got a lot out of this blog post (thanks team!).
Cologne has proven to be one of the best places to visit in winter, in our opinion. We love Amsterdam and Paris too, even Mallorca for some wintersun, but for a Christmas city break you can't really go past this!
Let us know what you think in the comments
Images courtesy Köln Tourismus