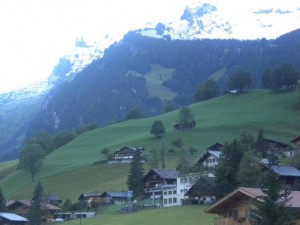 We are down to the very last page on our month-long itinerary, and although our bodies are a little weary from the recent routine we are surprised and saddened by the realisation that it is just about over – for now at least (we do have our eye on some other Expat options like Turkey, Egypt, the eastern block or even some exciting new adventures on the horizon in 2012 – keep an eye on expatexplore.com for more details).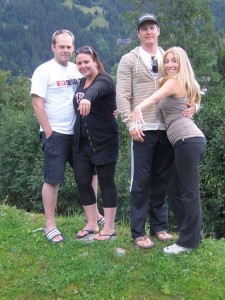 On Saturday we woke from an overnight sleep that featured a major storm and consequent snowy mountains (as above)! An extra special sight for our group's two newly engaged couples (below) – congrats Amanda + Phil and Evan + Leann! We're sure Switzerland will always hold a fond place in your hearts.
We were on the road again by 8.30am, destined for lunch in Liechtenstein which is another one of the very smallest countries in the world (on this trip we've visited the other two 'tiny nations' of The Vatican City and Monaco), then back to Germany to visit Munich.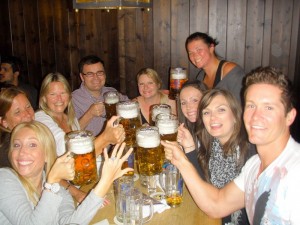 Cooper and I quite like Germany – the towns are cute and clean, people helpful and prices on food and travel reasonable, and Munich is no exception. Of course, Germany's past is inescapable so as part of our evening's orientation we visited Dachau, the site on which Hitler's first concentration camp was built. It is a very sobering and upsetting place. Everyone is quiet, not by any rule, but because the museum images and energy around the old camp are sombre, sad and disturbing. The only thing I can take away from the experience is the hope that humans will someday stop treating each other so badly, and that this kind of thing will never happen again. Too bad some places in the world are yet to learn such lessons.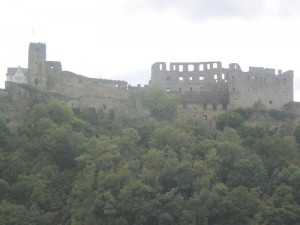 Our accommodation for 'Day 22' was at The Hotel Orly, well appointed and clean, in a nice neighbourhood and within walking distance to one of this city's famous attractions – a massive beer hall. We were all amazed at how big this hall is – hundreds of revelers eating dinner and downing steins (1L glasses of beer).
Our group was very merry by the end of the night – let's just leave it at that. It was a fun experience though, and Lindsay and I even made some new American friends in the bathrooms as we bonded over ghost stories!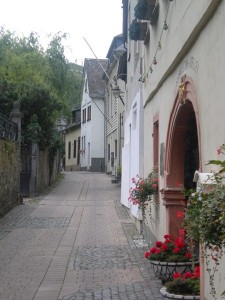 Sunday, Day 23: long, quiet coach ride – quite a number of sore heads with only themselves to blame. A 'healthy' Burger King lunch helped to perk everyone up though, so by the time we arrived in the Rhine Valley region our curiosity and interest was replenished.
Actually, this section of the journey was pleasurable and I think most of us would recommend a visit. Castles everywhere (as above, complete with legends surrounding the ill-fated jilted lover, Lorelei), gorgeous old villages that feature novel attractions like teddy bear and witch museums, a pub in front of a church where the priest pours the pints, many dogs, wineries (this is the only other area outside Canada to produce Icewine), and peaceful river cruise options along the Rhine (longest river in Europe).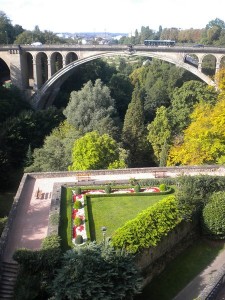 The hour-long Rhine River cruise is well worth your time, and we'd also recommend the hotel we stayed at on the end of the cruise – Hotel Rheinlust situated right by a stunning little town in the heart of Boppard.
A decent night's sleep and fabulous breakfast spread later and we're on the road again – Luxembourg (below) for a mid-day break and gorgeous Paris this evening.
Luxembourg is a charming city, brimming with cool dining, shopping and interesting places to wander around. It is a landlocked country in western Europe, bordered by Belgium, France, and Germany, and interestingly it is the only country that can't fit its name on an atlas! Our group toured the area for a while during the middle of the day before continuing to our final destination.
Paris is the one place I have been to before, and obviously will become a highlight for many of the first-timers on our trip. Aside from anything else, Paris, the city of love, is beautiful – from the Arc de Triamph, Louvre Museum, Champs-Elysées, Eiffel Tower, Sacré-Coeur, Musée d'Orsay, Pont Neuf to the gorgeous Notre Dame Cathedral and fun Latin Quarter on the banks of the Seine among many other attractions – can't wait to get the Nikon back in action. Will check back in on Wednesday, Day 26 – the final day which once upon a time seemed so far away…
IMAGES: Mountains & Beer Halls and The Rhine Valley