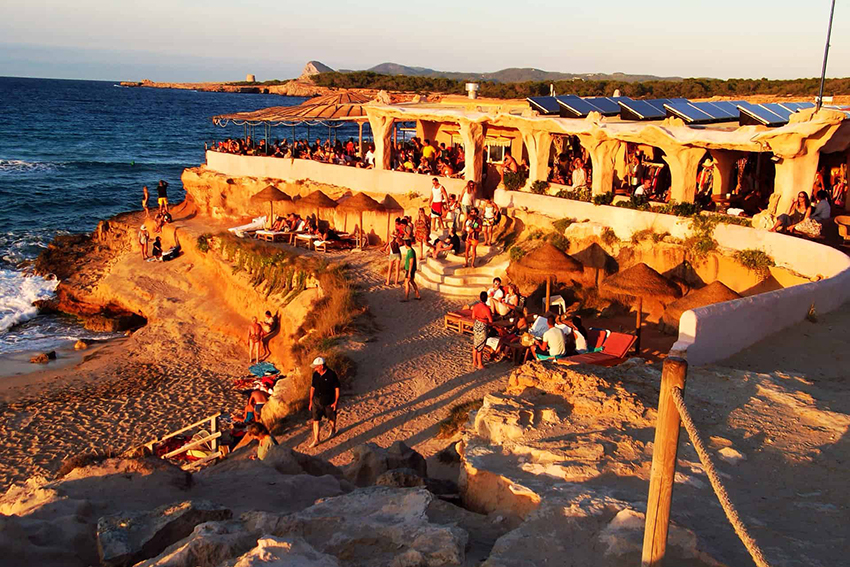 The White Isle, a magical place on the Mediterranean. We love it 😃 Here's our pick of the best beach clubs Ibiza you need to experience!
Sunset Ashram
Cala Conta, San Josep
We wandered up to the front entrance not thinking too much of it. Of course, we guessed it might be kinda cool – we were standing on top of a small clifftop and ocean surrounded us, after all. But, we had no idea the spectacle we'd receive inside! Crystal blue and aqua ocean all around; diners, drinkers, beach-goers. And a DJ playing sweet house tunes. Blissful.
Sunset Ashram is a little out of the way so you're best to get there in a car. But, you have to go at least once. The location is stunning. Just have a look in my Ibiza Insta Stories!
Also perfect for watching the famous Ibiza sunset 🌞
Nassau Beach Club
Playa d'en Bossa
Expensive – a bit. Swanky, yup. Count us in!
Not for the expensive part, but for the stylish bit.
This is your stereotypical up-market Ibiza beach club. Beautiful people laze about drinking Moet. The beach is sandy white and spectacular. Inside the decor is classy and breezy. A nice experience, if you're into this scene.
Go on…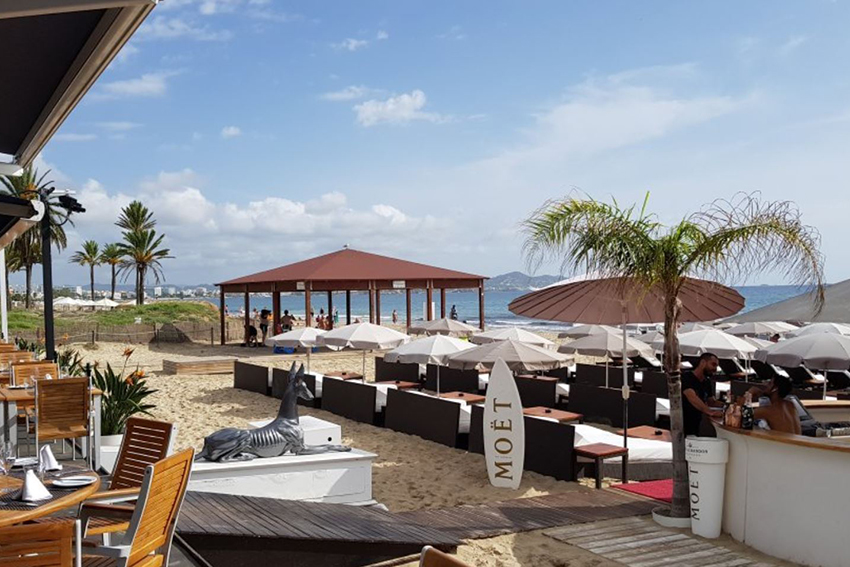 Babylon Beach Bar
Santa Eulalia
When you're done at Wednesday's huge hippy market in Es Canar, pop into Babylon. It's about ten minutes drive away. We got there at lunch time and to our happy surprise there were places to sit, have a cool drink and enjoy the view. You do have to pay for the day beds though, which is where it gets pricey.
Babylon is more of a laid back yet stylish beach club in Ibiza, set in a peaceful cove. Definitely one of our favourites.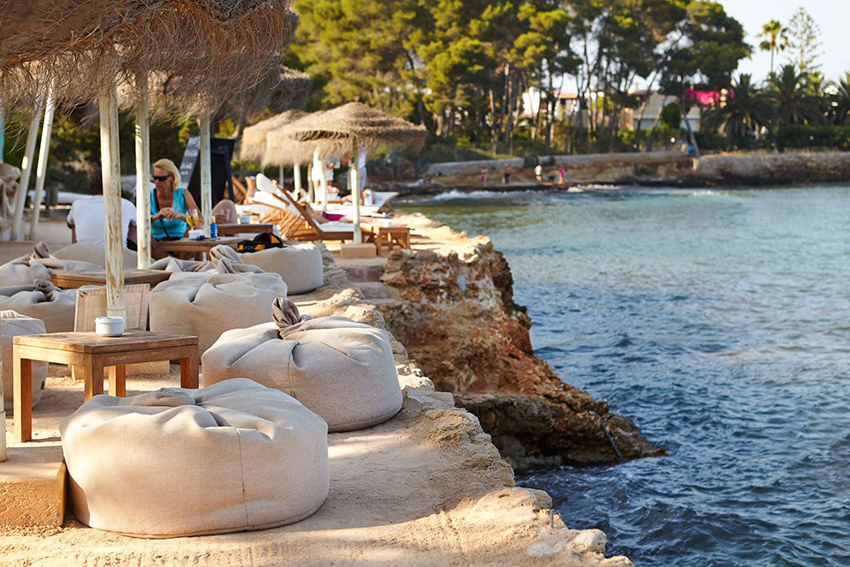 Kumharas
San Antonio Bay
In a fun little corner of Ibiza, not far from Sant Antonio, Kumharas is set right on the beach. It's known for its hippy-chic vibe. Prices for food and drinks are comparatively better than other Ibiza beach clubs.
This is one for a 'lil dance on the beach as the sun sets.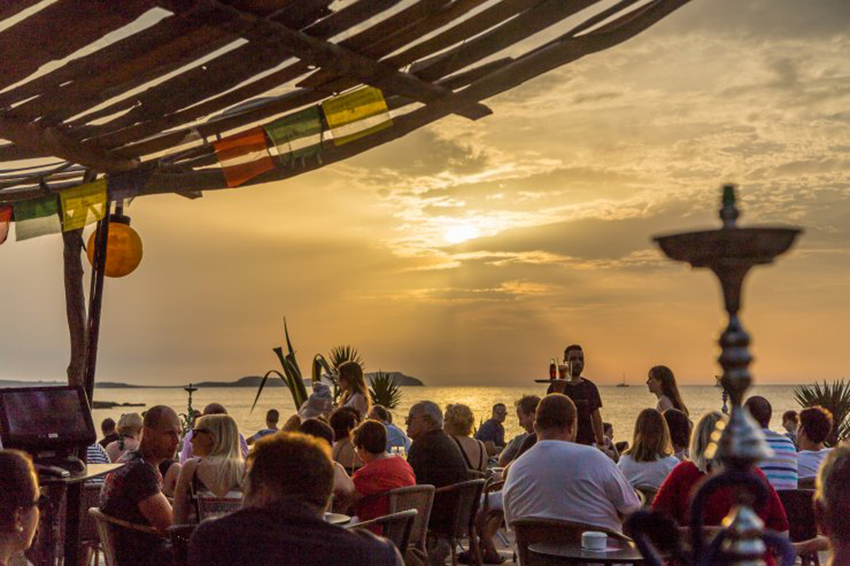 El Chiringuito
Es Cavallet
Stylish, secluded with serene ocean views – this one is set on a hot sandy beach ⛱ Start the day with Yoga at the far end of the beach, then settle in for a relaxed day filled with good vibes.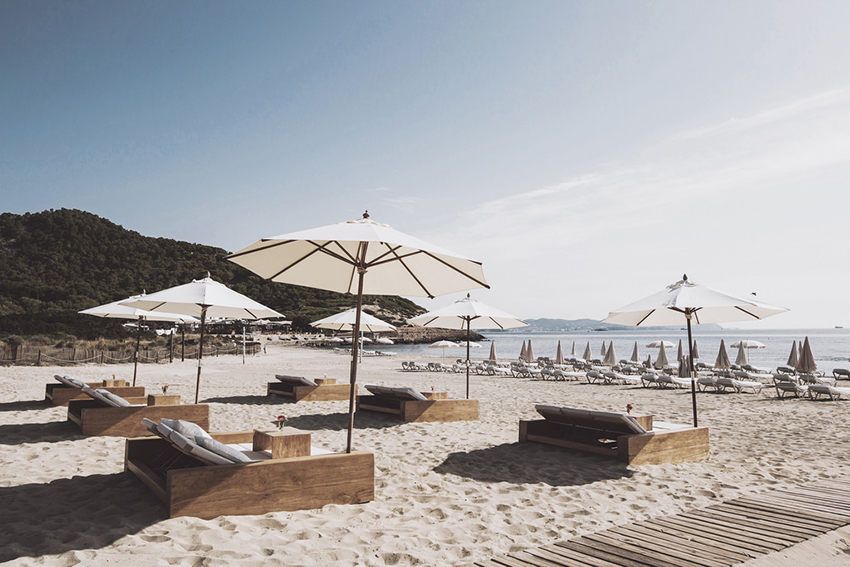 This option is more private – if you too love a secret beach, have a read here for more of the world's best.
Ushuaïa
Playa d'en Bossa
Some may say it's over-rated, but we had a brilliant time when we inadvertently stumbled into this beach club.
Bright colours, even brighter personalities, music, great cocktails and all set on the beach.
It's easy to while away a few hours in bubbly bliss here.
These are 6 of our favourites. We're aware there's plenty more awesome beach clubs in Ibiza though. Ibiza Spotlight highlights a few more if you're keen to look around.
Have other tips or questions? Let us know in the comments.