Before Cooper and I set off on this house and pet sitting adventure, our intention was to be surrounded by dogs. Humbled by our experiences along the way, we have learnt eye-opening facts on how to properly rehome a dog. Our biggest lessons came in Malta, and we want to share with you here.
A family of rehomed dogs
In Malta we cared for nine dogs on our house sit. Geoff and Theresa initiated us into their family as Cooper and I each took hold of our own set of pooches. We got to understand their routines and personalities, and a highlight of each day was, of course, walk time!
Each morning in a flurry of excitement, fur babies of all shapes and sizes danced around the kitchen. Collars and leads were attached, although I can't say patience is a strength of these cheeky dogs.
I took 12 year old Smudge – food lover, Dalmatian cross, big personality. In my other hand I had little Spike, the dog with nine lives, and old soul Eliza, mum to the fox terriers Cooper was handling, Christa and Giselle.
Geoff and Theresa showed us the ropes before they went away. Fearful giant Zula went with Geoff. We likened her to the lion who had lost courage. He also had 'the Queen', Amy, a type of woolly Sicilian sheep dog.
Our 'dog whisperer' Theresa, would wait behind and bring her two special rescued dogs. Rusty is just a pup, simply terrified; and Percy, a Dachshund mix, won't look at anyone but Theresa.
We'd need to get to understand their characters before tackling these walks on our own. I'm pleased to say we did master it.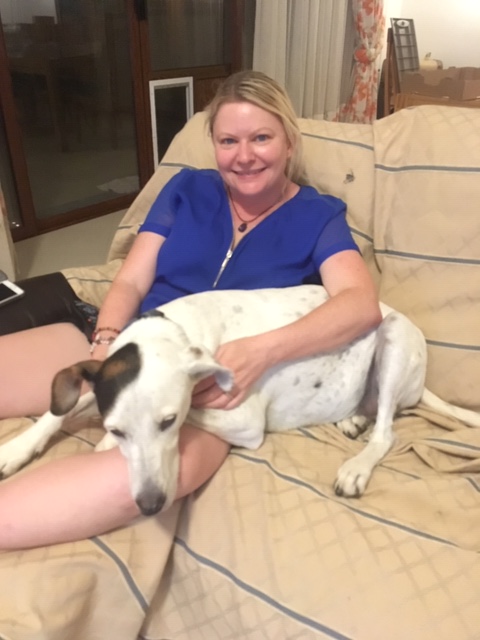 Navigating 'Cat Alley'
Geoff and Theresa led the charge on the first few days we were all together. Determined to learn, we followed their instructions. Each day our dogs would go to the field behind their home, to play together and with other rehomed dogs.
Getting to the field meant navigating Cat Alley. Now that's an adventure.
We'd all leave the house, one set of pups at a time, keeping an eye out for cars coming past the front door on the narrow road outside.
Spike doesn't like motorbikes – he tries to attack them.

I had to learn quickly:
That a dog on a lead chasing motorbikes means all dogs I am holding onto will get tangled up!
If you've got a strong pup you need to be careful they don't get away and run in front of a car. Use your good arm 👍
I also learned the hard way that my finger kept slipping on the 'release' button on the lead. This meant my leads would extend at exactly the time I didn't want my dogs running away from me! Rookie errors.
👉Read: 6 lessons learnt as pet sitters, and things YOU need to know
Out the door: under 20 seconds 'til we'd turn the corner.
The Malta sun blazed upon us, even at this early hour. I'd see Cooper and Geoff ahead, core strength at work as they held onto their sets for dear life.
Welcome to Cat Alley, where the dogs go crazy. Christa and Giselle especially, their little frames finding tiger-like strength each day, as they dragged forth, onward towards their nemesis.
Cats on car tops glaring down, or scaling trees, scoffing at our spectacle. Then we'd spot them on the road ahead, taunting the dogs! Cat Alley. A dog's worst nightmare? Or dog owner's?
The strategy for getting through here was to be quick and strong. As a team, we'd managing our yelping, excited pack, quietly hoping a lead wouldn't snap, and doing our utmost to prevent the dogs from tangling and running into each other.
Old Smudge would always stop at the most inconvenient time to do his business here too. Honestly if he wasn't so damn cute… !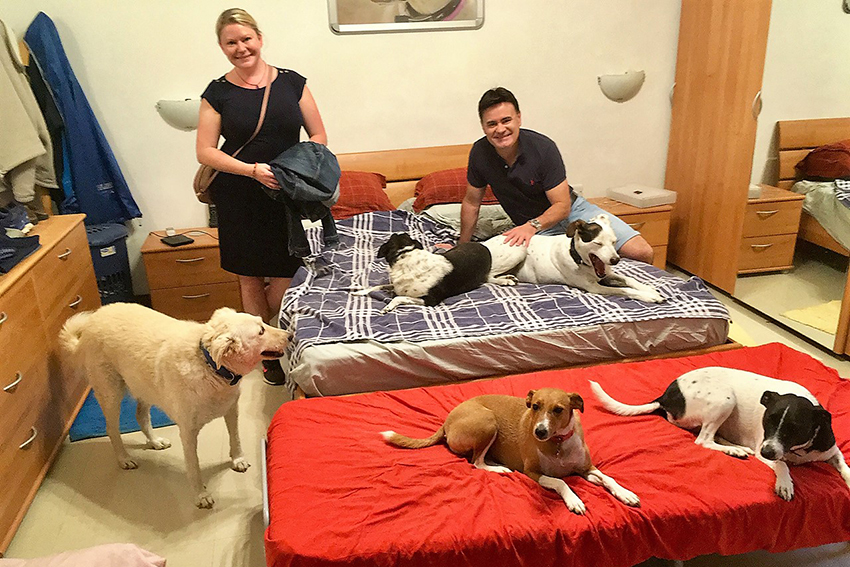 Field of dreams
After undoubtedly the most active four minutes of the day, our double-gate entry to the field is in sight!
There's two gates here for a special reason. Many of the dogs are anxious or hyper-sensitive. So, we bring them into a holding area and shut the outside gate so no-one disappears down Cat Alley and onto the street. Second gate opens, and our group flies into their freedom field.
Theresa, Geoff, Cooper and I put down our leads, fill up water bowls and lead the dogs around the field to play.
A friend of the field, Caroline, gave us a tip:
Always keep walking, don't let a group of dogs congregate while owners chat and gossip – it can lead to 'too much excitement' (or a brawl).
The field, rented by Theresa and Geoff, is an important space that helps dogs socialise and get into a happier frame of mind.
Sicily is about two hours' ferry ride from Malta, and there's a terrible homeless dog problem there.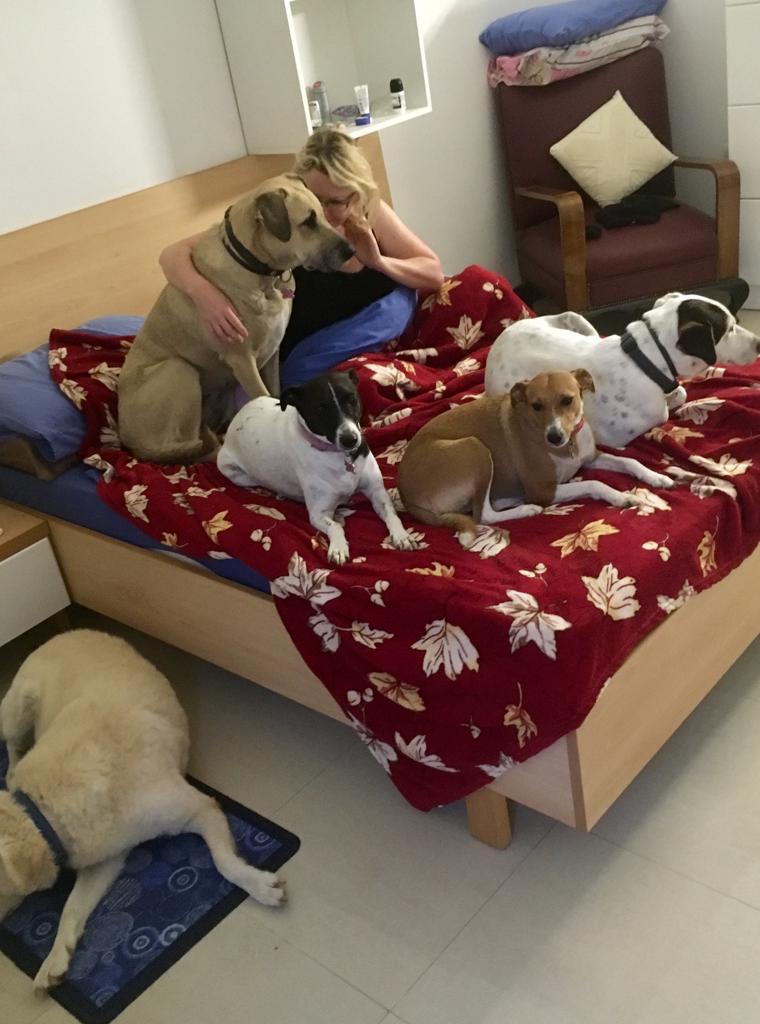 Rescue dogs and their families
Cooper and I have met many beautiful rescue pups over the past year. Their families shared with us meticulous details on any anxiety or behaviour to care for in their rehomed dogs. It's a privilege to have been able to get to know so many beautiful personalities. In Malta, we were followed around, up and down stairs; The dogs snuggled with us in the lounge at TV time, demanded cheese at meal time, and lapped up love at bedtime. We love them!
Parents of all of the rescue dogs we've met care deeply about their fur family, and have been matched with their furever pups. But there are heartbreaking stories of terribly high 'return' rates to shelters that we have heard of too.
How to rehome a dog – things we can learn
If you're reading this, chances are you're a dog person and/or you are looking to rehome a dog too. All dogs, like people, have unique personalities. To effectively place a dog in its furever home, a proper match needs to be made.
Theresa and Geoff explained more about this to us when we spent time with them, and in the video above ☝
The dogs they've rescued have been through TRAUMA: neglect, serious abuse, abandonment.
It's why some of our babies on the house sit were reticent to be too near to us.
Theresa and Geoff have a really low 'return' rate. They put in the time to match families and dogs though, as you'll see in the video above.
Adoption and rehoming tips
Details we garnered to help you find your perfect pooch:
See what you can find out about the dog's personality and background. Does he/she need to run around, are they best with a family, or a couple/single?
Will the breed/personality be right for your circumstances – do you have young kids?
How active is your dog going to need to be, and can you cater for this?
Have you considered an older dog, not just a puppy? There are so many benefits to rehoming older dogs who have just been down on their luck. Puppies are NOT right for everyone.
Are you willing to socialise your dog – take them to a dog park and to learn to play with others?
A dog deserves love for life, and you should be able to pay for vet bills if required.
Theresa and Geoff are always on the lookout for good homes for dogs they rescue. Show your support and get in contact via their Facebook page, Adopt a Sicilian Stray.