What does the term 'historic hotels London city' bring to mind for you? Maybe it's the Ritz over near Buckingham Palace, with its famous afternoon tea. There's the Savoy and Claridge's, certainly. I used to walk past stunning St Pancras each day on the way to work, it qualifies.
But did you know about Batty Langley's?
Listed as one of London's six best hotels in Conde Nast's Gold List, it's time you definitely did hear about it ⭐
Hotels London city: WHY you need to experience Batty Langley's
Batty Langley's in London city near Liverpool street doesn't even look like a hotel from the outside! It's completely unassuming. To step inside feels precisely like you've stepped back in time. Georgian times, to be exact.
I read a piece about this historic hotel in London city that captured it beautifully for me. The review mentioned that while this place is a hotel, it doesn't feel like one.
It feels more like you're visiting your [very] rich aunt's house.
It's so true, in the most affectionate of ways
We've written about staycations in London and accommodation you can try in east London – Shoreditch and Liverpool Street – but we've never seen anything like this!
The attention to detail and perfect mix of old meets new is truly something special.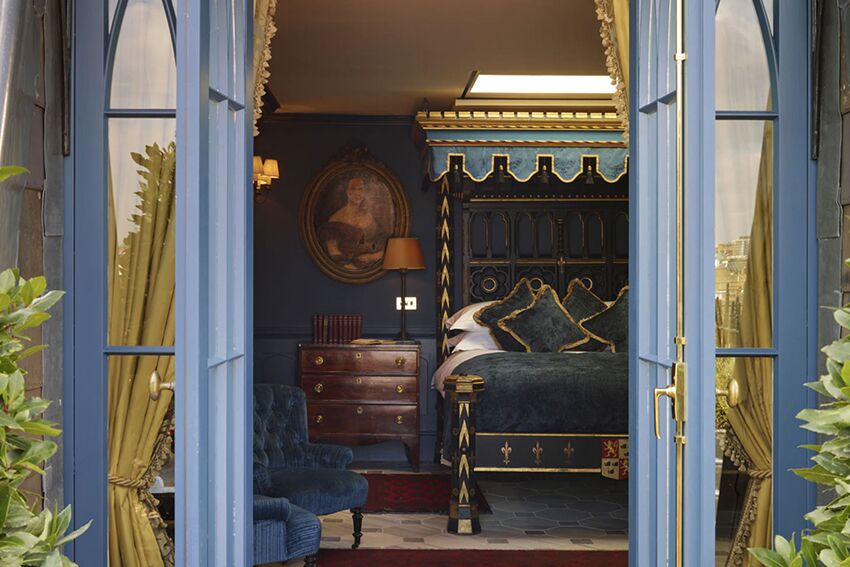 Adventures in the past
The hotel is housed in a restored Georgian building, and is named after Batty Langley (1696–1751) who published guides for the upper class on how to tastefully plan a lavish home.
Inspired by Batty's work, proprietors Douglas Blain and Peter McKay went to extraordinary lengths to recreate the style of the era. Their labour of love took 20 years to complete, but the finished product is exquisite.
With the exception of a few modern luxuries like smart televisions; furnishings, art, antiques and ornaments from Georgian times have been sourced and decorate the property.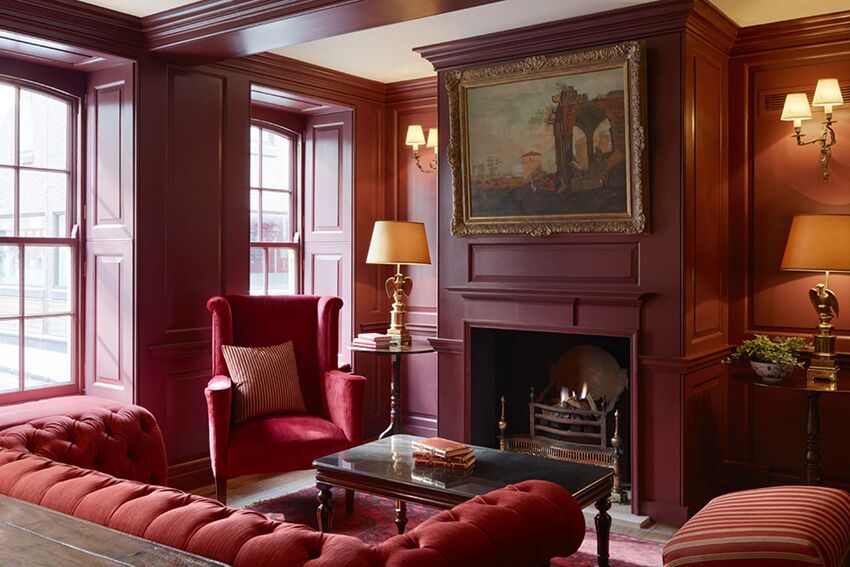 Full of Georgian characters
Our room was on the 5th floor, which we accessed by a little elevator. Cooper and I definitely had a 'pinch me' moment upon entering the Kitty Fisher suite. It was like living a past life where we were RICH – we had a balcony with city views, huge four poster bed, a little library and sitting room, and a grand bathroom complete with a genuine Victorian canopy bathing machine.
Kitty Fisher is another Georgian character whose name graces the hotel's walls. She was a courtesan, known as the subject of a nursery rhyme: "Lucy Locket lost her pocket, Kitty Fisher found it…".
Ms Fisher came from humble beginnings when she was a milliner (maker of fashionable hats). But the story goes that her beauty, smarts and charm led to her mixing in the right circles and hence she climbed the social ladder of her time.
If we were to ever tire of our own luxurious Georgian suite named after Kitty, we had the rest of the place to enjoy too.
Despite having 29 rooms (all named after interesting Georgian characters) tucked away within the hotel, it's rare to see another soul. So, off we went, to laze about in the old library, Downton Abbey style; and enjoy a whiskey by the fireplace in the olde-world stylish sitting room.
Facts about Georgian times that add flavour to a stay
While we were at Batty Langley's, the staff shared some interesting facts with us. Did you know that hotels only really came into being during the first half of the 1800s? Before the Industrial Revolution which began in the 1700s, most people lived and worked on the land, and wouldn't have ventured very far. In the 1800s things started to change with the Industrial Revolution and the steam locomotive. The middle class – who ran and owned businesses – began to travel, and hotels became their beautiful escape. You can imagine this scenario within the palatial walls of Batty Langley's boutique establishment.
We also looked at how well made the furniture is from Georgian times. If you examine a wardrobe, for example, you will see the effort that has gone into ensuring the grain is all in the same direction. Evidence of this craftsmanship adorns the hotel.
Finally, did you know that despite the period being entirely romanticised now, the Georgians didn't have bathrooms? Apparently everyone stank! Very few houses had running water, the streets were filled with rubbish and animal excrement, and chamber pots were often emptied out of windows onto the street. It's a far cry from the cleanliness and opulence you'll experience within the hotel and surrounding streets today, but interesting to know about all the same. What do you think?
London city stay: what to expect in the area
We don't need to be sold on east London (we're fans!), although staying at Batty Langley's gave us renewed appreciation for our surroundings.
Convenience wise, the hotel's perfectly located for any kind of stay in London. You're within walking distance of Liverpool Street and Shoreditch stations, so can get anywhere, easily.
Just up the road is Spitalfields, which houses markets, foodie delights, pubs and shopping. You can walk to famous Brick Lane for a curry in about 15 minutes.
Back to the history: it's all around you, inside the hotel and outside. From cobbled streets to elegant old churches and imaginative architecture: go exploring in this exciting corner of old London.
Spitalfields itself was originally the site of the Priory of St Mary Spital, or Hospital, established in 1197! Part of the hospital's kitchen lies under the hotel building and more substantial remains can be seen in a floodlit underground chamber just around the corner in Spital Square.
Residential development of the area began when King Henry VIII renounced the Pope's authority and seized all English monasteries in 1540, selling off to loyal subjects. The area became attractive to immigrant settlers who were not allowed to live or work in London city itself. At that time, this area was just outside the city walls.
We spotted evidence of different period buildings as we wandered the streets here. Of course Georgian architecture is obvious too, known by its red brick and symmetrical shape.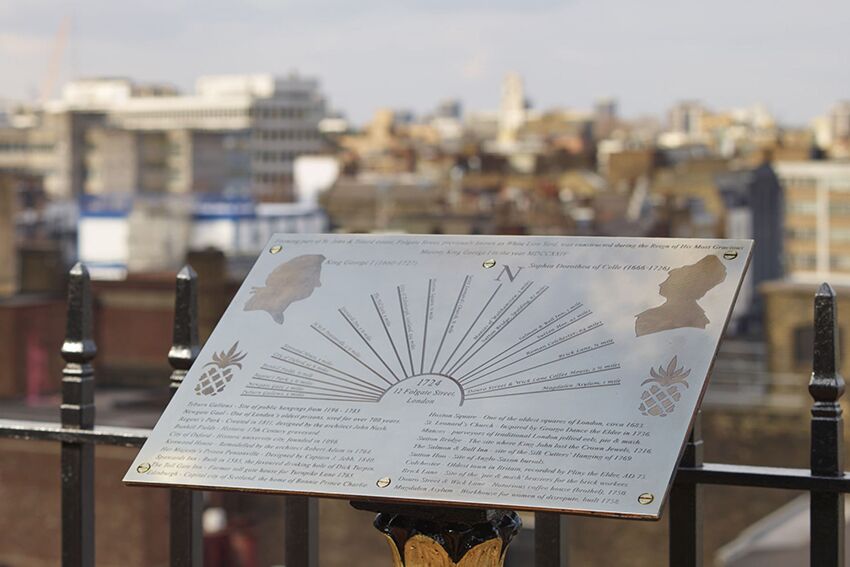 Exclusive accommodation in east London
What can we say other than this hotel is absolutely beautiful? It's cosy enough that you feel at home, yet luxurious with quality touches and service expected in a fine hotel. The staff were perfect as well. (thank you!).
Batty Langley's website says:
Our quiet, characterful bedrooms are furnished with genuine antiques, and every one is different. Our bathrooms are so extraordinary, guests often ask if they can take them home. Your surroundings here are civilised: old fashioned hospitality, friendly, efficient staff, and a location second to none.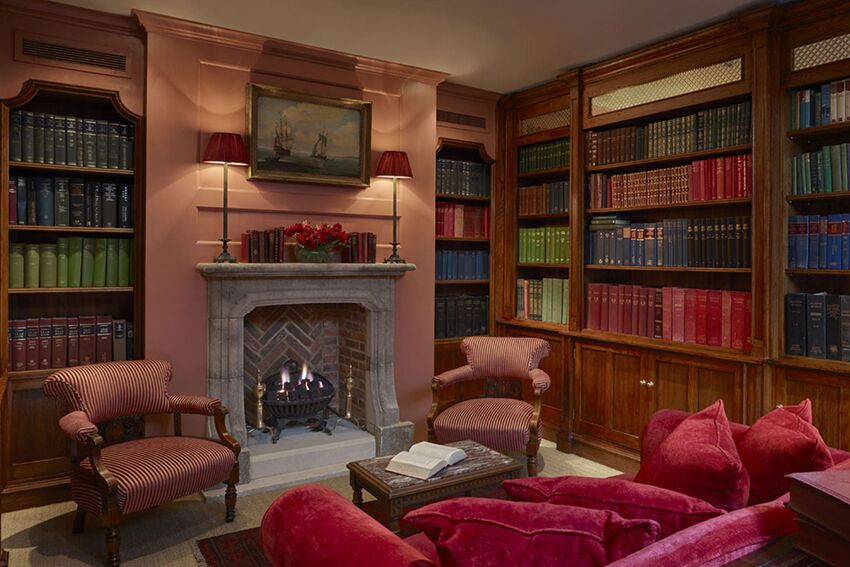 We have to say, it's all true. This bit of web copy is absolutely not fake news. If you're looking for a wonderfully London experience and prepared to splash a little extra cash for a once in a lifetime stay, Batty Langley's is for you. It's truly like living in an opulent period film – and who doesn't want to try that for a night? Book your stay

Cooper and I were sponsored by Hazlitt Hotels for this stay. 
Images: battylangleys.com. Video: Cooper Dawson