In the UK, we've sadly come out of our summer months. Is anyone feeling the post-holidays blues? Who's already started travel planning for the months ahead? The day job just doesn't stand up to sunny days and balmy music-filled nights on the Med.
Enter two lovely new books by Lonely Planet: Culture Trails and Everyday Adventures…
Personal travel planning: two inspiring new guides
They say the only way to get through it, is to plan something else to look forward to. I'm an advocate of personal travel planning. I love the research. I'm happiest when I invest the time to find something that's right for Cooper and I.
We are currently planning for four days in Lisbon at Christmastime. The gorgeous Portuguese city has been on our bucket-list for a while. So, we're making it happen this year. We've decided on a city-break rather than an island escape. Which we've enjoyed for the past two years, see Christmas in Mallorca and Ibiza.
It seems a shame to not live in the moment and I wanted to share a couple of inspiring resources.  Courtesy of Lonely Planet, one being a gorgeous book that encourages us to create adventures in our own backyards!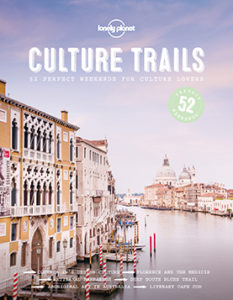 Personal travel planning ahead for the ultimate adventure
This delicious coffee table book is brimming with 52 amazing destinations, including Lisbon. Culture Trails explores each destination by way of a theme like music, art, literature. It's beautifully designed and filled with wanderlust-inducing images.
Taking a look at Lisbon, for example, Culture Trails explores its 'artistry that speaks to the soul'. It's given us a glimpse into unique cultural experiences and top attractions we should pursue to get a taste of the heart of the place.
Each destination also gives a taste of where you might like to stay, eat, drink and even a list of key celebrations or festivals that you might like to time your trip with.
Culture Trails is an aspirational hard-cover publication, just like the lovely new Wellness Escapes, also from Lonely Planet. It's easy to browse, exploring destinations through the eyes of the authors and photographers. It would make a great gift too for others who enjoy planning their own travel too.
While it did cross our minds that '52' might mean 'one destination every week', we haven't figured out how to fund that without the day job.
Which brings me to Everyday Adventures…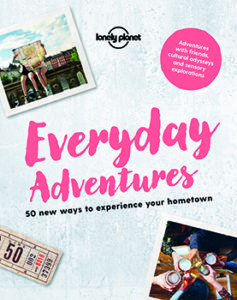 How to be inspired now: planning localised travel adventures
This book totally surprised me – it's quirky, fun and full of lovely ideas on new adventures you can create for yourself in your own backyard (or, the city where you live).
We're in London so spoilt for choice, but when you work hard all week and are tired by the weekend, it's easy to let opportunities slip by.
Also, London is an example of a city that can be quite expensive, so if you're trying to save then much can feel out of reach.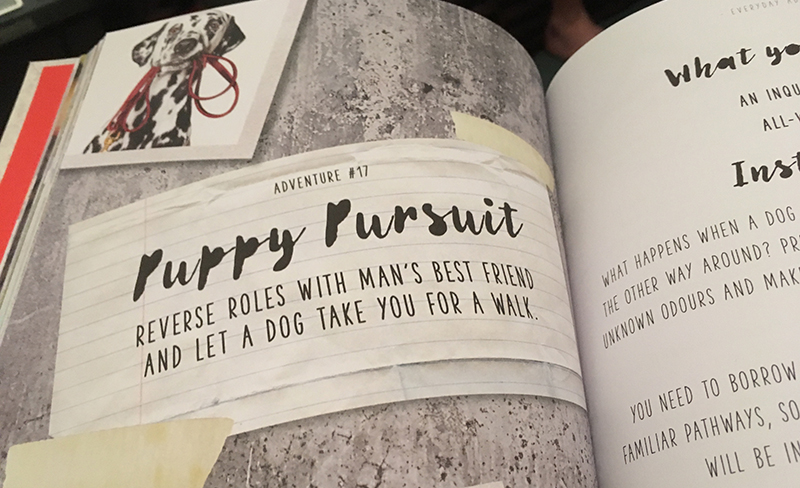 Everyday Adventures offers various styles of 'travel' for you to pursue, like active, eco-friendly, exploratory, meditative, romantic, group or solo adventures.
You can choose according to budget available and each activity offers a score on how complicated it might be to pull off.
One nice idea is to leave a little early for work and stop by a café you've never been to and enjoy breakfast there, for a change of scenery to break up the week.
Another I love, that we tried this past weekend, is called 'puppy pursuit' where you let a dog lead you around on a walk. Try this if you're house and pet sitting! You go where their nose takes them, so to speak.
Filled with case studies, stories and loads of ideas to plan a day of 'travel' that's far from average, this book seems the perfect antidote to post-holiday blues; following it as a guide and making a game of it, you'll have an adventure on your hands in no time.