It's late afternoon, I'm happily fed (thanks to Ali, our fabulous Expat Explore tour guide who made a delicious pot of pasta for anyone who happened to wander by her chalet); champagne is chilling in the freezer and it's time now to reflect on our wonderful experience in Rome.
We've spent three nights and two days in this incredible city and it's definitely a place I'd like to come back to because there are just so many areas to be explored. Yesterday I did in fact throw my coin into the Trevi Fountain (or 'The Fontana di Trevi'), right hand over left shoulder – because as legend has it, this means I will return to Rome one day.
Travel through Rome with Expat Explore
We've been staying at a terrific little place called Camping Village Roma which offers tent and caravan facilities, as well as cabins and chalets which made up our Expat Explore accommodation. The complex features a restaurant, bar and pool area as well as laundry facilities and supermarkets, but the best part about it is that the chalets are positioned in such a way that we're essentially 'neighbours' with our coach-mates. Consequently, afternoons and evenings are spent together by the pool and on our front decks enjoying dinner, drinks and laughs. Some, of course, enjoy later nights than others, but what happens on tour stays on tour, you know…
As with all of our stops on this Expat Explore adventure, we were introduced to the city via a walking tour which took us by famous landmarks including The Spanish Steps, Trevi Fountain, the Pantheon, Piazza Venezia as well as the grand Il Vittoriano building which dominates its precinct; plus the awe inspiring 'symbol of Rome', the Colosseum, originally nicknamed as such because of its 'colossal size'.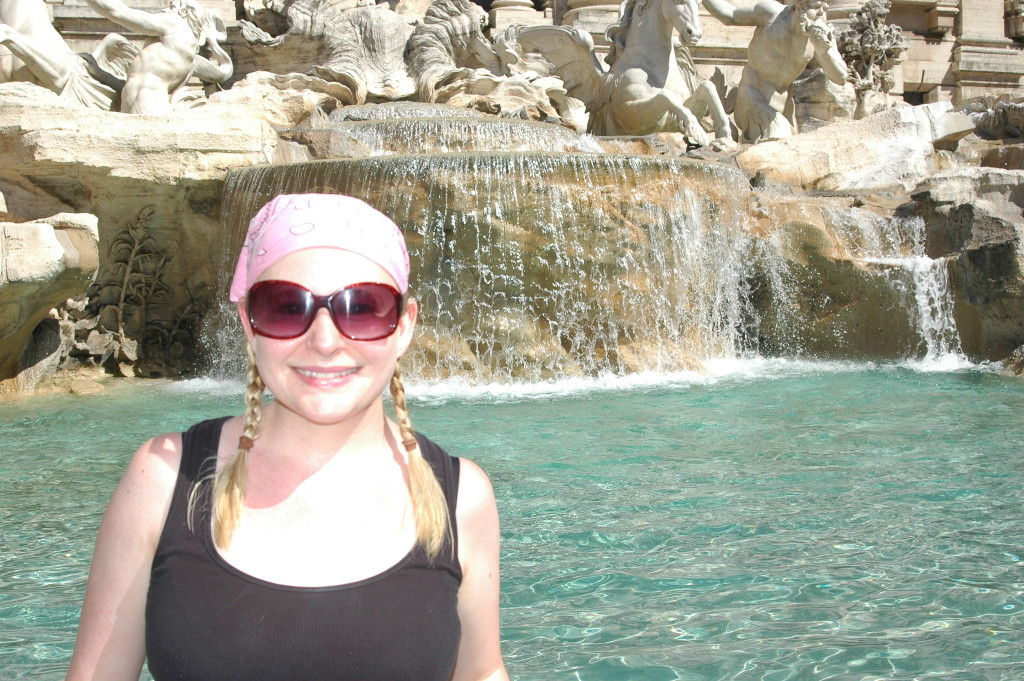 We learned that during World War II the Pope 'struck a deal' with 'both sides' which meant that the city of Rome was left out of any major battles, and so the ancient centre remained undisturbed throughout this turbulent time. I've also discovered that the construction of new train lines takes years to complete because of artifacts which are continuously unearthed! The buildings and ruins in Rome must be seen to be believed. Evidently this society was industrious, intelligent and ambitious and the remains of its fascinating civilisation leave so many interesting clues as to how our predecessors lived here.
Today we had several options: a trip back in time to Pompeii, a guided tour to a whole other country within the walls of Rome – The Vatican City; or the option we pursued, which was further 'free time' to explore the city.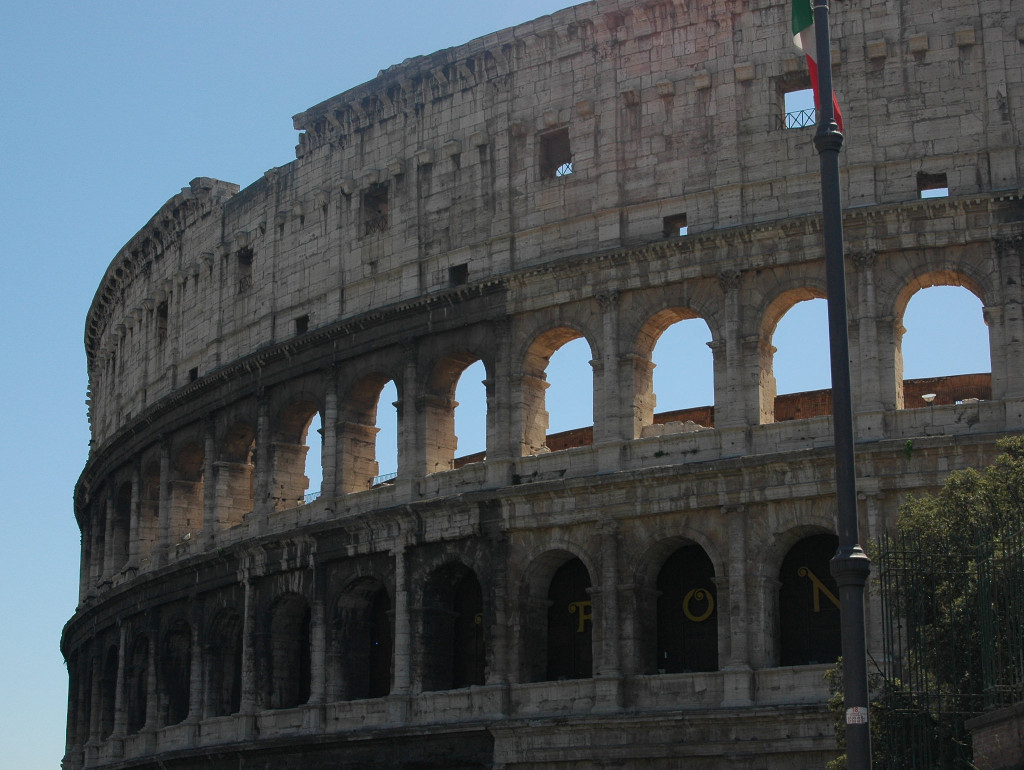 I'd read about a popular meeting place called Piazzo Novano which is accessible via a 'number 40 express' bus from Termini train station. We found the stop without too much hassle, but actually had no idea where to get off. After about 15-minutes drive in a very hot, sweaty and crowded bus, we decided to jump off at a point where it looked like something exciting was going on. Turned out we were right near the enchanting Castel Sant Angelo on the banks of the river Tiber.
We explored this area for a while and followed our city map across the delightful Ponte Sant Angelo Bridge a few minutes up the road (and through some very romantic, and importantly, uncrowded Roman streets) to discover Piazzo Navona! On a sightseeing roll, we strolled through back streets towards the Pantheon, where we stopped at a quaint local restaurant, Pantharei, tucked subtly down a side street away from all the crowds. Here, for just €7 each, we enjoyed a buffet of local Italian vegetarian dishes which proved to be substantial, delicious and healthy.
We meandered towards the imposing Il Vittoriano which today we entered and discovered it's fantastic for a brilliant view of the city. There's also a free, interesting cultural and military 'museum' to browse. Before home we popped back over to the ever-impressive Colosseum. On the way 'home' to our campsite we also alighted at Ottaviana and walked around the outskirts of The Vatican City. The line to get in was looooong but it was nice to be able to see the elegant architecture and art, and there is nice shopping in the area too.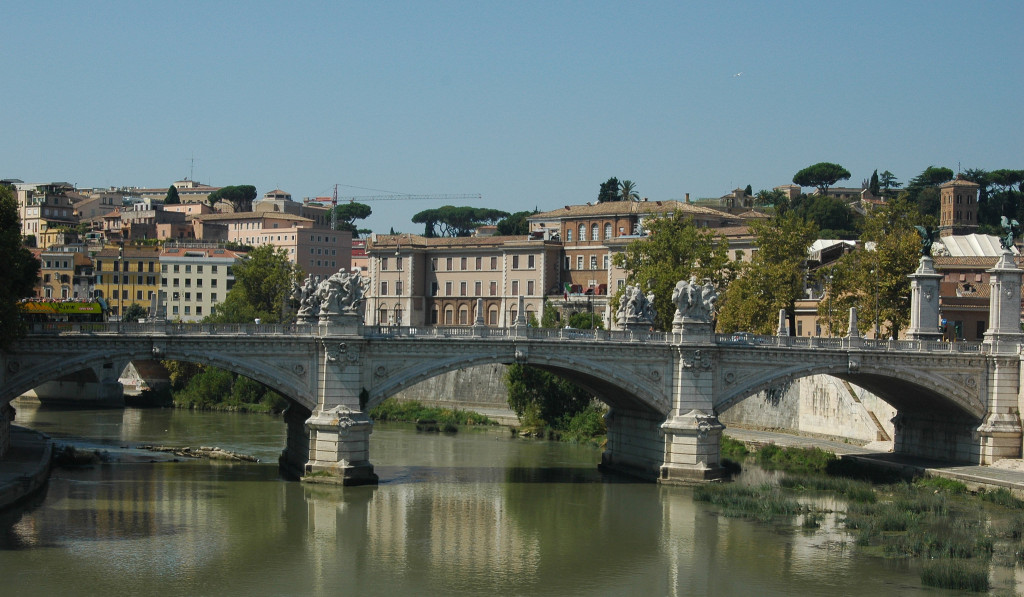 The city is contemporary and engaging; easy to navigate by foot and public transport (which is actually quite inexpensive, in my opinion), although the tiring August heat has hindered our adventures in a small way. If you're visiting, keep a map handy at all times and just see where you end up! Also be wary of entertainers on trains and anyone dressed up in Gladiator attire – while they are amusing, they are most definitely after some of your purse change, so don't assume anything is for free.
I must comment on the spectacular trip into Rome, which is such a worthwhile experience by road. We cruised through gorgeous green Italian countryside, over mountainous ranges, by grape vines and sunflowers, in and out of tunnels, and past little towns dotted in the valleys below, cliff-side castles and houses of orange shades perched on the hills above. Can't wait to see what Florence offers next!
Travel tip (thanks Frank from Cairns): Trying to cool alcohol quickly in the freezer? Wrap bottles in a wet towel before freezing – they'll chill faster!
Expat Explorers: Basically everyone did something different but fun today – add your comments, suggestions and tips for other travellers to enjoy.
By Sarah Blinco | View our travel galleries on Flickr