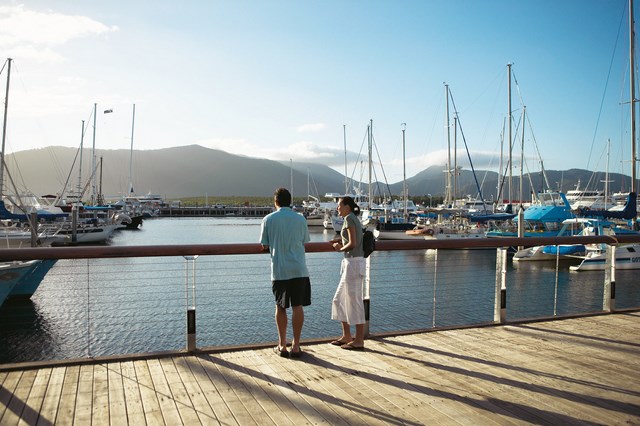 For some reason many Aussies perceive that Cairns is simply too hot to visit. Further to that, thanks to so much negative press regarding cyclones people often assume it's hot and wet. Has anyone been watching the weather channel this summer? Temps everywhere else in the country over Christmas, for example, were over 35 degrees yet Queensland, and in particular the Far North, were cool – under 30. Granted, it's not always like that, however, everywhere in Australia is hot over summer, so don't let this be a factor deterring your trip to the gorgeous tropical north. Similarly, the wet season is a part of life. Again, where has it been raining severely this year though? Down south!
Importantly, when you're on holidays does it really matter if it's hot and wet? No!
As a fan of North Queensland, and as someone who has been lucky to see some amazing places around the world I'd like to set the record straight. Not only is Far North Queensland one of the most gorgeous places in the world – literally – think about what you would be missing if you judged the region on negative connotations?
Nowhere else can you visit The Great Barrier Reef in all its glory. You'll also discover rainforest, super chic clubs, bars and restaurants… it's like Summer Bay!
Recently, Chinese visitors told us that this is a perfect area to experience what life is really like in a small Aussie city by the sea. Not only is Cairns a terrific city – unlike any other small city in Australia – but from this base you can choose your own adventure – head to Tully for some exciting White Water Rafting, go up the mountain to shop at the Kuranda markets or bungy jump with AJ Hackett. Not keen to hang out in the city if its due to rain? Easy fix – take a drive to the Atherton Tablelands and visit Mareeba – famous for its sunny weather 300 days a year! Escape to a sublime beach not overcrowded with tourists – try Trinity Beach just twenty minutes from Cairns, or drive along the highway to luxurious Palm Cove or Port Douglas. On this note, if you want to experience one of the most beautiful drives in Australia, take the coastal road from Cairns to Port Douglas – you'll see what I mean!
Shopping, dining, spas, animal adventures, reef, rainforest, typical Aussie country towns – from a city by the sea to the true blue Aussie Outback – it's all accessible within one idyllic location. Consider a $5000 budget for the ultimate vacation… I'm dreaming of lush resorts at Palm Cove, several divine spa treatments (why not one in each luxe stop – Port Douglas, Palm Cove and Cairns), delectable dining at L'Unico Italian Restaurant (Trinity Beach), cocktails at Salt House by the marina in Cairns, a shopping spree at DFO and several trips to the rainforest and the reef!
Perfect for families, couples, backpackers or honeymooners. Everyone who visits Cairns loves it! It's the ideal place to boost Vitamin Me levels, and with more flights just added to the schedule from all major cities into the Far North, there's never been a better time to design your own unforgettable adventure under the Queensland sun. And if it happens to rain, who cares? There's always something fabulous to do in FNQ regardless!
Image from TTNQ/TQ.