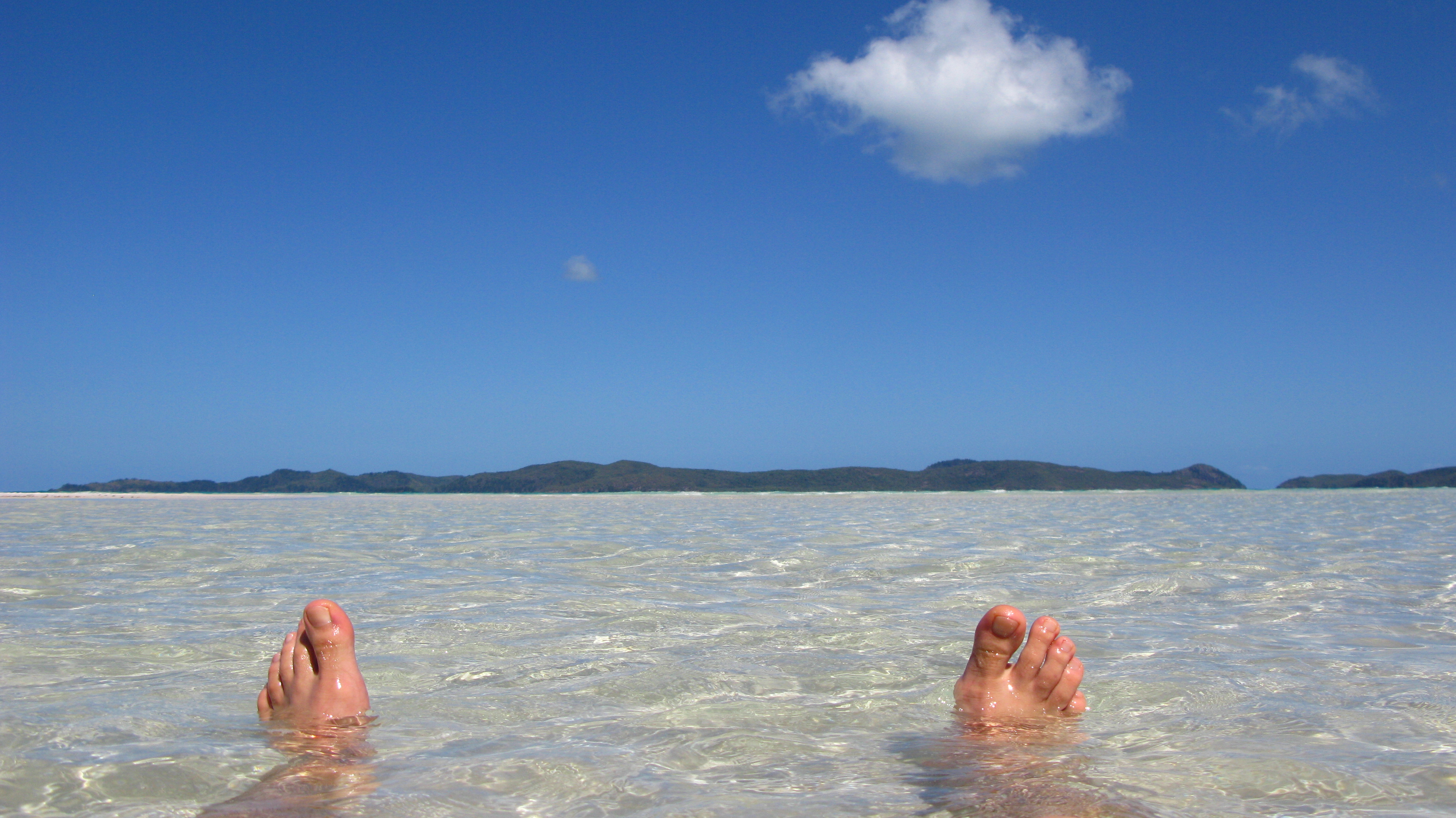 Travelled: to Qualia Resort, Hamilton Island and Hayman Island.
Lived: like a Queen! And experienced a sea plane for the first time.
Learned: humans really shouldn't feed wildlife – the rubbish we eat completely ruins not only the eco-system but a wild animal's natural ability to live, hunt, protect itself and grow.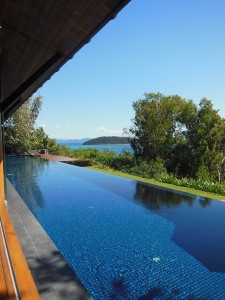 VIEW ENTIRE PHOTO GALLERY / VIEW PART ONE
Already unsure as to how this particular weekend could get any better, Tamara impressed me by taking us to one of the jewels in Hamilton Island's gleaming crown – Qualia – an ultra-exclusive, private retreat that offers guests 'Qualia-only' beachfront, dining and spa space. We were privileged to join an early morning yoga class overlooking the ocean (the epitome of Zen), followed by a delicious breakfast in Qualia's long pavilion.
As I indulged in Eggs Benedict with a special touch of avocado and spicy tomato, I couldn't help but gaze out at the ocean and mountain views thinking, "how on Earth did I end up here?".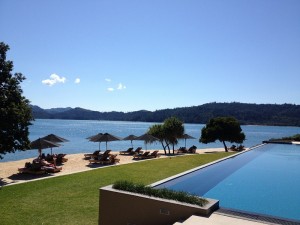 This continued to play on my mind as Linda and I wandered down to the guests' private pool and beach-front (pictured below) to snap a few photos. Lucky patrons lazed on comfy sun beds, soothed by the lapping ocean and warm environment, no doubt admiring the view which included a whale playing in the inlet!
Next we were in for a real treat! The five of us, along with our belongings, were packed carefully on board an Air Whitsunday sea plane – destination: super exclusive, beautiful Hayman Island. Grinning like a 5-year-old I held on tight to my handbag as we took off across the ocean. Gliding over coral reefs and Whitsunday islands of all shapes and sizes, we stared in awe at the beauty that we, as Australians, so often take for granted. A highlight of the flight was the fly-by of spectacular Whitehaven Beach  – a stunning and iconic Queensland location, popular for weddings and tourism photo shoots.
Take a 60-second flight with us:

The sea plane engines quietened as our pilot guided us down on to the water, and we gently sailed our way into Hayman's 'backyard'. I have always dreamed of visiting Hayman.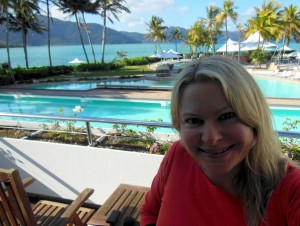 As a teen – a child of hard-working parents, doing their utmost to provide a decent education for their kids – I attended a private school brimming with 'privileged families', and I recall some of my classmates telling stories about Hayman. It sounded so flash, high-end, luxurious. Let me assure you, it is.
Serene, absolutely beautiful, and I now am the one who is privileged to have visited. Walking through the doors into my sensational pool-view apartment, I was overwhelmed by the now familiar, "how did I get here?" feeling. In fact, thanks to Hayman (and all of the Whitsundays, actually), my enthusiasm and delight for travelling 'in my own backyard' has been renewed. Hayman Island really is a paradise, second to nothing witnessed on the Travel Channel, anywhere in the world.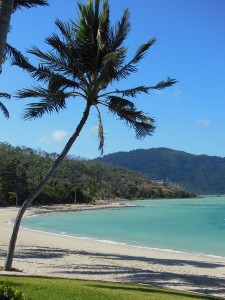 From the mouth-watering fine-dining menus, peaceful spa treatments, landscaped gardens, open air gym, tennis facilities and beaches to the water sport activities, island hopping adventures and reef diving, it's all here (and more!) – indulgence and fun at your fingertips. Save your pennies people, this spot is worth it. Whether you're in a beach villa, pool-side or lagoon-view apartment, it's all luxury and five-star service. And why would you travel overseas to experience paradise when you can support local operations like this? Enough said.
Any Whitsundays experience will provide ample opportunities to do whatever you fancy – rest, relax, exercise, indulge. The Whitsunday Islands are sublime; everywhere we went the service was excellent and amenities certainly five-star. See you all again soon, with any luck ;-)
GREAT BARRIER REEF, KEY FACTS
The world's largest coral reef system.
In 1981 was deemed a World Heritage Area.
Spans an area almost one and a half times that of the UK or roughly the area of Germany.
Comprises just over 2900 individual reefs; around 760 of these are fringing reefs, which can be found on sections of the mainland shores and islands.
The reef includes 900 islands, 600 of which are continental islands, such as those 74 in the Whitsundays; others are coral cays formed though build up of coral.
The GBR is home to 10% of the world's fish species; includes 1625 species of fish, 400 species of hard coral, more than 150 species of soft coral, six of the world's seven species of marine turtle, 30 species of whales and dolphins, 133 species of sharks and rays, 215 species of birds and approximately 1300 species of crustaceans.
[Sources: Great Barrier Marine Park Authority (GRMPBA), UNESCO, Queensland Department of Environment and Resource Management (DERM), Great Barrier Reef Foundation]
Featured image by Paul Benjamin, creative commons