Travelled: to Airlie Beach and Hamilton Island, Whitsundays, Queensland, Australia.
Lived: like a princess
Learned: that the Whitsunday Islands are supremely beautiful, brimming with awesome holiday options for anyone seeking fun, fitness, rest, relaxation, fine dining and fabulous cocktails.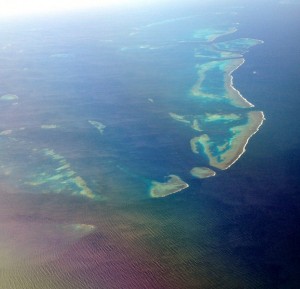 VIEW ENTIRE PHOTO GALLERY  / READ PART TWO
I grew up in Far North Queensland, right on the doorstep of the Great Barrier Reef, but never before have I ever seen it as I did on the weekend, in all its spectacular glory. I was invited on a Whitsundays experience and flew down the coast from Cairns to Hamilton Island this past Saturday.
Visibility was pretty much perfect, as you can see from the photos! Usually airline passengers will only view the deep blue below, but over the weekend the reef was showing off, and looked entirely magical from above.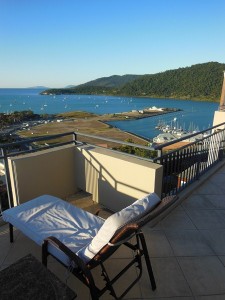 I waited a short while at Hamilton Island airport before boarding the ferry to Airlie Beach, a pretty, hilly ocean-side paradise set within the Whitsunday Islands.
While, like Cairns, Airlie Beach offers fun for party-goers and backpackers, there is also a luxurious resort culture here that presents a playground for adults (without the noise or crowds at the bar).
Resorts are built into the hills around Airlie Beach, overlooking the ocean, and we stayed at Pinnacles Resort & Spa which I'd highly recommend for its large, lush rooms, views as far as the eye can see, and easy proximity to everything in town. Room number 6 is the way to go, although I'm told by all our group that every room was divine (and HUGE). Particular highlights are the vast balconies that include a yummy spa bath and views of the Whitsundays.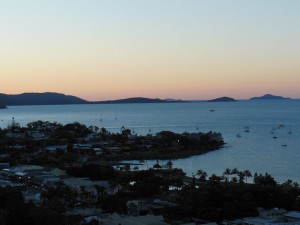 We indulged in a fabulous dinner at Capers at the Beach Bar & Grill with none other than the Executive Chef, Tim Whitehorn. The divine set menu we sampled was enough to ensure we understood why the likes of Nicole Kidman, Matthew McConaughey and Hugh Jackman have also enjoyed a meal or two here.
A highlight? the Twice cooked pork belly, prawn, chorizo sausage, scallops, cauliflower cream & crispy prosciutto main, only to be matched by a dessert of strawberries and passionfruit with mango sorbet.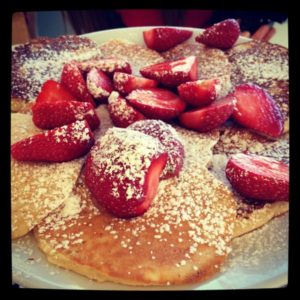 Interesting to note – place five gals with iPhones together in front of beautifully presented cuisine, then check out Instagram for live streaming of foodie pics.
It seems 'food porn' is the new favourite pastime of anyone with a camera and an eye for colour; and really, what better to photograph then food that looks like this…?
A peaceful sleep and beautiful sunrise later, it was time for brekky. Capers was so good that we returned again the next morning.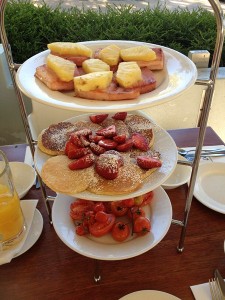 After guzzling as many pancakes, strawberries, delicious pork topped with pineapple, fresh fruits (locally grown, of course) and muesli, we wandered around the corner to Airlie Day Spa & Hair Studio for a bit of pampering.
This lovely establishment is conveniently located in the centre of town and caters to any and all beauty needs – both in-salon or by appointment to your room! Toes (Linda), manicure (me), and a couple of facials (Felicity and Meren) later, we bid farewell to the friendly team at Airlie Day Spa and went to meet our Whitsundays media familiarisation ('famil' in journalist speak) guide, Tamara, who was taking us on our next adventure to Hamilton Island.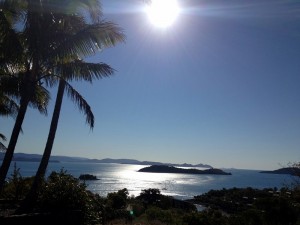 We ferried across the channel keeping a keen eye open for whales splashing about in the sparkling blue.
A number of excited Japanese tourists raced outside in the breeze and indicated there were sightings to be had, but no such luck by the time we got to the deck.
It didn't matter too much because in no time we had arrived at Hamilton and were distracted by the island's many charming attributes.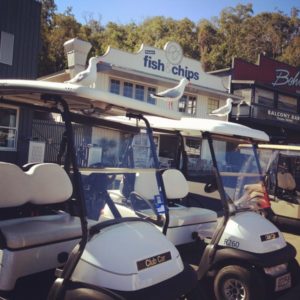 Following check-in at the fabulous Reef View Hotel, we toured the famous Whitsundays holiday destination by electric buggy (no vehicles allowed here) before settling in for a divine relaxation massage at Spa Wumurdaylin.
We were all fairly sleepy by the time we finished 'work' on Sunday, but Linda and I powered on and ventured into the village for an evening ice-cream and martini (it was important to us to ensure our meal contained all essential nutrients required for a healthy diet).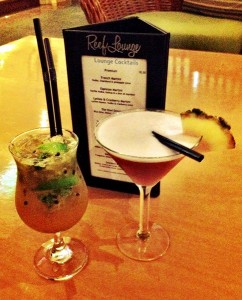 FAST FACTS
The Whitsundays
74 Islands including Hayman Island, Daydream Island, Hamilton Island, Whitsunday Island (and Whitehaven Beach), Long Island and North & South Molle Islands.
Getting there: Fly or drive to Proserpine (Whitsunday Coast Airport), Airlie Beach or Hamilton Island (airport).
Things to do: Snorkel, dive, sail, eat, relax, hike, explore, camp, golf, dine, swim, jetski, shop, party, indulge.
Start planning at: tourismwhitsundays.com.au
60-second PREVIEW: We take a sea plane to Hayman Island! 

Featured image by Paul Benjamin, creative commons