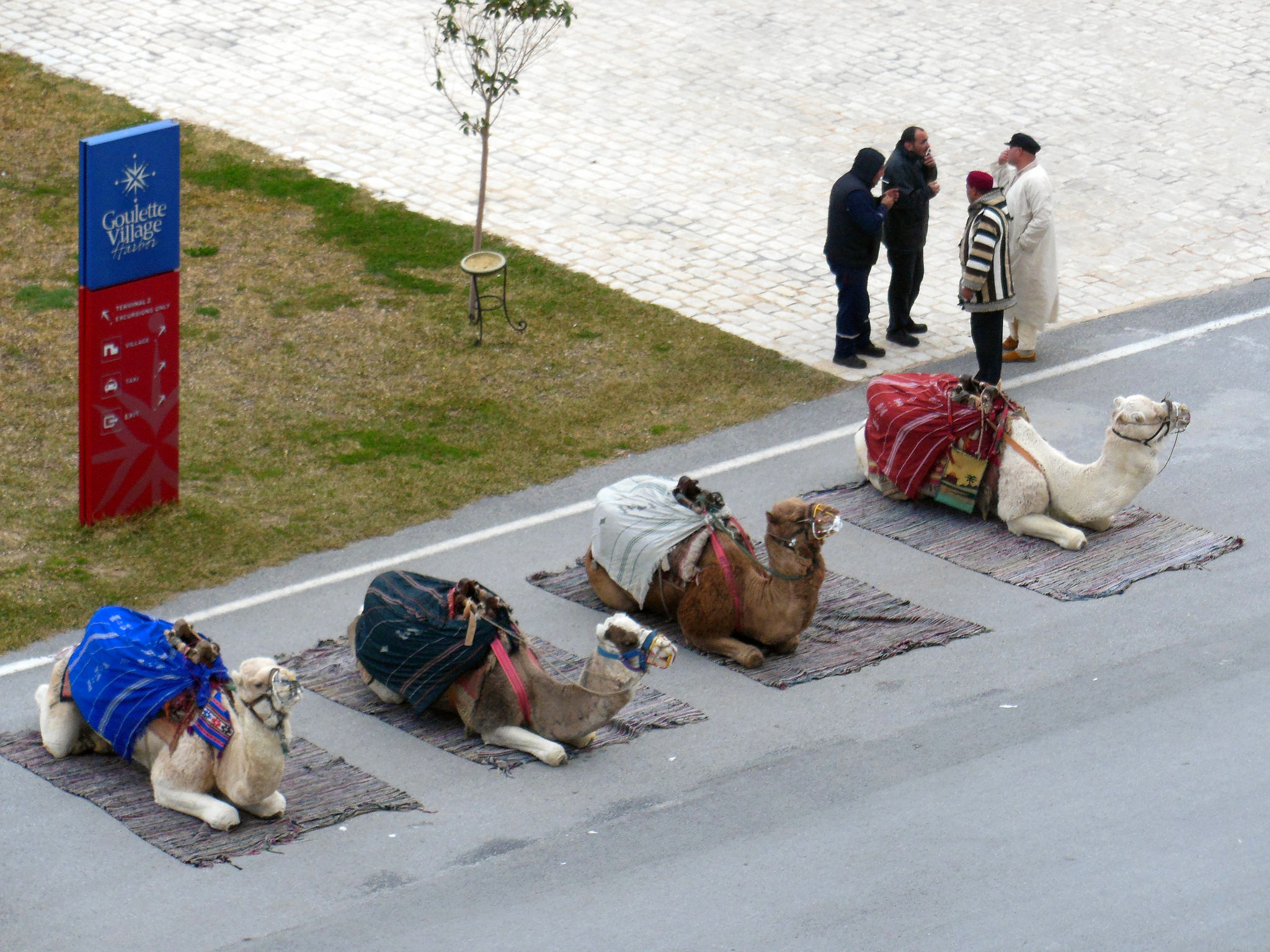 We awoke early today and to our delight discovered lights of the northern tip of Africa in the distance. It's an amazing day 3 in the diary of a Europe cruise virgin!
We were about to dock in Tunisia! Food scoffed, dressed swiftly, we joined the other excursion groups in the designated area on board the MSC Splendida, as outlined in last night's information newsletter which had been hand-delivered to our room.
Founded in 814BC – Tunis, the exotic capital of Tunisia, is an interesting stop. Another first; we've not stepped foot in Africa so weren't too sure what to expect. I was excited to gain just a small taste of the continent as my parents travelled extensively here a while ago, and I've heard stories aplenty! Tourism is important to this particular region, so the locals look forward to events such as cruise ships docking. We were greeted by traditional performances, camels and all sorts of colourful entertainment at the port. Very cool!
Tunis is a popular resort destination in summer, however it was a bit chilly during our visit (well, for Africa – a mild 20 degrees), so we settled upon wandering through the bright Medina (situated within structures hundreds of years old), shopping at traditional market stalls; witnessing the production of rugs and perfume – various trade techniques alive and well after centuries of practice. The old Medina, in fact, acted as the commercial heart of the medieval town of Tunis, until the French Protectorate (French 'colonisation') in 1881. History, culture and shopping delicately entwined: what more can a traveller ask for?
An intriguing, contemporary city; and with the exception of being vaguely hassled to buy goods at the market (which to be fair, I suppose is expected), it all felt safe, hospitable and pleasant enough. Additionally, our guide on this excursion was friendly, informative and funny. Away from the hectic Medina and bustling streets, the city becomes quieter, and beautifully adorned with stunning mosques, mausoleums, Koranic schools, homes and doorways intricately decorated and designed. Around every corner is something unusual and equally beautiful to photograph.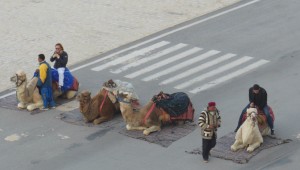 Evidently there are plenty of terrific shops, markets, restaurants and museums (like the Bardo Museum for example, which boasts the most beautiful collection of Roman mosaics in Africa) to explore in the region. Additionally there are countless other unique destinations (such as the picturesque village of Sidi Bou Said, and the beaches of Gammarth), and experiences on offer; but as we were short on time, we'd chosen an expedition that included a visit to a world heritage listed archaeological site: the ancient Roman ruins of Carthage, overlooking the ocean. Spectacular.
Carthage was the centre of the Carthaginian Empire, and existed for nearly 3,000 years, developing from a Phoenician colony of the 1st millennium BC into the capital of an ancient empire. On this vast site palaces, amphitheatres, thermal baths, temples, water reservoirs, aqueducts and homes once existed; all belonging to one of the most powerful ancient maritime nations of the Mediterranean, the Phoenicians. The Romans all but destroyed Carthage during war in 146BC, but Carthage was eventually re-founded, and became the Roman empire's fourth most important city of its time, remaining so until the Muslim conquest when it was destroyed again 698. Little is known of the people who lived here, but ruins remain so we may at least have the chance to explore and dream about what it might have been like to exist here in another lifetime.
Take a short tour of Tunis' streets and Carthage with us:

 [more travel videos on YouTube's TheSarahBlinco channel]
Do you have a cruising story, or a tale out of Africa to share? Let us know, tweet @sarahblinco or find us on Facebook. You can also read the rest of the stories in this series (more to come in coming days) HERE.