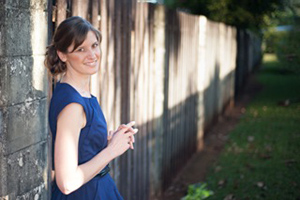 Isiah McKimmie is the owner of Passionate Spirit, an online sex therapy and relationship counselling service. She's based in Queensland but travels inter-state and internationally on a regular basis – for business, study (she's currently undertaking a Masters in Perth and Brisbane!) and pleasure. TravelLiveLearn.com thought she'd be a perfect candidate for sharing tips on smart travel.
~
She says:
I love to travel – there's something so exciting about it. I love the idea of going somewhere and getting to meet new people. But it can become wearing – I've had to learn a few tricks over the years to make everything a little more comfortable.
Choose your airline wisely

.
It can be tempting to go for whoever has the cheapest flights, but I've found that a good airline really can make the difference in your travel experience. And it's completely worth accumulating frequent flyer points – the benefits are great. When flying domestically in Australia, I choose Virgin, the staff are always friendly and very accommodating. They also provide complimentary tea, coffee and water on all flights which makes a big difference.
Stay fresh – keep your toiletries handy.
Brushing your teeth and hair and giving yourself a spritz with your fave perfume ensures you're fresh at the end of your flight. Moisturising is essential to help your skin recover from the air-conditioning on the plane. Slip a change of underwear in on long haul flights too!

Pack thoughtfully

.
Pack lightly – it sounds obvious, but it can still be tempting to take everything you might possibly need. Take travel packs of toiletries and choose outfits that you can mix and match with the same shoes and jacket. If you can manage carry-on only, the process will be a little smoother. Make sure you put items like laptops and a jacket somewhere they can be easily accessed too, in case you need to produce them for security reasons.

Plan well and be on time

.
There's nothing worse than being caught in traffic and late for a flight. Plan to arrive early and sit down for a coffee or to read the paper if you find you have spare time. Travelling can be stressful enough without being caught in a security or bag-drop queue as your flight starts boarding.
On long-haul flights take vitamins (especially vitamin C) with you and drink plenty of water.
The long flight means your body is less able to process toxins (the vitamin C will help) and you're more likely to pick up nasties floating around! Also, eat minimal food – your body will struggle to digest it properly as it adjusts to a new time zone with little moving around.
Got your own tips or have something to say about Isiah's? Connect with us, Facebook or tweet @sarahblinco