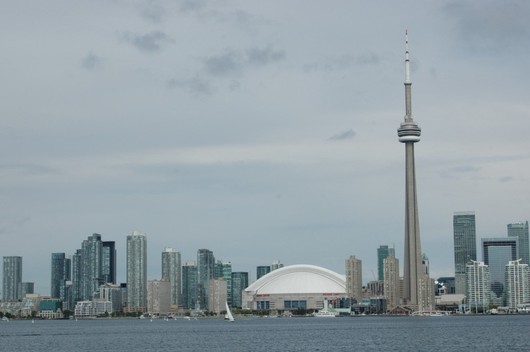 Sitting on the coach and on the way to our second Canadian stop, Montreal – we're aboard a Megabus (great discount group over this way, also in the UK) and am pretty pleased with the free WiFi – can now catch up on my blogging.
We've spent the past few days in Toronto, a place where, in all honesty, I always wanted to visit but more for the sake of what has been filmed here rather than for the city itself. For some reason I imagined Toronto to be something like a concrete jungle but I was quite wrong: it's actually a very colourful, multicultural and beautiful spot, brimming with great cuisine and culture. Toronto is set on the banks of the vast Lake Ontario, so big (similar to Lake Michigan off Chicago) that it looks like the ocean.
The famous Toronto Film Festival had just wrapped up when we arrived. This year the event attracted the likes of George Clooney, Brad Pitt, Angelina Jolie and Keira Knightley, so there's an excited buzz in the air! My personal 'excited buzz' however, was when we inadvertently passed filming for one of my fave shows of the moment, Nikita (and yes, for anyone who cares I did also love the '90s version La Femme Nikita which was filmed in Toronto too), as well as filming for the remake of Total Recall which this time around stars the fabulous Colin Farrell. We spotted Nikita filming within an hour of arrival, which was awesome; and Total Recall on Saturday morning featured a huge futuristic car mounted in the air in front of green screens (as well as several guards surrounding the block who had their eyes on me… ;-).
On Saturday we wandered around the delightfully chic Bloor-Yorkville precinct and then along the world-famous Yonge Street (formerly listed in the Guinness Book of Records as the longest street in the world), essentially one of the 'main roads' into the city which is brimming with every kind of business. Once we made it to the waterfront we decided to take a ferry 15 minutes across Lake Ontario to what is known as Toronto Island – a peaceful oasis of parkland, small amusement park with an animal farm, cafes, restaurants, ducks and bird life, rivers, lakes all the way through to beach-front on the other side of the island. This trip was delightful, a mere $6.50 return and is worthwhile for the photo opportunities alone.
Having viewed the iconic CN Tower from the island ferry, we decided to take a look 'downtown' to inspect it further. The impressive structure was actually completed in 1976 and was at the time the world's tallest building. Surrounding the CN Tower in downtown Toronto are other fun attractions such as Rogers Centre (stadium) and the Steam Whistle Brewing House which we toured – it's only polite to sample premium local pilsner (especially when it's as nice as this!): Highly recommended experience and an interesting local company built on the old grounds of an original Roundhouse that was originally used to repair and clean steam locomotives.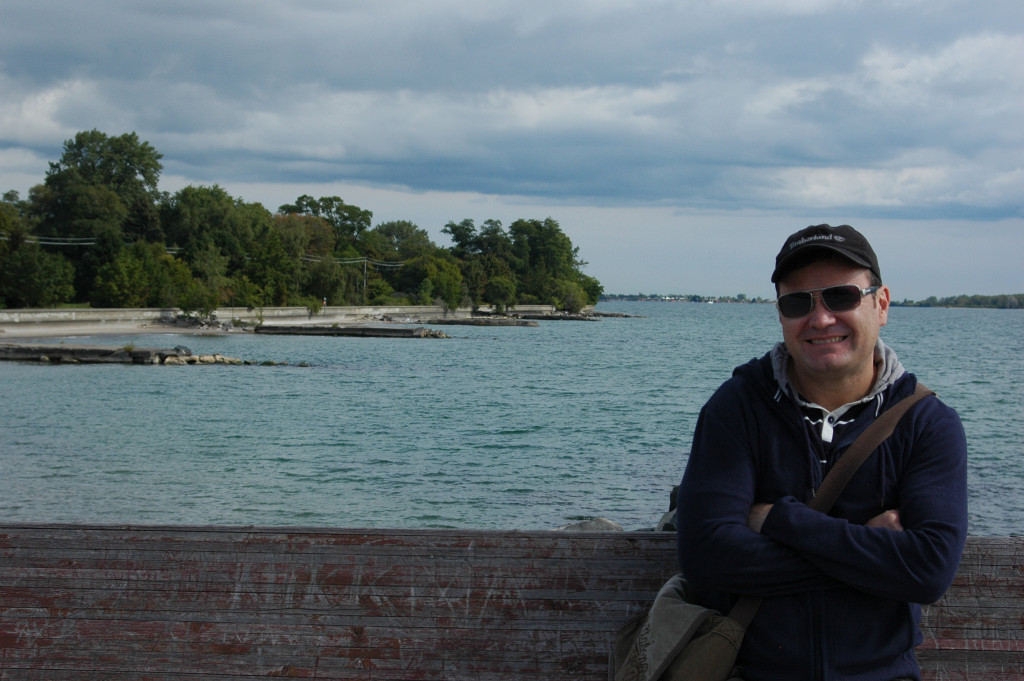 Exploring Toronto under a warm autumn (or 'fall', as they say here) sun proved to be a really lovely experience. The city is entertaining and enjoyable – everything from the food to the filming, parks, shopping, unique attractions and even the beer. The city is probably better known as being a centre for business in Canada than anything else, but we'll vouch for its value as a tourist destination too.
The attraction to affirm this point is one that we visited on Sunday, located just a couple of hours from Toronto – the awe-inspiring Niagara Falls, the most powerful waterfalls in North America. These voluminous falls are situated on the Niagara River which drains Lake Erie into Lake Ontario and forms the international border between Ontario (Canada, where we were viewing from) and the US state of New York (which we could see across the other side over the falls). I'd booked another Megabus service to the falls in advance in order to score a great deal on price, but there are numerous tours available from Toronto for anyone who is keen.
The day was sunny and the falls glorious. Riding on the famous Maid of the Mist was a highlight – expect to get wet, but also to laugh like a kid again throughout the ride. As the ferry jigs underneath one of the powerful torrents of water the sky around disappears and rain-like mist envelopes all passengers, at which point we realise why the ferry is named as such. It is fun, and always nice to have the opportunity to enjoy a little bit of nature's magic. We spent the next few hours exploring the falls, surrounding shopping precincts and we were even cheeky for lunch, adding TGI Fridays Niagara Falls to our growing list of the chain's restaurants dined at; so far we've checked in at TGIs Yokohama, Piccadilly Circus, Covent Garden, Prague, New York and now here. It's a trashy tradition, but still, it's one Cooper and I enjoy together.
Definitely a wonderful time all round – but then, it's Canada so it's going to be great (yes, I'm a fan).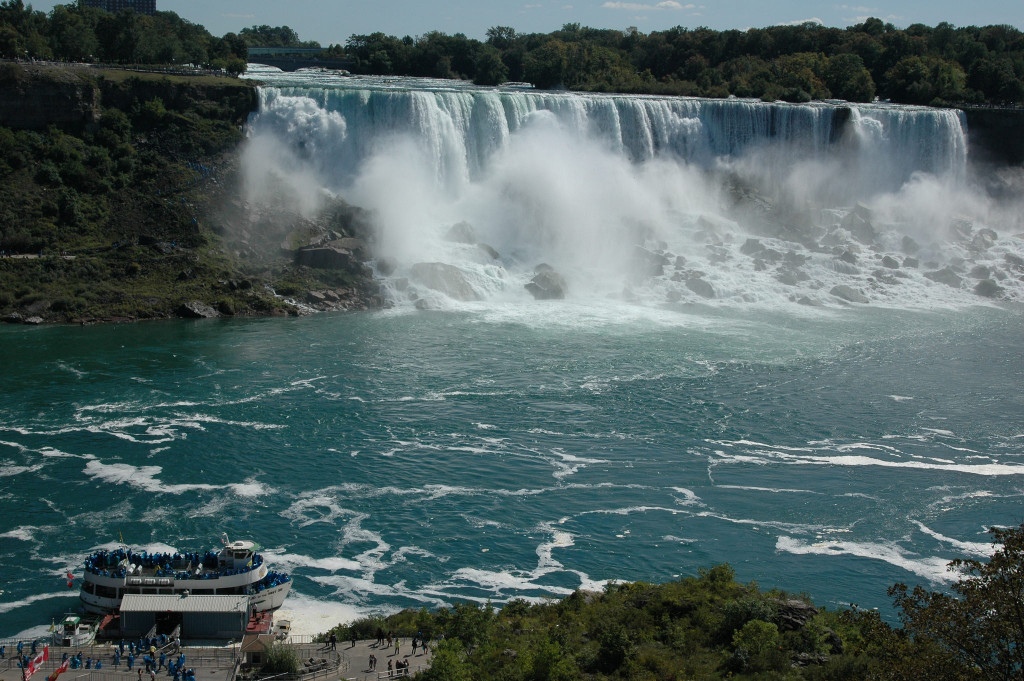 Toronto and Niagara Falls top travel tips
1. Keep a city map handy and explore Yorkville and Yonge Streets by foot. It's easy enough to catch the metro back to your accommodation when/if you get tired (approx $3 for a one-way journey).
2. Toronto is actually quite expensive, so take advantage of supermarkets if you find them. Staying in an apartment or even a nicer hostel such as All Days is a pretty good idea too – is nice to be able to utilise a kitchen – save your money for adventures.
3. Day trip (or overnight) to Niagara Falls.
4. The CN Tower is a must-see, along with the entertainment district downtown.
5. If you have some warmth and sun why not take a day at the beach? Toronto's waterfront overlooking Lake Ontario is fantastic; alternatively head across to the gorgeous Toronto Island for your pick of parkland, river-side picnic space or sandy beach.
We adore Canada and believe it's one of the most beautiful countries in the world.
By Sarah Blinco