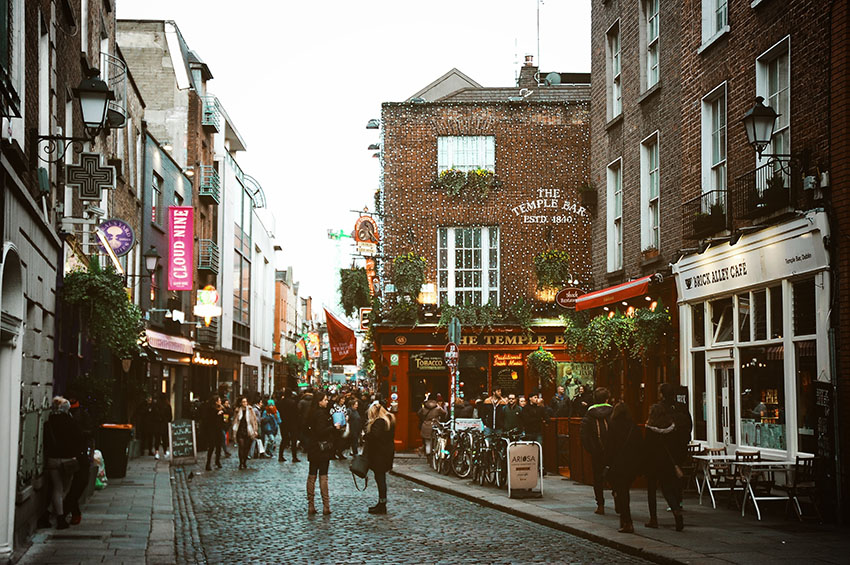 Uncover in a day, some of the best-hidden gems Dublin has to offer. Find here a special guide on one of our favourite cities in the world.
Ireland's capital, Dublin is a hub of museums, restaurants and architecture. You could stay for a week and only scratch the surface of what's on offer. But, here's where we suggest you begin:
Hidden gems Dublin: best afternoon tea
Afternoon tea may be a traditional English affair, but the Irish know how to do it well. Whether you're looking for cheap and cheerful or a truly decadent experience, Dublin is crawling with places that offer a delightful spot of tea.
The Shelbourne Hotel
Overlooking St. Stephen's Green, The Shelbourne is the grandest 5-star hotel in Dublin. It's located right in the heart of the city. Less a hidden gem of Dublin and more a 'must-see', everything about the hotel screams elegance. Their afternoon tea is no different.
Take a seat in one of the plush velvet chairs of the Lord Mayor's room. Be treated to delicate cakes, exquisite finger sandwiches and local delicacies like house-smoked Castletownbere salmon and Guinness bread. You heard right, Guinness Bread!
The Shelbourne Hotel definitely leans towards the more expensive side of the scale at €52 per person. However, if you're in the mood for an affluent treat, there's nowhere like it. You're on holiday, after all, treat yourself!
Vintage Tea Tour
For Afternoon Tea with a difference, this hidden treasure offers you an experience like no other. Take a step back in time on a vintage 1961 Routemaster bus, affectionately named Pauline. Enjoy your Afternoon Tea on the streets of Dublin.
Perfect for visiting the capital, the Vintage Tea Tour takes you past some of Dublin's much loved historical sights. While you're sipping your tea and nibbling on a traditional scone with clotted cream, you'll be treated to a 1950's jazz soundtrack and some great local stories from your hosts.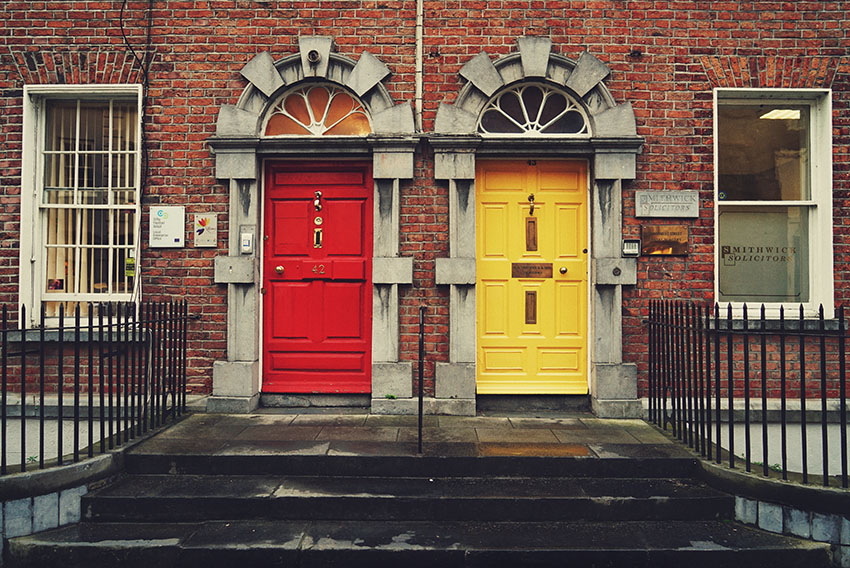 Hidden gems Dublin: grab a bite to eat
When you're only popping over for a short stay, you don't want to spend your time wandering the streets looking for lunch. Thankfully, you're spoilt for choice when looking for somewhere to eat in Dublin.
The Greenhouse
What better way to enjoy a day away than with a gourmet lunch? In the centre of Dublin, The Greenhouse is a Michelin star restaurant that has been setting the standard for over six years.
Finnish chef Mickael Vijanen has been named the 'best chef in Ireland' on multiple occasions. You just need to taste The Greenhouse's menu to see why. Naturally, the restaurant is a little on the pricey side. However, sneak in for their lunch menu and you can spoil yourself with a very reasonable €45 two-course meal. You'll need to be swift though, as lunch is only served 12 to 2pm and it fills up quickly!
Eatyard
If you like to stay organised and have a full day of exploring planned, you'll want to grab lunch on the go. Don't think that you'll have to sacrifice quality though, quite the opposite in fact.
This Take a trip down South Richmond Street in Portobello and you'll stumble upon The Eatyard. It's a permanent street food market and one of Dublin's best-kept secrets.
Here you'll find fantastic flatbreads from Olea, award-winning burgers from Handsome Burger or a gloriously gothic black ice-cream cone from Milk Bar Ice-Cream.
This rag-tag group of vendors may be light on your wallet but they're big on taste!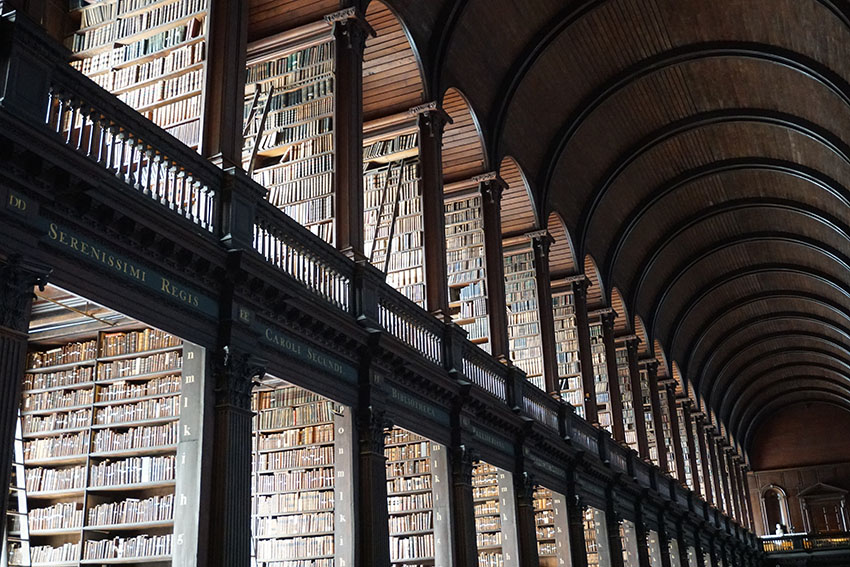 Hidden gems Dublin: what to see
Dublin is a city that is rich in history and has plenty to see, both modern and ancient. Whether you fancy visiting the iconic Temple Bar for a Guinness or feel like walking through the enormous Phoenix Park, you'll not be stood twiddling your thumbs.
Trinity College Library
An absolute must-see for any bibliophile, the Trinity College Library dates back to 1592. It houses an impressive collection of over 6 million volumes of journals, manuscripts, maps and music, showcasing 400 years of academic development.
It's not just the books that make this such a tourist hot spot. The architecture of the building itself is, in a word, stunning. The appropriately named Long Room features a 200-foot-long central walkway with endless bookshelves spanning over two floors. Plus, with marble busts of philosophers and a beautiful barrel ceiling, make sure you have your camera at the ready for this one.
St Patrick's Cathedral
If the Trinity College Library wasn't enough to widen your eyes, then make sure you head over to St Patrick's Cathedral. One of two cathedrals in Dublin, St Patrick's was built in honour of Ireland's patron Saint and offers visitors breathtaking sights.
One of Dublin's most popular visitor attractions, the cathedral offers guided tours to show you around the building's 800-year history. Or, you're just as welcome to take in the amazing sights yourself.
Hidden gems Dublin: sweet treats
If you're looking for a tasty treat while exploring the streets of Dublin, or simply want to add the perfect finishing touch to your lunch, there are some lovely spots to enjoy some sugary goodness. 
The Rolling Donut
If you're not a local, this tasty hidden gem may have fallen under your radar. The city of Dublin is home to not one, but three Rolling Donut shops. There are even more further afield.
Head over to South King Street or towards the O'Connell Monument and treat your tastebuds to ingeniously inventive doughnuts. They're lovingly prepared at this family business that has been operating for over 40 years.
The diverse menu includes simple classics like the vanilla glaze and more decadent options such as the Bailey's bliss. There's familiar faces like the Terry's Chocolate Orange and Kinder Bueno doughnuts. Plus, a protein-packed peanut butter doughnut for gym bunnies and even vegan-friendly options, so there's no excuse not to try one!
Ladurée
If you feel like indulging your fancy side, Ladurée on William Street South is the place to be. The famous French Patisserie has extended its reach to Ireland and brings with it a true taste of Paris.
The perfect spot for a quick coffee break, Ladurée offers an array of cakes, pastries and biscuits to treat your taste buds. The real star of the show, are the macaroons! Trust us when we say these macaroons are the best you'll taste outside of Paris. You can even take them away with you in a beautiful gift box.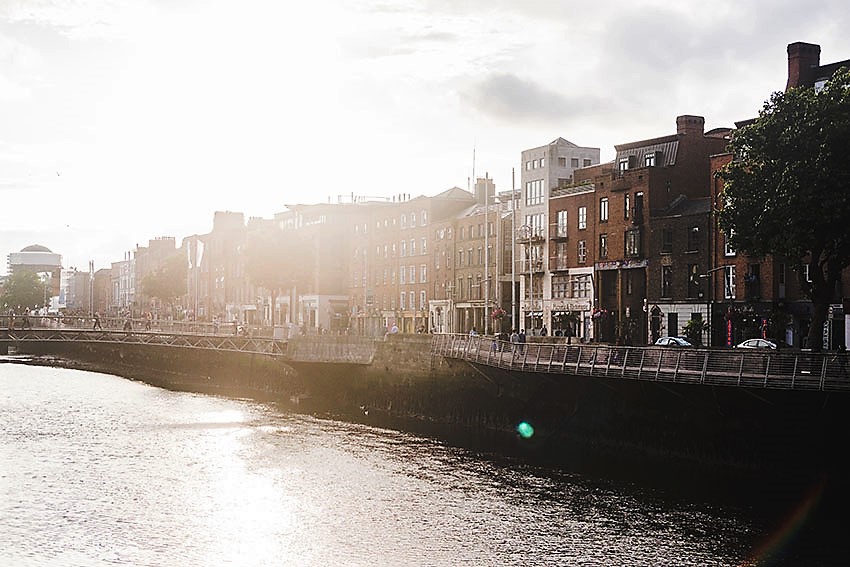 Lastly, don't miss in Dublin…
With so much to try and squeeze into a single day trip, there are some things you'll need to wait and see another time. There are some things though, that are simply too good to pass up. Here are a couple of our favourite things to see in Dublin that you should try to make time for:
Kilmainham Gaol
If you're interested in learning about Ireland's turbulent history, this lesser known tourist destination is a living legacy. It's a remarkable window into the past.
Having held some of the most famous political and military leaders in Irish history, visitors receive a dramatic and realistic insight as to what it was like to be confined between 1796 and 1924.
The prison offers a guided tour and exhibitions, giving you a fantastic look as to how Kilmainham Gaol operated and what role it had in Irish history. If it looks familiar, it could be due to the fact that many films including The Italian Job, The Whistle Blower and The Escapist were all filmed in this location.
Wax Museum
It may not have the prestige of world-famous Madame Tussauds, but Dublin's National Wax Museum is a good laugh. Walking through the museum, you'll be greeted by some of Ireland's top celebrities, including Father Ted, Connor McGregor and of course, Jedward.
The Time Vaults exhibit lets you experience Irish History from Viking invasions to the Good Friday agreement. Or you can scare yourself silly in the Chambers of Horror with some familiar, albeit frightening faces from pop culture.
Day trip
There's plenty of amazing experiences outside of the city too, if you're up for an extra adventure. We visited County Wicklow – read about why you should too.
Whether you're looking for a cheap and cheerful trip or an opulent break away from home, Dublin has something for everyone. This guide of Dublin's hidden gems is a great place to start when planning your day trip. But, the best way to experience what the city has to offer is to get yourself there and to start exploring.
If you're now inspired to take a trip to the Emerald Isle, take a look at Stena Line ferries for a fun and relaxing way to travel. We'd suggest exploring more than just Dublin too – Kenmare and Killarney are a real treat!
Seeking an alternative for exploring the emerald Isle? Think about house sitting Ireland: find out more