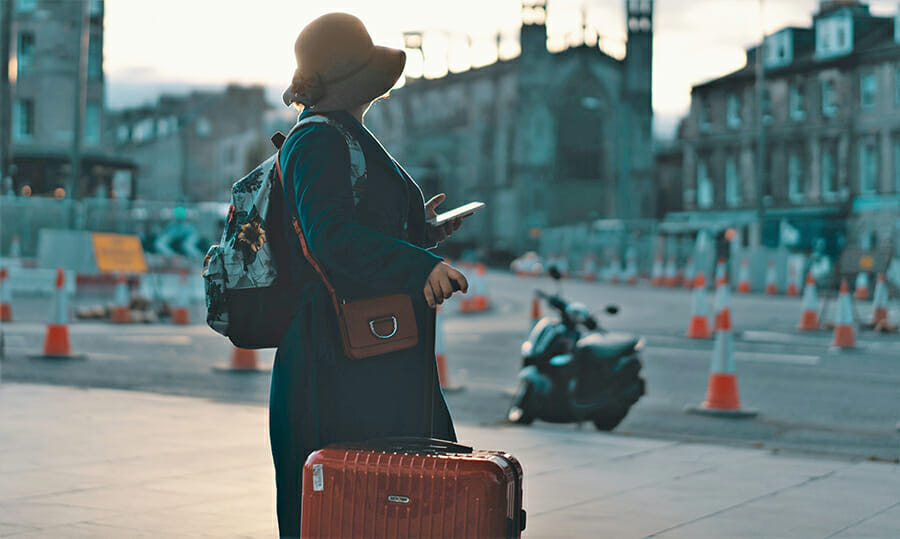 It's just so important to get your city break packing list right! There's nothing worse than arriving at your destination with a suitcase full of clothes and nothing to wear. Getting your city break packing list right is essential for those of us who book cheaper airfares and carry-on-only luggage too. Even more important if you're travelling solo!
Have you ever been caught at the airport having to pay an obscene amount of money on excess luggage weight? It's awful, and stressful.
With it being so easy to get to some places now, you don't want your city break experience ruined by carting around unnecessary baggage. London to Amsterdam or London to Paris, even Brisbane to Sydney if you're in the southern hemisphere – enjoy your trip by conquering your city break packing list.
City break packing list: the must-have item
As someone who has travelled extensively for my job, I was once asked what one item of clothing was an absolute travel essential for my suitcase.
My response?
A sarong!
Think about it, it's handy for the beach as a swim suit cover-up, as a scarf, a head covering if needed, a wrap on a chilly flight, it's completely versatile.
After packing and unpacking a million suitcases, there are certainly many things I've learned, sadly by trial and error, in terms of what not to do when packing your suitcase.
City break packing list – the five big mistakes
Not making a 'what to wear' list
It might seem excessive, but sitting down and actually planning out what outfits you're going to need will save you a lot of room in the suitcase. Much in the same way that menu planning saves you money at the grocery store.
If it's a work trip, remember that if you are seeing different clients on different days, parts of your outfit can easily be re-worn. If you're on a city break for leisure, you can be much more relaxed about your attire. Let go of preciousness. Be comfortable, be happy.
Taking 'out there' items
Sure that wild print dress looks great on, but take items that are easier to mix and match.
Clothes that can be both dressed up or dressed down will get you more mileage and take up far less room.
Taking your shoe collection with you
Every pair of shoes you pack will add at least a kilo to the weight of your bag. Let's face it, shoes are awkward items in suitcases, making it tricky to pack around them.
Think about exactly what you really need and what you can wear twice.
Most of the time you need a pair of versatile walking shoes or trainers, and a pair of flats or sandals or flip flops. That's it.
Taking too much gym gear
Yes making time for fitness, especially while travelling on business trips, is important. Too much room service and social drinks can certainly add up quickly, but so can the weight of gym shoes and the extra clothing.
Think about it, will you really use the hotel gym on more than one occasion?
If so, take the gym clothes. If not, think about maybe taking a swim suit instead. Less room in the suitcase and most hotels have usable pools year round.
Taking your bathroom with you
Yes, we all love our little comforts from home. The shampoo we're used to, the moisturiser we love the scent of. But really we know we could go a day or two without it. Don't waste space on shampoo, conditioners and lotions which could accidentally break open in your bag and cause a whole other headache when you know the hotels will always have them available. Worst case, you can buy inexpensive version on the road and discard before returning home.
If you're a frequent traveller and fussy about your brands, packing a travel bag of small sized toiletries and keeping it packed will make it easy for you to re-pack every time you go away as well.
What's your input on how to compose the perfect city break packing list – what do you class as 'essential' to take with you? Drop us a line in the comments below. 
About the author
Gwen O'Toole is an accomplished writer focusing on travel, events management and food and wine. She also published a fiction novel while spending the past eight years as a magazine editor and travelling the globe before launching The Ideas Library, a creative services and event management company. She is regularly featured in a variety of travel and leisure publications and blogs.