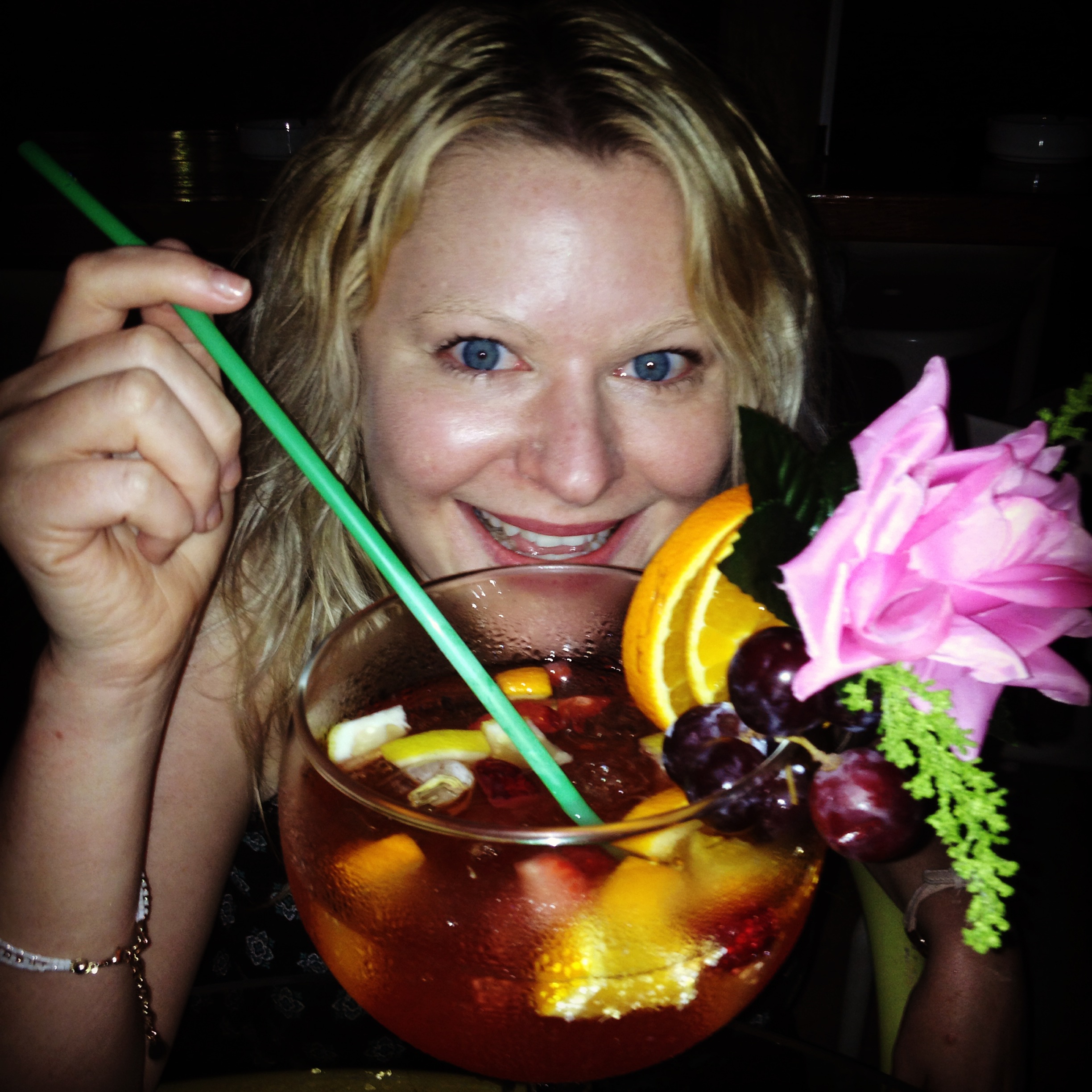 Gentle waves are lapping against the side of the ship to my right hand side, and the landscape is illuminated by soft glowing light from the deck below, and the sparkling city of Barcelona in the distance. I'm sitting on the little balcony outside our cabin on board the MSC Splendida. It's about 8.30pm and the ship sailed from port about an hour and a half ago.
We had an early start this morning from London − 4am for check-in at Gatwick, followed by a simple-enough coach transfer to the dock but a very long wait until cruise check-in at 1.30pm. Fortunately, the cappuccinos are strong (and good) in Europe, so that kept us motivated until we made our way with excited anticipated onto the (huge) ship which is to take us on our first cruising adventure! Admittedly, I didn't book a cruise for the sake of experiencing such a mode of transport. London had been the aspiration for a Christmas escape this year, but we wanted to explore elsewhere during our five weeks abroad. Generally the weather is unpredictable over here in winter, and as such, a 'Mediterranean tour' was all I could find that was operating. Open to new experiences − and great bargains (via Archersdirect.co.uk, out of interest, but you should also check out Cruise.co.uk and MSCCruises.co.uk) − this seven-night package promised us destinations never before experienced in these little travellers' lives.

[more travel videos on YouTube's TheSarahBlinco channel]
Neither Cooper or I had really thought too much about what to expect. In all honesty, I've been so busy working (managing my own business), and organising the general travel itinerary for the past few weeks, that I didn't even have a chance to explore the ship's website. I assumed it would at least be generally satisfactory. Turns out, the ship is only two to three years old, absolutely HUGE, glamorous, brimming with activities and facilities and … we have been pinching ourselves all afternoon trying to figure out how we wound up here, on the most-definitely-splendid MSC Splendida.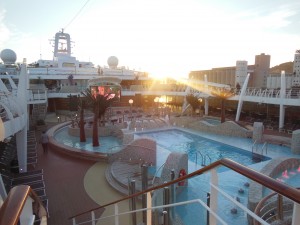 As I type, I am caught between looks to the mirror where I'm practising my 'glitter pout' (that is, I've spent the past half hour down in the duty-free store trying on Dior perfume and Lancôme lip-gloss which I'm kind of loving right now), and recalling the afternoon's activities. We recently returned to our cabin following the 5.30pm safety briefing (just in case we need to make a run for it like Kate and Leo did). All guests were completely in awe of the M.C who continued to amaze with his narrative in five or six languages! We explored the ship only to discover one beautiful themed lounge and bar after another; pools, spa baths, gym, casino, saunas, beauty facilities, shops, restaurants, child-friendly areas and a niteclub (where we are heading later on).
We're completely enamoured with the staircase in the entry foyer – each step of the two flights of stairs decks 6 to 8 (I believe) appears to be illuminated, and sparkles with crystals (Swarovski, apparently). At present, pianists, singers and other performers are entertaining the masses, while each of us wanders the decks in awe of Splendida's beautifully designed spaces. We're about to head off to the opening dinner … we are meant to be dressed in either formal (suit and tie) or 'informal' (cocktail) attire, but are prepared for neither. Here's hoping they'll be lenient tonight, or it's back to the buffet for us (not that it's a horrible option − actually, secretly we love a good buffet and had to be dragged out at 5pm this afternoon, dessert in hand). Still, so far we're having a ball; and I'm about to be late for the ball so better sign off for now. S x
READ THE REST OF MY CRUISE VIRGIN DIARIES as we head to Africa, Italy, France and back to Spain…
Do you have a cruising story to share? Let us know, tweet @sarahblinco or find us on Facebook.