While I'd love to explore the rest of Spain because I believe there are many more beautiful and exciting pockets to discover within the country itself, and despite us really only encountering an 'overview' of Barcelona, our general consensus is – we love it here! I'd love to return to Prague or Rome, but Barcelona is one of those places we could live in. It's one of our new 'cool' cities, like New York, Tokyo, London or Vancouver. Barcelona has a nice energy – like London, but without the hectic pace. Our time here has been sunny, brimming with friendly people speaking in their seductive native tongue, delicious food, fabulous neighbourhoods with interesting architecture, sculpture and modern art, chic shopping, beautiful beaches lined with sexy bars and restaurants (like the Carpe Diem Lounge Bar, pictured below, where we enjoyed a cocktail last night with Leann and Evan), and even a fabulous dog park opposite our (very comfortable) Ibis hotel. It's all here!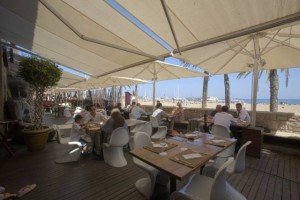 Two days in Barcelona hasn't been long enough for Cooper and I, but we felt that we utilised our first free day (yesterday) pretty well by purchasing a hop-on-hop-off Barcelona Bus Turistic pass (buy online for a 10% discount) which cruises around the city on three separate routes and offers a value-for-money guided overview of each neighbourhood, history and attractions.
There's an aquarium and a zoo here, famous shopping and people-watching mall La Rambla, and as mentioned, a simply divine strip of clubs and restaurants (including a popular 'Ice Bar' (even the cups and candle-holders are made of ice, as Leann and Evan discovered, pictured below)) by the beach and casino (off Ciutadella Vila Olimpica train stop). The transport network here is efficient and inexpensive, at just €11 for a two-day pass, or about €8 for a multi-trip pass.
For anyone landing here during a football (soccer) game, try your luck at the ground's box-office for tickets – do not buy from sellers in the street as your tickets are likely to be fake.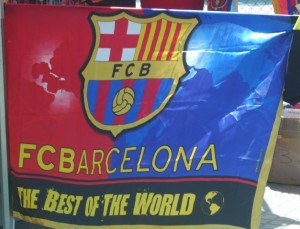 Travel tip:
On the note of 'warnings' – Barcelona is renowned for pick-pockets and thieves. While we didn't encounter any problems, some travellers we know did. Keep belongings with you/in sight at ALL times (on the town, in hotel reception, at train stations etc.); and also when you are leaving your bus/hotel/belongings always ensure you are carrying a credit card and cash as well as phone and/or contact numbers for emergencies in the event you are separated from friends/tours/in the face of any kind of trouble or unforseen situation.
A phrase book can come in handy in Barcelona, although mostly we got by with a few key words/sentences and some enthusiastic acting.
Leave time for exploring this city, and it's probably a good idea to research what you would like to see before you get here, and/or enlist the services of a tour such as the Bus Turistic option so that you have the opportunity to become acquainted with where everything is located and how it all fits into the grand scheme of things: circle points on your map, then follow the train loops and live it up with the gorgeous locals.
Explorer travel tip:
I've just discovered that Susan on our Expat Explore bus found an amazing €15 sailing deal – one and a half glorious hours out on the ocean off Barcelona, with live music included! Definitely one to look out for next time around.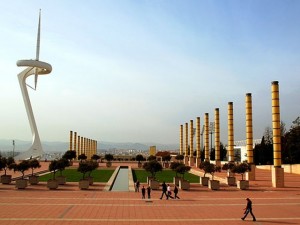 If you're a fellow Expat Explorer or fan of this city and want to list your fabulous Barcelona finds/tips for other travellers, simply 'comment' below.