I enjoyed some time off from my day-job yesterday and remembered the merits of working for myself. That is, the freedom to wander and work from wherever I please. On on this particular day that took me on one of the best of London secret walks, along the Thames path around Bermondsey. Lovely!
Not that I didn't miss my work friends, on the contrary, they don't realise how much I value them. As any independent contractor will verify, working on your own all the time can be a lonely business.
I've never had the chance to really indulge in this kind of down-time in London though. Usually if I had time off it was because I was chasing employment or contracts, and I never allowed myself to chill out and explore!
But with a pay-cheque coming in, this time I was happy to indulge in the surprises of London's beautiful old back streets without any worries.
London secret walks – Rotherhithe to Tower Bridge
Yesterday was a crisp winter/spring cross-over day, where the sun was shining brightly.
It was chilly but divine; ideal for taking a stroll along one of the best London secret walks.
Charles Dickens describes such a day perfectly in Great Expectations:
"It was one of those March days when the sun shines hot and the wind blows cold: when it is summer in the light, and winter in the shade."
What I wanted to share with you, is my favourite thing to do in London when I have a spare bit of sunlight – the Thames path walk around Bermondsey.
London secret walks – the Thames path
This section of the Thames path walk weaves its way around the back streets of zone one (the city), along the water and into central London where Tower Bridge dominates the landscape, as it has done for around 130 years.
Our friends Barry and Paulo introduced us to this vibrant area and secret London walk.
Many of the great London secret walks can be had around Bermondsey, Southwark, from London Bridge, around Southbank and across Tower Bridge to the extraordinary Tower of London or lovely St Katharine Docks.
I recently worked out that my favourite wander of them all is accessible via the London Overground (train) from where I jump on at Dalston Junction.
It's just a 12 minute ride up the line to Rotherhithe. From here, you are only a fifteen to twenty minute walk away from Tower Bridge, but a world of magical experience from the tourist grind.
London secret walks, my route along the Thames path
Start at Rotherhithe
Head to the Overground (orange line) station of Rotherhithe in East London.
No, I still can't pronounce it, but it's now one of my free-time go-to destinations.
Turn left out of the station, and then left again immediately at the first street, Railway Avenue (next to the station).
It's just a short walk to the end of this street, where you'll end up right on the Thames, and on the doorstep of the fascinating Brunel Museum.
Last summer when we passed by here, the tunnel was open underground and we crawled down a man-hole to below the street where there was a fab light-show art installation being exhibited!
Walk along the riverside – just head towards the bridge!
My Google map above might help you out (start at the blue star and follow the red markers into the city).
Essentially you can explore what is called 'The Thames Path' which travels past some terrific old buildings.
This includes what I understand is the oldest pub on the Thames, the Mayflower. Apparently, to avoid paying mooring taxes, Captain Christopher Jones tied his ship up alongside this pub and people boarded here before the Mayflower sailed to Plymouth to pick up the remaining passengers and then continued on its historic voyage to America in 1620.
There's always been surprisingly few people down this part of the world when we've dropped by. We've taken many visiting friends on this walk because it's historical and pretty.
Serenity in central London
Who would have thought you could experience such nostalgia in a peaceful setting in central London?
This was the first chance I had to walk it on my own, and as haunting church bells rang out from St Mary's, I couldn't help but think about about all the lives that had passed here before me.
Perhaps if I close my eyes I could be transported to any space in time when this place was bustling with trade, markets, sailors, religious folk mingling on the church's steps, and kids in newsboy caps and scruffy neck-scarfs running barefoot in the street. Just imagine what it might have been like…
Water laps against the old buildings, crows cry out and seagulls squawk, but the sound of tourist chatter is nil.
Every now and then the warehouse conversions open up to vast and amazing viewing spaces, like the spot just past a pub by the name of Angel, which is opposite ruins of King Edward's manor.
Here you can gaze up and down the Thames, with all of London's famous landmarks in sight.
It's breath-taking whether the sun is out or not (though it can be windy and a bit chilly on a cloudy day).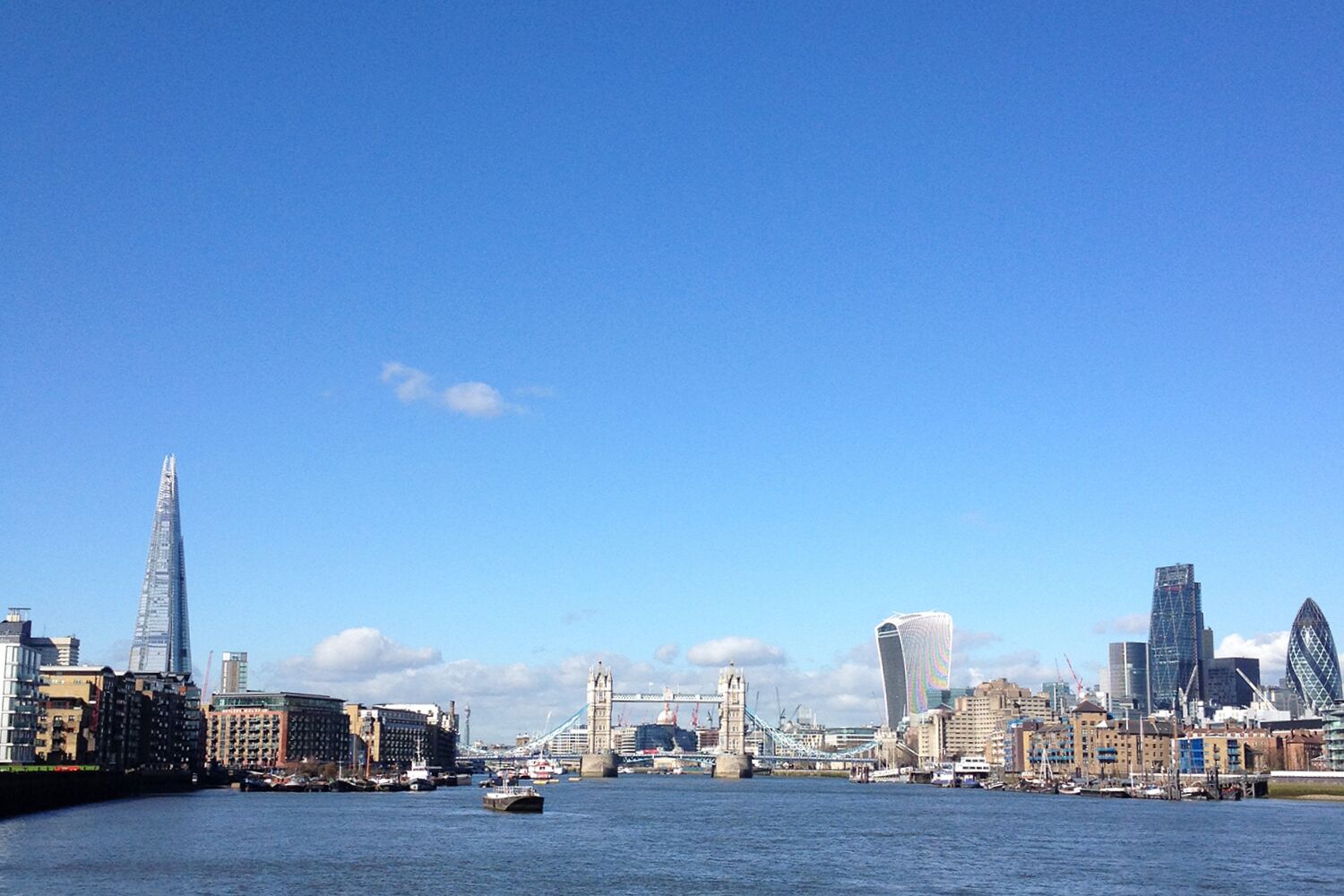 You can't really get lost at this point, because while there's construction going on, you just need to walk adjacent to the water. Follow the Thames Path signs towards Butlers Wharf; there's an underpass where eventually you will find more people congregating around Tower Bridge.
I like to stop and people-watch from a perch at All Bar One (free WiFi and yummy tapas here too). But you can easily continue meandering along to the bridge and then across towards the Tower of London.
The experience is 'secret London' at its best, and I feel so privileged and grateful to have the chance to get to know this energising old city intimately.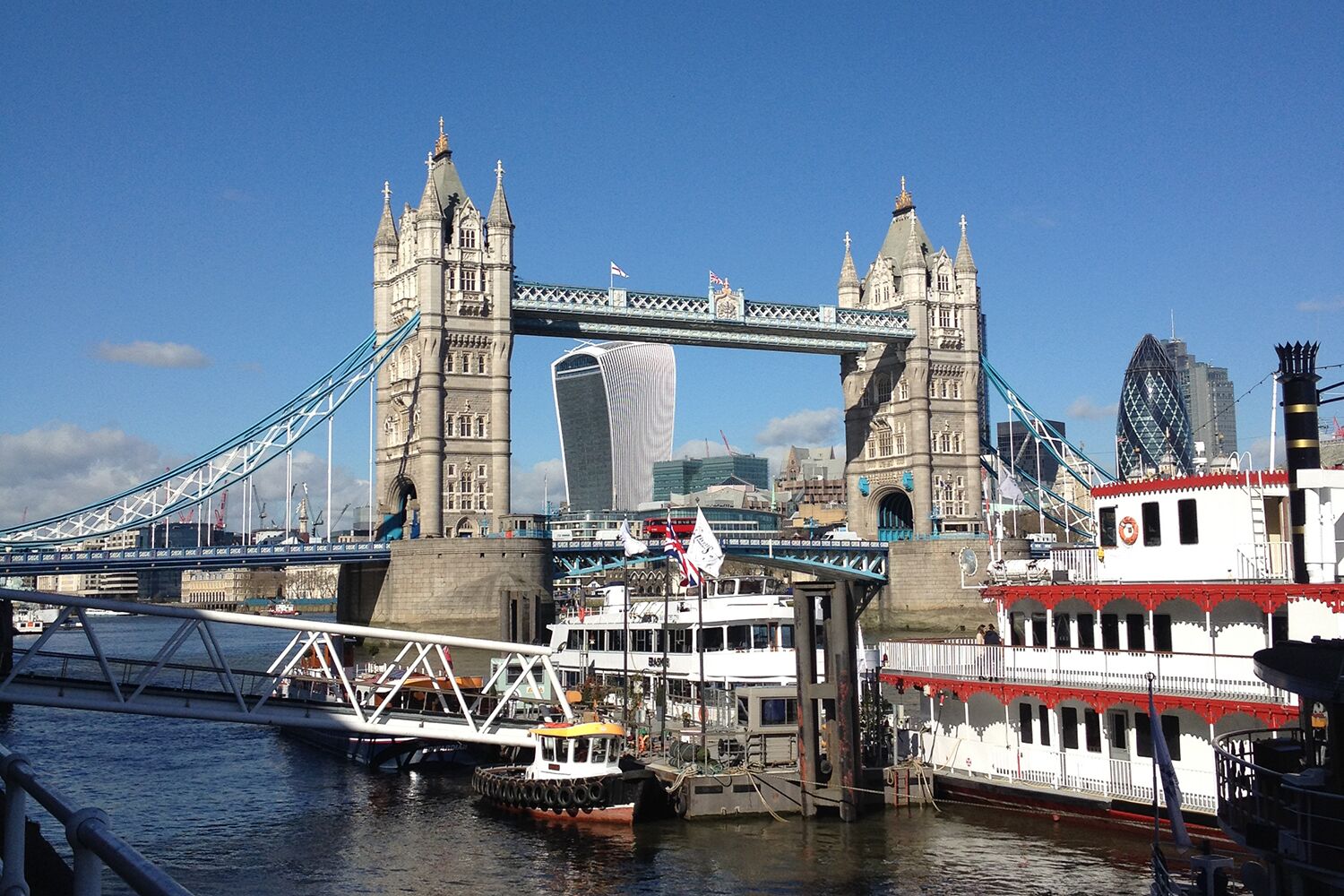 Do you have a favourite walk in London? Please do share in the comments so we and other readers can check it out!
Quieter walk along the other way from Rotherhithe
PS if you want to take a look at this area but would prefer to hang out in a quieter spot rather than walking towards the city, we discovered a lovely large and comfortable pub that's about a five minute walk from Rotherhithe station. Turn left and go directly down Salter Road until you come to the Thameside YHA.
Across the road from there, positioned on a nice patch of land by the water is The Salt Quay, a good place to eat, chat, blog and soak up some atmosphere. We had a good old gossip with Jordan Lea and Rachael at this very place last summer.
Find out more about London's Thames path on TFL's website here.