With so many beautiful sites to visit, days out in Oxfordshire are becoming increasingly popular with all sorts of visitors. Around 41.7 million tourists are estimated to have visited the UK in 2018. Visitors come from far and wide to enjoy the aesthetics of Oxfordshire. Many want to see the architecture in the historic university buildings. After spotting famous landmarks, they'll seek a picturesque picnic spot overlooking the Thames for a relaxing afternoon out.
We've published details on London staycations before. But what about getting just out of the big city? Here are four of the best destinations for enjoying days out in Oxfordshire…
Where to go on days out in Oxfordshire
Blenheim Palace, Woodstock
Built between 1705 and 1722, Blenheim Palace in Woodstock is the only non-royal house in England to be called a 'palace'. Blenheim is an imposing building, certainly worthy of its title. It was designated as a UNESCO World Heritage Site in 1987.
Blenheim is now home to the 12th Duke of Marlborough and his family. It's best known as the birthplace of Winston Churchill. Several tours and exhibitions dedicated to the home life and work of the former Prime Minister are hosted here.
The palace staterooms, gardens, butterfly house and miniature railway provide further fun for all ages. Special events like cycling and supercar exhibitions are also held throughout the year within the estate's 2,000 acres of parkland.
If you're interested in England's stately houses, you might also like to visit the home of Downton Abbey, Highclere Castle. Or, take a peek inside a garden party at Buckingham Palace.
Broughton Castle
Broughton Castle near Banbury is a fortified manor house set within an idyllic parkland location. The core of this impressive building was initially crafted from locally sourced Horton ironstone in 1306 with additions being made in the 1550s.
Inside the castle, you will find fully furnished living quarters in addition to the impressive great hall.
Outside, the colourful castle gardens have been stylistically designed with benches conveniently placed for relaxation.
Located at the junction of three streams and with a surrounding moat, the stunning grounds of Broughton Castle make an ideal spot for a family picnic. Alternatively, take advantage of the on-site tearoom and gift shop.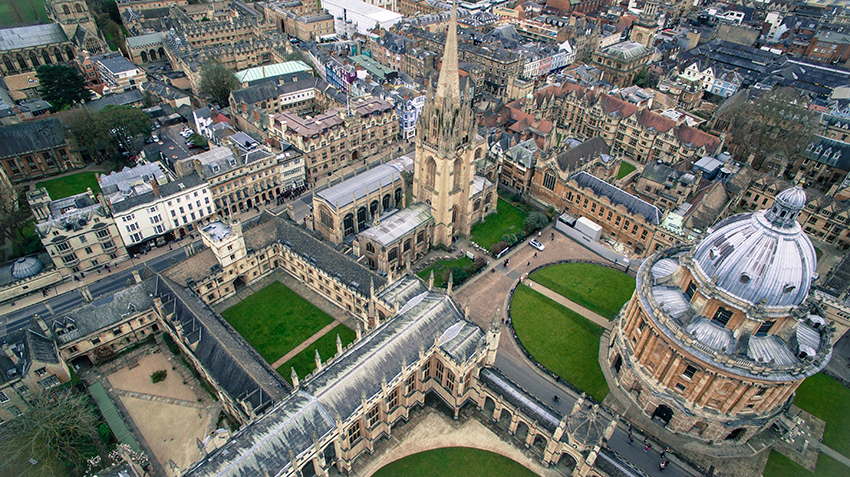 Oxford
A summary of beautiful locations wouldn't be complete without featuring the city of Oxford itself.
Famed for its ornate university buildings, the colleges here provide an architectural feast for the eyes.
Christchurch is arguably the most popular college to visit. This castle-like building comes with its own cathedral and has featured on-screen in films such as Harry Potter.
The striking red brickwork of Lady Margaret College is another draw for visitors, along with the neo-classical style Radcliffe Camera building.
Once you've taken in the grandeur, why not finish your day out in Oxford by punting along the Thames?
Henley-on-Thames
Famed for its annual Royal Regatta, Henley-on-Thames is an otherwise quaint riverside town.
Overlooked by the woodland of the Chiltern Hills, the streets of Henley are home to a number of independent shops including chocolatiers and quirky boutiques.
Head down to the river and view the 18th century stone bridge or enjoy the view over a refreshing drink at The Angel on the Bridge pub.
Questions, suggestions or comments? Let us know below.