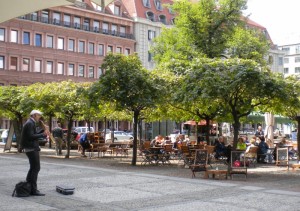 We still have some time throughout Germany to come which is exciting because I have been looking forward to exploring this country, primarily because my mum's family is of German background and I'm always keen to experience a little of my own heritage. During our time here I have had the opportunity to meet and mix with the locals, wander through the streets on a very interesting and informative tour, go clubbing at a great place called Matrix, and play with bunny rabbits!!
We're staying at an amazing hostel/hotel, Plus Berlin, which we would all recommend. It's actually housed in a huge former school building, the rooms are spacious, everything is clean, facilities are first class and they have rabbits playing in the courtyard – divine! It's 'Day 4' of our 26-day ultimate Europe trip, and our group definitely bonded last night over happy-hour 'Berlinopolitan' cocktails in the bar downstairs, followed by our impulse trip across the road to the aforementioned club. To be honest, most of us had a headache this morning, but it was all great fun.
The history is what really strikes a first-time visitor. So many conflicts and upheavals over the past that all contribute to the important back-stories of the buildings and landmarks around the city – it's surprising but pleasing that Berlin has risen again to be as charming and culturally rich as the people wish it to be. I was intrigued to retrace steps through the past by exploring around The Brandenburg Gate, the ground above Hitler's sealed-off underground bunker, old buildings that still haven't been restored since WWII and of course the infamous Berlin Wall that was put up in 1961 to keep people in the 'East' from leaving (finally torn down in 1989). Take a look through the images which reflect this living history – much more informative than the high school text books. Refreshingly clean, welcoming and interesting… a nice place to be, especially given that under normal circumstances we would be living amongst the war zone that lovely London has currently become, but I guess that's a story for another time.