Last week I ended up in Northern Ireland on a Belfast city break.
I was there for work but because this presented a chance to explore somewhere new, Cooper popped up for the weekend from London. Our Aussie mate Deb who is travelling in the area came along too!
Best things to do on a Belfast city break
Here (below) we are in a quaint alley in what's known as the 'cathedral quarter', at the Duke of York pub. This lovely area is recommended for a relaxed stop on your Belfast city break. The lively banter amongst locals on either side of the alley had us all in stitches and got us in a good mood for the rest of our trip…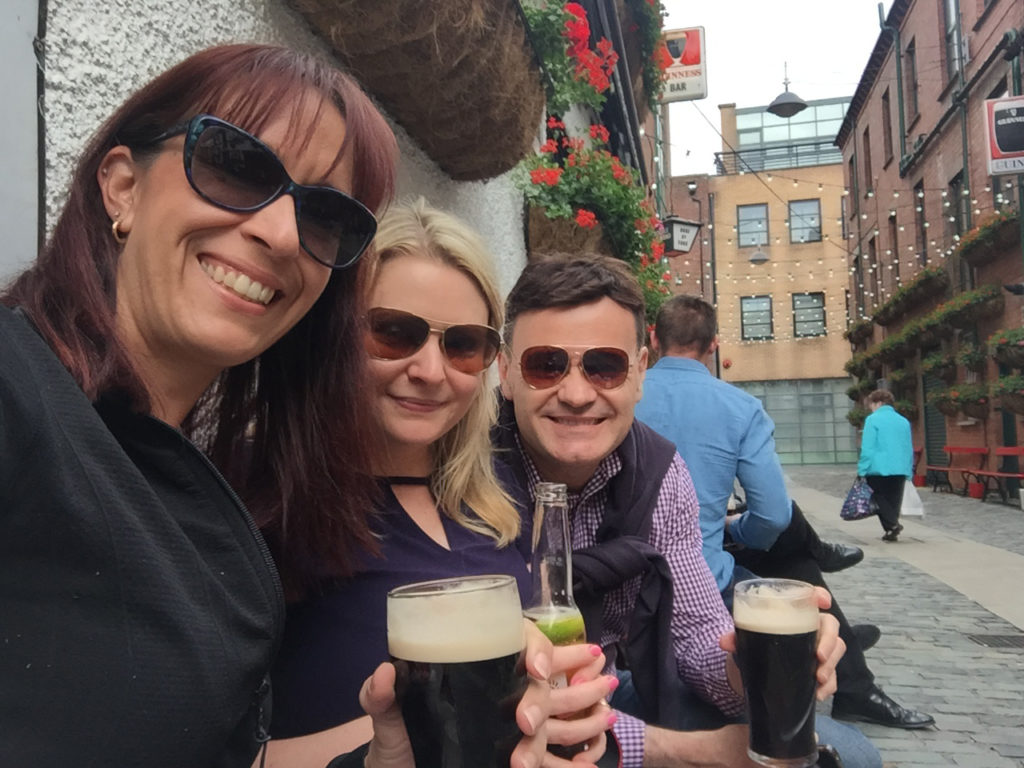 Geography lessons
We were all aware that we should be a bit culturally sensitive in Belfast.
You see, Northern Ireland is not the same country as the Republic of Ireland where Dublin is the capital, contrary to what we might understand growing up very far away in Australia.
These are two separate places.
Northern Ireland was set up in 1921 as part of the United Kingdom (UK), pounds sterling are spent and it has its own parliament at Stormont in Belfast (its impressive headquarters pictured at the top of this page).
The Republic of Ireland (or Ireland) on the other hand, is part of Europe where you need Euros to go shopping.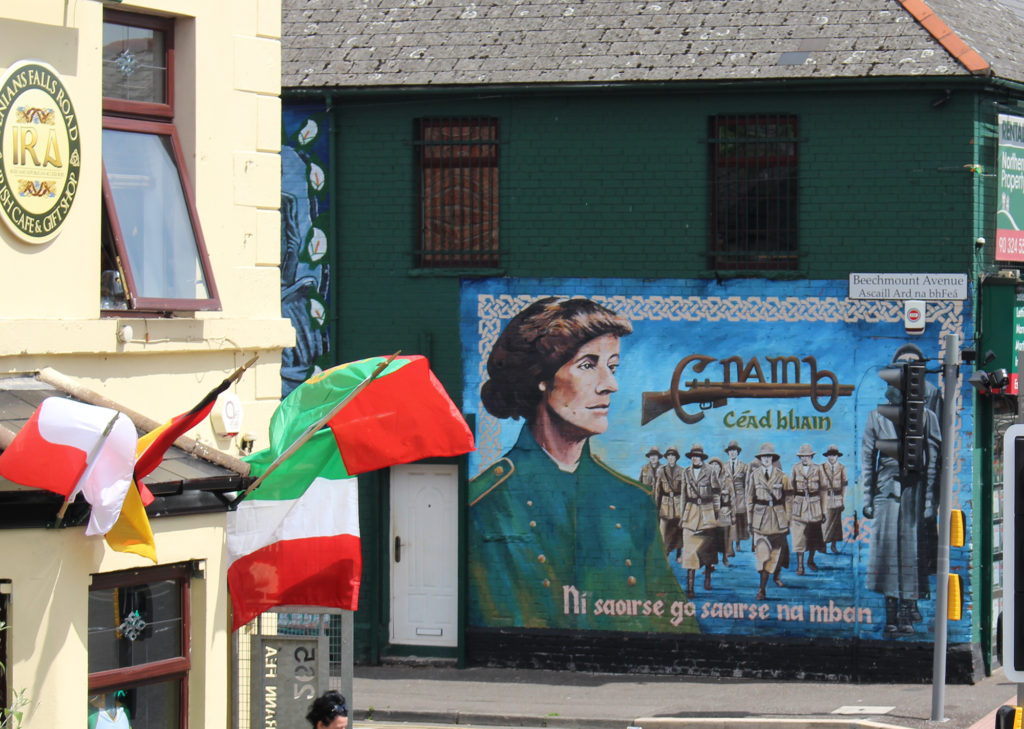 Belfast is renowned for religious and political 'troubles' and the initial development of 'Northern Ireland' was hoped to solve some of the deep-rooted problems held between Catholics and Protestants.
Unfortunately this was not to be, because many Catholics in the north wanted to be united with the Irish Free State in the south and worried about being a minority group compared with the 65 per cent of Protestants making up the region.
2021 update: Belfast the Movie
If you happen across this post well after it's original publishing date, you might appreciate this update. A lovely movie by Kenneth Branagh was released in 2021. Highly recommended if you're interested in Belfast.
~
Over time, divisions between the two sides in Northern Ireland continued to escalate, and by the late 1960s had reached crisis levels including rioting, bombings and a serious threat of civil war.
The streets were brimming with British police and soldiers, as well as a new provisional IRA (Irish Republican Army) intent on using violence to gain a united Ireland.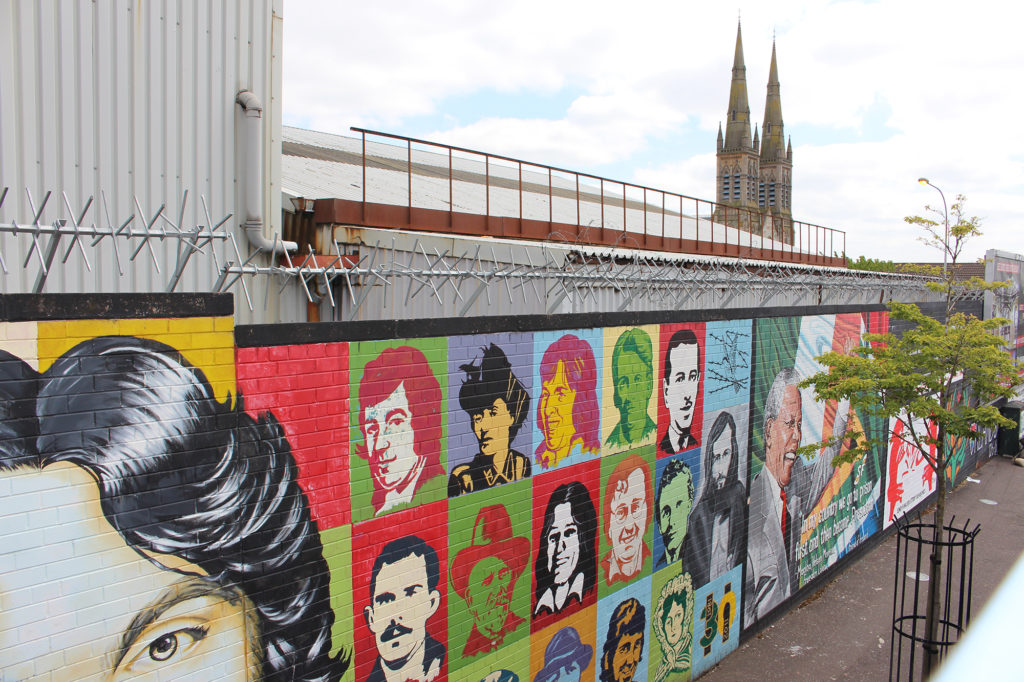 Years of fighting between Catholics and Protestants left over 3,000 dead.
Fast forward to the 1990s – the people of Northern Ireland had had enough and wanted change.
Eventually the main Nationalist (Catholic) and Unionist (Protestant) political parties agreed to share power fairly in the famous Good Friday Agreement of 1998.
Although things were not perfect and it took a long time for the paramilitaries to get rid of their weapons, a new acceptance of peaceful ways has ensued.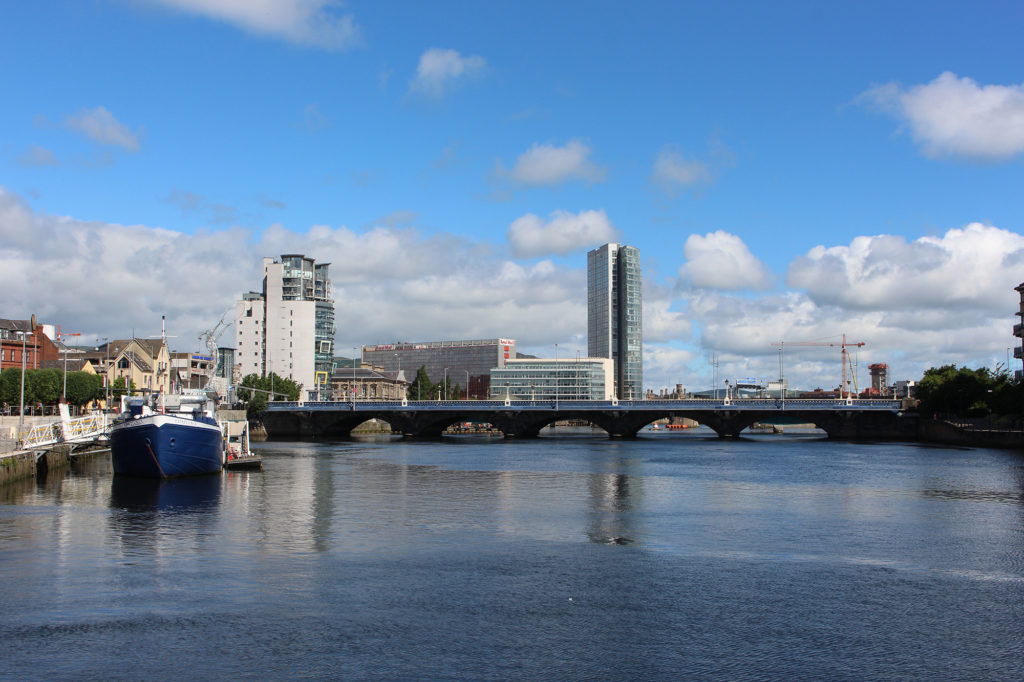 Modern Belfast
As a child of the 1980s, I remember news stories about IRA terrorist bombings and many a shooting or uprising in Belfast.
The city isn't like that now, although its recent tumultuous history makes for a very interesting ride through the suburbs. This includes along the infamous, now mural-lined Falls Road (centre of 'The Troubles'); and alongside the 45-year-old, nearly 8m high 'peace wall' in west Belfast (akin to the Berlin Wall**).
The wall was originally built to separate Catholic and Protestant neighbourhoods and runs through these parts for up to about 5km.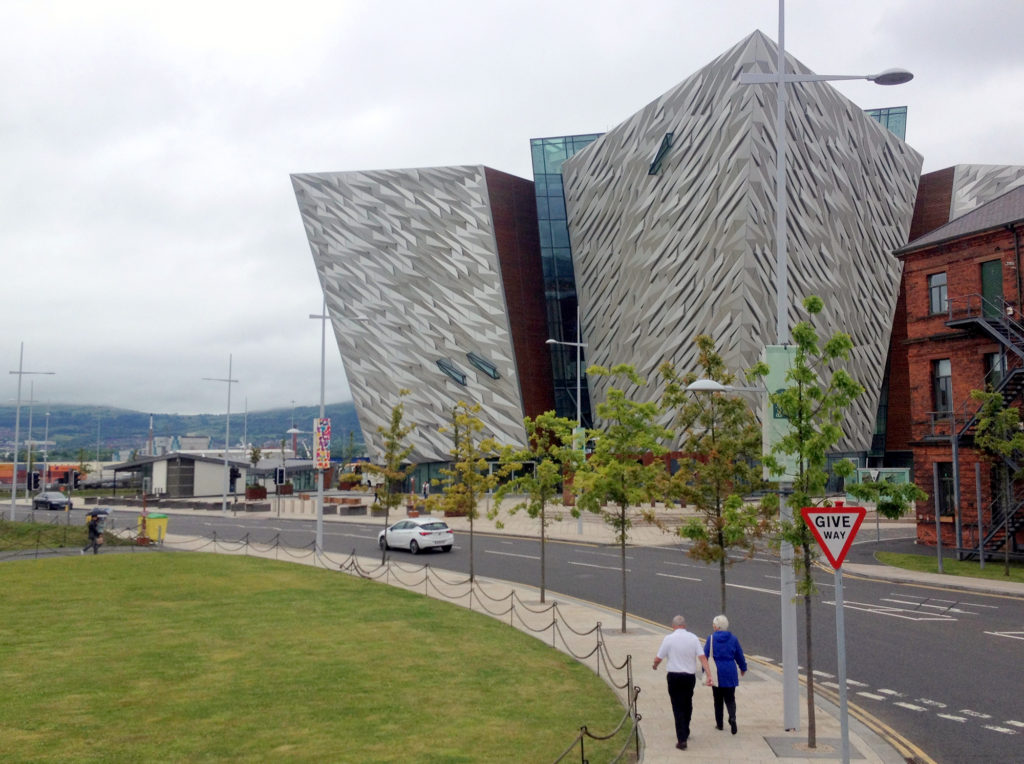 Belfast, best things to do on a short break
We literally only had a weekend for our Belfast city break, to explore properly.
If you're only in town for a short Belfast city break, we highly recommend the City Sightseeing hop-on-hop-off tour.
It is great value for a 48-hour pass and the live commentary was most informative and entertaining.
There's also a more private cab tour that I heard about. Feedback was that the stories told on that tour were also unbiased and interesting.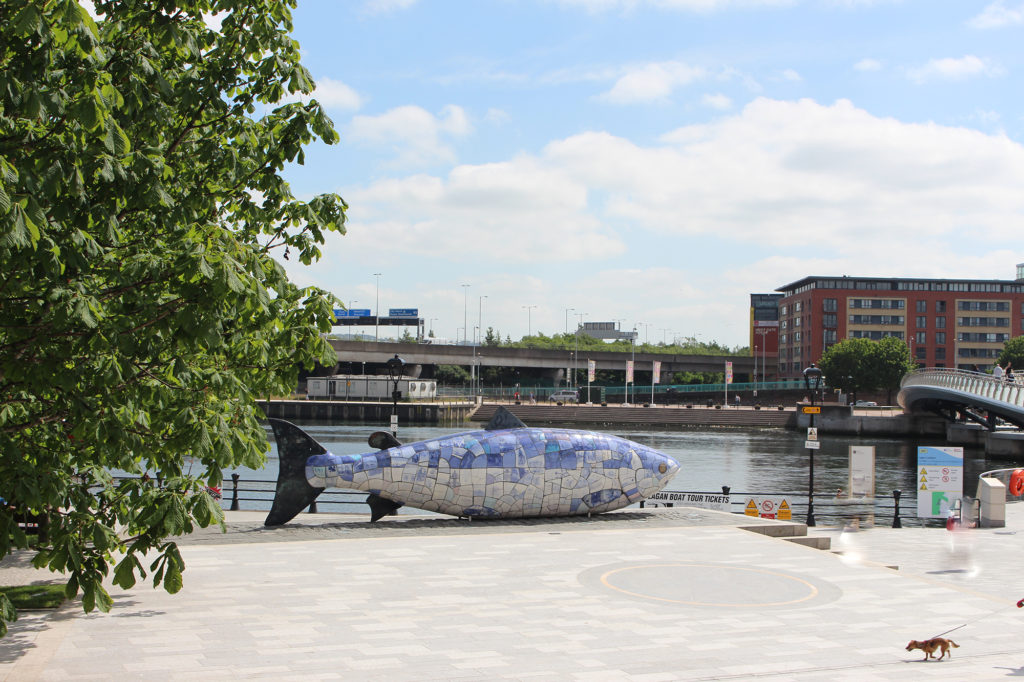 Some parts of Belfast are ten years into a 25-year planned regeneration period. This includes the Titanic Quarter across the Queen's bridge from the city centre.
Belfast's shipyards (founded in the 1860s) are where the legend of the world's most famous ship began. Over in this part of the city you can visit the uniquely designed Titanic Belfast museum (opened in 2012). You can also see the historic Titanic dock and pump-house. You may want to see Titanic Studios too, home of Game of Thrones.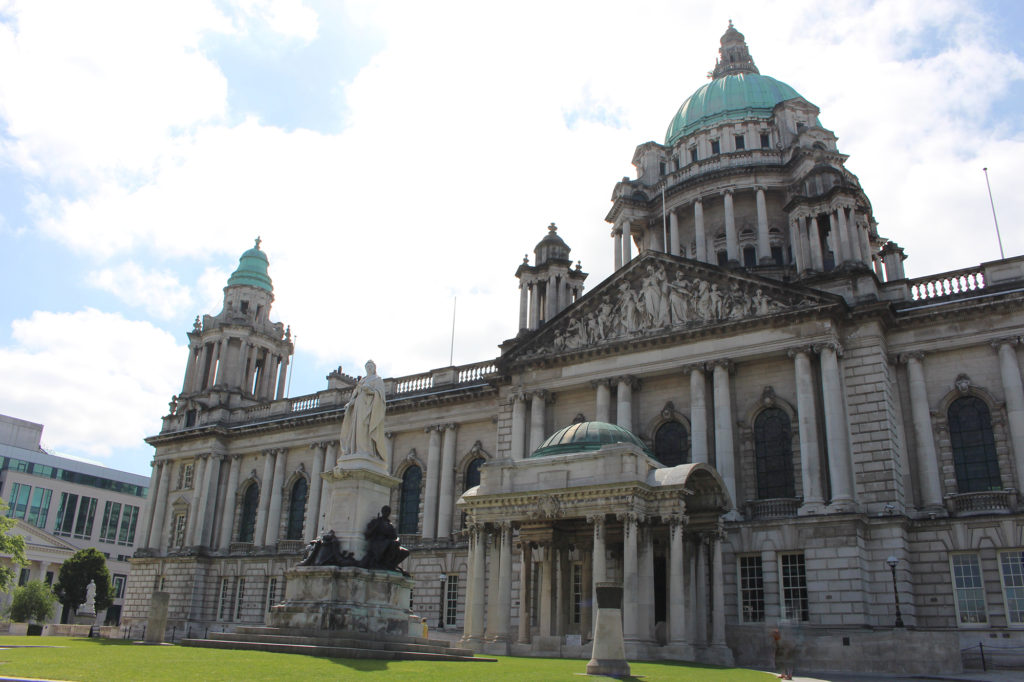 The city centre is where I spent most of my time, and I loved its contrast of contemporary and historical.
The former included a large conference centre and lovely waterfront. Don't miss the salmon of knowledge (pictured above) that you should kiss to improve intelligence (or so the story goes).
On the older side is the beautiful baroque-revival architecture of the city hall (as above). Adding to the city's allure, is Queen's University's front Gothic façade, and charming cathedral quarter including St Anne's Cathedral.
It's easy to navigate the city on foot. There's plenty of nice high street stores to spend your money at as you wander along.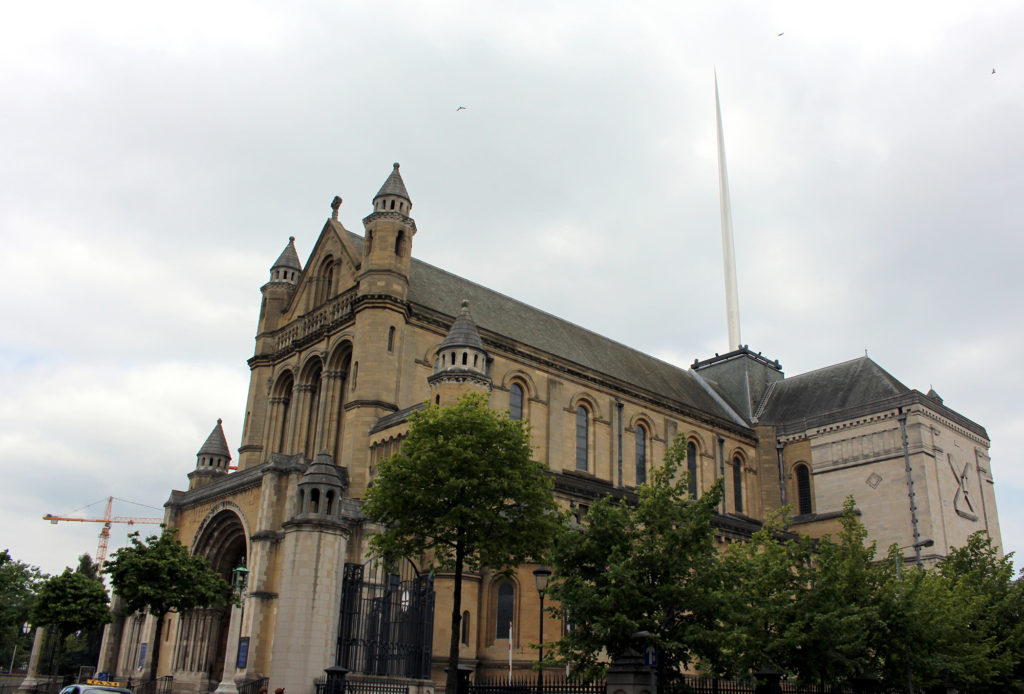 For the fun of it
As you can imagine, there's plenty of fun to be had up here.
Colleagues were kind enough to share tips, including The Perch rooftop bar (highly recommended). The Duke of York pub in the cathedral quarter and St George's Market are also great!
Here's a map and some more information on where to eat and drink in Belfast:
Wish list (next time)
I would absolutely visit Belfast again, because there's loads we didn't get to explore both in the city and beyond.
Easy (day) trips include to the Mountains of Mourne where you'll experience sweeping views out to the sea. The dramatic Giant's Causeway and idyllic Fermanagh lakelands are also highly desirable and easy to access from Belfast.
Further reading
'Why Northern Ireland's 'peace wall' shows no sign of following Berlin's example', November 2014, Huffington Post.