Following a surprise Royal garden party invitation to an event we attended this past week, here's what it's like at a Buckingham Palace garden party…
If you're invited, you'll need to know:
Buckingham Palace garden party need to know
When to arrive at the Queen's garden party
What to bring to a Buckingham Palace garden party
What to wear to the Royal garden party
What to eat for afternoon tea
How to greet the Queen, the royals and make friends
We were so fortunate to get to attend the Queen's Buckingham Palace garden party in May 2019. Thanks for all your kind messages on the blog and on Twitter. It's a special privilege to be invited. We certainly had a lovely afternoon.
We were blessed with probably the best day of the year – sunshine and warm. No jacket or umbrellas required! But there's preparatory work we'd recommend if you find yourself with a ticket to a Royal garden party.
When to arrive at the Queen's garden party
We turned up at the time the ticket said the gates opened. That's fine and we were inside the Buckingham Palace garden party within an hour, in time to see the Queen arrive.
However, getting there a bit early to be at the front of the entry line would have meant more time inside Buckingham Palace without the crowds.
The benefit of going in earlier might also mean getting in first for the food. Additionally, you may have a better chance to stand at the front of the line to see the Royal family when they emerge. I can't guarantee you'll meet them – that seems to be 'pre-arranged' – but a front row seat is always worth a shot.
So, if I had the chance at a Buckingham Palace garden party again, I'd be at the gate well before entry time.
What to bring to a Buckingham Palace garden party
There's strict information on the ticket about what you can and can't bring. It's indicated that you can't bring big cameras. I took this to mean DSLRs.
Phones are perfectly acceptable. Some people had smaller DSLR cameras though, including ones with zoom. Helpful if you want a close-up of the Royals or celebs (in a non-stalkery way, of course).
We have a camera that would have passed muster, but our phones were fine for photos.
In the event of rain at a Royal garden party, I'd advise taking as little as possible. I'm not sure there's much cover except in the food tents which would get very crowded if the weather was bad. Apparently you can take umbrellas if you get unlucky with the English weather.
You're on your feet for a good few hours, so avoid unnecessary jackets and extra items to carry around. It's just easier that way.
What to wear to the Royal garden party (and ladies, tips on shoes)
Everyone is dressed up. A Buckingham Palace garden party is one occasion to plan for and go all out. We did, and I'm pleased we put some thought into it.
Plan for different types of weather – light jacket if it's likely to be cold.
Hats and fascinators are the way to go. I had the chance to borrow a fabulous fascinator which had actually been to a Buckingham Palace garden party previously!
Shoes need special consideration, ladies. You need style and comfort. The grass can be squishy or wet. You're on your feet for a long time too, both standing in the main garden party area and wandering around Buckingham Palace's grounds. I wore mid block heels which were fine for a few hours, but started to cut near the end. I hadn't taken flats for my commute home – definitely would if I had my time over.
Here's a behind the scenes guide at what to wear!
View: behind the scenes – click 'read more' or the arrow top right to look at our photo story:
What to eat for afternoon tea
Everything!
There's plenty of food – sandwiches, sweets, tea, iced coffee.
The lines at the beginning can be long so wait a while until it calms down. You won't miss out. Our invitation read a little like the food starts to run out after about an hour. It certainly didn't appear that way to us.
You can go back for seconds too (just ask Cooper). Don't feel like you need to pile your plate so high you risk spillage. That would be embarrassing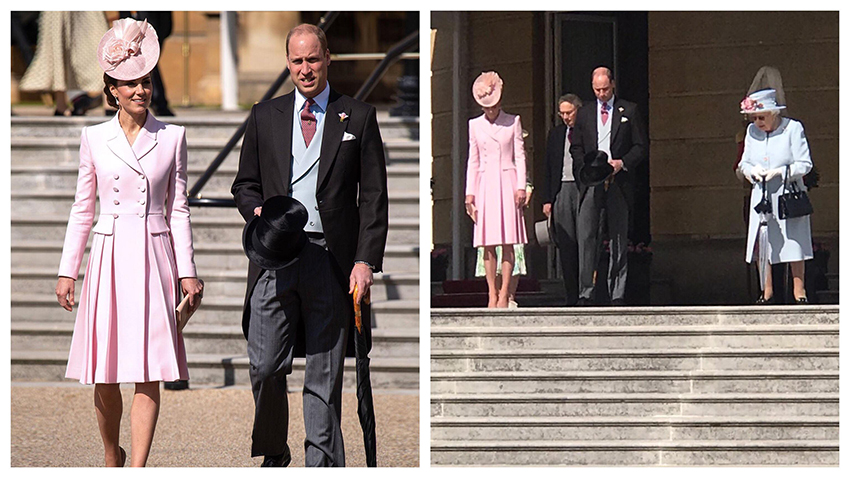 How to greet the Queen, the royals and make friends
Get lucky enough to shake hands with the Queen? Start with  'Your Majesty', and subsequently 'Ma'am'. Royal.uk offers a helpful guide on how to greet other members of the Royal family. Read more here
If you happen to speak to any of the royal family, stay away from personal questions.
We would have had a chat about how the Corgis must have loved playing around the palace grounds!
Of course, there's thousands of others at the Queen's garden party at Buckingham Palace. It's easy to strike up a conversation with another interesting character who has received an invite. Start by asking if you can take a photo for someone, or accept their offer, and go from there. Don't be shy – everyone's in a happy frame of mind so you're likely to make a new friend in the process.
Do you have other tips to share, or questions? Perhaps you have been to a Royal garden party at Buckingham Palace also? Drop us a line in the comments…