CIAF and Cairns Festival are just two of the exciting events on the horizon; in eager anticipation then, here are some of the city's best travel secrets. 
[re-blogged from the 2012 archives: Please note, check the website for this year's details – Cairns Festival and Cairns Indigenous Art Fair]
---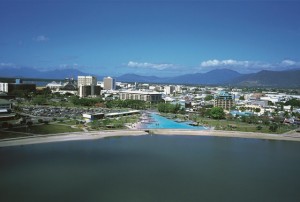 Everyone has heard of Cairns. It's just a little bit famous because of … what was it again? Oh that's right, the Great Barrier Reef! Did you know that between June and September is the best time to visit Cairns? Not only is the weather generally perfect, but this contemporary little city by the sea is a hive of activity and at the height of its annual tourist and festival season.
As you read this story, Cairns Festival will just about be ready to launch, as will the extraordinary Indigenous Art Fair (CIAF) which showcases Queensland Aboriginal and Torres Strait Islander cultures. Cairns Festival is the city's lively annual event celebrating life in the 'Far North'. When I was a little kid growing up in Cairns, the festival used to be called Fun in the Sun – actually, quite an accurate description! Across September, the fun continues because from around September 15 for a couple of weeks you can take part in any number of Peace Week / multicultural festival activities. It's like the party never stops (actually, ask some backpackers in the north and they'll tell you it doesn't in Cairns), because the city centre and Esplanade will be alive with entertainment, markets, art exhibitions, drama, comedy, dance and much more. On September 21 (International Day of Peace), a special welcome will be hosted by Study Cairns for international students in the region (a very popular study tourism destination), and a huge free concert, the RUTHLESS Festival, will take place. In fact, this event will be broadcast live around the globe with simultaneous peace concerts being held in New Zealand, London, Paris, New Orleans, Hiroshima, Jerusalem, Los Angeles, Ireland, Kashmir, and Cairns has been selected as the representative location for Australia!
With cheap flights, school holidays and a little window of 'escape' on offer before the Christmas rush settles in, now would be a terrific time to head north for a long, relaxing, fun weekend away.
What else to do
The city is a playground for those who want adventure, romance, delicious dining options or just a bit of R&R. A brand new phone APP, Taste Paradise, was recently released that offers details on numerous self-guided food and wine trails throughout the region. One such trail takes visitors up to the picturesque Atherton Tablelands where you can explore organic farms, vast swimming and kayaking areas formed of extinct volcanoes, and the interesting Herberton Historic Village, an outdoor museum showcasing Australia's pioneer heritage.
Obviously you will want to experience the Reef while in Cairns. Day-trips abound, just visit the convenient tour offices on the waterfront, or check with your hotel for suitable options. For an unsurpassed experience, consider investing in a chartered helicopter flight with Skysafari.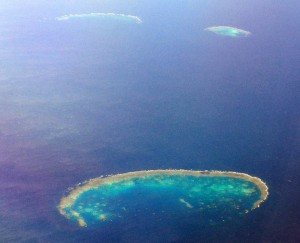 Kuranda is a quaint village in the rainforest, 25-minutes from Cairns, famous for its fabulous markets. You can drive, or take the popular Kuranda Scenic Train – and why not come back down to Cairns via the Skyrail cable-car for views that stretch across Cairns, the Reef and surrounding landscapes. If you're keen for a bit of culture then Cairns offers several options in the form of JUTE Theatre (located in town; where you'll catch quality, locally produced theatre), TANKS Arts Centre (nestled in a rainforest enclave close to the city, often featuring live music and chic clientele), and the world-renowned Tjapukai Aboriginal Cultural Park. For more travel inspiration download another brand new APP, 'Tropical North Queensland'.
EAT
The Pier Bar by the waterfront offers delicious $12 meals, $5 pizzas and a great kids menu all week, drink specials and a vibrant ambiance. If you're seeking something a little more stylish, book a table at the divine Salt House by the marina. Indulge in fine fare then dance the night away as a band and DJ enter the premises after dinner.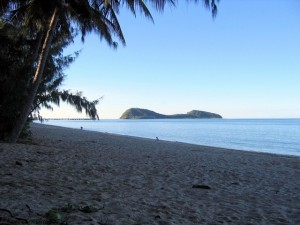 Locals adore the super cute Candy Cafe Bar, 70 Grafton Street, particularly for its quaint decor and interesting variations on breakfast options. If you're on holidays and keen to let your hair down, stop by the sexy Attic Bar on Grafton Street, renowned for delicious $6 cocktails on Friday nights after 9pm. For a low-key but glamorous evening out, you can't go wrong with Bar8 below the Shangri-La Hotel on the waterfront – decadent food options, lovely wine list and views to die for.
SHOP
Cairns Central is a large shopping centre in the middle of town. It's a vibrant space to explore all the usual chains at your leisure. If eclectic is more 'you', take a wander down Grafton Street (between Spence and Aplin Streets) which is popular for its collection of chic boutiques, eateries and left-of-centre shopping experiences. Keep an eye out for markets along the Esplanade – perfect for souvenir hunting; and don't miss the vast night markets located under-cover, 71-75 The Esplanade, 7 days.
STAY
Doubletree by Hilton (formerly Holiday Inn) on Cairns' Esplanade is a family-friendly, economical option boasting a variety of rates, on-site restaurant and convenient, waterfront location – prices start at around $150 per night. You'll love the luxury of Shangri-La by the marina (from $200 per night), with resort pool, surrounded by restaurants and spa options. Rydges Plaza is located amongst the city action, a few blocks back from the Esplanade, priced from $130 per night. This hotel has recently revamped its delicious buffet breakfast options, and often offers competitive rates for couples and families. Cairns is quite aged and disabled-friendly too, and if you need to hire equipment for family members, Phoenix Healthcare will be able to assist.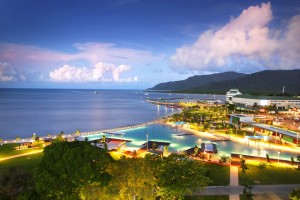 LOCAL SECRET
Escape the city limits to a serene little spot called Trinity Beach, just 20-minutes drive from the centre of Cairns (on the way towards Kewarra Beach, Palm Cove and Port Douglas). Here you will discover all the attributes of other more famous Queensland beaches – soft sand, warm ocean – but without the crowds. In fact, sometimes you will enjoy having the entire beach to yourself. If you get bored or hungry though, pop across the road to the terrific Trinity Beach tavern, or indulge in fine Italian at a favoured local haunt, L'Unico's.
Images courtesy Cairns Festival and Tropical Tourism North Queensland.