The best of boutique hotels: For accommodation that's inspiring and surprising (and a little left-of-centre in all the right ways), check out – or check into – Brisbane's Urban Hotel. Situated at the highest point of the city, this stylish hotel is nestled in a gorgeous little pocket overlooking the CBD and within walking distance to lush parks, cafes, transport and a variety of convenience options.
Take a one-minute tour with me…
The mantra here is to offer guests 'surprises', and on this promise, Hotel Urban certainly delivers. We're not the only ones who think so either, as this hotel recently scored a Trip Advisor Travellers' Choice Award and the Best Superior Hotel (4 to 4.5 Stars) accolade at the Queensland Hotel Awards.
The lobby − aka Moët Rosé Lounge − showcases alluring art, elegant seating and Hollywoodesque decor, as well as designer fragrances which you're free spritz for a post-travel pick-me-up. Rooms are spacious and fitted with contemporary luxuries like Nespresso pod machines, iPod docking stations, flat-screen televisions, quality interiors, and include comfy Slow Down slippers, plush bathrobes,  and the signature Urban Snorer specially crafted underlay, snug duvet and feather pillows. There is a range of rooms on offer, including suites with enormous balconies and sweeping city views, as well as pool-side villas named after Australia's most famous beaches. In fact, the pool-side accommodation is ideal for groups travelling to Brisbane, because the sophisticated outdoor area beyond these rooms features private cabanas, sun-chairs and landscaping that will have you and your entourage channelling the glamorous lives of Footballers' Wives in no time. There's a gym ('jim'), in-room massage available, funny and friendly staff, arty and colourful public spaces ideal for reading or a quiet chat with friends, and even an amazing private rooftop nightclub, meeting and conference rooms for those interested in reserving special-event facilities.
The Gazebo Bar & Restaurant on-site is not only where delicious meals may be devoured, drinks consumed and live entertainment enjoyed on Friday nights, but friends are likely to be made too! It's an informal yet sassy gathering-place that at any given time brings forward a mix of accents and interesting folk. If however, you're alone at the end of the day, Suzanne the cuddle-pole has been thoughtfully positioned so you've got 'someone' to lean on as darkness falls. Or, if you're lucky like me, you might score one of the hotel brand's signature soft-toy monkeys to keep as a memento of a truly lovely, unique, stylish, incredibly cool facility that offers so much more than just a bed for the night. Press play on the video above to see all of this in a one-minute walk-thru.
Hotel Urban, 345 Wickham Terrace, Brisbane │ +61 7 3831 6177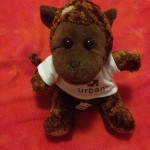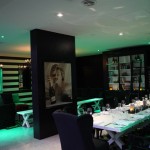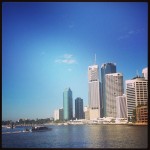 Has a hotel ever exceeded your expectations? Share with us on FACEBOOK or TWITTER x