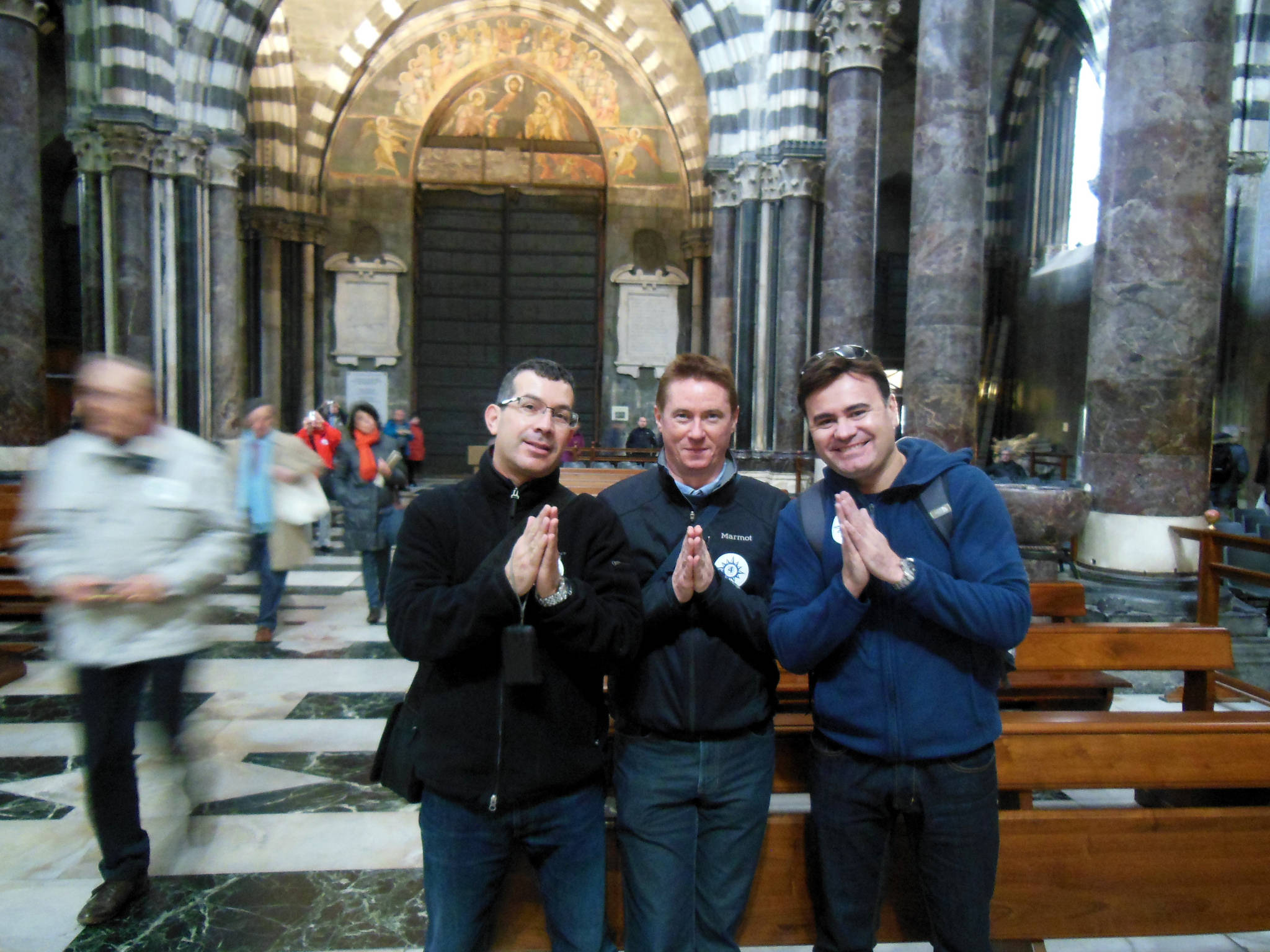 This morning's diary of a Europe cruise virgin begins with a romantic sunrise across the tip of Sicily. I adore the blend of architectural styles, shapes and colours dotted along mountainsides in this part of the world. I was looking forward to the excursion into the region today too. We could view Palermo (capital city of Sicily) from the ship, and it was lovely to take a closer look as we wandered around on foot and via the coach tour we'd later embark on.
Much of the city is 'new' (last 50 years), as a rebuild was necessary following World War II bombings. Rather than spending money to restore the old, at the time of re-design, the majority voted for constructing 'modern', hence the contemporary edge the city showcases via restaurants, shops, apartment blocks and public spaces. The bustling centre of this Mediterranean port city boats the usual cool high streets and luxury shopping typical of this corner of the world. Palermo even features a little 'French' flavour as the plans for some of the central boulevards were inspired by popular Parisian neighbourhoods.
Our 'official' day trip meant a short coach ride up the mountain which we'd also spotted first thing in the morning. The drive was spectacular, marked by steep hairpin turns and dramatic views overlooking Palermo, as we headed towards the grotto of Santa Rosalia, patron Saint of Palermo. According to legend, Rosalia was born to a noble family who wanted to marry her off. She refused to marry someone she didn't love though, and decided it would be better to live alone. A feminist before feminism existed, perhaps? The story is a little sad, for someone we would otherwise look up to for standing her ground. You see, she retired to the hills around this area, and lived as a hermit in a cave on Mount Pellegrino where she died in 1166. Nothing was heard or known of Rosalia for centuries, and her remains were never found during her lifetime.
 [more travel videos on YouTube's TheSarahBlinco channel]
In 1624 the plague reached Palermo's peaceful shores, thanks to a ship that had arrived from where we'd just cruised from, Tunisia. Citizens were dying in droves, and as the story goes, it was during this hardship that Saint Rosalia appeared to a hunter in a dream, lead him to the location of her remains, and insisted that if her bones were carried in a procession through the city, the people would be saved. Being the religious bunch that they were, this went ahead, and it's been recorded that indeed, people were healed and the plague disappeared. Ever since, the people of Palermo have been grateful, and pray to her to help with all manner of issues (including, apparently, wins in football – it is important here, after all).
Whether a believer or not, the story is charming because it's brimming with faith and promise. Visiting the grotto (cave) where her bones were discovered, and a shrine has been built, was a lovely experience. It's always nice to have something and someone to believe in, and I think this quaint little city is certainly lucky to have Rosalia looking over it. On a personal note, the adventure made me think of my sweet Auntie Rosalie – perhaps her parents had been inspired by Rosalia too?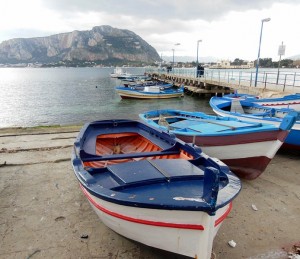 The rest of the afternoon was spent in Mondello, a delightful beach-side fishing village. In the summer this place is pumping with tourists from all over the UK and Europe. Being winter, it was somewhat quieter, but still we could appreciate the attraction. Bright buildings, smiling tradespeople and fisherman, market-wares for sale along the beach-side promenade, and dogs wandering around everywhere; gelato stands, cheap, delicious espresso and red wine sold in nearly every second bar/cafe/restaurant we walked by.
Quaint, charming, and very pretty. I can imagine it would be nice to hang out here with cool holiday-makers in the European summer. You'll have to make friends with the 'right people' though; in these parts, traditionally families own various sections of the beach, and they rent the land out over summer, complete with cute beach huts.
One sweet note – we heard many mentions of 'siestas' in this part of the world (my kinda plan … nanna naps during the day)! Anyway, seems the dogs were in on it too, as we spotted loads of pooches taking a (presumably happy) nap during the afternoon, despite many tourists milling around them. Sadly, many dogs along the Mediterranean wouldn't talk to us though – seems they don't understand English so didn't realise we were trying to get their attention ;-) Spot the sleepy Sicilian dogs in our 2-minute video journey (linked above).
Do you have a cruising story, or a Mediterranean travel tale to share? Let us know, tweet @sarahblinco or find us on Facebook. You can also read the rest of the stories in this series (more to come in coming days) HERE.