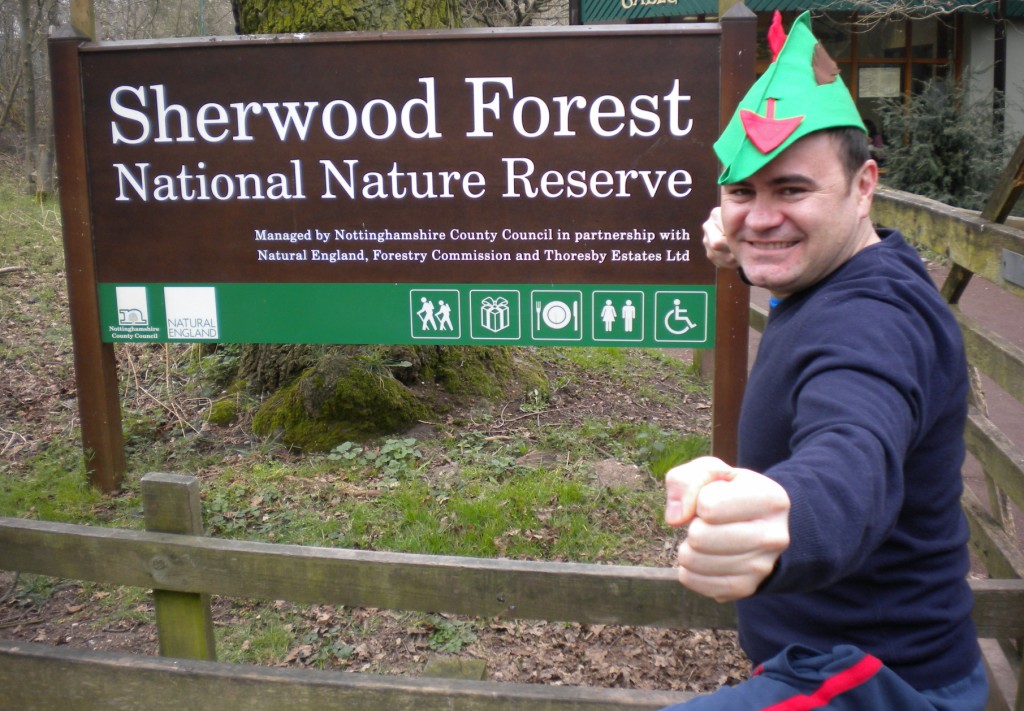 I type this rather wearily as we make our way back towards London from Nottingham on the M11, but am happy to report that yet another long awaited 'to do' has been fulfilled.
Mates Nicole and Iain, along with Cooper and I drove out for a weekend of  swashbuckling adventure on Friday night. Iain had actually gone to University in Nottingham, so offered to be tour guide. Turns out that Nottingham is a city that's easy to get around on foot, and I'd probably liken its size to somewhere like Townsville (Queensland) although the CBD has more contemporary buildings and facilities like Brisbane (Queensland). We scored a cheap deal on a terrific and sizable two-bedroom apartment at Premier Apartments Nottingham which is perfectly situated for a weekend of sight-seeing.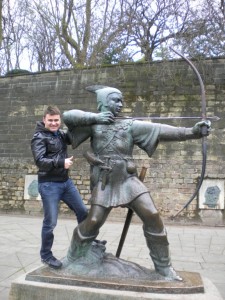 After breakfast on Saturday morning we ventured out through the still quiet main street mall towards Nottingham Castle. There is a cool statue of Robin Hood at the foot of the entrance way, along with some plaques providing historical details, and a couple of old medieval homes and pubs in the same area. The castle itself is beautiful, very romantic architecture surrounded by lovely sweeping gardens, but aside from some old gates, rocks and doorways, the structure there now was actually rebuilt about 200 years ago (following a fire), so there's not much chance Robin stepped foot inside.
The intriguing thing about Nottingham is its underground caves and tunnels. Around the castle and all throughout the city we notice the familiar rock and stone evidence of where people may have disappeared underground, down alleyways, next to old churches and public inns. Looping back into town via Maid Marian Way (love it!), we ventured into the now bustling shopping district, took a look around the area known as The Lace Market (an industry the city was famous for) and enjoyed a coffee at Carluccio's before being directed towards The City of Caves Tour– which is hosted from the top floor of the Broadmarsh Shopping Centre!
The City of Caves Tour takes visitors on a small underground adventure for a taste of how people used to live and work under the city. The labyrinth of tunnels has been used for over 750 years for everything from smuggling illegal cargo, as the only underground tannery in the UK, as a bomb shelter for up to 30,000 people during WW2, as a lovers' hideaway and as accommodation for the very unfortunate.
For those of you who like a spot shopping on your weekends away, there's plenty of options here as you walk your way through two primary shopping malls, a vast 'high street' equivalent of open mall shopping with the usual M&S, Accessorize, New Look, French Connection etc. as well as numerous independent stores and eateries located down charming old side streets and winding alleys. Wear comfortable shoes here though – Nottingham is quite hilly.
All this exploring had made us hungry and thirsty, so by the time Saturday night rolled around it was time to let our hair down and search for the vibrant night life that makes this university town tick.
There's no shortage of brilliant restaurants, pubs, bars, clubs and cafes in Nottingham, so we were lucky to have guidance on some fun options. We'd dined at Jamie Oliver's lovely contemporary Italian restaurant for lunch (I had actually Tweeted about the good service and food and was re-tweeted by a 'London buzz' group which was cool), so decided to start 'old-school' in the evening – Ye Olde Trip to Jerusalem. The oldest pub (inn) in England is located quite close to the castle and is even nestled into some of the caves. If you are early and really lucky, you may score a booth within one of the cave structures in the pub. Unfortunately by the time we arrived 'The Trip' was already brimming with Saturday night revellers. Nonetheless, it is surreal to be drinking in a bar so old, and I was interested to learn that its name derives from way back when soldiers were leaving for the Crusades, this would be their last stop for a rest (otherwise known as a 'trip') before leaving for war.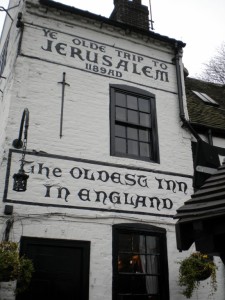 Moving on for dinner, we realised it would have been clever to book somewhere. Our party had expanded to 7, so we chose to pursue a 'buffet' option. An original choice that we happened across looked amazing but being new and popular it was evidently impossible to get in. We then headed towards a cinema and dining precinct called the Corner House
, which offers options like TGI Fridays, Wagamama, Mexican and Chinese. While waiting to dine at the Chinese buffet (which turned out to be quite nice, although lacked options for the vegetarian diners among us) we popped up to the top floor where there was a lovely cocktail bar, Saltwater, with an outdoor terrace lit up by fairy lights and boasting a sparkling view of the city and The Wheel of Nottingham (like London Eye). Very nice – definitely stop here.
Over the next couple of hours we stopped in at The Canal House (funky bar on the water with a small bridge and canal through the middle) and the fabulous Pitcher & Piano club set within an old church. Other spots of interest are also the chic Brass Monkey bar and Nottingham Contemporary art gallery, bar and cafe – all within comfortable walking distance, although if you don't have a guide carry a map with you.
As someone who has always loved the romantic mythology and stories surrounding Robin Hood, his merry men and of course Maid Marian, I was particularly excited to be venturing out to the famous Sherwood Forest, about a half hour's drive from Nottingham. The countryside becomes green, dotted with horses, lambs and beautiful old estate and farming homes. Childlike excitement rises as I see the signs into the heritage area – not only is it historically significant because of folklore but this forest contains some of the oldest trees in the UK. We stopped on the edge of Sherwood Forest where there is a Visitor Information Centre brimming with books, gift souvenirs, a Robin Hood museum + exhibition (complete with Hollywood photo wall featuring Kevin Costner hehe), restaurant/coffee stop and many other points of interest that explain the stories, history and significance of the area. The park itself is alive with visitors as well as locals and their dogs – walking, enjoying family barbecues, exploring and kids playing 'bows and arrows' (when in Rome…).
All in all, a lovely weekend had by all. Nottingham offers contemporary pleasures along with medieval marvels all within a friendly, clean and well-kept city space.