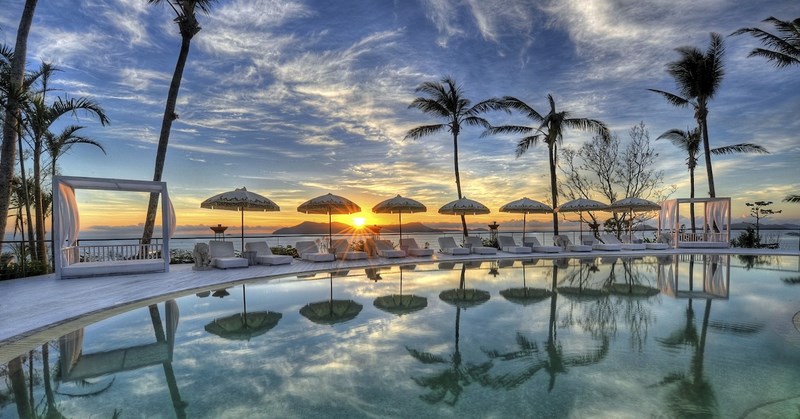 Welcome to The Elandra Mission Beach
Pretty palm trees arched across an elegant driveway signified we had arrived at a special tropical location. As we pulled to a stop outside The Elandra Resort, we tried to overcome feeling frazzled; we had only fifteen minutes to spare before we were due to attend a cocktail party. You see, it had been one of "those days". Instead of enjoying the scenic Friday afternoon drive to Mission Beach, I desperately attempted to tick off unaccounted-for items on my to-do list, computer and mobi Wi-Fi working hard on my lap in the car; Cooper, sitting behind the wheel, grew increasingly impatient with the time-consuming road-works which we'd not factored into our schedule. We jumped out of the car at our final destination however, and caught sight of the breathtaking pool deck (voted "sexiest in Australia" by avid travellers), Dunk and other islands of the Great Barrier Reef through the foyer.
Stunning, and instantly therapeutic.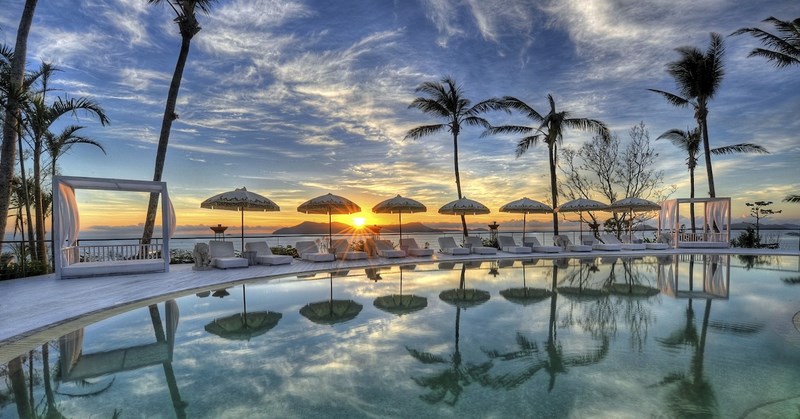 Then, resort manager, Sharon Muir, appeared − a breath of vibrant fresh air. She guessed who we were and welcomed us as if we were life-long friends, buggied us to our villa, handed over the keys and said, "Enjoy our beautiful beach house".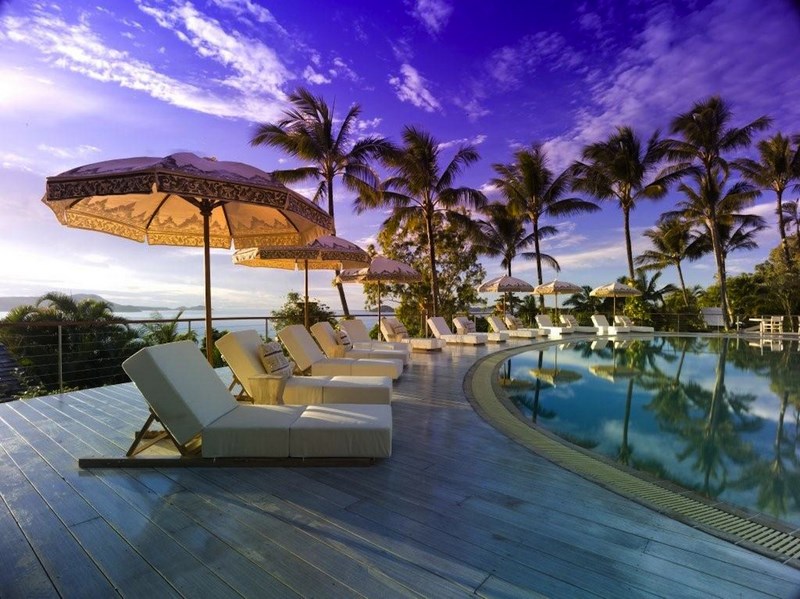 And that's how they roll at this exclusive little piece of paradise, generally only an hour and a half drive from Cairns, and about two and a half from Townsville. The Elandra Resort Mission Beach is up-market, rainforest-meets-the-sea heaven, with a warm side of family-style hospitality. Even owners, Katrina Knowles and Adam Karras' dog, Willis, sauntered over to us on our arrival. He didn't need coaxing for cuddles − fine by us as we're always happy to adopt a dog when away from home.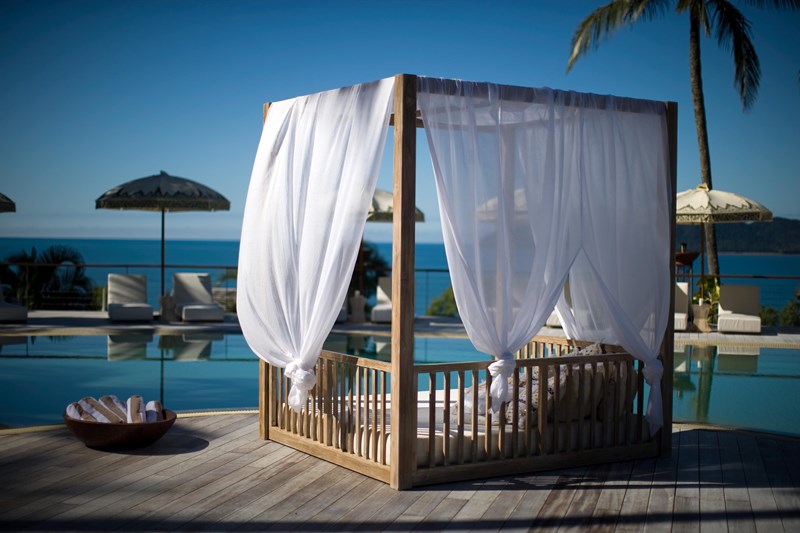 Also fine was room 404, which aside from being oversized, welcoming, plush and comfy, boasts dramatic sea, island and coastal beach views as far as the appreciative eye can gaze. There really is nothing more soothing than spending time by the ocean, and perched above a setting like this is exactly what I needed to recharge my drained batteries.
Crisp, stylish, yet emanating a calm northern Queensland vibe, Elandra − meaning "safari or home by the sea" − isn't your average resort. Core business here revolves around weddings, special events, conferences and corporate incentive escapes. Sharon insists there are to be "no worries" when you turn up to The Elandra for an event, whether you're a guest, bride, groom, CEO or group facilitator. "You tell us what you need, what you do and/or don't want as part of your experience, how many people are coming, and we will design a bespoke itinerary and package to suit your requirements and budget, utilising our own exceptional team as well as hand-chosen, trusted quality service providers from around the region," she explains.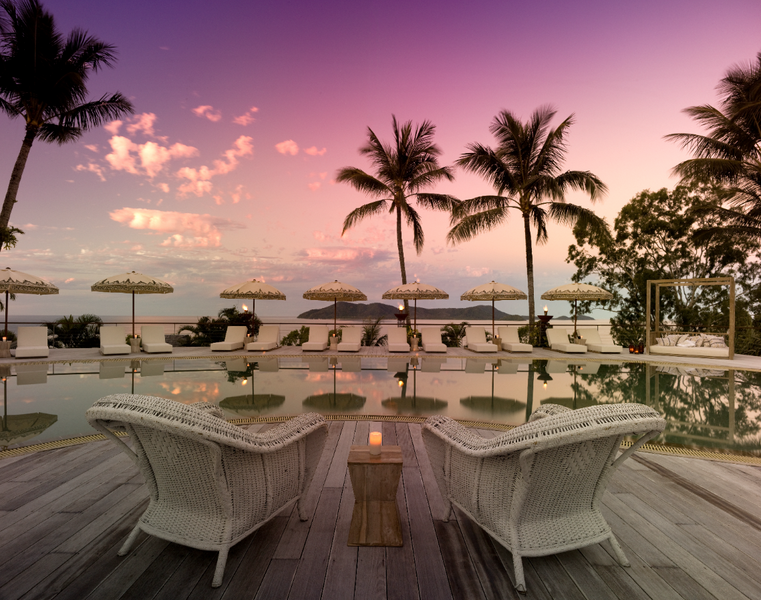 Cooper and I were lucky enough to experience the Elandra events expertise first-hand during the resort's wonderful Tastes of the Tropics weekend, an event designed to "give back" to the local community and supporters who the Elandra team hold dear. "Our community spirit has always been alive and well, but it's really been since Cyclone Yasi in 2011 that everyone treasures local relationships more closely. The eye of the storm came in directly over us. Elandra was actually an evacuation point for South Mission Beach because the areas below us are really low-lying and a damaging king tide was expected. We had hundreds of people bunkered up across the 40 rooms on the property, and provided safe haven for pets − cats, dogs, snakes − you name it! We've got the only helipad in the area too, so a couple of hundred army personnel from Townsville were also based here during the emergency so they could service the hard-hit areas between Cardwell and Innisfail. Because we're not open to the general public anymore, we try to host various local events every year or two, so that our friends from the region can come back to enjoy the Elandra experience," Sharon tells us.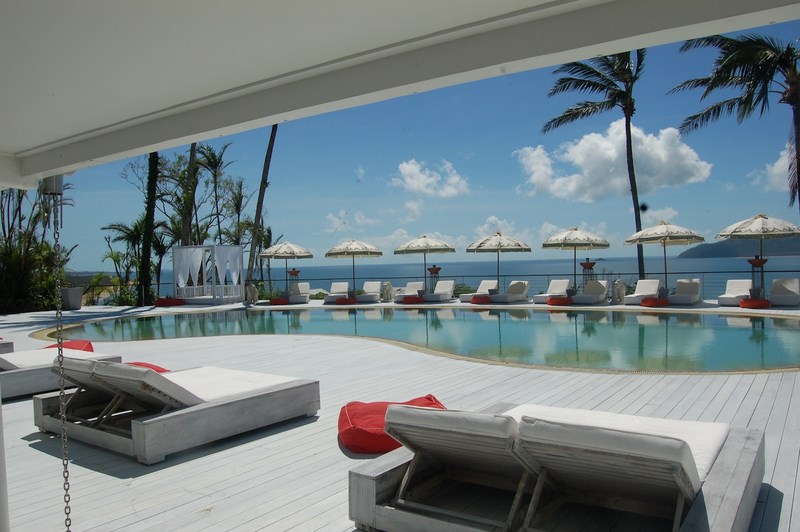 This was no ordinary meal with mates though; Tastes of the Tropics was a gourmet getaway like no other, brimming with indulgence, sampling, demonstrations and degustation. The weekend included a cocktail dinner boasting divine canapés utilising only the freshest local seafood and produce, and a gala dinner, both catered for by none other than acclaimed celebrity chef from Channel Ten's The Living Room, Miguel Maestre. Stuffed mussels, tigres style with brava sauce; lobster sliders, freshly shucked oysters; sesame crusted yellow fin tuna and seaweed salad as well as suckling pig with celeriac remoulade were just a few of Miguel's delicacies featured on the weekend menu. Set to a theme of Spanish guitar and flamenco dancing as a nod to special guests, Miguel and his family's heritage, the entire spectrum of events we were privileged to attend really showcased the experience and pride that the team here injects into anything that happens on their land. I should add also, that when Miguel wasn't in charge of the kitchen, the treats rustled up by The Elandra Mission Beach's chef, Tomasz Kornacki, were just as delicious.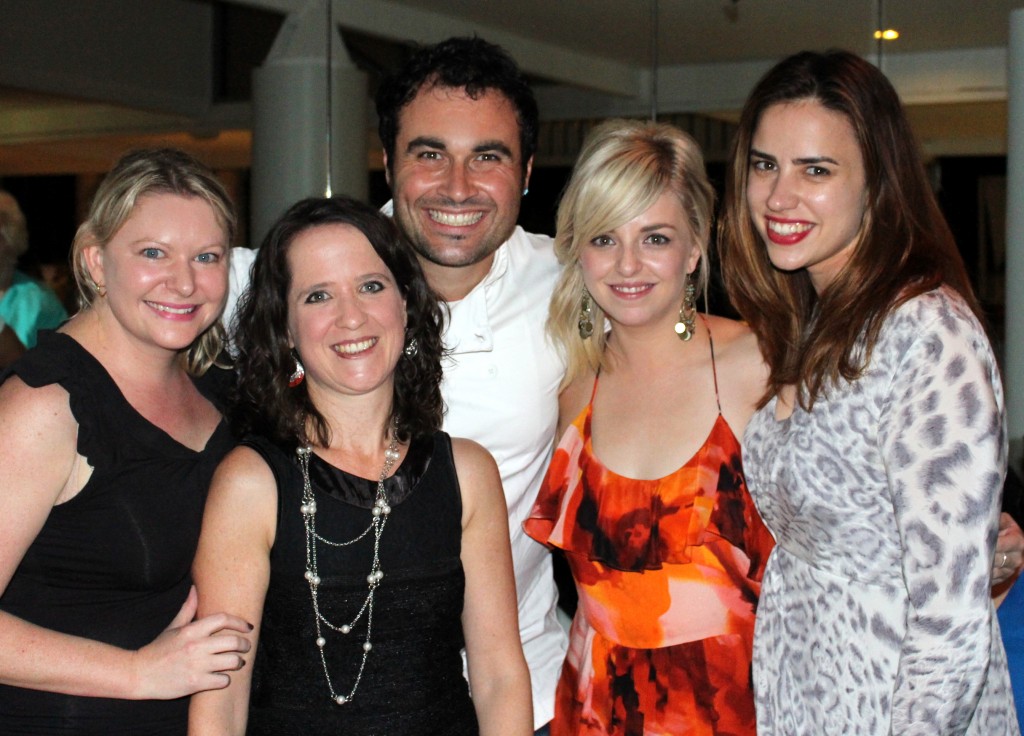 I relished in the energy of this place. It's not hard to fall in love with The Elandra when you're lounging around on an oversized daybed overlooking the Coral Sea, or meandering through the lush gardens, enjoying the overall beauty and serenity that we have on offer in our backyard, Queensland. Whether you're planning to host your own celebrity-studded event, idyllic tropical wedding, extraordinary bucks or hens extravaganza including cocktails, manis, pedis or even a night-time game of laser tag in the rainforest; you want to indulge in secluded island day trips and beach picnics, or you wish to do as we did − eat, drink, sleep, repeat (and make some new friends along the way), consider this spot for your special get-together. Sublime, sexy, easy, exceptional − Elandra (elandraresorts.com).