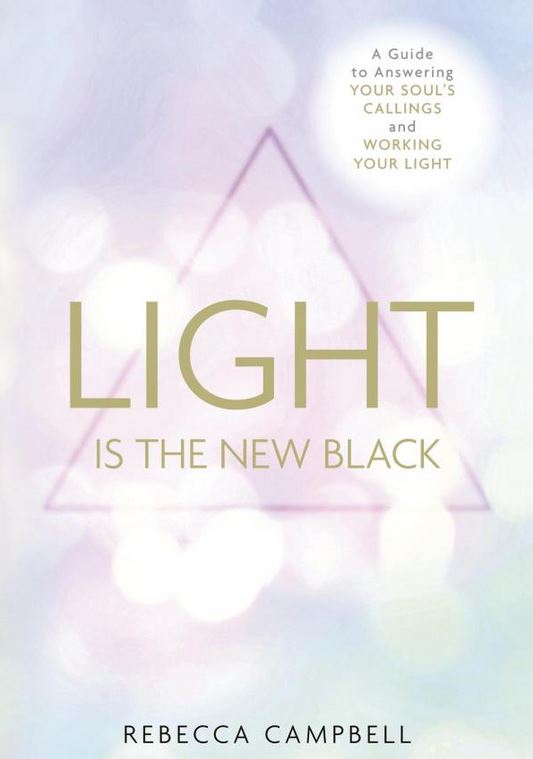 The name 'Rebecca Campbell' has been popping up in my sphere for a good few months, and I became intrigued for two key reasons – first, she seems like a very switched on (forgive the pun) 'light worker'; secondly, she's Aussie (like me, so obviously that gives her immediate cred!).
In all seriousness though, her divine new book, Light is the New Black (Hay House) literally has me hooked. Synchronicity was at play with regards to the timing of my getting my hands on a copy. Every page I opened on any given morning or evening inevitably answered a question I'd asked that same day. The 'coincidences' narrowed even as far as Rebecca talking about one of her mentors, Sonia Choquette, who I read about in this book just a day after an intuitive healer had introduced me to Sonia's work.
I've committed the ultimate sin against crisp new printed pages, and dog-eared about 75 per cent of this book – all reminders of phrases, paragraphs and pages that resonate with me, plus self-development activities I need to go back to complete, and general life-tips pertinent right now (and no doubt, in the imminent future).
Light is the New Black has become my absolute favourite daily go-to guide for inspiration on how to brighten each of life's moments, and how to really make strides towards individually having the courage to share thoughts, insights, stories, and indeed light, with the world. Colleagues at work have bought the book based on my fanatic raving; I purchased the Kindle version too, and a group of friends and I are already signed up for some of Rebecca's remaining 2015 London events (she's on her way to Aus soon too, so take a look at her site for tickets and availability).
I'm a brand new fan, because Rebecca's book has sparked copious ideas scribbled down at late hours on scraps of paper (whatever was closest to hand), plus voice memos upon which I've recorded imaginative and inspired epiphanies. Rebecca's both wise and relatable, and I can tell by the daily interactions on her Facebook spaces, that by baring her own soul, Rebecca has truly moved others who feel they can do more to enlighten the world.
Light is the New Black is a well-written yet accessible guide on how to get started answering your soul's callings. Rebecca includes engaging stories and heartfelt anecdotes, and her words of wisdom are crafted in a truly helpful, actionable way.
In a nutshell, this book is beautifully written, makes loads of sense, is soul-stirring and surprising.
If you're looking for something to motivate you to take a step – whether large or small – towards a bigger, light-filled life for you, your loved ones and the world at large, then start right here.
About the book:
Light Is the New Black is a guidebook for a new breed of women who are here to be bright lights in the world – modern-day lightworkers, who agreed to be here at this time in history. In order to thrive in this new age, everything we do must be an authentic expression of who we truly are. Light Is the New Black will guide you back home to the callings of your soul, so you can light up the world with your presence. –Amazon description, find it here.
More at rebeccacampbell.me and Hayhouse.