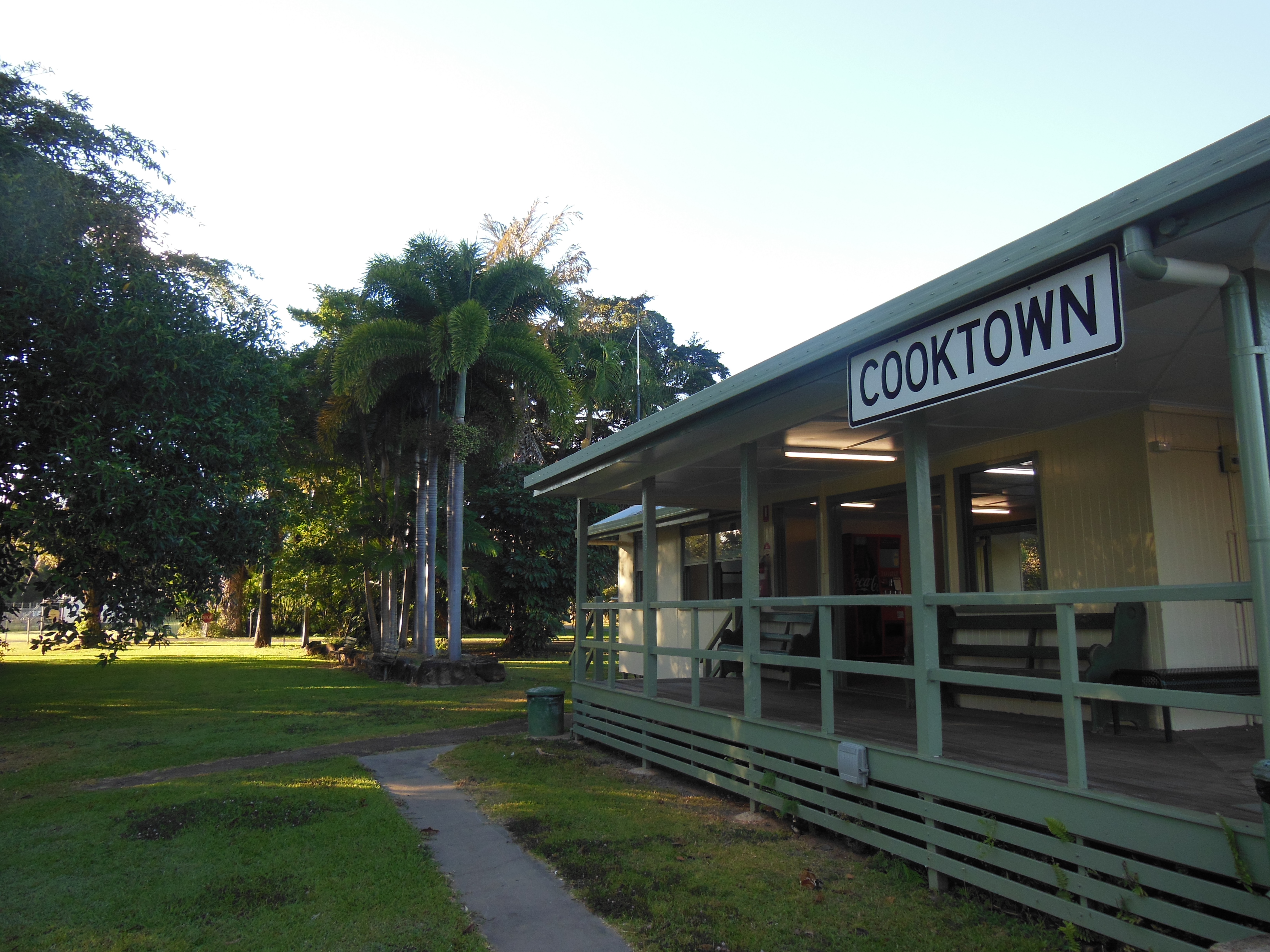 Cooktown is one of those unique places in the world brimming with truly colourful characters from all walks of life. A quintessentially Aussie town of 2000 people and a destination of unspoilt beauty; here you may discover the very best of Australia's coast, rainforest, bush, savannah and desert landscapes, which remain largely unchanged since the days when Captain Cook and his crew from England first spotted land.
From country folk donning Akubras, and the Indigenous locals proudly showing visitors around their traditional lands, to those who have migrated far north for a break from high-powered city lives, and bar staff with their thick Scottish accents − everyone's got a story and they're happy to tell it (or listen to yours). It's difficult to resist conjuring romantic notions of living in a place like this, A Country Practice style (Aussie TV throwback reference!), as Cooper and I do consider little towns like Cooktown with much affection.
WHERE TO STAY – TRAVEL IN COOKTOWN
It's actually mind boggling to discover that a little town in the far northern reaches of Australia might offer such delightful facilities, and the Sovereign Resort Hotel far surpassed our expectations. I mean, it looks lovely on the website − and honestly, it's just as nice, if not nicer! There's a shuttle service to and from the airport, the prices are great, inexpensive car hire available on-site, accommodation options are available depending on your needs, staff (particularly Sally) are absolutely lovely, rooms clean and spacious, restaurant divine, pool is perfect and you couldn't ask for a more convenient (or pretty) location in the centre of town. Highly recommended, would stay here again without hesitation. Book online: Sovereign Resort Hotel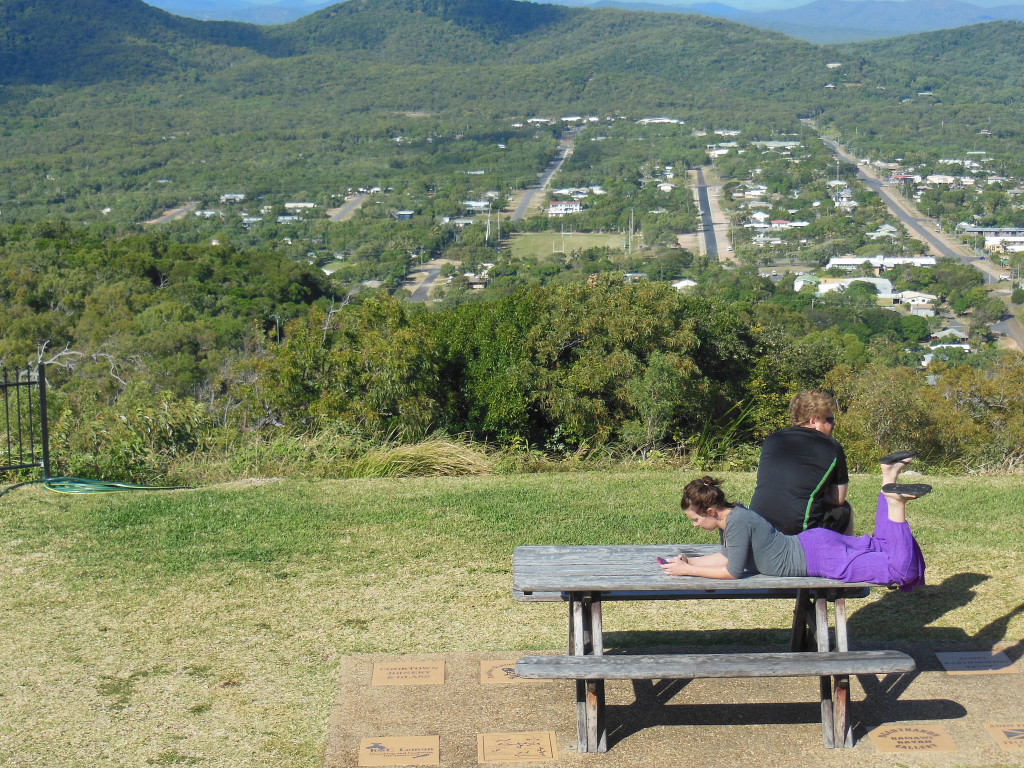 While it's the traditional town-Down Under experience you'll enjoy in Cooktown, what may surprise you is the interesting history that seeps into every street corner, along the waterfront, trailing up and down mountainsides, throughout pubs, the post office and port. Cooktown has endured its ups and downs in terms of boom-times, but will forever maintain a critical position in Australia's story.
In 1770, as the traditional owners of the land, the Guugu Yimidhirr people, watched on with trepidation, Lieutenant James Cook and his crew ran their ship, Endeavour, aground. They had discovered Botany Bay in New South Wales (April 1770), and Seventeen Seventy in Queensland (May 1770) but on the way up towards Australia's tip, the Great Barrier Reef seriously damaged the hull of the ship, and they had to stop here for 48 days (the longest onshore stay of this particular voyage of discovery). Cook named only one river in Australia, that being the Endeavour here in Cooktown, after the vessel his crew were able to save in these parts. Of course, he returned home to England and Australia would later be officially founded by Captain Arthur Phillip in 1788, but Cooktown was already firmly plotted on early maps of Australia by then.
The settlement gradually flourished and just under 100 years on, Cooktown was in fact the second most thriving town in Queensland with one of the busiest ports, all due to the Palmer River Gold Rush (1873). Stores, pubs, banks, gambling and even opium dens were flourishing in town, while 15,000 miners (10,000 being Chinese) prospected for gold along the banks of the Endeavour. Several buildings, many treasured artefacts, and most likely a few ghosts, remain here from that colourful period.
The Gold 'rush' was just that, a fleeting period in time which would indeed come to an end, leaving the future of Cooktown hanging delicately by a thread. I recently discovered a Sydney Morning Herald article from 1 November 1941 where the journalist, Hugh Henry, described the then "Ghost town of the North":
"… A ramshackle wharf now seldom visited by large steamers; a dilapidated township with fine public buildings fast falling into decay, while hotels alone continue to do a thriving business; and a signal-station hill commanding one of the loveliest river views in Australia a wide estuary of sapphire gleaming under a sky of kingfisher blue. That is Cooktown today. Australia is a young country and it is natural to think of its history as one of uninterrupted progress. But no traveller can go far in Australia without being impressed by the number of towns with a record of past prosperity, and a present so deteriorated that it is difficult to establish any connection between them as they have been and as they are. Among Australia's ghost towns Cooktown, on the far north coast of Queensland, occupies a prominent position. Tile residents of Cooktown reject any suggestion that their native place is dead, but in the next breath they are eager to discuss ways and means of resurrection."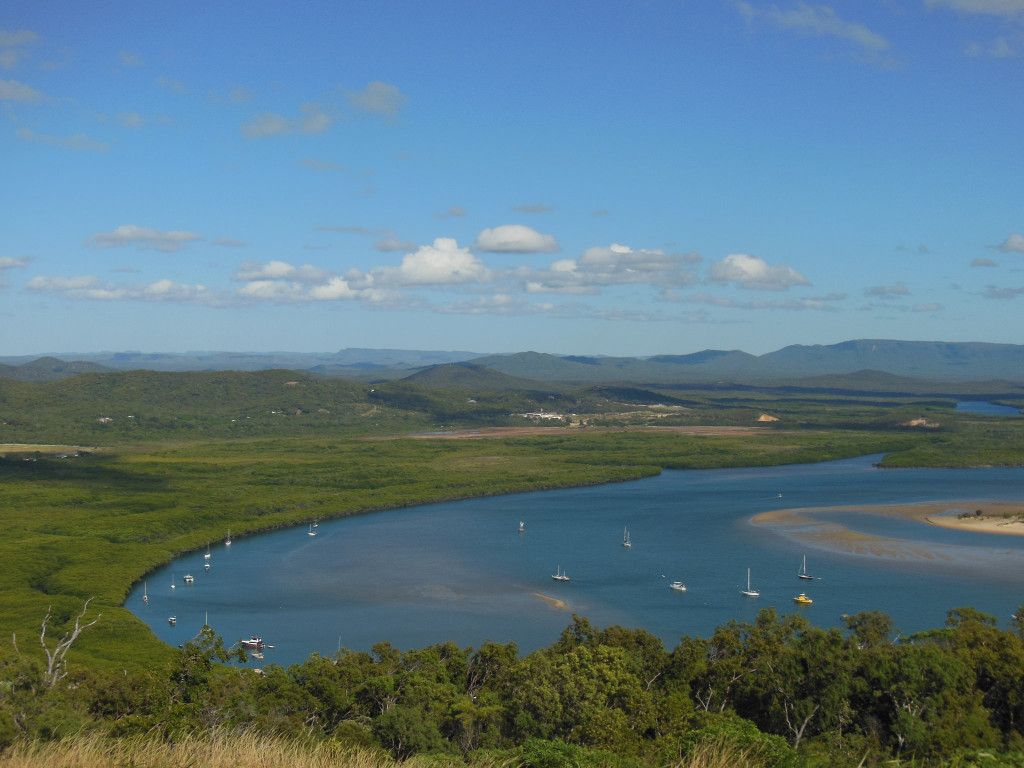 While Cooktown isn't home to as many as its hey-day of the late 1800s, it does boast a friendly population of interesting people from all over the world, and indeed is a delightful place to visit. There's a grand old building resembling an American plantation home on the main strip that's for lease − I'm in love with it! Various glorious old structures are located around town, and make for a refreshing change to the mundane contemporary constructions that saturate most contemporary Australian locations. Equally beautiful is what Mother Nature has blessed this part of the world with − sublime coastline, divine hill-top views and inspiring landscapes as far as the eye can see.
I could literally go on and on about how many travel and recreational options there are on offer here, and as we've mentioned in our video coverage of the town, we've only just scratched the surface. It's certainly a little place with not only a big heart, but history and adventure to boot. However, in pursuit of learning, combined with travel, here's a few things we'd suggest you keep an eye out for:
GETTING TO COOKTOWN
Honestly, one of the top reasons to travel in Cooktown and around top end in the first place is for the opportunity to fly with Hinterland Aviation. The team (both in Cairns and Cooktown) are friendly, professional and fun. There's free WiFi in the Cairns terminal, plenty of flight options per week to choose from, and while you can drive to Cooktown in around three hours, this service is convenient, easy and value for money. The scenery between Cairns and Cooktown is awe-inspiring, and seeing it from this vantage point − through the sizeable windows of a comfortable charter plane − is really a once-in-a-lifetime experience, and should be on everyone's bucket-list. More at: Hinterland Aviation
Just 45 minutes, scenic flight − it's flexible, convenient, great value and private − save time, energy and enjoy the landscape in a way that showcases its ultimate beauty− from above!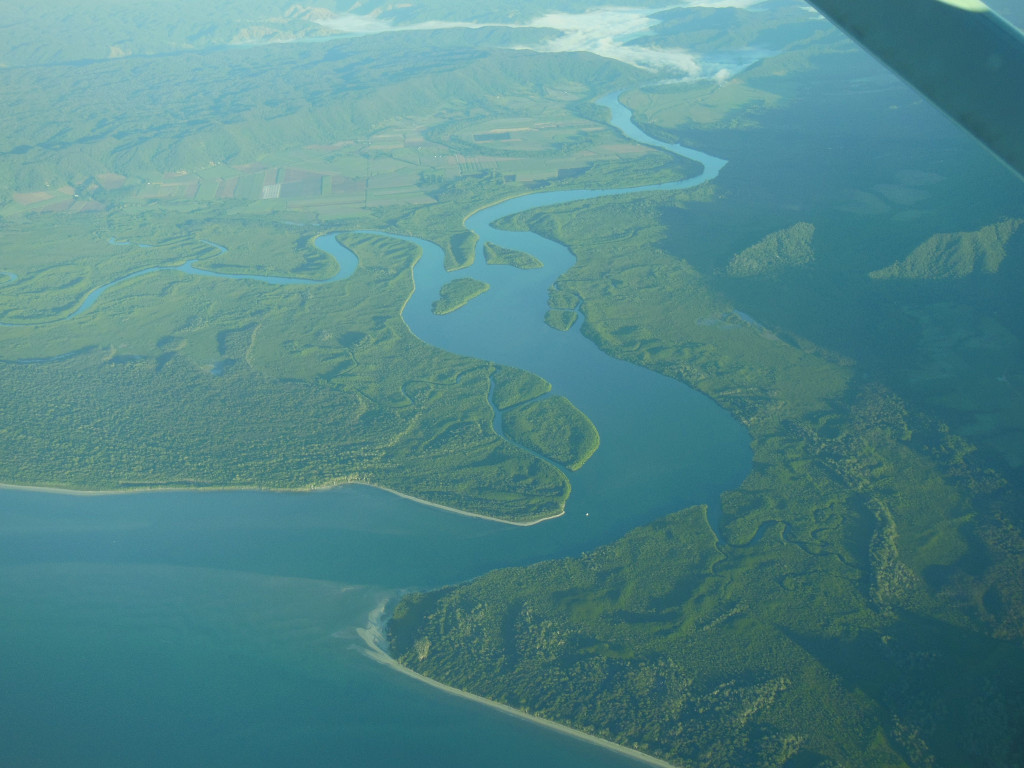 James Cook Museum
Being one of Australia's most historical townships you'll find many displays and places to visit to learn about Cooktown's past. Some of the town's old colonial buildings can still be seen today and walking down Charlotte Street you'll note great examples including the old bank building built in 1891 for the Queensland National Bank, the Post Office (1887), The Daintree Divisional Board Council Hall, now the RSL (1885), Jackey Jackey Store Building, now a café (1886), The Sovereign Hotel, now The Sovereign Resort (1874), and Seagren's Store, now Seagren's Inn (1880). Additionally you'll not want to miss the beautifully restored convent building and a former boarding school for girls, now home to the James Cook Museum on Helen Street. Built in 1889, it features displays of an anchor and cannon from the ship Endeavour, some of Captain Cook's diary extracts, and fascinating stories about life in early Cooktown. Entry is $10 (adults).
If you enjoy this museum and its historical offerings, you may also be interested to take a look at The History Centre on Charlotte Street (opposite The Sovereign Resort Hotel) which currently houses the Cooktown and District Historical Society, award-winning interpretive historical displays, and family research facility. Entry is $5 (adults).
Love old photos? Here are some fascinating images from old Cooktown.
Grassy Hill
The lookout on Grassy Hill with its 360 degree views of Cooktown, coastline, inlet and the sprawling hills in the distance is one of the area's most popular attractions. The landscape seen today from the top of the hill has changed little since Cook and the crew of the Endeavour climbed Grassy Hill in 1770 to view the surrounding reefs. To most of us, Queensland's Great Barrier Reef is famous, attracting tourists from all over the world. But to Cook and his crew it would have presented a real danger. From this vantage point, Cook would have been able to plot a safe course through the dangerous reefs to get the crew safely on their way back towards home.
The Cook Monument
Cooktown is rich in history and the Cook Monument commemorates Lieutenant James Cook's landing on 17 June 1770. It was on this location the local Aborigines would have watched with caution and curiosity as the crew beached his ship the Endeavour, tethering it to a tree after its wooden hull was damaged on the reef south of Cooktown. It's been told that because white people had never been seen before, the Aborigines thought Cook's crew were ghosts! Interesting note: It was during this time that botanist, Joseph Banks, wrote the first European description of a kangaroo. How unique Australia must have seemed!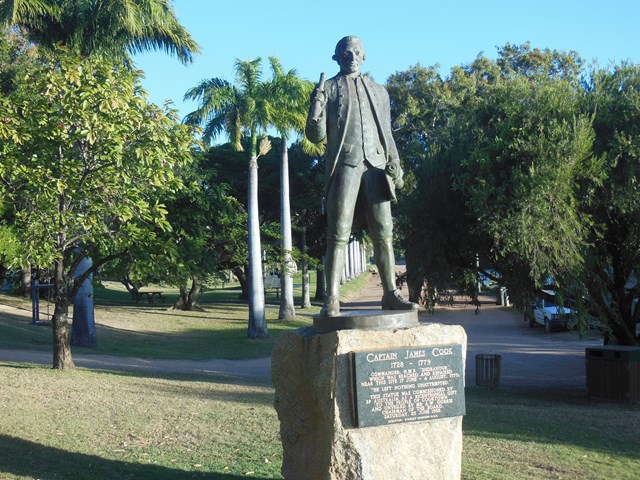 Cooktown Lighthouse
Cooktown Lighthouse on Grassy Hill was built in England and shipped to Cooktown, in 1885 to guide ships through the reef. Back then, Cook would have been very impressed by this technology!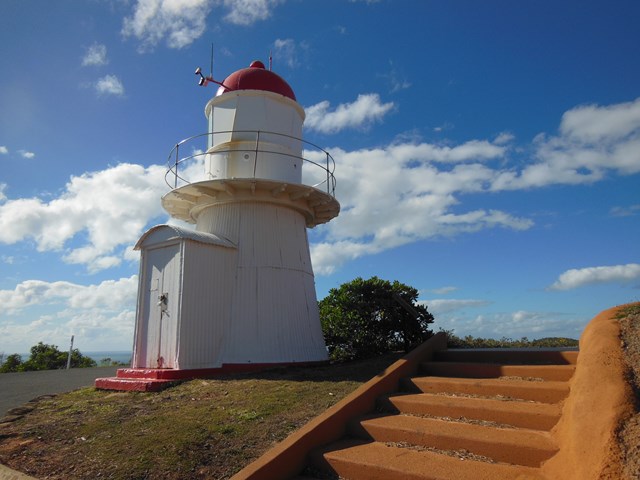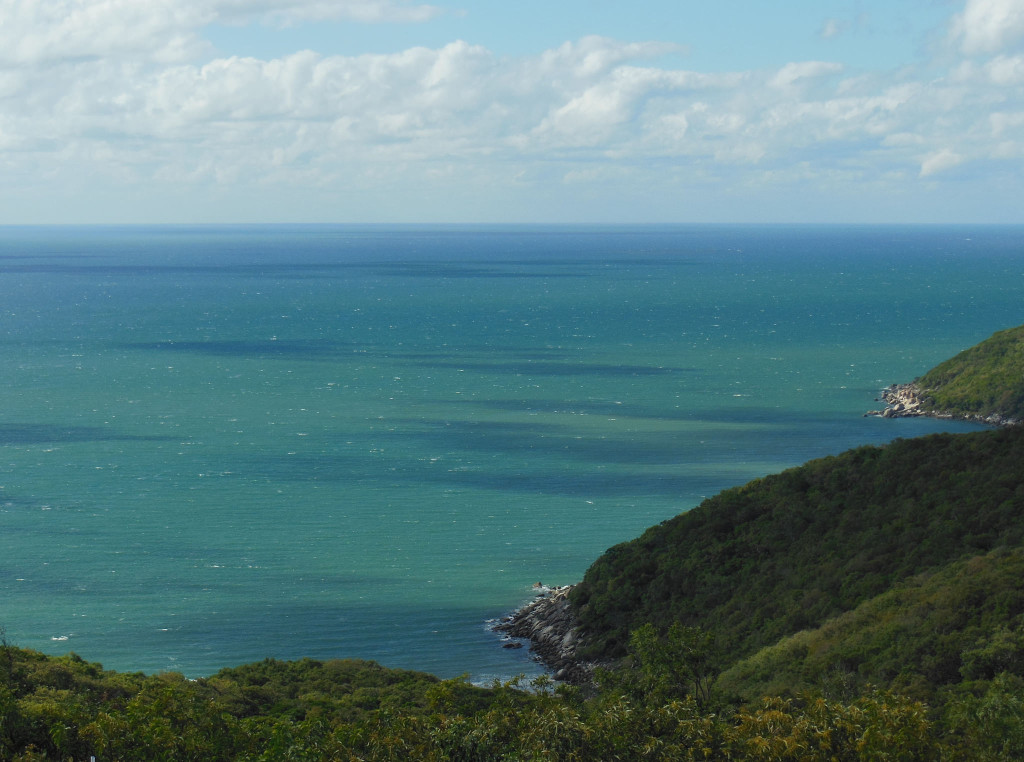 Nature's Powerhouse + Botanical Gardens
A two-minute drive from the town centre is the indoor Nature's Powerhouse and historic Botanical Gardens. The Nature's Powerhouse contains a stunning collection of works by local artists with a very strong emphasis on plants. The Botanical Gardens have a long history and were first established in 1878, only five years after Cooktown was established, and feature many of the plants used by the local Aboriginal people in their daily lives then and now. Many of the plant species were completely new to botanist Joseph Banks, who accompanied James Cook on The Endeavour and returned home to England with exciting clippings to study.
The Queen's Steps
The Queen's Steps were made for HM Queen Elizabeth II for her visit to Cooktown in 1970 to open the James Cook Museum, part of a yearlong celebration marking 200 years since Captain James Cook's remarkable voyage of discovery.
The Cemetery and Chinese Shrine
The Cooktown Cemetery and Chinese Shrine is just outside the centre of town, and offers insight into how tough life would have been for the early pioneers. The styles of graves indicate religious groupings but surprisingly there is a virtual absence of Chinese and Aboriginal graves, despite burials of both peoples being recorded. Many of the events and individuals that contributed to Cooktown's development are remembered however; and keep an eye out for notable old graves, like that of the oldest identifiable burial place, of Rev Francis Tripp who died on the 20 May 1874 at the age of 46.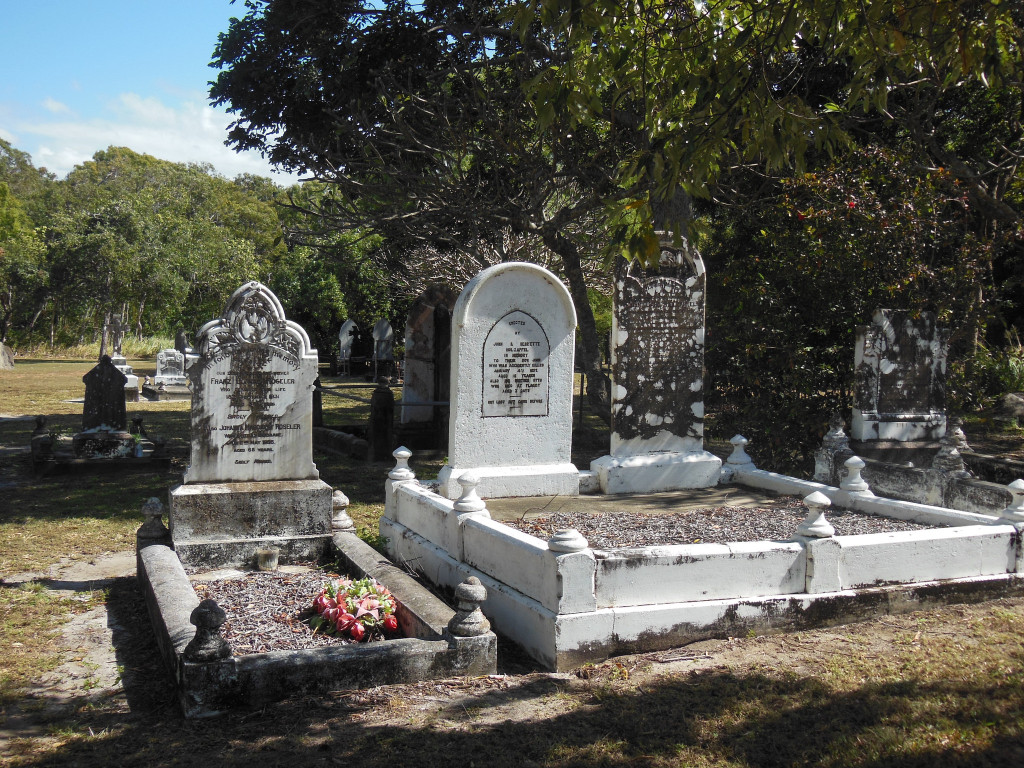 The Powder Magazine Building
The Powder Magazine Building was built in 1874 to store explosives. It is thought to be the first brick building constructed on Cape York Peninsula. Interestingly, no nails were used in the building in order to prevent sparks when barrels of gunpowder were being moved.
The Milbi Wall
A unique attraction in Cooktown is the Milbi Wall, a one metre high curving wall, around 12 metres in length, made of hundreds of ceramic tiles and divided into three sections, each telling history from an Aboriginal perspective.
•The first tells the stories of the creation of the Cooktown area (sometimes called Dreamtime stories), and is important to the culture of the first Australians.
The second section of the wall represents first contact with Europeans.
The third section centres on the 1967 Australian Constitutional referendum, when the Australian people voted to give Aboriginal and Torres Strait people full equality, including voting rights.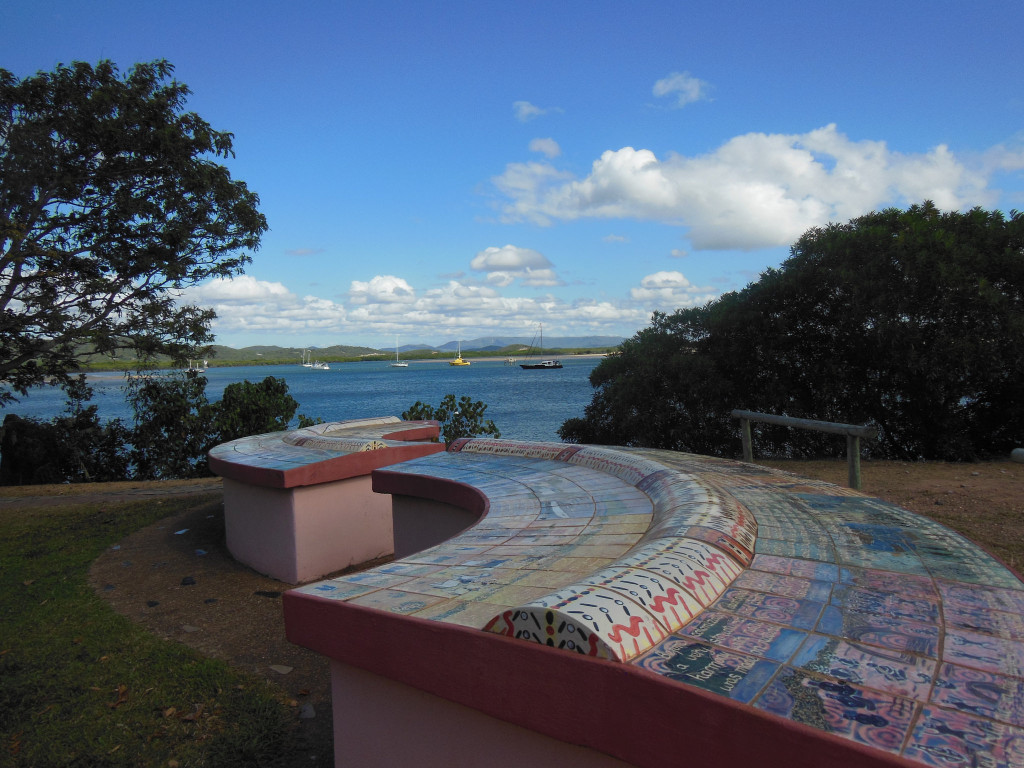 Fisherman's Wharf
A beautiful spot for a stroll, fishing or even some alone contemplation-time. This was once, during the Gold Rush, one of the busiest ports in Queensland. It's also the starting point of the River of Life Walkway which meanders through parklands to the Post Office, with plaques dotted along the way explaining the stories behind the historic sites you on your path.
There's a handy WELCOME TO COOKTOWN  map which you will find at information centres and hotels/motels which outlines these landmarks and more, making a driving or walking tour of the town easy and fun, ensuring you don't miss a thing.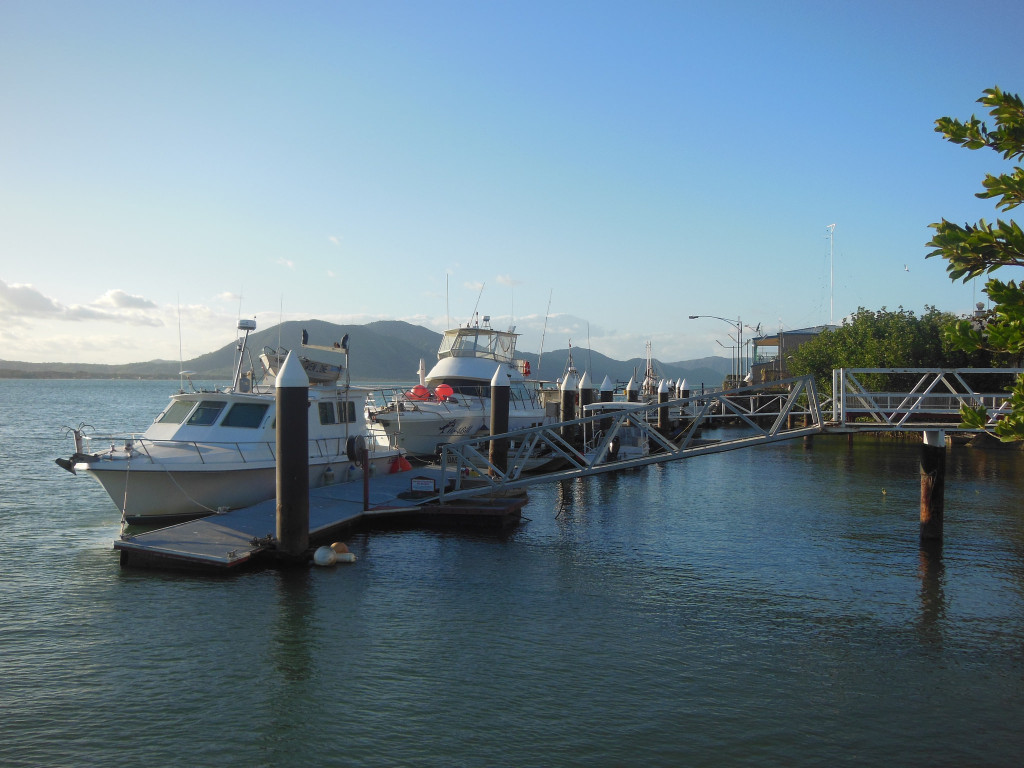 There are also copious tour options on offer in the area which take visitors on excursions to surrounding coast and bushland, for more history, fishing, hiking, swimming, driving, animal-spotting, Reef adventures and more. One of the most renowned and popular options leaving from Cooktown is award-winning Guurrbi Aboriginal Tours, which takes guests on a magical tour through surrounding lands, exploring life as it was and discovering ancestral rock art sites, lead by Willie, the traditional story-keeper of the Nugal-warra clan. As one guest has said on their website, the excursion is, "An amazing journey of story and dreaming, birthing and beginning".
Cooktown is a great place to snorkel, fish, spot a crocodile, explore the Outback or just relax. Pristine beaches, incredible mountain views, cascading waterfalls, and excellent fishing are just some of the wonderful experiences to be enjoyed in this region. More information: TourismCapeYork.com
Travel essentials
In Cooktown you'll find everything you need for a break away. There's a pharmacy, newsagent, IGA supermarket, plenty of pubs and cafe options, take-away and huge bakery offering breakfast options and delicious Chinese dishes for lunch.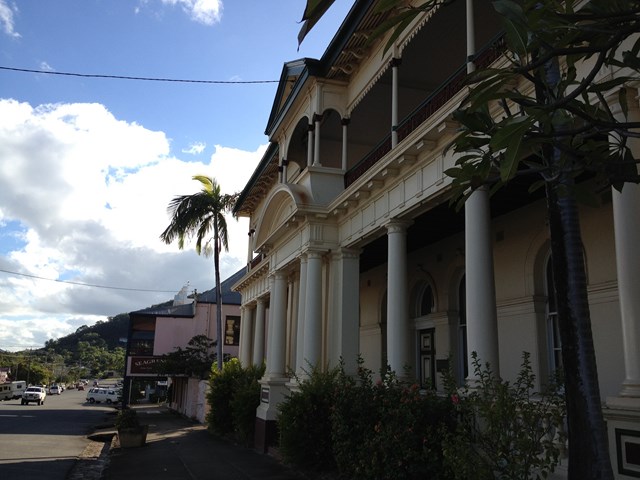 Have you been to Cooktown or any awesome little Aussie spots? Share your adventure and travel tips with us on FACEBOOK and TWITTER.